2017-06-13 By Robbin Laird and Ed Timperlake
The great historian Max Hastings in his seminal book Inferno about all the fighting forces of World War II said that after some very nasty setbacks early in the war, the US and Royal Navies emerged as the most effective fighting forces in the war.
https://www.amazon.com/Inferno-World-at-War-1939-1945/dp/0307475530
As Ronald Spector pointed in Eagle against the Sun: The American War with Japan:
"More battles were waged at sea and more warships sunk than in all other twentieth century naval campaigns combined."
The U.S. Sea Services are currently facing nasty strategic military threats in 'WestPac." But they can build on General McArthur's visionary leadership that created the emergence of a stable and secure freedom loving post war Japan.
Today in the Pacific, the U.S. and Japanese fighting forces are united and unified to stop aggression at sea in and the air.
Both the PLA and the North Korean Military fully know this unity of purpose.
Today's Chief of Naval Operations, Admiral John Richardson, has created a document that is essentially a nautical "rules of the road." As implemented, it will continue to deter any threats and if necessary win decisively across the spectrum of operations.
The US Navy has been and will continue to be supported equipped and trained to decisively win tactical conventional engagements and up the escalation ladder to destroying an enemy's strategic capabilities including their possible use of nuclear weapons.
Not to single out one branch of a heroic Sea Service team but since the CNO Admiral John Richardson commanded a Submarine it can be noted that there is a linage of war at sea success evident in the "Silent Service."
From WWII Fleet Boats to today's Boomers and Fast Attack it is very evident in the CNO's thinking. With undaunted courage US Navy Submarine combat operations in WW II while sinking 52 % of all tonnage sent to the bottom.
It came with a price.
Admiral John Richardson, the 31st Chief of Naval Operations, released a White Paper on the Future of the Navy, which outlines his approach to the modernization of the sea services. The CNO calls for a build up of Naval power both in terms of accelerating platforms within an overall approach to the reshaping of the sea service recognizing huge technological advances in all things "military."
Now, with the election of President Trump and the new President calling for a rebuilding of American military power, the CNO makes a definitive case for the kind of maritime power, which he sees as central to such an effort. Clearly, the CNO recognizes the readiness challenge, which has been inherited by the President and the need to repair any damage, which readiness levels pose to those services.
"We need a year to consolidate our readiness and achieve better balance across the Navy. 2018 will be that year, and even as we restore wholeness, we'll ensure that we continue to grow the Navy and establish a firm foundation for accelerating growth in following years."
This readiness correction path is about building towards a transformation of the maritime force, not simply a rebuild on current trajectories. And it is being done in an accelerated manner, due to the dynamics of building strategic and tactical threats around the world.
His vision recognizes the National Command Authority has to always embrace the sage echo of Admiral Nimitz's great Commanders Guidance: "train train train" to fight the current fleet that America has. The CNO's challenge is to concurrently keep all focused on emerging technology and the resulting dynamic con-op capabilities from those technologies. It takes a very experienced weather eye to see and prioritize the "art of the possible" going into the next decade and not get caught up in paper drills in essence abstractly reaching into the 2040s.
Admiral John Richardson has chartered the continuing transformation of a maritime force which can operate from the Equator to Polar caps in a unified and also distributed manner that dynamically incorporates U.S. and allied joint force capabilities, in the air, and on the sea and land.
The American sea service is networked to leverage rapid technology insertion, because no platform fights alone and USAF 21st Secretary Mike Wynne's Doctrine applies: "if it is a fair fight someone failed in planning."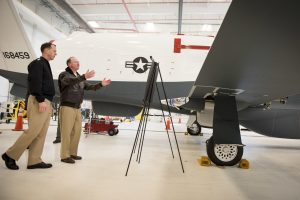 160113-N-AT895-251 PATUXENT RIVER Md. (Jan. 13, 2016) Chief of Naval Operations (CNO) Adm. John Richardson views the MQ-4C Triton unmanned aircraft system at Naval Air Station Patuxent River. Richardson also held an all-hands call, toured facilities and viewed aircraft and systems including the E-2D Advanced Hawkeye and F-35C Lightning II carrier variant joint strike fighter . (U.S. Navy photo by Mass Communication Specialist 1st Class Nathan Laird/Released)
A software upgradeable revolution is upon us and for example the F-35, P-8/Triton and USS Gerald Ford are all leading this 21st Century technology revolution.
https://sldinfo.com/rolling-out-the-f-35-fleet-from-the-testing-perspective-an-interview-with-the-chief-test-engineer-for-the-f-35-itf-at-pax-river/
https://sldinfo.com/the-right-stuff-f-35-style-the-edwards-f-35-integrated-test-force-talks-about-the-roll-out-of-the-global-aircraft/
https://sldinfo.com/the-software-upgradeable-combat-aircraft-the-case-of-the-p-8/
https://sldinfo.com/triton-and-shaping-the-21st-century-fleet-approach-to-distributed-lethality/
 (Nov. 24, 2016) An MV-22B Osprey with Marine Medium Tiltrotor Squadron 264 (Reinforced), 22nd Marine Expeditionary Unit (MEU), lands aboard the amphibious assault ship USS Wasp (LHD 1) Nov. 15, 2016 with Chief of Naval Operations Admiral John Richardson to visit Marines and Sailors for Thanksgiving. The 22nd MEU, deployed with the Wasp Amphibious Ready Group, is conducting naval operations in the U.S. 5th Fleet area of operations in support of U.S. national security interests in Europe and Africa. (U.S. Marine Corps photo by Cpl. Ryan G. Coleman)
Across the Navy, the CNO is providing guidance to employ core new technologies such as directed energy and distributed decision making down to the individual Naval Aviator.
With regard to the platform side, as is the tradition of the United States Navy, a partnership with industry is always crucial in building out of new ships, subs and aircraft.
Notably a key platform build out involves an area where significant innovation is under way namely the amphibious fleet.
"Very important here is the potential for increased capability and flexibility of amphibious ships, enabled by new aviation and weapons systems. Over the longer term, the range of possibilities will expand to more fully integrate space, surface, air, undersea, and cyber and electronic warfare capabilities."
It is clear that software upgradeable systems like F-35s, P-8s and Tritons can provide a benchmark from which more rapid insertion of technology can be leveraged.
The platforms need to be designed with inherent upgradeability in mind.
160113-N-AT895-148
PATUXENT RIVER, Md. (Jan. 13, 2016) Chief of Naval Operations (CNO) Adm. John Richardson views an E-2D Advanced Hawkeye at Naval Air Station Patuxent River. Richardson also held an all-hands call, toured facilities and viewed aircraft and systems including the MQ-4C Triton unmanned aircraft system and F-35C Lightning II carrier variant joint strike fighter. (U.S. Navy photo by Mass Communication Specialist 1st Class Nathan Laird/Released)
"The pace of change demands that we design ships with modernization in mind. The "core" of those future ships – the hull, and the propulsion and power plants – will be built to last for decades. To leave room for future modernization, Naval Architects, engineers and sea going commanders have all focused on building in to Carriers, surface combatants and newer Amphib hulls as much electrical power capacity as possible.
"On top of that hull and power plant, we must plan from the outset to modernize the "punch" — the combat systems, sensors, and payloads — at the speed that technological advances allow. Future ships should be made for rapid improvement with modular weapons canisters and rapidly swappable electronic sensors and systems. Related, future designs must aggressively go after ways to drive down the costs to operate and maintain the future fleet, no matter its composition."
He does not explicitly use the term "kill web," that Admiral Manazir (N9) so effectively described in Australia and to the USAF Mitchell Institute in his CNO white paper.
However, "kill webs" is clearly the combat idea throughout the white paper as the CNO discusses his approach to the netted fleet where distributed decision making at all levels of command is truly becoming a key force multiplier.
https://sldinfo.com/the-deputy-chief-of-naval-operations-for-warfare-systems-look-at-the-way-ahead-rear-admiral-manazir-on-shaping-kill-webs/
"Netting the battle fleet together in ways that are reliable and secure will allow for maximum flexibility. Strengthening and extending our nets will "raise all boats." Those networks will support multiple functions, but increasingly will also be a key enabler of artificial intelligence-enabled tools, informed by data analysis, that will allow our commanders to make better decisions faster than our enemies."
In other words, the CNO highlights the twining of two key processes: shaping a way to accelerate the more rapid build out of platforms with the change in the nature of the combat impact which the fleet can deliver to the joint and combined force. It is about twining numbers with combat effect.
"A 355-ship Navy using current technology is insufficient for maintaining maritime superiority. We must grow, yes. But we must also implement new ways of operating our battle fleet, which will comprise new types of ships. The clear conclusion is that linear expansion and improvement will not achieve the exponential pace that will enable us to win in the future."
To get where the sea services need to go, more agile acquisition processes are necessary, both in terms of how to accelerate platform build out and system innovations.
"If we build with faster improvement cycles, the inherent cost of our systems and platforms can come down. Shifting more heavily to unmanned surface, undersea, and aircraft will help us to further drive down unit costs. Energy-based weapons can be both more effective and put the Navy on the right side of the cost curve. Designing in the ability to modernize – plug and play hardware matched with software-programmability – will make upgrades quicker and more affordable even as we stay more capable."
160113-N-AT895-242 PATUXENT RIVER Md. (Jan. 13, 2016) Chief of Naval Operations (CNO) Adm. John Richardson sits in the cockpit of an F-35C Lightning II carrier variant joint strike fighter at Naval Air Station Patuxent River. Richardson also held an all-hands call, toured facilities and viewed aircraft and systems including the E-2D Advanced Hawkeye and MQ-4C Triton unmanned aircraft system. (U.S. Navy photo by Mass Communication Specialist 1st Class Nathan Laird/Released)
We have written about the central role, which we see the sea base being able to play in the emerging future of the United States and its allies in dealing with the evolving environment for the decade ahead. The key role of insertion forces along with more effective collaborative impact of the air and sea services as the U.S. shifts from the land wars of the last decade is a central theme of our work over the past few years as well.
Our 2013 book on Rebuilding American Military Power in the Pacific which we wrote with Richard Weitz highlighted the importance of such a transformation. With the election of Donald Trump and challenges such as North Korea and the CNO's call for the transformation of the maritime forces, it is crucial to re-examine effective ways to deliver new combat capabilities to US and allied forces.
Some of the key questions, which the CNO's White Paper currently puts in play for a public discussion, are:
How best to accelerate the production of the kinds of ships which are crucial to enhanced combat capability for the fleet?
It is not just about numbers but the right fleet mix, so how best might that be defined going forward?
How best to ensure that an acquisition process is put in place that inherently allows the sea services to insert rapidly new technologies?
How might the acquisition process to embrace fleet wide the ability to rapidly upgrade not just communication capabilities but platforms be put in place to let industry and the warfighters rapidly upgrade systems with the ever necessary quality assurance?
How to best build out and modernize the kill web approach to combat capabilities, including the human dimensions at all levels of Navy leadership?
How to keep the Navy war wining combat tradition from Admiral Nimitz—"train, train train" inside a finite resource base of support?
What is the best trial and error approach to accelerate the man-machine learning cycle, central to evolving combat capabilities and rapid decision-making?
How best to include unmanned systems within the combat learning and capability evolution cycles?
How to more effectively work with core joint capabilities, notably with the USAF in the offense and defense enterprise and with the US Army notably with their air and missile defense capabilities?
How to build out more effective trusted distributed command and control so that the distributed fleet has more effective combat capability?
How to fight the F-35 with strike ops that are stealth and EMCON passive?
How to accelerate the weapons revolution, including directed weapons to provide for an accelerating cycle of greater combat punch and defense?
How best to prepare the Fleet for an S-cubed (Sensors-Stealth-Speed) weapons revolution?
https://sldinfo.com/shaping-an-s-cubed-combat-revolution-preparing-for-the-coming-hypersonic-cruise-missile-threat/
How to more effectively include the USCG in a range of operations from littoral to blue water in terms of safety, security and fleet management? How to better integrate the USCG in a fleet build out strategy?
How to leverage, empower and engage with key allies who are also modernizing their combat forces?
How will the second nuclear age affect the role of the maritime forces in nuclear modernization efforts?
These are just some crucial questions going forward which can be posed leveraging the CNO's approach to building the future maritime force.