2017-06-29 Norway has expanded its defense industrial relationships to provide for its 21st century defense capabilities.
This includes F-35, P-8, Joint Strike Missile exports, a new working relationship with Germany to acquire submarines.
Now the A330MRTT, the global tanker used by several air forces, is being acquired by Norway and Germany.
According to a press release dated June 29, 2017 by Airbus Defence and Space, "Germany and Norway formally join Netherlands and Luxembourg to operate pooled fleet of NATO-owned Airbus A330 MRTT tankers."
Madrid, 29 June 2017 – Germany and Norway officially joined the European/NATO program to acquire Airbus A330 Multi-Role Tanker Transport aircraft along with Netherlands and Luxembourg.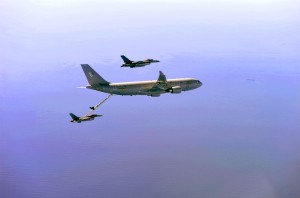 RAAF A330 MRTT (KC-30A) refueling an F-16 through ARBS. Credit Photo: Airbus Military
The two nations committed to participating in the project through the signing of a Memorandum of Understanding at NATO HQ in Brussels today.
Known as the Multinational Multi-Role Tanker Transport Fleet (MMF) the programme was initiated by the European Defence Agency (EDA) in 2012. Europe's organization for the management of cooperative armament programmes – OCCAR – manages the MMF acquisition phase as Contract Executing Agent on behalf of the NATO Support and Procurement Agency (NSPA). Following the acquisition phase, NSPA will be responsible for the complete life-cycle management of the fleet.
The Programme is funded by the four nations who will have the exclusive right to use these NATO–owned aircraft which will operate in a pooling arrangement. The aircraft will be configured for in-flight refuelling, the transport of passengers and cargo, and medical evacuation flights. The first two aircraft have already been ordered to be delivered from Airbus Defence and Space's tanker conversion line at Getafe near Madrid in 2020. Five additional aircraft will now be ordered, and that order will include options for up to four further aircraft.
NSPA GM, Peter Dohmen said "As NATO's Support and Procurement Agency, we are proud to be a key enabler of this critical project to help European nations meet their air transport and refuelling requirements. The successful cooperation in this project – bringing together all our capabilities – bodes extremely well for further future NATO / EU collaboration."
OCCAR Director, Arturo Alfonso-Meiriño said: "The MMF programme has broken new ground in bringing together the combined capabilities of the EDA, NSPA and OCCAR as one team, with each organisation working within its particular sphere of expertise. I very much welcome that this important initiative has now attracted additional partners to join, and it still includes options for the participation of even more countries."
EDA Chief Executive Jorge Domecq said: "The MMF is a prime example of European defence cooperation which shows that once a capability shortfall has been jointly identified, European nations can pull together, work on a common project aimed at filling the gap, and eventually deliver. It's Pooling & Sharing at its best".
Airbus Defence and Space Head of Military Aircraft Fernando Alonso said: "The A330 MRTT has established itself firmly as the world's premier tanker/transport aircraft. It is extremely satisfying to now see it adopted as the core asset of one of Europe's most important cooperative defence programmes. We hope that this collaborative approach will serve as a model for future joint procurements."
This announcement comes on the heals of the Royal Australian Air Force, the launch Air Force for the KC-30A, announcing their 1000th mission in the Middle East with the Aircraft.
RAAF 1000 Sortie with KC-30A in the Middle East Operation from SldInfo.com on Vimeo.
According to the RAAF in piece published on June 15, 2017:
The Air Task Group (ATG) of Operation OKRA, is operating at the request of the Iraqi Government within a US-led international coalition assembled to disrupt and degrade Daesh operations in the Middle East Region (MER).
The ATG comprises six F/A-18F Super Hornet fighter aircraft, an E-7A Wedgetail airborne command and control aircraft, and a KC-30A Multi-Role Tanker Transport air-to-air refuelling aircraft.
Additionally, the ATG has personnel working in the Combined Air and Space Operations Centre, and embedded with the 'Kingpin' US tactical Command and Control Unit.
The ATG is directly supported by elements of Operation ACCORDION including the Theatre Communications Group, Air Mobility Task Group, and the Expeditionary Airbase Operations Unit, whose mission is to provide airbase and aviation operational support to sustain air operations in the MER.
There are up to 300 personnel deployed at any one time to the Air Task Group, with an additional 100 personnel deployed in direct support of Operation OKRA.
Australian Department of Defence
June 15, 2017