2017-07-17 In the United States, the US Navy is the cutting edge service with regard to developing and deploying directed energy weapons technology.
In part this is because ships have enough power to generate the energy necessary to operate current and next generation DE technologies.
A laser has been deployed for some time onboard the USS Ponce, a retired MSC ship, and has been in operations downing drones in the Middle East. The CNO has made it clear that this is a technology, which will be deployed on ships in the near future.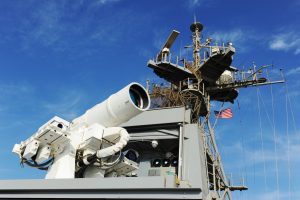 The Afloat Forward Staging Base (Interim) USS Ponce (ASB(I) 15) conducts an operational demonstration of the Office of Naval Research (ONR)-sponsored Laser Weapon System (LaWS) while deployed to the Arabian Gulf. (U.S. Navy photo by John F. Williams/Released)
Notably, the new all electric ship, the DDG 1000 as well as the USS Ford have significant power sources. The new generation AC carrier has three times the power generation capacity of the Nimitz class and the new Queen Elizabeth as well has significant power generation capabilities, all clearly designed in part to use DE weapons for defensive capabilities onboard the ships.
It is clear as well that the US Navy has scaled down the power generation requirements for the first generation deployments so that already available DE technologies can be deployed by 2019 onboard surface ships.
With the new distributed lethality concept of the US Navy, it is clear that technologies and deployability are being looked at differently.
Namely, testing is necessary but deployment of early systems is crucial to provide a distributed capability even if it is not perfected.
This means that we will see DE coming to the fleet in the next couple of years
In an interview we did with N-9 last year, this is what Rear Admiral Manazir had to say about DE weapons.
We need directed energy weapons as adjuncts to our current kinetic weapon systems in order to turn the cost curve our way. For example, we shoot down cruise missiles that cost a couple hundred thousand dollars with $3 million defensive missiles. 
Our weapons are very effective, but we shoot a $3 million round every time we use them.
We are working to build synergy among electronic attack, directed energy and kinetic weapons to shape an interactive and integrated capability for the distributed force.
We are moving towards funding a directed energy plan which would enable us to move towards implementing interim directed energy laser capability between now and 2020.
There's a 30-kilowatt laser on USS PONCE right now.
It's in the Arabian Gulf and it works.
It works very well.
As you know, lasers can be used for communications. They can be used for ISR.
They can obviously be used for non-kinetic effects.
In order to have the higher-end kinetic effect, you have to have the space for the weight of the laser itself, the power for it, and then the cooling-wherever the source.
Obviously, with a ship in the water, you have an unlimited source of cooling water.
Then, in order to have a very, very deep magazine for a laser shot, you either have to have a constant source of fairly high electrical power, or you have to have a very large battery.
We are not waiting until we have what many see as the ultimate goal, a one megawatt laser weapon; we would like to build capability incrementally.
Over time we will be able to field higher and higher power laser weapons.
It is about putting it into the fleet and evolving the capability; it is not about waiting until we have the optimal weapon.
We need not just the weapon, but the training and the tactics shaped by the fleet to provide inputs to how best to integrate the capability into the force.
 In a later interview, the Vice Chief of Naval Operations, Admiral Moran, underscored the way ahead as follows:
 The Navy is "fully committed" to developing and fielding advanced directed energy weapons to deal with emerging threats and to reduce the cost per shot, the Navy's number two officer said today.
 "We need to push technology forward" and do it faster than historic advances in fielding new weapons capabilities, Vice Chief of Naval Operations Adm. William Moran said at the Directed Energy Summit, cohosted by Booz Allen Hamilton and the Center for Strategic and Budgetary Assessment.
Moran noted that the Navy had "already authorized a defensive weapon" and deployed it, citing the laser system mounted on the USS Ponce (AFSB(I)-15), which is on station in the U.S. Central Command theater.
The 30 kilowatt solid-state XN-1 laser on Ponce has been authorized for use as a defensive weapon, he said. The Navy "will field a 100-kilowatt system in the near future," he added.
The Navy also is working to field high-power microwave systems, which can create unbearable heat on a person without lasting injury, to provide "enhance self-protection" with non-lethal system, Moran said. And, he warned, "these technologies are being developed and fielded by a lot of countries. If we don't go forward, we will fall behind."
Listing some of the advantages of directed energy weapons, Moran said they could provide "deep magazines" on warships so they do not have to use expensive and limited numbers of conventional weapons "on targets that you can handle with directed energy."
Using directed energy weapons, which only require powerful burst of electrical power, also can reverse the negative cost-per-kill ratio of using multi-million-dollar defensive missiles against relatively cheap anti-ship cruise missiles, he indicated.
They would mean "spending pennies on the dollar" for defense, he said.
"Low-cost directed energy weapons have to be part of our future" and are being designed for use in the fleet today, Moran said.
"If we have to continue to rely on projectiles, we will run out of the ability to defend ourselves in the future," he said.
"We are fully committed to taking this into the future."
 And earlier this year, John Joyce from the Naval Warfare Center Dahlgren Division published a story on April 21, 2017 which highlighted progress on directed energy weapons.
DAHLGREN, Va. – The Navy's top laser experts transformed a tunnel crucial to gun range operations during World War II into a vital new capability for testing laser technologies, Naval Surface Warfare Center Dahlgren Division (NSWCDD) announced April 21.
For years, civilian scientists – including those who developed and installed the Laser Weapon System aboard USS PONCE (AFSB[I] 15) – speculated about the long dormant 100-meter tunnel and its potential for laser lethality and system testing.
Could it be converted to research, test, develop, and evaluate a new generation of laser weapon systems for integration aboard warships?
Eventually, their question was answered and the old tunnel was upgraded. Now, it's integral to the Navy's state-of-the-art Laser Lethality and Development Laboratory.
"Our scientists and engineers are taking advantage of the Laser Lethality and Development Lab's capabilities – including the above-ground tunnel – to innovate and evaluate high energy lasers that are interoperable with Navy ships and electric weaponry," said Capt. Godfrey 'Gus' Weekes, NSWCDD commanding officer. "As we continue to develop and deploy laser weapons to the Fleet with the inherent advantages of directed energy – speed-of-light delivery, engagement precision, magazine depth, and scalable effects – our warfighters will have significant technological advantage over our adversaries."
Navy leaders have made directed-energy weapons a top priority to counter asymmetric threats. In fact, Navy Sailors – trained by the NSWCDD Laser Weapon System team – proved how precise and effective a High Energy Laser weapon system can be during testing in the Arabian Gulf against small attack boats, unmanned aerial vehicles, and other moving targets in various weather conditions.
Meanwhile, the laser experts are using the Laser Lethality and Development Facility's capabilities to support emerging initiatives to integrate future laser weapon systems aboard Navy ships. The facility features two labs where high power laser testing of materials, components, and sub-systems are conducted. The labs are connected by the above-ground tunnel which provides for the safe conduct of indoor testing at significant ranges while removing the effects and limitations of the highly variable outdoor environment.
"The facility, which is unique within the Navy, along with its suite of analysis tools are essential for designing, developing, and integrating laser technology into existing and future fighting forces and platforms," said Frank Dixon, NSWCDD Directed Energy and Pulsed Power Division head.
The lab – primarily dedicated to performing laser effects testing – supports programs sponsored by the Office of Naval Research, Joint Directed Energy Transition Office, and Program Executive Office for Integrated Warfare Systems, among others. The testing determines environmental effects on laser performance, the response of target materials to laser energy, and provides input to the characterization of laser weapon system requirements.
"A capability such as this allows us to stay in front of high energy laser weapon lethality testing and modeling and simulation to support the current and growing number of Navy laser weapon programs," said Dr. Christopher Lloyd, NSWCDD's High Energy Laser Lethality lead.
"We'll be able to expand the tunnel's range further – up to 300 meters – with some unique test configurations," said Lloyd. "It will soon enable testing in controlled environmental conditions to better replicate weather conditions in regions where deployed high energy laser systems may operate. We'll be able to study aspects such as beam propagation effects from turbulence and scattering/absorption and how that affects overall system performance."
Currently, the laboratory's roof-top platform allows for operation and testing of laser systems across the Potomac River Test Range where naval guns have been tested since 1918. From this platform, high energy laser operations can be conducted over to the Combined Experimental Test Facility, a two story laser backstop located two to three kilometers across the water.
"The facility – coupled with our indoor and outdoor laser test capabilities – enhances the command's ability to design, develop, test, and integrate next generation laser weapon systems for the Navy and is critical to the transition of these systems to the Fleet," explained Dixon.
Environmental controls and a test and diagnostics facility will be added to the laboratory this year. The test and diagnostics facility will be capable of supporting more system-level tests. Future upgrades include installation of a wind tunnel to study laser/material interactions of components under higher wind speed conditions.
NSWCDD has provided leadership and technical expertise in the design, development, integration, and testing of directed energy systems for more than 15 years. The premier research and development center that serves as a specialty site for weapon system integration. The command's unique ability to rapidly introduce new technology into complex warfighting systems is based on its longstanding competencies in science and technology, research and development, and test and evaluation.