2017-08-19 With the declining numbers of Tornados (the RAF is already on a clear sunset schedule) the German Air Force is closing its training facility in New Mexico.
The German air force has entered its final stage of departure, however they are not expected to complete their departure from Holloman AFB until mid 2019.
According to 2016 article by Jacqueline Devine published by the Alamogordo Daily News, the process of departure of the German Air Force from their training facility in New Mexico.
HOLLOMAN AIR FORCE BASE — The German Air Force is terminating its contract to train its pilots at Holloman Air Force Base, a potentially major economic blow to the Alamogordo region.
The Luftwaffe has had a presence at Holloman since 1992, but the cancellation of the contract to train German pilots in Tornado aircraft means the mission will end by 2019.
The German defense ministry said the decision affects approximately 450 military staff and their families as well as the 14 Tornado weapon systems stationed at Holloman.
The decision had been expected, though political and business leaders in New Mexico had been lobbying the Germans to continue the mission.
Col. Heinz-Josef Ferkinghoff, commander of German forces in the United States, said it is a sad development. He said the German Air Force Flying Training Center has appreciated the American hospitality they have received over the years.
Germany, a key NATO ally of the United States, has had a presence in the American Southwest since shortly after World War II.
The German military has had a presence at Fort Bliss since 1956. The German air force closed down its North American Command at Fort Bliss in September 2013 and moved it to Holloman as part of what was described as an eventual staggered pullout from the El Paso installation. The German Air Force still operates its Air Defense Center at Fort Bliss.
The Germans will continue to have a presence at Fort Bliss until at least 2020, officials said.
According to the German defense ministry, the remaining elements of the Tornado weapon system will operate at their German air bases of Schleswig and Buechel.
Ferkinghoff said the main reason why the ministry is terminating their training at Holloman is due to tactical and logistical reasons more so than finances.
"The main reason why the GAF is terminating their training here is due to a reduced Tornado fleet that is operating in the German air force. We have two bases in Germany and the flying training center here at Holloman. We have to consolidate our Tornado operation in those two locations," Ferkinghoff said.
"There's a certain logistical challenge to operate a fast jet like the Tornado in a foreign country as far as bringing all the spare parts to maintain the technical high level we try to achieve with our aircraft. Sometimes we wait weeks for spare parts, but in Germany they're more or less immediately available."
At the moment, 85 Tornados are distributed between the two airbases in Germany and at Holloman.
"A lot of factors come together. Shortage of personnel, material and a different spectrum that we now have in our portfolio with the Tornado also contributes to this decision. The finances are also an influence," Ferkinghoff said. "In my judgment, the main drivers were not the financial side but the operational requirements at the end."
http://www.alamogordonews.com/story/news/local/2016/04/14/german-air-force-leaving-holloman-2019/83046286/
The photos in the slideshow showing the last flights is credited to the USAF.
Editor's Note: The German Air Force is looking to replace its Tornado force.
According to a piece by Tim Robinson published July 5, 2016, an alternative approach is being developed by Airbus Defence and Space.
With a growing realisation that it needs to think about modernising parts of its aging front-line force, in January, the German Bundeswehr released a White Paper on future plans and proposals.
One of these, the Next Generation Weapon System (NGWS) is intended to replace the Tornado which the Luftwaffe may keep in service until 2040 – some 20 years after the RAF will have retired its last GR4. 
Among the many and varied presentations covering A400M, MRTT, and light and medium products at the annual Airbus Defence and Space (AirbusDS) TMB (Trade Media Briefing) in Munich (2016) also saw the company unveil its concept for a FCAS (Future Combat Air System) to meet the Luftwaffe's evolving requirement for the 2030-40 timeframe. 
Though it is still early days and the concept is still notional, it did reveal some of the company's thinking around its FCAS.
Interestingly the twin-engine, twin-tail stealth design would be a twin-seat design, according to Alberto Gutierrez, Head of Eurofighter Programme, Airbus DS.
The second crewmember may be especially important for the FCAS concept of operations, which would see it operate in a wider battle network, potentially as a command and control asset or UCAV/UAV mission commander. 
Another presentation on UAVs during TMB16, also shed light on the FCAS concept of operations. AirbusDS foresee it is not a strike aircraft in itself – but rather part of a 'system of systems' – with this manned strike platform networked with Eurofighters, unmanned bomb or missile 'mules' and even UAV swarms. FCAS, says AirbuDS, is conceptualised to be a platform able to slot into a scalable system.
This vision closely aligns with the latest US Pentagon predictions on future air combat – where manned platforms such as F-35 and B-21 would operate as networked nodes, controlling missile 'truck' UCAVs and drone swarms in contested airspace….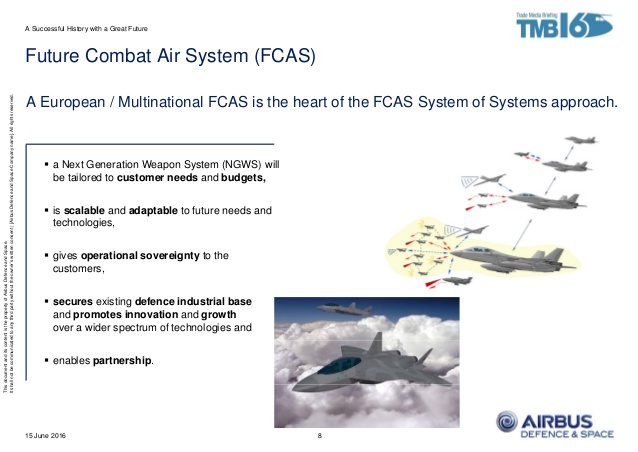 Fernando Alonso, Head of Military Aircraft last year instituted a strategic review of what air combat would look like in the future and how it needs to evolve its business and offerings.
Though the future strategy has yet to be completed, the FCAS systems of systems provides a clue to AirbusDS's vision.
"Connectivity not platforms" says Alonso, will be the way forward, arguing that the challenge and opportunity for the company will be "how to connect those platforms together". 
Other presentations during the two days of TMB supported this vision of legacy platforms being enhanced with networks. For instance, a JRE (Joint Range Extension) Link 16 capability is now set to be added to French A330MRTTs currently on order.
This will turn tankers into Link 16 data relay nodes – boosting situational awareness for platforms operating beyond line-of-sight. Australia, too, is reported to be interested in this capability for its MRTTs. 
AirbusDS is also set to take high-speed data transfer even further with a high-speed optical communications test later this year. This will see the European Data Relay Satellite (EDRS-A) use a laser to connect with a modified A310 test aircraft equipped with a prototype laser terminal.
Optical laser communication promises a 1-2 orders of magnitude increase in air-to-sat data speeds, compared to normal satcom links. Laser communications then could offer ultra-high speed, secure communications – especially suitable for the vast amounts of video, imagery and data that now need to flow around the battlefield. 
Although certainly not a new concept (network centric warfare was championed in the US in the late 1990s), AirbusDS's vision of connectivity is particularly important today – given the continued budget pressures and legacy fleets that many air forces are faced with.
Today, thanks to smaller, cheaper and more capable computers, the ability of networks to adapt and reconfigure on the fly (think smartphone's WiFi), is much more advanced and opens up new possibilities for air combat.
Could tactical transports become ISR nodes?
Or tankers become ELINT spy planes to help triangulate hostile emitters? 
https://www.aerosociety.com/news/airbus-reveals-tornado-successor-concept-for-2040s/
For a look at the RAF Tornado transition, see the following:
Leveraging the Legacy of the Tornado: The Perspective of Wing Commander Paul Froome