2017-10-16 By Robbin Laird and Murielle Delaporte
As the NATO allies focus on new threats and those posed by historic competitors, the need to reinforce North Atlantic defense is coming back into focus. As the former head of NORAD, Admiral Gortney, put it in an interview shortly before his departure:
Put in simple terms, we need to shape a more integrated air and maritime force that can operate to defend the maritime and air approaches to North America as well as North America itself.
We can look at the evolving threat as a ten o'clock and a two o'clock fight, because they originate from the ten and two.
And the ten o'clock fight is primarily right now an aviation fight.
They're moving capability there, but it's nothing like what they have at the two o'clock fight.
The two o'clock fight is more of a maritime fight.
And he underscored the importance of Canada in shaping capabilities to work the challenges.
For 58 years, we have had a bi-national command, NORAD. The current government faces a set of tough problems, not the least of which due to past governments not addressing re-capitalization.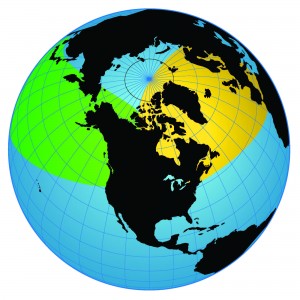 This is a notional rendering of the 10 and 2 O'Clock challenge. It is credited to Second Line of Defense and not in any way an official rendering by any agency of the US government. It is meant for illustration purposes only. Credit: Second Line of Defense
Clearly, what they need to do is to recapitalize their air and maritime force, and preferably one that can work together from the ground up as an integrated force.
I think NORAD needs to become a multi-domain command, and their forces could flow into that command and out of that command as a key enabler.
https://sldinfo.com/north-american-defense-and-the-evolving-strategic-environment-admiral-gortney-focuses-on-the-need-to-defend-north-america-at-the-ten-and-two-oclock-positions/
The current chief of staff of the Royal Canadian Air Force, Lt. General Hood, provided his perspective on the Canadian contribution to the challenges posed by Admiral Gortney, Lt. General Hood highlighted in a recent interview that a key element of how Canada was shaping its approach to working the challenges and working with allies was the modernization of their P-3, namely the Aurora CP-140.
While the UK, Norway, and the US Navy were adding new platforms, namely, the P-8 and in the case of the US Navy the Triton, the Canadian Air Force was focused on the modernization of the brain of the P-3, and shaping a new workflow within the aircraft as the 21st century maritime domain awareness and strike enterprise evolves in the North Atlantic.
"Out of all the NATO ASW platforms in there," says LGen Hood, "the most effective one has been our CP-140. I am exceptionally proud of our ASW capability, and when I couple it with the new advanced capability on our upgraded frigates, I see us a backbone of NATO's ASW capability."
RCAF Commander LGen Michael Hood (Photo: Sgt Paz Quillé, RCAF PA Imagery)
Over the decade ahead, as the maritime domain awareness and strike enterprise is reworked with the coming of the P-8 and the Triton (among other assets) Canada will add an unmanned capability, continue upgrading the CP-140, and work closely with allies in reshaping the maritime domain awareness and strike networks. New satellite sensor and communications systems will also be added.
According to LGen Hood, this will allow the RCAF to leverage developments in the next decade to determine what needs to be put on their replacement manned air platform and to determine which air platform that would be. "The government's new defence policy lays out a 20-year funding line that recapitalizes our air force." 
He acknowledges that the eventual replacement of the CP-140 is funded in that policy but explains that this is not a near term need. "We have better capability from an ASW perspective in the CP-140 than comes off the line presently in the P-8. We have just gone through a Block III upgrade that has completely modernized the ASW capability as well as adding an overland ISR piece. We have replaced the wings on many major empennage [tail assembly] points and the goal is to get our CP-140 out to about 2032 when we're going to replace it with another platform."
He notes that next year, the CP-140s will receive a Block IV upgrade which will include new infrared counter measures, a tactical data link 16 to complement link 11 and full motion video, imagery, email, chat, and VOIP.
http://defence.frontline.online/article/2017/4/8102-Maritime-Threats-to-the-North-Atlantic
Recently, we had a chance to visit 14 Wing at Greenwood, located in Nova Scotia.
During our visit on September 19, 2017 we spent a full day on the base flying on the Aurora, being briefed on the evolving approaches to training for ASW and other operations, and discussing the way ahead with Lt. Col. Bruno Baker, Deputy Commander of the Wing.
Lt. Col. Baker recently was the commanding officer of the training squadron as well which provided him with a unique knowledge set about the modernization and operational approach of the Aurora and working with allies. He has been a P-3 operator during his entire service in the Air Force
Question: Why is it the CP-140 and not the P-3?
Lt. Col. Baker: "Canada purchased empty P-3 Orion airframes and added to it the best anti-subwarine warfare suite of the day which was found in the S-3 Viking and have modernized from that hybrid forward.
"We were one of the leading nations in ASW, unquestionably, in the 1980s because we had the best equipment with the best airframe, put together.
"The plane has undergone a life extension program.
"The plane was stripped down to become a virtual tube and the new wings and tails were installed which overall gives us 15 more years of operational life in the airframe.
"Throughout the Alliance, there was not much appetite to invest in ASW once the cold war was over.
"We tended to run in place.
"To move forward, we have focused on the Aurora Incremental Modernization Program or AIMP.
"Block One is considered the original airplane.
"In Block 2 we focused on a cockpit-centric modernization. We added flight management systems, gps and much more to facilitate modernization in terms of operating the aircraft.
"But it didn't change anything in our operational capabilities.
"In other words, Block 2 were front end upgrades.
"We did add a new capability in the course of modernization not tied to any particular block, namely the MX-20 EO IR camera that was a significant upgrade to enhance our capabilities for persistent surveillance.
"The addition of this capability caused a shift in our mission sets to add providing support to overland operations.
We are the main ISR operating asset for the RCAF and as such have operated for some time in this role in the Middle East."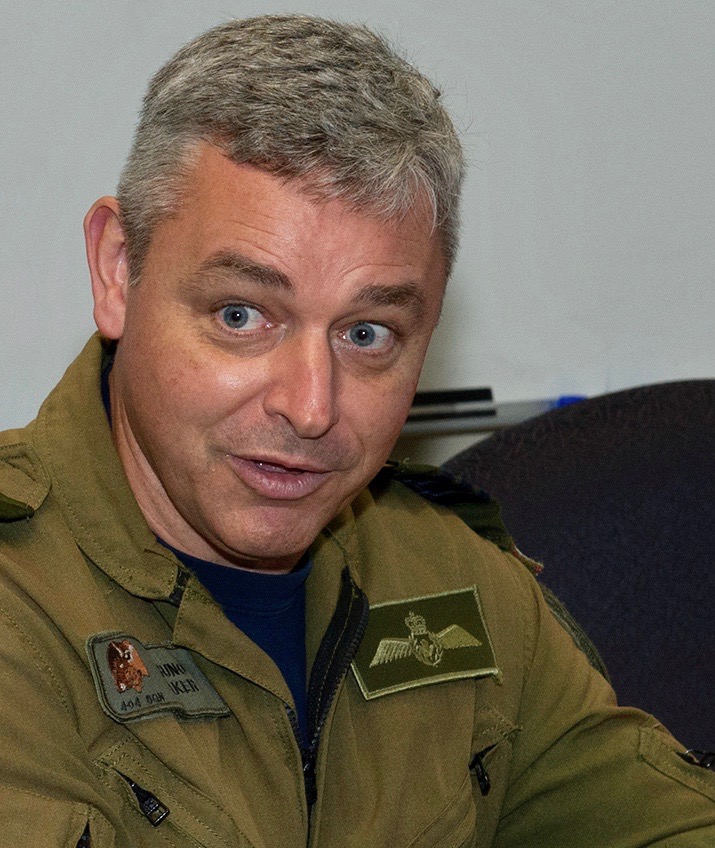 Lieutenant-Colonel Bruno Baker, Acting Commanding Officer 14 Wing Greenwood in the Throney Island Simulation Centre at 14 Wing Greenwood, Nova Scotia, Canada making a point during the meeting with Laird and Delaporte.Photo: MCpl Rory Wilson, 14 Wing Imaging
Question: What changes did Block 3 bring?
Lt. Col. Baker: "This was the game changer for the Aurora operationally.
Block Three brought basically all new capabilities in the tactical side of the airplane for ASW, communications, and just a new way to look at things.
"The capability enhancements were such that we gave a new designator to the airplane.
"Block Three modified airplanes are referred to as the CP-140M.
"Improvements were made in all areas, but the biggest change was in the acoustic sensing area.
"We added new computer and sensing capabilities.
"The technology onboard –notably the display screens and the interchangeability of data displayed on those screens including in the cockpit — now allowed for a different workflow as the cockpit crew could now see the information being generated in the back end so that enhancing SA to all stations, including in the cockpit, provided a greater synergy and potential for new workflows throughout the airplane.
"Block Three has also brought us an increased level of automation in the aircraft.
"So the sensors, as opposed to just spinning raw data that the operator needs to look at and analyze and make a decision what he's looking at, there is a level of interpretation that is done by the systems that is actually tailorable by the operators: how much they want, how much they want to look at, what do they want, what type of information.
"A lot of it's much more visually intuitive, as well, as opposed to just looking at a gram dropping in front of you or lines on a gram and having to do the entire interpretation.
"There's some visual representation of the information that the sensors are getting.
"For the younger generation of operators this really appeals to them. And they can process the information so much faster than the older generation. This is a shift in generations and approaches which will inform our way ahead as well."
Question: Somewhat similar or perhaps anticipating what is happening in the P-8?
Lt. Col. Baker: Somewhat similar and allows us to share these workflow experiences and new approaches to SA with our allies as well.
Question: MPAs are very flexible assets, and have been used widely in land operations, but this takes away from the ASW focus and skill sets. How has this challenge affected you?
Lt. Col. Baker: We have been deployed in the Middle East since October of 2014.
"We're it for ISR platform in Canada. We're not an ideal platform, but we can do it.
"What I tell people is, it's a little bit like taking a Ferrari to go grocery shopping. Sure you can do it. It's not really what it's designed for.
"And there is the challenge of keeping the ASW skill sets fresh as well.
"The skill sets are different. With regard to the ISR overland role, we are providing information for someone else to make the targeting decision.
"With regard to ASW, you are multi-mission and putting yourself in the position to either make the targeting decision or executing it.
"Clearly, the first is different from the second and the second more demanding.
Question: In your ISR role, you are operating somewhat like a manned drone; but with ASW you are a C2, ISR, strike platform.
These are very different skill sets.
This must pose a challenge for training as well?
Lt. Col. Baker: "It does and we are facing manpower shortages as well in our area of competence.
"We need to wring out the capabilities we already have in Block 3.
"We haven't been able to develop the best way to tactically employ those new toys we got in ASW in part because of the focus on overland ISR.
"The Block Three airplane is still being operated as a Block Two because we haven't had a chance to really develop the new tactics, which would allow us to exploit it to its full potential."
A CP140 taxis to a halt 14 Wing Greenwood, Nova Scotia, Canada. Photo: MCpl Rory Wilson, 14 Wing Imaging
Question: When you deploy an Aurora, how many people are involved in supporting the deployment?
Lt. Col. Baker: "If we deploy two crews, two airplanes that is roughly eighty people. That's once you add the maintenance and the staff to run what we call a detachment."
Question: There is a new framework underway, which the US Navy calls the kill web, in which the ability to reachback to various assets in the coalition allows one to enhance the reach in terms of the effect of one's platform. It is also about the evolving sensor-shooter relationship in the distributed environment. What is your sense of this change and how it affects the RCAF?
Lt. Col. Baker: "We will always operate in a coalition or allied environment where you need to have those efficiencies by being able to integrate fully with each other.
"And we seek to maximize synergy.
"The older ASW approach was to operate alone and unafraid. The anti-submarine warfare platform was a fire-and-forget platform. You were given a mission, you took off, comms silent, did your job, and come back after eight hours.
"That is not the emerging approach.
"We have reachback, and we have command and control that is much more involved in operational and tactical operations.
"We need to reassess the ASW approach going forward and to shape an approach that is more capable of leveraging reachback but ensuring the proper C2 to get the job done where the impact of our systems can be greatest in terms of impact on a threat.
"And the introduction of new UAVs, like the Triton, could become a game changer as well.
"Is the next approach to park UAVs to monitor a wide, wide area and your manned platform becomes a sonobuoy carrier where it goes and lays barriers and then it leaves?
"Does the manned platform become the shooter in a broad UAV enabled sensor grid?
"The position that Canada is in might be an interesting one where for the next few decades, technology will develop, processes will develop, and platforms will evolve.
"Because our commitment to a new platform is a decade away, we might be able to position ourselves with the best solution that is emerging for us."
Question: Does Block IV enable some of the changes we have been discussing?
Lt. Col. Baker: "It does.
"Block IV is focused on hardware changes, which allow for continuous software upgrades and software changes which allow for software upgradeability.
"And will include some changes to communication systems as well which allow for changes in how the plane can work with others in the battlespace.
"In fact, with Block IV, the CP-140 will become its own Local Area Network which brings an interesting question from a maintenance perspective.
"Who maintains our software?
"We can't just think of aircraft technicians as being propeller specialists, or engine specialists or airframe specialists.
"We now also need to have IT specialists to fix our airplanes.
"The question then becomes: do we train IT technicians to become aviation technicians or do we take airworthiness indoctrinated technicians to become IT specialists?
"Canada opted to go with the latter.
"The first Block IV configured Aurora will come to Greenwood next year. It will come to the 415 Squadron here, which is our force development squadron.
"Clearly, the days of the CP-140 are counted. But the technology development is still going on, because the lessons learned from the new technology development will be applied to the next platform.
"The government is not going to invest a whole lot of money in the platform anymore, but they will keep investing in the technology, in the war-fighting capability of the CP-140."
Question: In your training capacity, how do you see the changes for the younger generation coming into the service?
 Lt. Col. Baker: "Many of the new personnel coming in off the street are being trained over a period of only a couple of years and then being put directly into operational experiences. When I became an Aurora pilot, I was one of the younger (in service) pilots because I had served for five years. The norm in those days was more around 7 years of service. That meant that pilots had had 5-7 years to be molded in the military norms.
"This is changing now as new entrants gain operational experience much faster. And we are working to change our training methods as well from being based on printed manuals to more intuitive computer based learning.
"We have very high capability simulation on the operational side that has been used to great effect to prepare our crews to deploy. That's the only reason we can graduate them and send them in theater immediately, is because of the quality of the simulation we have.
"By involving the younger generation early in operations, we are highlighting their intuitive learning skills as well. With the shortages of human resources that we have now, it means that for many of them, they graduate from the OTU, they're full crew members, and go to their operational squadron, and the first thing they do is get ready to deploy and deploy immediately after. And they are performing brilliantly well.
"For example, I have the case of a pilot, where I signed his logbook as graduating being an Aurora co-pilot in my role as the training squadron commander, and my congratulations, left a little note in his log book.
"Then I deployed to Operation IMPACT where I saw him a couple weeks later. He's deploying, and the first flight he does is with me in theater. There's a guy that I just graduated a few weeks before, now he's flying with me in a no-duff theater of war. That's pretty special."
Editor's Note: The Royal Canadian Air Force describes 14th Wing as follows:
Nestled in the heart of Nova Scotia's beautiful Annapolis Valley rests 14 Wing Greenwood, the largest air base on the East Coast. Aurora crews conduct sovereignty and surveillance missions over the Atlantic Ocean routinely, while search and rescue capabilities are maintained 365 days of the year.
In 1942, CFB Greenwood was established as Royal Air Force Station as part of the British Commonwealth Air Training Plan (BCATP). The BCATP was a plan to expand all Commonwealth air forces. In keeping with this objective, Greenwood was used as a training base during WWII, and before the end of the war, produced operational forces.
Today, 14 Wing is home to three operational Squadrons. CP-140 Aurora Long Range patrol Aircraft are flown by 405 Long Range Patrol Squadron. 404 Long Range Patrol & Training Squadron, which operates both the Aurora flight deck and tactical simulators, also uses the long range patrol Aurora for operational and training purposes. 413 Transport and Rescue Squadron is responsible for search and rescue throughout Atlantic Canada and eastern parts of Quebec.
The Squadron members carry out their missions with both CC-130 Hercules Aircraft and CH-149 Cormorant Helicopters. In addition to its diversified operations, 14 Wing Greenwood is home to 14 Air Maintenance Squadron, responsible to maintain the entire CP-140 Aurora fleet operated here in Greenwood. The Wing has a large recreational facility (including a pool and an arena) and is home to hundreds of Air cadets every summer.
14 Wing is located at Canadian Forces Base Greenwood.
http://www.rcaf-arc.forces.gc.ca/en/14-wing/index.page
Editor's Note: A recent experience of Lt. Col. Baker was highlighted in this story by Ashley Thompson and published April 10, 2017 in the King's County Register:
GREENWOOD – It'll be hard for Lt. Col. Bruno Baker to ever top his latest homecoming adventure.
Based at 14 Wing Greenwood, the military pilot recently flew a CP-140 Aurora over his hometown near Vimy-Ridge, Que. April 9 as part of a commemorative fly-by for the 100th anniversary of the Battle of Vimy Ridge.
"(I felt) a great amount of pride to be able to go to my hometown area that I grew up in and help them commemorate this, and show them what the Royal Canadian Air Force has, and what we do for Canada," said Baker, recalling the events of the previous day in an interview with Kings County News April 10. 
This crew from 14 Wing Greenwood recently flew a CP-140 Aurora to Vimy-Ridge, Que. for a fly-by honoring the 100th anniversary of the Battle of Vimy Ridge. Pictured from left to right: Warrant Officer Ian Perreault, Lieutenant-Colonel Illo Neri, Major Yves Leblanc, Lieutenant-Colonel Bruno Baker, Master Warrant Officer David Pawulski, Master Corporal Jim Beaulieu, Corporal Geoffrey Franklin and Corporal Christopher Neufeld. ©2014 DND-MDN CANADA
Baker worked as a reporter in the area from 1984 to 1990, and noted that some of the journalists he used to encounter on assignments were watching the fly-by.
"There were a few relatives, many friends and my father was also the master of ceremonies of that day."
Baker's crew made three passes over the ceremony at varying speeds. Flying at an altitude of about 500 feet, he could tell there were about 200 people watching from the ceremony below.
"We could see the people very well on the ground waving at us as we were going by," he recalled.
He knew there'd be familiar faces on the ground and an added bonus – his father's voice in his ear.
"To be able to talk to my father as we were coordinating this fly past is something I would have never thought I would do in my dreams, so that made it extra special," said Baker, commanding officer of 404 Long Range Patrol and Training Squadron.
The deadly Battle of Vimy Ridge occurred during the First World War, and began on April 9, 1917.
"The Battle of Vimy Ridge proved to be a great success, but it only came at a heavy cost. The some 100,000 Canadians who served there suffered more than 10,600 casualties, nearly 3,600 of which were fatal," states a post on Veterans Affairs Canada's website titled "The Battle of Vimy Ridge."
Baker was honoured to play a role in the fly-by paying tribute to the brave Canadians who travelled to France to fight in the crucial battle 100 years ago.
"Everything is exciting about flying but this is special because that's where you get the feedback of how truly the population appreciates what you're doing and how important it is," said Baker, reflecting on the Vimy Ridge fly-by.
"It sort of re-emphasizes that what you do is right, and it's something to be proud of."
 http://www.kingscountynews.ca/living/2017/4/10/14-wing-greenwood-pilot-leads-fly-by-for-battle-of-vimy-ridge-ce.html
Editor's Note: The MX-20 EO IR Camera
According to L-3, the MX-20 is characterized as follows:
Ideal for: ISR -High-Altitude; Long-Range Maritime Patrol Aircraft (MPA) and Persistent Surveillance missions
Installations: Fixed-wing, Rotary-wing, UAV, Aerostat
Features & Benefits
Multi-Sensor Imaging/Lasing Payload Options:
Currently supports up to 7 sensors simultaneously
Superior HD imaging resolution from Electro-Optical (EO) and Infrared (IR) cameras
3 laser illuminator divergence options
Enhanced Local Area Processing (ELAP):
Real-time image enhancement for EO day, EO night & IR
High-Performance IMU & MX-GEO Software Suite:
IMU & MX-GEO work to create accurate target location
MX-GEO automatically aligns to the aircraft
Robust automatic image focus
Uncompromised Stabilization:
5-axis gimbal with internal IMU
All payloads are fully stabilized
MX-Series Commonality:
Common operator interfaces and Line Replaceable Units (LRUs)
Ease & familiarity of use
Simplified interchangeability
Efficiencies in product support and technology enhancements
https://www.wescam.com/products-services/airborne-surveillance-and-reconnaissance/mx-20/
Editor's Note: Two tours of the Aurora are highlighted in the following videos, the first by a Canadian TV station and the second by an independent photo journalist.
Tour of CP-140:
And a walk around the CP-140: