2017-10-06 By Gulshan Luthra and Air Marshal VK Jimmy Bhatia (Retd)
New Delhi. The Indian Air Force (IAF) is finally set to issue a Request for Information (RFI) to the US Lockheed Martin for F 16 and to Swedish Saab for Gripen for acquiring 114 single engine combat aircraft.
In an interview with India Strategic and at a press briefing, Chief of Air Staff Air Chief Marshal BS Dhanoa said that the RFI should be out within October, and that he expected the capabilities of the aircraft being offered now to be better than those in the 2007 Medium Multi Role Combat Aircraft (MMRCA) contest.
"The procurement is envisaged under the Fighter Aircraft Segment of the Strategic Partnership Model (Chapter VII) of the Defence Procurement Procedure (DPP).
Under this, IAF will acquire 18 aircraft in flyaway condition and the remaining 96 will be progressively manufactured under the Prime Minister's Make in India programme.
Notably, Lockheed Martin has tied up on its own with Tata Advanced Systems Ltd (TASL) and so has Saab with the Adani Group. After either or both are selected on technical parameters in flight trials, the Ministry of Defence (MoD) will approve the winner on the basis of commercial terms and how much Transfer of Technology (ToT) in sophisticated equipment accrues to India.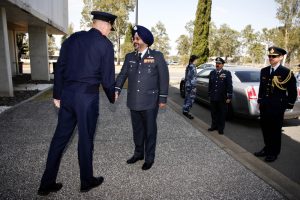 Commanding Officer No. 96 Wing Group Captain Martin Smith welcomes Chief of the Air Staff Indian Air Force Air Chief Marshal Birender Singh Dhanoa, to RAAF Base Amberley. On the 21 September 2017 Chief of the Air Staff Indian Air Force Air Chief Marshal Birender Singh Dhanoa, visited RAAF Base Amberley as part of his inaugural visit to Australia. During the visit Air Chief Marshall Birender Singh Dhanoa had an opportunity to meet and discuss capability with Executive Officers' from Headquarters Combat Support Group, Air Mobility Group and No. 86 Wing. The visit concluded with a guided tour of a No. 33 Squadron KC-30A Multi Role Tanker Transport. Credit: Australian Department of Defence.
According to IAF Deputy Chief of Air Staff, Air Marshal R Nambiar, IAF expected the two companies to respond to the RFI in about three months, the flight trials should take about a year, the contract should be signed shortly thereafter, and the process should wrap up with deliveries of the first lot of flyaway aircraft in less than five years as of now.
As the two companies have already tied up with their Indian partners, the process to set up the factory for the selected aircraft should begin soon after the winner is announced, and just as the winner completes the delivery of the flyaway aircraft, its production in India should also begin simultaneously.
Air Chief Marshal Dhanoa said that IAF was indeed short of combat aircraft, but that the number of squadrons should reach from the present 33 to the required 42 by 2032.
Notably, IAF is fast losing the single engine Soviet vintage aircraft, Mig 21 and Mig 27, and in the coming years, the number of IAF combat squadrons should go down to 28.
With the induction of LCAs (40 plus 83), Rafale (36), remaining Su 30 MKIs (32), and possibly 36 more Rafales, the number of combat squadrons would rise again.
And then of course, the induction of either F 16 or Gripen would give a tremendous boost to the process.
Air Marshal Nambiar told India Strategic that IAF had a plan ready for 36 more Rafales, in addition to the 36 already ordered, but it would be submitted to MoD only after a commitment for funds is available.
Air Chief Marshal Dhanoa said that twin engine aircraft were important, and that IAF would maintain a ratio of 60:40 between them and the single engine aircraft.
At the moment, both Dassault (for Rafale) and Boeing (for Advanced Super Hornet) have offered their twin engine jets for manufacture in India if the order is sizeable to justify investment in their industrial infrastructure and related ecosystem.
IAF has to go in for single engine jets, as they are cheaper.
A single engine power pack is 10 percent of an aircraft's cost, while the twin engine power pack is 30 percent of the cost.
An artists view of F-16 Block 70 with nose-mounted IRST on take off roll. Credit: India Strategic
He pointed out that bird hits were a serious hazard to flying, and to minimize peacetime losses, bird surveys and bird management was being conducted, and even Micro light aircraft had been deployed at some airbases in this regard.
The Air Chief said that he was proud of the fact that IAF was now 85.
"In the years gone by, IAF has continued to grow from strength to strength and it achieved a number of operational milestones.
"The IAF's participation in International Exercises demonstrated our growing strategic reach and power projection capabilities.
"IAF's swift and prompt response during various contingencies in Aid of Civil Authorities both within India and abroad was indicative of the IAF's Humanitarian Assistance & Disaster Relief (HADR) capabilities."
The country's strategic airlift capability has vastly increased due to the induction of C-17 Globemaster aircraft. The IAF operates the largest fleet of C-17 aircraft outside USA.
The production of these ac has stopped.
However at present the IAF has a very potent strategic airlift capability with its fleet of C-17 aircraft and IL-76 aircraft.
He also disclosed that the second lot of six Lockheed Martin C 130J Special Operations aircraft had been received and deployed at Air Force Station Arjan Singh, Panagarh in West Bengal.
Both the C 130J and Boeing C 17 Globmaster III strategic lift aircraft had given a tremendous boost to IAF's transport fleet.
The older Soviet origin IL 76 aircraft, which have been upgraded, also "have sufficient life and are totally airworthy for flying. Then, the An 32 fleet "is undergoing a major avionics upgrade" replacing the original ones of the 1980s vintage.
They now have Traffic Collision Avoidance System (TCAS) and Enhanced Ground Proximity Warning Systems (EGPWS) etc. "The upgrade has ensured continued operability of the aircraft in the dense modern aviation environment."
About modern capabilities and IAF's stamina to take on any challenges, Air Chief Marshal Dhanoa observed that there are always options to do what is required with what is available.
And then of course, the emphasis now is on building and acquiring indigenous capabilities, from AESA radars to Anti Radiation Missiles to neutralise hostile radars.
"Indian Air Force today stands at the threshold of acquiring multi-spectrum strategic capabilities, synonymous with India's growing regional stature and expanding national interests and is progressively nearing its goal of transforming into a true Network Centric Aerospace Force.
"The IAF is also focussing on indigenous acquisition of aircraft, radars, missiles and other aviation equipment in consonance with the 'Make in India' initiative."
SAAB Gripen. Credit: India Strategic
Air Chief Marshal Dhanoa laid emphasis on the welfare of the air warriors and their families. In a message for them, he said:
"The welfare and well-being of our personnel and their families is of utmost importance. I assure you of IAF's commitment to improve the quality of life and enhance productivity in our work places.
"Creation and upgradation of infrastructure for sports and games, living accommodation, shopping complexes, schools and auditoriums to enhance the quality of life and standards of living of our personnel is being carried out at all air bases.
"In addition, we have initiated MoUs recognized the courses conducted by IAF to enhance the educational qualifications of our air warrior."
Reprinted by arrangement with our partner India Strategic
http://www.indiastrategic.in/2017/10/05/iaf-to-issue-rfi-for-single-engine-combat-aircraft-within-october-2017/
Editor's Note: With regard to the recent visit of the Indian Air Force Chief's visit to Australia, see the following:
https://sldinfo.com/chief-of-indian-air-force-to-australia-the-visit-to-amberley-airbase/