2018-01-06 By Todd Miller
In an encounter that could be described, "AgilePod meets AgilePlatform" the USAF AgilePod was recently fitted to a Textron Aviation Defense LLC Scorpion jet.
The test fitment took place December 21, 2017 at the Air Force Research Laboratory (AFRL), Wright-Patterson AFB.
The event showcased both the versatility of the AgilePod and the Scorpion.
According to a USAF news release, Andrew Soine, an electronic systems engineer at AFRL commented, "We met with the Textron Aviation Defense Scorpion team and discussed the possibility of doing a fit check with their Scorpion platform and the AgilePod.
A few days later they called and said they could get the plane to Wright-Patterson within the week.
We couldn't miss the opportunity to show the AgilePod's capabilities on a new class of aircraft."
The Air Force AgilePod program, run by the AFRL Sensors Directorate Blue Guardian team completed inflight testing on a DC-3 this past summer and is pending test flights on an MQ-9 Reaper.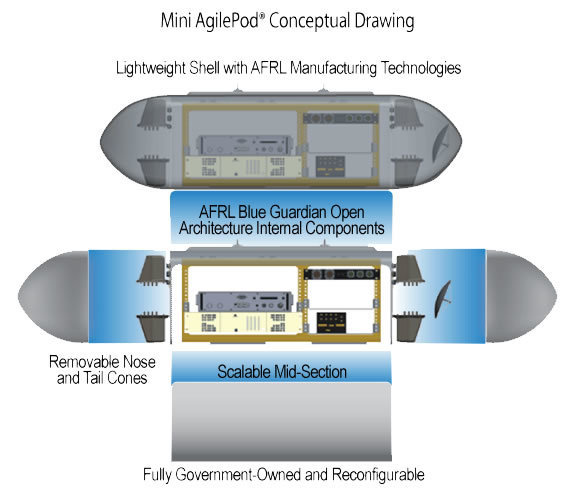 The Mini-AgilePod, conceptualized here, will be designed with an open floor plan and reconfigurable middle sections in various sizes that can be changed depending on specific sensor technologies and missions.
The resulting family of AgilePod platforms will be able to host optimized sensors and fit an increased number of aircraft. (U.S. Air Force graphic/David Dixon)
The AgilePod prototype utilizes an Open Missions System (OMS) modular software architecture and a modular physical configuration of 28 – 60 inches in length that can house a variety of ISR sensor payloads.
It may be conceivable that configurations include communication nodes to enable 4th Gen to 5th Gen data sharing for using data as a weapon in the "combat cloud".
The AgilePod is designed to be flightline configurable while deployed at forward locations to enable maximum support of the warfighter.
It is a description that sounds remarkably like the Scorpion, itself utilizing a modular open system architecture (MOSA) and featuring exceptional physical modularity in its payload bay for ISR/Communication payloads.
The AgilePod initiative is a good example of an ongoing program that fits within the messaging from the leadership of the Air Force — Secretary of the Air Force Heather Wilson, Chief of Staff General David Goldfein, and the entire command structure.
Such direction was captured by Wilson at the OA-X demonstration this past summer at Holloman AFB, "Our adversaries are modernizing faster than we are and it is up to the USAF to drive innovation so that our adversaries are surprised by just how powerful we are and how ready we are for any fight, anytime, anywhere. That means we have to think about things in new ways and identify new capabilities faster than we have done in the past."
The Air Force will utilize OMS and rapid, cost effective innovation to drive superior capability in the face of global challenges.
Utilizing the Scorpion for AgilePod integration may seem like an odd fit – given the Scorpion's capability to internally carry what would amount to similar sensors and communication payloads.
However, the collaboration between AFRL and Textron Aviation Defense is not intended to validate the Scorpion with the AgilePod, but rather to validate the fitment of the AgilePod on a light jet in a rapid, and cost-effective manner.
Given this first step, the USAF and AFRL may consider flight testing and ultimately demonstrating the integration of the AgilePod "streaming data" into the Scorpion's own open mission system to designate targets for engagement with precision weapons from the host platform.
Streaming ISR data to a ground station has appeal, as does streaming to additional airborne platforms and manned, tactically relevant assets in the combat cloud.
The Scorpion's low operating cost, OMS, ease of support and flight operations would appear to be a sound fit for further validation of the AgilePod.
The Scorpion demonstrates this capability on a consistent basis, such as the recent transit made overseas to the Dubai Air Show.
During transit the Scorpion visited nine countries in six days with 100% readiness.
During demonstrations in Saudi Arabia, Royal Saudi Air Force (RSAF) pilots and weapons system officers designated targets by laser and dropped inert GBU-12s on target after only 2 hours of ground instruction and 15 minutes of flight!
According to Steve Burke, Textron Aviation Defense Senior Advisor, the opportunity to collaborate with the AFRL on this initiative demonstrates Scorpion's additional capabilities, "not only does the Scorpion have great capability within itself to integrate ISR/Communication payloads, but this fit check demonstrated how quickly the aircraft can integrate a defined Air Force ISR payload with little-to-no change in its existing OMS software."
Further collaboration could demonstrate the Scorpion's capability to fly with and tactically integrate the AgilePod to demonstrate getting to the "future faster", a priority for General Mike Holmes, Commander, Air Combat Command.
Like any development program, questions remain. What platforms will ultimately utilize the externally mounted AgilePod?
Will Textron's "AgilePlatform" be a fit for the U.S. or other Air Force as a dedicated ISR/Light Attack platform that drives tremendous operational savings?
Given the clear direction to "network enabled information dominance" both approaches appear promising.
Innovations in technology have many systems obsolete by the time they are fielded.
Approaches that provide the desired capability while demonstrating modularity and scalability have great appeal – to deploy near term, and remain relevant in the future at a manageable cost.
Photos and Graphic, USAF David Dixon/released.