2018-02-14 By Vice Admiral Shekhar Sinha (Retd)
New Delhi. The age old debate rages on worldwide between strategists of both blocks, the ayes and naysayers, on the relevance of the aircraft carriers with respect to their combat power vs. vulnerability.
This has undergone periodic pendulous harmonics.
Whether it is the US, Russia, United Kingdom and now China apart from India, the debate is identical. Even in countries with fewer maritime ambitions, such as Italy, Brazil, Spain and Thailand, this debate has been used either to acquire or to scuttle the process.
The very famous critique of aircraft carriers John Lehman who articulated all ills of this platform when not part of the US administration, found himself appointed as the Navy Secretary by President Ronald Reagan after an administration change in the US.
He, after much briefing on strategy and geopolitical realities, authored the policy of 13-carrier Navy for the US.
This policy remains the driving policy document of force structure till date, although a couple of years ago, President Barrack Obama mentioned 11 carriers in his Asia-Pacific Pivot Policy.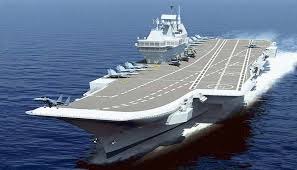 The United Kingdom Navy aircraft carrier force was scuttled completely by none other than the Royal Air Force post demise of the Soviet Union and the Cold War by justifying diminished Soviet threat from long range maritime patrol aircraft.
The Strategic Defence Review document outsourced the fleet air defence and strike from seawards role of the Royal Navy to the NATO despite their carriers having proven their worth in the Falklands (Malvinas) conflict with the Argentines in 1982.
In the post Soviet era, Russia is also attempting to resurrect its naval power as a necessity towards greatness, but has only one aircraft carrier, the Admiral Kuznetsov, deployed in Mediterranean for operations in the ongoing Syria/ Iraq ISIS conflict.
Emergence of Chinese Naval power
China, which was not a great maritime player till not so distant past, has literally churned out numerous diesel/electric submarines as also several nuclear powered boats in pursuance of its near sea and apparently larger global ambitions.
In a White paper, China had declared in 2015 that it will now be concentrating on far sea Maritime capability, pre-positioning warships – like the way US Navy does.
Carrier Task Forces are apparently part of such a strategy, although China does not always give details.
Traditional thinking that land warfare is all important is irrelevant in Beijing today and China has decided to master far Sea Operational ability keeping in consonance with its growing stature in the world.
Acquisition of naval bases, Gwadar from Pakistan in the Indian Ocean, is its biggest strategic asset.
China commissioned its aircraft carrier Liaoning in 2012 and a number of pilots have qualified from her deck by now.
Construction of a second carrier is underway and there are reports that work on few more carriers is also in progress.
It is only matter of time that the Chinese Navy will emerge in the Indian Ocean in a big way with two naval bases, Djibouti and Gwadar, supporting carrier and submarine operations.
The recent agreement between China and Malaysia to develop the port of Malacca will lead to the Chinese Navy having major operational presence in all three critical choke points in the Indian Ocean Rim (IOR), i.e., Gulf of Oman (mouth of the Strait of Hormuz), Gulf of Aden (Exit from Red Sea) and Malacca Straits.
Its aircraft carrier (s) and submarines will provide capability to block and disrupt adversaries transiting through these crucial sea routes between the Atlantic and Pacific.
It may be kept in mind that China is building anti aircraft carrier missiles but then its own carriers will also face similar threats.
India Supersonic Brahmos cruise missile is a very potent weapon for both attack and counter measures.
US Naval Power
The US Navy has dominated the oceans for decades now.
It has a declared strong presence in the Indian Ocean as well as the Pacific, and it has refused to accept the unilateral annexation of the South China Sea by Beijing.
The US Navy has 11 aircraft carriers, and this is the number that is likely to stay in the coming years.
The potency of the carrier based aircraft is bound to be strengthened by the induction of 5th Generation F 35 aircraft and land-based long range Unmanned Aircraft Systems (UAS) like the General Atomics Predators and Northrop Grumman Global Hawks which can stay over the waters for nearly 30 to 40 hours.
China will take time to match the US strength but then, given an assertive intent and access to land bases like Gwadar, the Chinese Navy can cause enough of headache to the US and other navies.
Nonetheless, the election of a new president notwithstanding, the US Navy will continue to dominate the oceans with new generation of warships, submarines, aircraft and high technology assets, cyber disruptions included.
The US Navy will continue to be the most formidable force to check dominance of the waters by China.
The Role of Indian Navy
What does the rise of Chinese Navy and its collaboration with the Pakistani Navy mean for the Indian Ocean countries, particularly India?
The Indian Navy's procurements have remained stymied by complicated procedures and internal roadblocks of the Finance and Defence ministries where many have shown lack of strategic foresight.
Fortunately, with the present political dispensation, there has been a welcome change and, in a recent seminar on submarines, the Indian Defence Minister has at least called for a larger number of underwater boats than earlier planned.
With that mindset, the direction towards aircraft carriers should also be positive.
Notably, a Carrier Strike Group remains the fastest means of deployment of forces whether it is in a show of force or in support of own land operations as well as for providing security to friendly countries in the IOR.
As India does not have a policy of overseas basing, a carrier force remains the only suitable alternative for a regional power like India to conduct out of area contingencies. In any case, foreign bases are expensive and difficult to get given the nature of political dimensions.
That increases the relevance of aircraft carriers.
With the arrival of the Chinese, their basing rights in Djibouti and Gwadar, Equity holding (likely) in Colombo South port, and Maldives increasingly falling in the Chinese lap and, importantly Pakistan becoming a proxy state of China, IOR maritime scenario has become more uncertain and complex.
With the de-induction of Sea Harriers and impending decommissioning of the Viraat, INS Vikramaditya is the only aircraft carrier that the Indian Navy has for operations in the entire IOR.
There is no doubt that Mig 29 K fighters and Kamov31 helicopters have provided force multiplication to the Indian Navy's firepower.
The AEW capability of the Ka 31 and its data link compatibility with the Mig 29 K/ Vikramaditya combination has added speed to execution of both interception and strike tasks at, and from sea.
The longer endurance of the Mig 29K permits it to perform dual tasking in the same sortie.
With the Indian Air Force's fighter force just about adequate for tasking in two front air warfare situation, till such time the Rafale gets inducted, Mig 29Ks will provide breathing space to the IAF's downsized inventory by freeing it from certain maritime roles.
But the question is: Is it adequate?
The Indian Navy has 45 Mig 29Ks, much more than what Vikramaditya can operate.
The ship has two carrier borne squadrons, Numbers 300 and 303. A Training Squadron is also in the offing.
India's Long Term Perspective Plan envisages at least two operational aircraft carriers at any one time with the third one as hot reserve to substitute during maintenance of either.
Therefore, the next two aircraft carriers become an urgent operational necessity,
The first indigenous aircraft carrier IAC-1 or Vikrant is being built at the Kochi Shipyard.
Due out in a couple of years, it will operate both the Mig 29K and the indigenous Tejas Light Combat Aircraft (LCA) Navy as and when it becomes a reality some years later.
Significantly, there are reports that US experts have found Vikrant falling short of meeting operational tasks in her present state of construction.
These glitches are bound to occur given that it is the first time an Indian yard is attempting to build an aircraft carrier.
Processes of development are always slow and painstaking.
These may not produce a carrier of the class of the US, but it will be an Indian aircraft carrier. The next one would be better.
There is a technological and production engineering process gap of 70 years between the US and India.
We hope our shipbuilders learn fast to bridge the gap.
India has over 50 years of experience in maintaining and operating aircraft carriers and carrier borne aircraft.
A very confident return to tail-hook aviation after a VSTOL era of over 33 years bears testimony to Navy's professionalism.
Building a carrier strong Navy is the only way forward.
Vice Admiral Sinha (PVSM AVSM NM & Bar – Gallantry) is a former Naval Aviator. He retired as Commander in Chief of the Western Naval Command.
First published by our partner India Strategic in December 2017 and republished with their permission.
http://www.indiastrategic.in/2016/12/08/relevance-of-aircraft-carriers-for-the-indian-navy/