By Robbin Laird
Last year during my visit to Norway, I had a chance to visit several airbases and talk with a wide variety of Norwegian officers and defense officials.
With the return of direct defense challenges to the Nordics, there has been a major shift to recapitalizing the force, introducing mobilization measures and reworking the concepts of operations to deal with the Russian threat.
But it has been nearly two decades since the Nordics have faced a direct defense threat and at that time, they were facing the Soviet Bloc, and not simply Russia.
This meant that the core threat they faced in times of war would be an amphibious assault from the Soviets similar to what the Germans did against them in World War II.
But now the threat is different and the concepts of operations not the same as well.
As I wrote in a recent article in the Canadian publication Front Line Defence:
It is clearly not your daddy's Cold War but, for the younger generation, not having lived through it, it can be a bit of a shock facing a nuclear power that has threatened Northern Europe (several times) with destruction if they don't comply with how the Russians want to see security and defense develop in Europe.
 But there is no Warsaw Pact. The Russians cannot lead an envelopment campaign in the event of war against Northern Europe. In the Kola Peninsula, Russia maintains the greatest concentration of military power on earth, and this makes Northern Europe a key flashpoint as Russia pushes its military power to areas of interest, including the Middle East.
The opening of the Arctic is clearly changing the strategic geography as Putin stands up new military bases, including air bases, to provide greater reach and range and affecting his ability to project force out into the North Atlantic. The Nordic countries recognize that the extended reach of Russian strike capability (longer-range missiles) changes the threat calculus.
For the Nordics, the Trident Juncture 2018 exercise was a building block for shaping approaches to dealing with the new strategic situation.
During my visit to Norway this past Spring, I had a chance to talk with one of the key Norwegian officers involved in the preparation for the exercise.
According to Col. Lars Lervik:
"A key focus of the exercise from the NATO side is exercising our ability to conduct high intensity operations in a multi-national environment.
"What we're looking at here is confronting an opponent who has the whole arsenal available.
"We need to be able to function not only as individuals and individual nations, but actually function together.
"This is a key focus of the exercise."
Trident Juncture 2018 is also a command post exercise as well and given that Norway is reworking its C2 capabilities as part of defense modernization, the exercise provides an opportunity to input multinational operational training as well into the transformation process.
Col Lars Lervik highlighted that "It is very important to ensure that we have the procedures in place necessary to operate an integrated force on Norwegian territory in a higher intensity operational environment.
"We are starting really to be serious about C2 again."
During my visit to 2ndMarine Air Wing earlier this month, I had a chance to talk with Marines involved in the exercise to get their sense of the return of direct defense in Northern Europe and the challenges facing the Marines to provide the kind of force engagement which ultimately the Nordics, the US and NATO would like to see in terms of coalition interoperability necessary to operate in a crisis situation.
During my visit I had a chance to talk with Col. Pares, Commanding Officer of MAG-31, and with the Commander of VMFA Squadron 224, Lt. Col. Joshua Pieczonka.
According to both officers, from the standpoint of mobilization the exercise was a success, but the years of working in the Middle East had clearly have not allowed them to focus on their ability to fight in the cold.
But the exercise really did not achieve a core goal – training for the high-end fight.
The Marines showed up, flew, but not really do a good job of integrating with the Marine Corps force deployed to Norway nor with the Norwegian and allied forces as well.
I pointed out that the Nordics are now shifting to the direct defense challenge but doing so is a work in progress.
It would be important to influence what they are investing in so that the Marines could plug and play more effectively in the future.
Pares: "We've been sending squadrons for years now to the sandbox in the Middle East, and it's been a long time since we sent anybody back to the North.
"So, thanks to the Commandant's direction, we're attempting to get back into cold weather operating environments.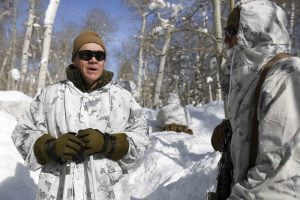 "And so really for us, we haven't really looked at this really strategically. It's direct asking from the Commandant and to get back familiar with working in those types of environments, so we're looking for cold weather training opportunities.
"We want to make sure our equipment is still able to operate there, and that we know how to operate there. And so we're looking for more of these opportunities."
He noted that they were going to Finland as part of the Arctic Challenge exercise in May 2019 as well.
Lt. Col. Joshua Pieczonka noted that his previous experience has all been in hot weather type climate environments.
"I think we can essentially declare it as a success from the lower level operational tactical level, but we need to augment our ability to do higher end training in this exercise environment.
"We did take eight F18s, packed them up and moved them across the Atlantic Ocean. It's always challenging to cross the ocean. It's more so challenging when you get in the winter months, of course, where this airplane has a finite amount of places that we can put it once we get going.
"We were able to move essentially the majority of the VMFA, and put it in place over a couple of days. And there was already a Marine wing support squadron footprint there for us, so we had a life support. Basic life support required to operate already existed.
"We had a threshold requirement that was in place to receive us.
"So from a strategic perspective, of getting something somewhere into a base and just figuring out operations and then having a very warm reception by our Norwegian counterparts, were ready to receive us and help us move forward, is very well done."
But the exercise demonstrated that this was a beginning not an end point.
There is a clear need to work through how Marines coming to Norway in a crisis can bring their full combat capabilities to the fight and to integrate those capabilities with the Norwegians.
This clearly will be a work in progress and with the Nordic commitment to the F-35 as well, there will be an important opportunity to leverage the stand up of the combat capability in the Nordic region to shape better competencies and capabilities in the C2 area to ensure that the force can be optimized for the high-end fight.
Col. Phares emphasized that there was a clear emphasis on seeking out cold weather training opportunities for the Marines, and that the Commandant has put significant emphasis on so doing.
He underscored that with the challenge of ramping up readiness for the Marine Corps and the shift from the desert, training opportunities at the higher end were clearly necessary.
And the Trident Juncture 2018 exercise only partly met this requirement as improvement will be needed on all sides to ensure that the insertion force into Norway can bring its full combat capability to the fight.
An example of a work in progress has been the introduction of the G/ATOR radar.
When I visited MAWTS-1 last year, they had introduced the new G/ATOR radar into the WTI course. During the WTI course, they were focused on unlocking the capabilities the new radar could bring to the USMC and the joint force.
One example of this being tested at MAWTS-1 is the continued integration of Ground/Air Task Oriented Radar (G/ATOR) TACDEMOs.
G/ATOR provides targeting information and fires support ashore. 
One challenge will be to shape a MAGTF, joint and allied understanding of how to efficiently operate in concert.
This is magnified with the introduction of the F-35 which provides significant MAGTF organic support but also possesses capabilities to enable joint and allied fourth generation aircraft as well.
A key focus was how to manage and conduct Integrated Fire Control between G/ATOR and F-35.
"We focused on how to maximize three core systems – G/ATOR, the Composite Tracking Network (CTN) and CAC2S (the latest software iteration of the Common Aviation Command and Control System) as they are fielded to the force for the first time as a systemic whole."
"We are going to be able to provide significantly greater information to all of the shooters, whether airborne, shipborne or ground based missile defense systems."
The Marines brought the new radar to the Trident Juncture 2018 exercise but really were able to demonstrate its transportability more than what it could contribute to the fight.
Clearly, the goal must be to not only bring the new radar into the Nordic environment but work the connectivity and force integration which would allow that radar to contribute to Marine Corps and allied operations in a crisis situation.
This is an example of the work in progress.
2ndMAW engagement Trident Juncture 2018 is an important turning point in the strategic shift.
They demonstrated they can show up effectively to support crisis management, but it remains necessary to shape the force integration in Norway to be able to gain the level of warfighting capabilities needed in a crisis.
Col. Matthew H. Phares, MAG-31 Commanding Officer
Colonel Matthew H Phares graduated from West Virginia University with a B.S. in Aerospace Engineering.  He was commissioned in 1993 as a naval aviator. Following designation as an F/A-18 pilot he was assigned to VMFA-251 where he completed two carrier deployments, flying combat missions in support of Operation Southern Watch in Iraq and in Afghanistan in support of Operation Enduring Freedom. He also completed the Strike Fighter Tactics Instructor course. Following his tour with VMFA-251, he was assigned to 2nd Light Armored Reconnaissance Battalion during the Iraq invasion as a Forward Air Controller in support of Operation Iraqi Freedom.
As a field grade officer, he returned to MCAS Beaufort and was assigned to VMFA(AW)-533 where he filled multiple billets as the pilot training officer, Operations officer and Aviation Maintenance officer. He also completed the MAWTS-1 Weapons and Tactics Instructor course. While assigned to the Hawks, he completed a deployment to the western Pacific as part of the Unit Deployment Program and another deployment to Iraq in support of Operation Iraqi Freedom.  Following his tour at VMFA(AW)-533, he attended the Marine Corps Command and Staff College before being assigned as the section head for MMOA-4.
Promoted to Lieutenant Colonel, he returned to MCAS Beaufort in June 2010, and assumed command of Headquarters Squadron 31.  In June 2011, he assumed Command of Marine Fighter Attack Squadron 115 and completed a deployment to the western Pacific as part of the Unit Deployment Program.  Relinquishing command in February 2013, Lieutenant Colonel Phares was selected to attend Top Level School at the National War College. In June 2014, Lieutenant Colonel Phares was assigned to the Joint Staff where he served as the Kinetic Weapons Branch Chief in the J-8 Force Application Division.  In May 2016, Colonel Phares was selected to serve as the Military Aide to the Deputy Under Secretary of the Navy for Policy.  In August 2017, he assumed his current duties assigned to the staff of 2nd Marine Aircraft Wing.
Colonel Phares' personal decorations include the Legion of Merit, Defense Meritorious Service Medal, Meritorious Service Medal (2nd award), 12 Air Medal's (one single action with combat V and eleven strike flight awards), Navy Commendation Medal with combat V, Navy Achievement Medal and the Combat Action Ribbon.
https://www.mag31.marines.mil/Leaders/Article/601688/colonel-matthew-h-phares/
Lt. Col. Joshua M. Pieczonka, VMFA(AW)-224
Lieutenant Colonel Pieczonka graduated from The State University of New York at Buffalo in May 1997 with a bachelor's of science degree in Exercise Science, was commissioned in April 1998 a second lieutenant, and ordered to The Basic School (TBS).
In April 1999, Lieutenant Colonel Pieczonka reported for Naval Flight Officer (NFO) training at NAS Pensacola, FL.  He was designated an NFO in October 2000 and ordered to Marine Fighter Attack Training Squadron 101 (VMFAT-101), MCAS Miramar CA for training as a Weapons Systems Officer (WSO) in the F/A-18D.  Upon completion of training with VMFAT-101 in January 2002, Lieutenant Colonel Pieczonka was directed to report to Marine All-Weather Fighter Attack Squadron 533 (VMFA(AW)-533) at MCAS Beaufort, SC.
During his tour with VMFA(AW)-533, Lieutenant Colonel Pieczonka served as a Schedules and Flight Officer, Ground Safety Officer, and Assistant WSO Training Officer.  Lieutenant Colonel Pieczonka executed deployments in support of Operation Southern Watch, Operation Iraqi Freedom and a Western Pacific deployment as part of the Marine Corps' Unit Deployment Program (UDP).
Lieutenant Colonel Pieczonka detached from VMFA(AW)-533 in May 2005 and reported for duty as a Forward Air Controller with the 2d Reconnaissance Battalion at Camp Lejeune, NC where he served as the Battalion Air Officer.  While attached to the 2d Marine Division, he was again order to the Central Command (CENTCOM) area of responsibility (AOR) as a combat replacement individual augment to Operation Iraqi Freedom.  He executed operations as the assistant Regimental Air Officer for Regimental Combat Team Two (RCT-2) aboard Camp Ripper at Al Asad Airbase, Iraq.  Lieutenant Colonel Pieczonka returned to serve the remainder of his FAC tour as the Air Officer for 2d Tank Battalion.
In November 2006, Lieutenant Colonel Pieczonka reported to Marine Aviation Weapons and Tactics Squadron One where he served as an Air Officer Department Instructor.  While on staff at MAWTS-1, he completed the Weapons and Tactics Instructor (WTI) Course in the spring of 2008 and served an additional role as an F/A-18 instructor for the remainder of his tour.  Lieutenant Colonel Pieczonka was the subject matter expert for Close Air Support execution and doctrine, terminal attack control standardization, Digital Precision Strike Suite (DPSS) and portable targeting devices, precision guided weapons targeting and mensuration, and fixed-wing tactics.
Lieutenant Colonel Pieczonka was selected to attend the United States Air Force, Air Command and Staff College, Air University at Maxwell Air Force Base in Montgomery, AL in the summer of 2009.  He earned a Master's Degree in Operational Art and Military Science with a concentration on Small Wars and Counter Insurgency Operations.
In August 2010, Lieutenant Colonel Pieczonka reported for duty to the 3rd Marine Aircraft Wing, Marine Aircraft Group-11, and was assigned to VMFA(AW)-225.
During his tour of duty, he executed the Operations Officer, Assistant Aircraft Maintenance Officer, and Director of Safety and Standardization Officer billets.  Lieutenant Colonel Pieczonka executed two western Pacific UDPs during his 29 months with the Vikings.  He completed the remainder of his MAG-11 tour as the Tactics Training Facility (TTF) Officer in Charge and the MAG-11 WTI.
Lieutenant Colonel Pieczonka reported to Headquarters, United States Marine Corps, Department of Aviation in June 2013 to serve in the Aviation Weapons Requirements Branch (APW) as the Aviation Training System Requirements Officer.  In the summer of 2014, he was reassigned to the Aviation Plans, Programs, Joint/Congressional Matters, Doctrine and Budgeting Branch (APP) as the Tactical Air Control Party, Joint Fire Support, and Joint Close Air Support Executive Steering Committee Action Officer.  He also served as the Contract Air Services/Adversary Requirements Officer.
During his tour in the Pentagon, Lieutenant Colonel Pieczonka deployed forward in 2015 to augment the Combined Joint Force Land Component Command, Combined Joint Task Force-Iraq as the Strike Director at the operations center in Baghdad, Iraq in support of Operation Inherent Resolve.
In August 2016, Lieutenant Colonel Pieczonka reported to Marine Aircraft Group 31 at MCAS Beaufort, SC.  He executed the F/A-18 WSO refresh period of instruction at VMFAT-101, and served as the Marine Aviation Training System Site Beaufort Operations Officer and acting Officer in Charge until 26 March 2017.  Lieutenant Colonel Pieczonka was reassigned and directed to report to VMFA(AW)-224 to assume the Executive Officer billet and accompany the Bengals on the deployment in support of Special Purpose Marine Air Ground Task Force – Crisis Response, CENTCOM (SPMAGTF-CR-CC) 17.2. On 23 February 2018, Lieutenant Colonel Pieczonka assumed command of VMFA(AW)-224 and is currently executing that assignment.
Lieutenant Colonel Pieczonka's personal awards include the Defense Meritorious Service Medal, Meritorious Service Medal, Air Medal (with Strike Flight Numeral 8), Navy and Marine Corps Commendation Medal (with 2 Gold Stars in lieu of 2nd and 3rd Awards), and the Navy and Marine Corps Achievement Medal with Combat Distinguishing Device.