By Ed Timperlake
The view of the US Navy and its approach to ASW throughout history was laid down over sixty years ago by one of the most accomplished CNO's in Naval History, Admiral Arleigh Burke.
Chief of Naval Operations Admiral Arleigh Burke initiated "Project Nobska," which carved out a way ahead for the US Navy to deal with ASW against nuclear submarines, as well as focusing on new technologies to defend against them 1
It is only fitting given his focus that the best class of destroyers ever built were named for "31 Knot" Burke; Burke's standing order in all cases was: "Destroyers to attack on enemy contact WITHOUT ORDERS from the task force commander."2
Admiral Burke summed up his approach in an address written and delivered in 1959:
"The United States is ahead in its ability to use and exploit the sea, in antisubmarine warfare doctrine and capabilities, in the application of naval air power from carriers at sea, in guided missiles at sea. 
"These capabilities did not come overnight. 
"They are the result of solid thinking and hard work, hours, days, and years of attention to the many jobs the Navy has to do.
"They are the result of cool determination, and the intelligent  application of always-limited resources." 3
The Burke class destroyers and their evolution in the form of the Aegis system embody his thinking and his approach.
According to the US Navy:
"Arleigh Burke Class (DDG 51) Destroyers are warships that provide multi-mission offensive and defensive capabilities. Destroyers can operate independently or as part of carrier strike groups, surface action groups, amphibious ready groups, and underway replenishment groups."4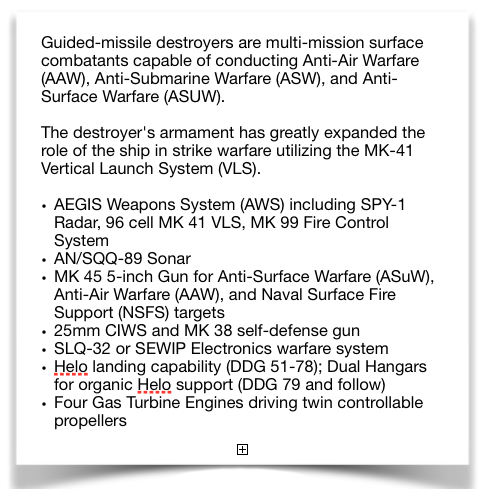 It is past being ironically priceless that President Putin's own news reporting publication Sputnik News actually notes the fighting characteristics and combat utility of Burke Class Destroyers, with a very nice picture included (see below).
According to a 2018 article in Sputnik News:
The US Navy has sent invitations to the private sector to submit bids to build Arleigh Burke-class destroyers, the service's top weapons buyer said last week.
Speaking at the WEST 2018 conference last week, James Geurts, assistant secretary of the Navy, said that a new contract lasting from 2018 to 2022 to produce Flight III Arleigh Burke-class vessels was up for grabs. The destroyers will be built either at Bath Iron Works in Maine or the Ingalls shipyard in Mississippi, or perhaps both.
Specifically, the Flight III Arleigh Burke ships feature Raytheon's AN/SPY-6 radar, an active electronically scanned array air and missile defense 3D radar. In advertising the radar on its corporate page of "7 fast facts about the navy's newest radar — and how it will keep the world a safer place," the firm boasts, "it has 'spy' in its name."
Most of the 2017 funding for the Arleigh Burke program went into modeling and designing the vessel to incorporate new radars, USNI News reports.
"The Navy has worked with our industry partners to develop the Flight III testing to ensure each shipyard is well-positioned to execute this [multiyear procurement contract," Geurts said in an announcement.
The destroyers can carry out a variety of tasks including anti-air warfare, anti-submarine warfare and anti-surface missions.5
But wait it gets even better.
Dating from our "Ready Now" destroyer's beginning with the fight against German subs in WWI to WWII throughout the Cold War to today destroyers they have always been a huge contributor to Victory At Sea. 
In World War I, the US Navy provided destroyers to the conflict against German submarines and their war of attrition against Britain.
Less than 25 years later, the Hunter-Killers of WWII again won the Battle of the Atlantic against German U-Boats.
"In the central and southern Atlantic, F-21 and Tenth Fleet served as the brains while the ships of the Atlantic Fleet provided the brawn for the U.S. Navy's antisubmarine warfare offensive against Axis submarines. 
"Smaller sized escort carriers were already sailing near Allied convoys, providing air coverage and thwarting U-boat attacks. 
"After 1943, U.S. Navy escort carriers shifted to the offensive. While the British deployed escort carriers with convoys in the North Atlantic, the Americans formed autonomous "hunter-killer" antisubmarine task groups. 
"A typical U.S. Navy hunter-killer task group consisted of a number of escort vessels like Destroyers (DD) and Destroyer Escorts (DE), which were centered on an escort carrier (CVE). 
"Usually, the hunter-killers would sortie from Hampton Roads to a designated operations area. Afterwards, hunter-killer formations would either return to home port or continue on to alternate ports such as those in North Africa for refits, refueling, and rearmament. 
"Maintaining a continuous circuit along the Allied convoy routes and in U-boat operations areas, U.S. Navy hunter-killers were a constant threat to U-boats after 1943." 6
Enter the Cold War as a precursor and prologue to the new age Russian challenges highlighted by President Putin. 
A documentary was made by Edward R Murrow, who global history has honored as a very serious and honest journalist. Murrow made his point about a naval revolution over six decades ago and it is still extremely important to this day: 
"The cold opening of this November 18, 1956 black-and-white episode of Edward R. Murrow's "See It Now" CBS television documentary series shows the viewer the wheel of the USS Constitution — "Old Ironsides" — the wooden-hulled, three-masted heavy frigate launched in 1797 and the oldest commissioned warship afloat in the world, with the narrator then launching into a discussion of the revered vessel's history. 
"From there, the viewer is shown the wheel of the USS Forrestal (CV-59), a supercarrier, and her sister ship, USS Saratoga (CV-3). 
"Currently there is a revolution in the navy. 
"A revolution in ships and in weapons and in men. 
"A revolution that really began in 1939 when (Albert) Einstein wrote a letter to the President about a new kind of bomb which he predicted would be carried by boats and be capable of enormous destruction."7
Put in blunt terms, the weight of history of US Naval operational experience and evolving kill web technology are now to be directed against the threat which Putin now poses directly against the United States and its guarantees to NATO. 
This is the fifth piece in our series on the response to Putin's escalatory rhetoric and force structure planning with regard to threatening the US with sub strikes using high speed hypersonic missiles.
Footnotes