A Bomber Task Force deployment of B-52 Stratofortress aircraft, Airmen and support equipment from the 2nd Bomb Wing, Barksdale Air Force Base, Louisiana, have arrived in the U.S. European Command area of operations for a deployment to conduct theater integration and flying training.
The aircraft will operate out of RAF Fairford, England. The deployment of strategic bombers to the U.K. helps exercise RAF Fairford as United States Air Forces in Europe's forward operating location for bombers.
The deployment also includes joint and allied training in the U.S. European Command theater to improve bomber interoperability. Training with joint partners, allied nations and other U.S. Air Force units contributes to our ready and postured forces and enables us to build enduring and strategic relationships necessary to confront a broad range of global challenges.
Bombers are a key part of the US and NATO capability to provide for both conventional and nuclear deterrence.
In a recent discussion with Paul Bracken, we discussed ways in which NATO might effectively respond to the direct challenge which Putin is posing concerning nuclear deterrence.
There are a number of ways in which the US and NATO might shape a way ahead with regard to nuclear deterrence.
The first alternative would be that the US could leverage the current bomber force and perhaps ramp up the new bomber and build out the longer range strike weapons on them, some nuclear but most with conventional warheads.  This force could then operate from outside of Europe but affect the battlespace within Europe.
The new bomber given the systems onboard the aircraft and its capacity to be highly integrated with the F-35 provides a wide range of contingencies in which the bomber strike force could be used to strike at key Russian choke points or axis of attack on key allies, notably the new European ones.
This would be especially important if Germany does not accelerate its ability to provide for credible conventional defense in depth.
The second would be to reorganize, restructure and build a new capability for shorter-range battlefield nuclear weapons.  This would be a limited arsenal and designed largely to be able to underscore to the Russians that lowering the nuclear threshold which is their current approach makes no sense, because we have a range of options to deny them any combat or political value from a limited nuclear strike in Europe.
The key change agent here is the nuclear equipped F-35, which can operate with its nuclear weapon inside of the airplane and with decent range to strike inside Russia to affect military capabilities of the Russian forces themselves.
Legacy aircraft are much less useful because of their vulnerability in contested airspace whereby the Russians are combining defensive and offensive means for a nuclear tipped tactical aircraft to get through.
This option becomes real again with the F-35 and with the various F-35 users in Europe who could continue in the current nuclear sharing arrangements.
The third is to rebuild the maritime strike force to have lower yield nuclear weapons, again useful in limited contingencies to deny the plausibility for the Russians pursuing a low yield nuclear strike designed to have political effect.
The fourth option is simply to rely on the strategic triad and to do flexible targeting to achieve the deterrent effect; the difficulty with this option is that the use of the strategic triad is part of a much larger piece of deterrence, mutually assured destruction, and may be the equivalent of using a hammer to open an egg.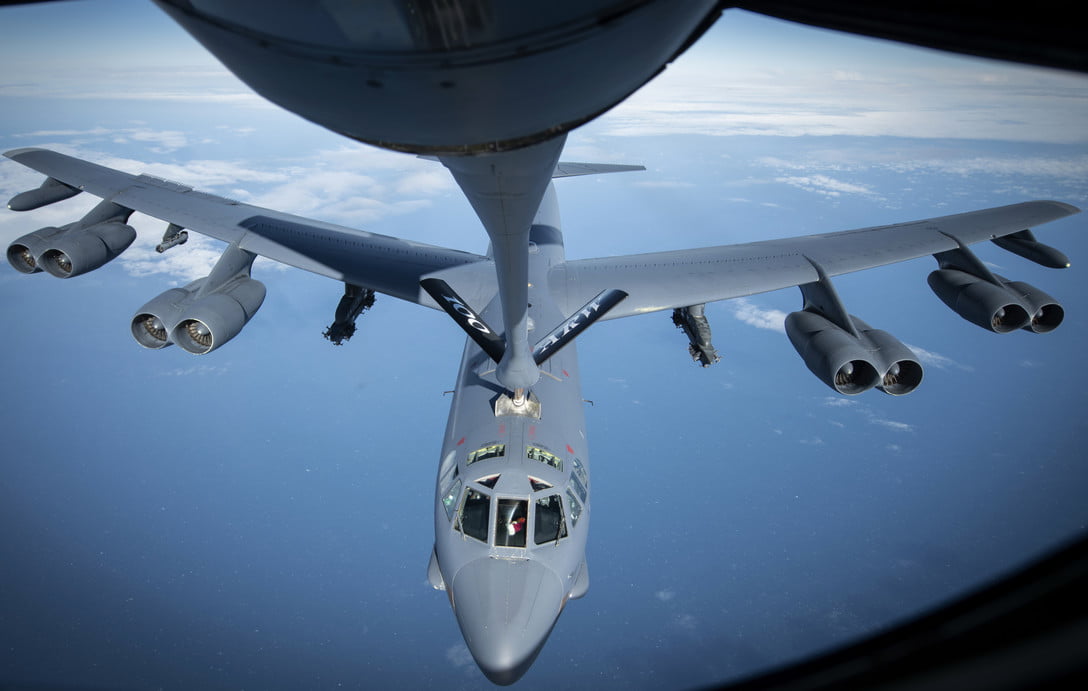 With the patchwork quilt which NATO Europe is becoming and with the cross-cutting support the authoritarian powers are providing to one another, and with US uncertainties, it is not difficult to envisage a wide variety of crisis scenarios which would rapidly involve the question of how, when and for what purpose the Russians would threaten or use limited nuclear attacks.
Paul Bracken underscored: "If a major country like Germany believed that they have only two choices, nuclear war or capitulation, that is not a choice that is really beneficial for the US or the rest of Europe.
"In Germany, the diplomatic and military issues are so out of sync that we could get into all sorts of crazy scenarios in a crisis which no one has really thought about.
"We need to start doing so."
In short, for the Russians, limited nuclear use can be considered a key part of any crisis management strategy in Europe and is part of a leveraging strategy to further goals of accelerating the disaggregation of Europe.
In looking at a variety of crisis management strategies for the US and its allies, there is a clear need to avoid the fallacy of nuclear denial and to focus clearly on the role of nuclear deterrence from the NATO side with regard to the return of direct defense in Europe.