The enhanced capability of the US and allied navies is coming not just from platforms but from kill web integration.
There is no greater case in point than how the US Navy and the allies are integrating their Aegis destroyers.
Earlier, this year, the Australian Navy demonstrated its ability to integrate with the US Navy with regard to the CEC system.
According to Andrew McLaughlin in an article published on January 7, 2019:
The tests were conducted in conjunction with the US Navy at the vast Pacific test ranges near Hawaii and off the coast of California, and saw the vessel's systems and crew challenged in realistic tests and demonstrations. This included testing the vessel's ability to integrate with US Navy assets via the Co-Operative Engagement Capability (CEC), a US high-end naval networking capability so far made only available to Australia.
"We were presented with some of the world's toughest and most challenging threats; modern anti-ship missiles, maritime strike aircraft, fighters and high-speed attack craft," Commanding Officer of HMAS Hobart, CAPT John Stavridis told Navy Today. "On every occasion we successfully defended all threats."
Part of HMAS Hobart's systems validation included a series of at sea tests known as Combat System Ship Qualification Trials (CSSQT) which aim to achieve a sustainable level of combat and weapon system readiness.
"This ship represents the future of the Royal Australian Navy's surface combatants: capable, competent and lethal," Fleet Commander, RADM Jonathan Mead said upon HMAS Hobart's return to Sydney. "With her recently commissioned sister ship, HMAS Brisbane, and soon to be delivered NUSHIP Sydney they will be able to defend our Fleet against any threat."
As part of the increasingly integrated maritime threesome — the US, Australian and Japanese Navies — the Japanese recently added a new platform to the mix.
According to Naval Today:
Japan's second Asahi-class destroyer, the JS Shiranui, entered Japan Maritime Self Defense Force (JMSDF) service in a ceremony at Mitsubishi Heavy Industries' Nagasaki Shipyard on February 27.
The lead ship in the class was commissioned a year before, on March 8, 2018.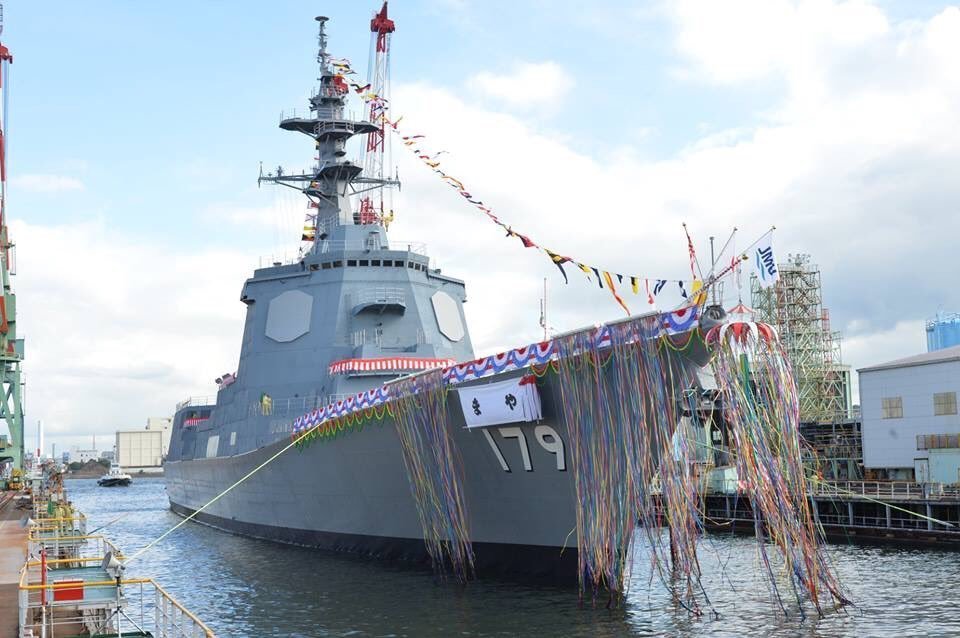 The 5,100-ton general-purpose escort destroyers were previously designated as 25DD and are designed on the basis of Akizuki-class destroyers but with a focus on anti-submarine instead of anti-air warfare.
JS Shiranui (DD-120) was launched in October 2017 and was commissioned without delays.
Asahi-class destroyers are lauded as fuel-efficient ships featuring COGLAG, a combined gas turbine engine and electric propulsion system. They measure 151 meters in length and reach speeds of 30 knots, according to the Japan defense ministry. Armament includes Mark 41 vertical launch systems for self protection, 62-caliber naval guns, close-in weapon systems and two Mark 32 surface vessel torpedo tubes.
The destroyers will have a complement of around 230 and embark one Mitsubishi-built SH-60J/K are anti-submarine patrol helicopter.
Asahi-class destroyers are the first JMSDF ships to deploy with periscope detection radars in addition to being equipped with new towed array sonars.
Earlier, when the first of the new destroyers was launched from its shipyard last year, the integration piece was highlighted.
Japan launches first 27DDG-class AEGIS destroyer from a shipyard in Yokohama today (July 31). She has named "Maya" after mountain in Japan and WWII heavy cruiser.
The US$1.5 billion vessel is the seventh Aegis destroyer acquired by Japan Maritime Self-Defense Force, but the first to be fitted with the advanced Cooperative Engagement Capability (CEC) system. With a displacement of 8,200 tons and a length of 170 meters, it is scheduled to enter service by 2020.
Supplied by the US, the CEC system enables real-time sharing of intelligence on battlefield situations and hostile targets between ships in allied navies, while information and parameters are synced across all platforms linked to a sensory network. Sharing of radar and fire-controlling data will also be possible with the US Navy.
Warships equipped with this system can intercept incoming ballistic missiles in steep, lofted trajectories, and track dozens of targets simultaneously while firing clusters of defensive missiles, according to Japan Times. One such missile is the SM-3 Block IIA.
Japan will have eight Aegis destroyers with a ballistic missile defense capability by 2021. At their core will be a computer-based command-and-decision element capable of mounting simultaneous operations against a range of threats.
Because all three of these navies are part of the F-35 global enterprise as well, integration of F-35s with Aegis is part of the combat capability facing adversaries in the Pacific.
We first wrote about such integration nearly a decade ago.