As the strategic shift from the land wars gains momentum the investments and training in an appropriate 21stcentury crisis management and high intensity combat force will not be modelled on the Cold War European based force. It is not about a German-US Army brotherhood with significant presence.  It is not about re-establishing air-land battle
It is about leveraging core force integration capabilities, such as F-35 with the Aegis, which can provide a pull function moving the US and the allies towards a more flexible and scalable force which can operate over the spectrum of operations.
As Vice Admiral Barrett, the former Chief of the Australian Navy highlighted with regard to how he saw the build out of the Australian Navy: "We are not building an interoperable Navy; we are contributing to an integrated Australian Defence Force able to exercise sovereign options and work closely with core allies."
Because the adversaries are building to mass and are emphasizing expansion of strike capabilities controlled by a very hierarchical command structure, the kind of force which will best fit Western interests and capabilities is clearly a. distributed one. Fortunately, the technology is already here to build effectively down this path, a path which allows engagement at the low end and provides building blocks to higher end capabilities.
The force we need to build will have five key interactives capabilities:
Enough platforms with allied and US forces in mind to provide significant presence;
A capability to maximize economy of force with that presence;
Scalability whereby the presence force can reach back if necessary at the speed of light and receive combat reinforcements;
Be able to tap into variable lethality capabilities appropriate to the mission or the threat in order to exercise dominance.
And to have the situational awareness relevant to proactive crisis management at the point of interest and an ability to link the fluidity of local knowledge to appropriate tactical and strategic decisions.
To be blunt about the last point – a cutting edge new system, the Triton UAV, is part of the new maritime SA force for the US and slelected allies. The SA on this aircraft needs to be used by the presence forces and not be part of the "intelligence collection" team back in the United States.  Or put in other words, the new challenges require a significant challenge in terms of how the very un-agile US intelligence process tries to "own" information.
The new approach is one which can be expressed in terms of a kill web, that is a US and allied force so scalable that if an ally goes on a presence mission and is threatened by a ramp up of force from a Russia or China, that that presence force can reach back to relevant allies as well as their own force structure.
The inherent advantage for the US and its allies is the capability to shape a more integrated force which can leverage one another in a crisis.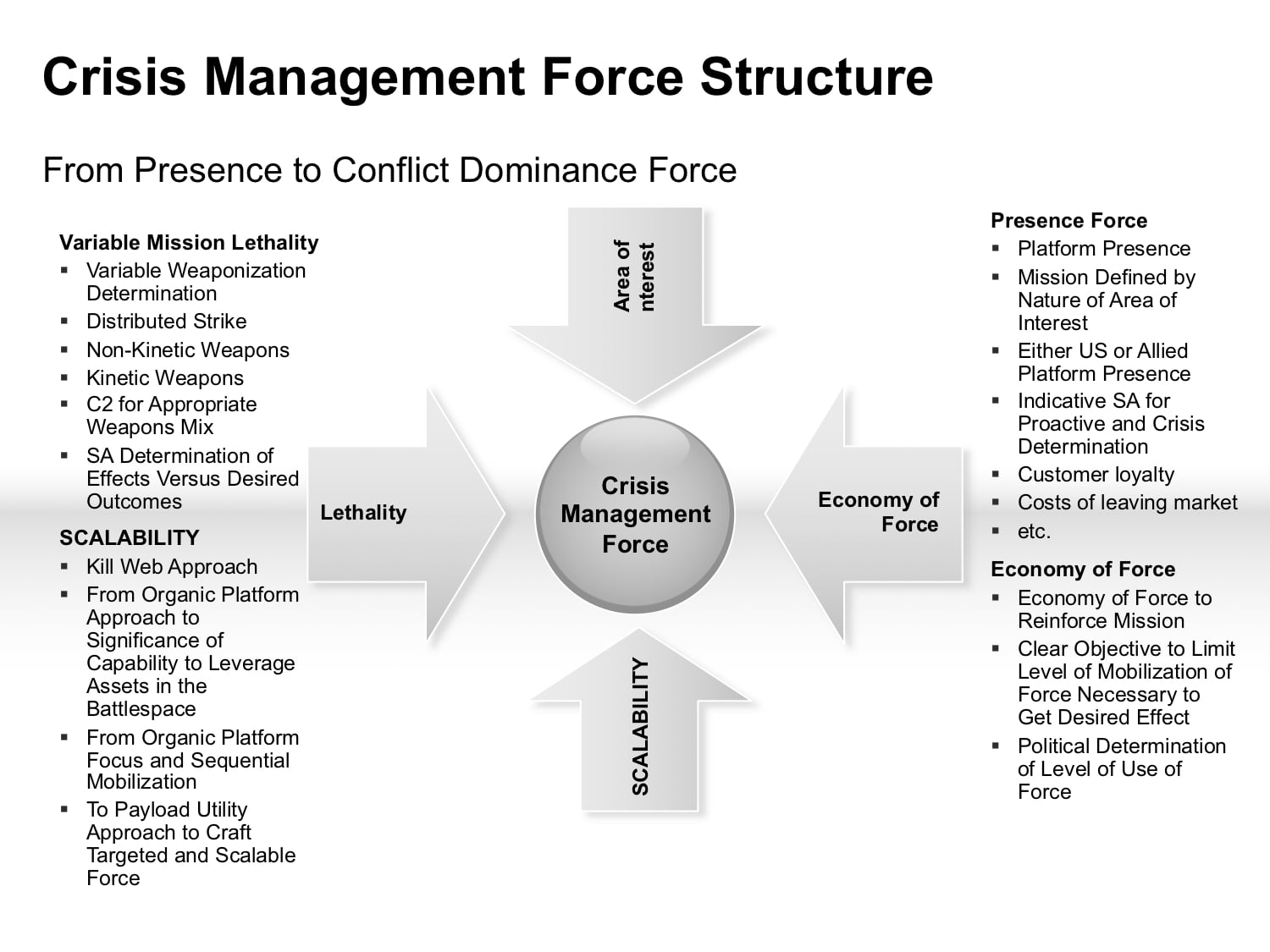 A good example has been the evolution of the Aegis fleet in the Pacific.
The enhanced capability of the US and allied navies is coming not just from platforms but from kill web integration.
There is no greater case in point than how the US Navy and the allies are integrating their Aegis destroyers.
Earlier, this year, the Australian Navy demonstrated its ability to integrate with the US Navy with regard to the CEC system.
According to Andrew McLaughlin in an article published on January 7, 2019:
The tests were conducted in conjunction with the US Navy at the vast Pacific test ranges near Hawaii and off the coast of California, and saw the vessel's systems and crew challenged in realistic tests and demonstrations. This included testing the vessel's ability to integrate with US Navy assets via the Co-Operative Engagement Capability (CEC), a US high-end naval networking capability so far made only available to Australia.
"We were presented with some of the world's toughest and most challenging threats; modern anti-ship missiles, maritime strike aircraft, fighters and high-speed attack craft," Commanding Officer of HMAS Hobart, CAPT John Stavridis told Navy Today. "On every occasion we successfully defended all threats."
Part of HMAS Hobart's systems validation included a series of at sea tests known as Combat System Ship Qualification Trials (CSSQT) which aim to achieve a sustainable level of combat and weapon system readiness.
"This ship represents the future of the Royal Australian Navy's surface combatants: capable, competent and lethal," Fleet Commander, RADM Jonathan Mead said upon HMAS Hobart's return to Sydney. "With her recently commissioned sister ship, HMAS Brisbane, and soon to be delivered NUSHIP Sydney they will be able to defend our Fleet against any threat."
As part of the increasingly integrated maritime threesome — the US, Australian and Japanese Navies — the Japanese recently added a new platform to the mix.
According to Naval Today:
Japan's second Asahi-class destroyer, the JS Shiranui, entered Japan Maritime Self Defense Force (JMSDF) service in a ceremony at Mitsubishi Heavy Industries' Nagasaki Shipyard on February 27.
The lead ship in the class was commissioned a year before, on March 8, 2018.
The 5,100-ton general-purpose escort destroyers were previously designated as 25DD and are designed on the basis of Akizuki-class destroyers but with a focus on anti-submarine instead of anti-air warfare.
JS Shiranui (DD-120) was launched in October 2017 and was commissioned without delays.
Asahi-class destroyers are lauded as fuel-efficient ships featuring COGLAG, a combined gas turbine engine and electric propulsion system. They measure 151 meters in length and reach speeds of 30 knots, according to the Japan defense ministry. Armament includes Mark 41 vertical launch systems for self protection, 62-caliber naval guns, close-in weapon systems and two Mark 32 surface vessel torpedo tubes.
The destroyers will have a complement of around 230 and embark one Mitsubishi-built SH-60J/K are anti-submarine patrol helicopter.
Asahi-class destroyers are the first JMSDF ships to deploy with periscope detection radars in addition to being equipped with new towed array sonars.
Earlier, when the first of the new destroyers was launched from its shipyard last year, the integration piece was highlighted.
Japan launches first 27DDG-class AEGIS destroyer from a shipyard in Yokohama today (July 31). She has named "Maya" after mountain in Japan and WWII heavy cruiser.
The US$1.5 billion vessel is the seventh Aegis destroyer acquired by Japan Maritime Self-Defense Force, but the first to be fitted with the advanced Cooperative Engagement Capability (CEC) system. With a displacement of 8,200 tons and a length of 170 meters, it is scheduled to enter service by 2020.
Supplied by the US, the CEC system enables real-time sharing of intelligence on battlefield situations and hostile targets between ships in allied navies, while information and parameters are synced across all platforms linked to a sensory network. Sharing of radar and fire-controlling data will also be possible with the US Navy.
Warships equipped with this system can intercept incoming ballistic missiles in steep, lofted trajectories, and track dozens of targets simultaneously while firing clusters of defensive missiles, according to Japan Times. One such missile is the SM-3 Block IIA.
Japan will have eight Aegis destroyers with a ballistic missile defense capability by 2021. At their core will be a computer-based command-and-decision element capable of mounting simultaneous operations against a range of threats.
Because all three of these navies are part of the F-35 global enterprise as well, integration of F-35s with Aegis is part of the combat capability facing adversaries in the Pacific.
A shift to a kill web approach to force building, training and operations is a foundation from which the US and its allies can best leverage the force we have and the upgrade paths to follow.  A kill web linked force allows a modest force package – economy of force – to reach back to other combat assets to provide for enhanced options in a crisis or to ramp up the level of conflict if that is being dictated by the situation.
The evolution of 21st century weapon technology is breaking down the barriers between offensive and defensive systems.  Is missile defense about providing defense or is it about enabling global reach, for offense or defense?  Likewise, the new 5th generation aircraft have been largely not understood because they are inherently multi-domain systems, which can be used for forward defense or forward offensive operations.
Indeed, an inherent characteristic of many new systems is that they are really about presence and putting a grid over an operational area, and therefore they can be used to support strike or defense within an integrated approach.
In the 20th Century, surge was built upon the notion of signaling.  One would put in a particular combat capability – a Carrier Battle Group, Amphibious Ready Group, or Air Expeditionary Wing – to put down your marker and to warn a potential adversary that you were there and ready to be taken seriously.  If one needed to, additional forces would be sent in to escalate and build up force.
With the new multi-domain systems – 5th generation aircraft and Aegis for example – the key is presence and integration able to support strike or defense in a single operational presence capability.  Now the adversary cannot be certain that you are simply putting down a marker.
This is what former Air Force Secretary Michael Wynne calls the attack and defense enterprise.
The strategic thrust of integrating modern systems is to create a grid that can operate in an area as a seamless whole, able to strike or defend simultaneously.  This is why Wynne has underscored since at least 2005 that fifth generation aircraft are not merely replacements for existing tactical systems but a whole new approach to integrating defense and offense.
When one can add the strike and defensive systems of other players, notably missiles and sensors aboard surface ships like Aegis, then one can create the reality of what Ed Timperlake, a former fighter pilot, has described as the F-35 being able to consider Aegis as his wingman.
By shaping a tron warfare system inextricably intertwined with platforms and assets, which can honeycomb an area of operation, an attack and defense enterprise can operate to deter aggressors and adversaries or to conduct successful military operations.
The US Navy leadership has coined their version of this approach, the "kill web." In an interview we did with Rear Admiral Admiral Manazir, then head of N-98, Naval Aviation.
If you architect the joint force together, you achieve a great effect.
It is clear that C2 (command and control) is changing and along with it the CAOC (Combined Air and Space Operations Center).
The hierarchical CAOC is an artifact of nearly 16 years of ground war where we had complete air superiority; however, as we build the kill web, we need to be able to make decisions much more rapidly.
As such, C2 is ubiquitous across the kill web.
Where is information being processed?
Where is knowledge being gained?
Where is the human in the loop?
Where can core C2 decisions best be made and what will they look like in the fluid battlespace?
The key task is to create decision superiority.
But what is the best way to achieve that in the fluid battlespace we will continue to operate in? 
What equipment and what systems allow me to ensure decision superiority?
We are creating a force for distributed fleet operations.
When we say distributed, we mean a fleet that is widely separated geographically capable of extended reach.
Importantly, if we have a network that shares vast amounts of information and creates decision superiority in various places, but then gets severed, we still need to be able to fight independently without those networks.
This requires significant and persistent training with new technologies but also informs us about the types of technologies we need to develop and acquire in the future.
Additionally, we need to have mission orders in place so that our fleet can operate effectively even when networks are disrupted during combat; able to operate in a modular-force approach with decisions being made at the right level of operations for combat success.
Inherent in such an enterprise is scalability and reach-back.
By deploying the tron warfare grid or a C2/Information superiority "honeycomb", the shooters in the enterprise can reach back to each other to enable the entire grid of operation, for either defense or offense.
By being able to plug into the F-35 and Aegis enabled honeycomb, the United States providees force augmentation and surge capability to those allies and at the same time those allies enable forward deployments which the United States would not own or operate.
Put in other terms, presence is augmented at the same time as scalability is as well. This provides a significant force multiplier across the crisis management spectrum.
In effect, what could be established from the United States perspective is a plug-in approach rather than a push approach to projecting power.  The allies are always forward deployed; the United States does not to attempt to replicate what those allies need to do in their own defense.
But what the United States can offer is strategic depth to those allies. At the same time if interoperability and interactive sustainability are recognized as a strategic objective of the first order, then the United States can shape a more realistic approach than one which now rests on trying to proliferate power projection platforms, when neither the money nor the numbers are there.
Put bluntly, if you do not get, you do not get it.  The fifth generation enabled force is here; and the challenge is clearly to leverage it as one builds out new elements of the kill web to enhance the scope and lethality of the US and allied force structure in either the Pacific or Europe.
The featured photo shows the strategic quadrangle within which the US, Japan and Australia are shaping a kill web approach.
For our recently published Special Report which looks at these issues, please see the following:
the-strategic-shift-the-role-and-impact-of-the-f-35-global-enterprise