During a visit to RAF Lossiemouth in June 2016, Second Line of Defense visits the Quick Reaction Alert team based there.
We focused on the question of the nature of the pyramid necessary to launch QRA ready aircraft.
https://sldinfo.com/royal-air-force-operations-and-evolving-concepts-of-operations-shaping-a-triple-transition/
When I visited RAF Lossiemouth in June 2016, I had a chance to visit the QRA based at Lossiemouth which is in addition to the one at RAF Coningsby
Visiting the QRA area demonstrated the 24/7 quality of the operation.
There was the red button to generate the movement of pilots and personnel to launch the aircraft very rapidly.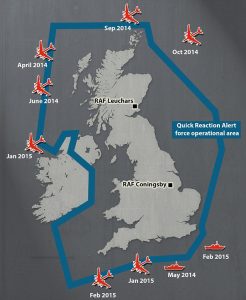 There are ops areas and offices, crew rooms, a dining area and kitchen to serve the staff, bedrooms for the rotational crew and a gym to remain ready.
But the question of what the pyramid looks like beyond this is simply having two pilots ready 24/7 with 2 support staff and eight engineers for each week in support as well.
1(F) Squadron, II (AC) Sqn. and 6 Sqn. provide the aircraft, pilots and engineers for the 24/7 operation. The Air Traffic Control Center is manned 24/7 to enable aircraft to launch at any time. The Ground Support System or GSS provides support to the Typhoons with mission data and computer systems used by the aircraft.
And chefs and catering staff are on station to cook and serve meals for duty personnel, three meals a day, 365 days a year.
To put it bluntly: to be 24/7 ready is a significant demand signal for the Typhoon fleet, and one which can be overlooked in terms of the number of aircraft which are required to remain ready for operational launch, 24/7 and 365 days a year.
According to the QRA North team, the Typhoon has performed its role well, but it requires maintainers, pilots and operations personnel to pay close attention to the rotation of aircraft into the demand side of QRA.
And when the RAF deploys to the Baltics, in effect, the UK is supporting three QRA efforts.
The pyramid is demanding; the photos of the planes on strip alert simply masks the significant level of effort to ensure that they are on strip alert.
This demand side is one which can be easily overlooked by everyone, except those providing the capability and the intruders into UK airspace.
Now the RAF has stood up a new QRA at Lossiemouth.
The personnel and aircraft of IX(B) Squadron will be at the heart of the UK's Quick Reaction Alert (QRA) Force, ready to take off within minutes of an alert being triggered.
The Squadron was officially stood up at a ceremonial parade and flypast at RAF Lossiemouth on May 2, 2019, but has been operational since 1 April. The standing up of the new Squadron coincides with RAF Lossiemouth marking its 80th anniversary.
Some of the Squadron's aircraft will be painted in distinctive markings to identify them as training 'adversaries', in their role as 'aggressors'. In this role, they will provide a sterner training test to RAF and NATO fast-jet pilots, as they will play the role of opposing aircraft which match their speed and manoeuvrability while using the latest real-world dogfighting and air combat tactics against them.
Chief of the Air Staff, Air Chief Marshal Sir Stephen Hillier said:
"I'm delighted to be back at RAF Lossiemouth today, one day after the station celebrated its 80th Anniversary. RAF Lossiemouth has and will continue to play a key role in the Defence of the United Kingdom, being ready to intercept potential airborne threats 24/7 and in addition shortly becoming home to our nine new submarine hunting P-8A Poseidon Maritime Patrol Aircraft. These will work with our Typhoon force to patrol far out into the Atlantic protecting the UK's submarine-based nuclear deterrent and two new aircraft carriers.
"Today's transition of IX Sqn from Tornado to Typhoon is one important part of the expansion of RAF Lossiemouth which will see the number of service personnel here increase to some 2,300, supported by a further 1,800 MOD civilian and contractor staff.
"I am proud to see our Combat Air capabilities continue to grow, a necessity as they will undoubtedly continue to be in exceptionally high demand on operations, here in the UK and across the world".
Quick Reaction Alert involves the entire UK Air Defence system on standby at immediate readiness, 24/7, 365 days a year, with aircraft from RAF Lossiemouth and RAF Coningsby protecting northern and southern UK airspace respectively. In recent months, Typhoons from RAF Lossiemouth have been scrambled four times as long-range Russian bombers approached UK airspace.
Personnel and Typhoons from RAF Lossiemouth conducted a NATO Air Policing mission role in Romania in 2018, where they scrambled eight times in response to 20 Russian aircraft as part of assurance measures for eastern allies. Later this year, RAF Lossiemouth aircraft will deploy to Iceland to conduct a further NATO Air Policing mission, while other aircraft from the UK Typhoon force deploy to Estonia on a similar task.
The Typhoon has exceptional performance that makes it capable of intercepting aircraft from the smallest light aircraft to the largest of airliners.  The supersonic fighter has the ability of reaching all corners of the UK's airspace within minutes of getting airborne.
The featured photo shows
Chief of Air Staff, Air Chief Marshal Sir Stephen Hillier, and RAF personnel at a ceremony to mark a fourth Quick Reaction Alert Squadron based out of RAF Lossiemouth. Crown Copyright.
For a look at QRAs operating in Europe, see the following:
QRA