One of the points about flying unmanned aircraft is that you have a wider range of opportunities to respond to a shoot down.
If it is a manned asset, you have to respond to recover the downed pilot or mission crew and to do so with significant impact.
With an unmanned asset, you are not constrained in a similar manner.
And the recent shoot down by the Iranians of a Global Hawk is clearly a case in point.
President Trump decided to not go in with guns blazing to retaliate for the shoot down, but has the option to prepare for a measured response.
That is a core advantage which an unmanned asset provides for leaders.
Indeed, if one needed a reminder that UAVs operate most effectively when an adversary is not shooting them down, then this video is a good reminder.
According US Central Command:
"A U.S. Navy RQ-4 was flying over the Gulf of Oman and the Strait of Hormuz on a surveillance mission in international airspace in the vicinity of recent IRGC maritime attacks when it was shot down by an IRGC surface to air missile fired from a location in the vicinity of Goruk, Iran.
This was an unprovoked attack on a U.S. surveillance asset that had not violated Iranian airspace at any time during its mission.
This attack is an attempt to disrupt our ability to monitor the area following recent threats to international shipping and free flow of
commerce.
Iranian reports that this aircraft was shot down over Iran are categorically false.
The aircraft was over the Strait of Hormuz and fell into international waters.
At the time of the intercept, the RQ-4 was operating at high-altitude approximately 34 kilometers from the nearest point of land on the Iranian
coast.
This dangerous and escalatory attack was irresponsible and occurred in the vicinity of established air corridors between Dubai, UAE, and Muscat Oman,
possibly endangering innocent civilians."
TAMPA, FL, UNITED STATES
06.20.2019
Video by Thomas Gagnier
U.S. Central Command Public Affairs
And Andrew McLaughlin of Australian Defence Business Review added these comments to clarify the reporting:
The US Central Command (CENTCOM) has confirmed earlier reports that Iran has shot down a US Navy Northrop Grumman RQ-4A Block 10 Global Hawk unmanned maritime ISR air vehicle that was flying in international airspace off the Iranian coast.
CENTCOM spokesman Capt. Bill Urban said in a June 20 statement that "A US Navy Broad Area Maritime Surveillance (or BAMS-D) ISR aircraft was shot down by an Iranian surface-to-air missile system while operating in international airspace over the Strait of Hormuz at approximately 11.35pm GMT on June 19, 2019."
Iran initially said it had shot down a Global Hawk in the Straits of Hormuz region after it penetrated Iranian airspace, and subsequent multiple social media reports – some claiming US DoD conformation – said it was an MQ-4C Triton had been shot down.
The larger and more advanced MQ-4C Triton is believed to have only recently achieved an early operational capability (EOC) with the US Navy, with two air vehicles due to be based on the Pacific island of Guam sometime this northern summer….
The initial reports of the aircraft being an MQ-4C Triton were fed by Associated Press and other agencies quoting an unnamed Pentagon source, and was initially supported by flight tracking data of the aircraft ferrying to Al Dhafra AB in the UAE from its home base of NAS Patuxent River on June 15 using the 'Triton2' callsign.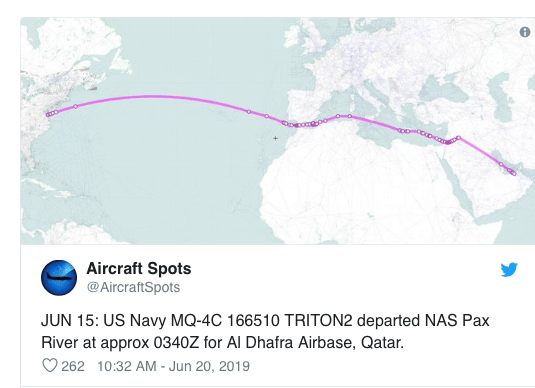 The US has previously deployed USAF RQ-4A/B and EQ-4B, and US Navy RQ-4A Global Hawks to the region, and the US Navy's RQ-4A is a modified early-build USAF Block 10 RQ-4A which features a maritime radar modes, maritime automatic identification system (AIS), and enhanced communications.
The BAMS-D aircraft have been deployed in the region almost continuously since 2009 as part of the US Navy's Broad Area Maritime Surveillance-Development (BAMS-D) program to develop its concepts of operation for the larger Triton.