By Robbin Laird
During my visit to Australia last October, I had a chance to talk to a number of people about the evolving approach in Australia to maritime remotes and their evolving role within the "fifth generation" warfare approach or what I refer to as building a distributed integratable force or an integrated distributed force.
Towards the end of my stay, I had a chance to discuss with the key presenter on this topic at the Seapower Conference held in Sydney in early October, Commander Paul Hornsby, the Royal Australian Navy lead on maritime remotes.
We discussed a number of issues, but I am going to focus on where maritime remotes fit within the evolving strategic thinking of the Royal Australian Navy and its contribution to the ADF.
The broad point is that Australia is focusing on robotics and artificial intelligence more generally in its economy, with clear opportunities for innovation to flow between the civil and military sectors. Australia is a large island continent with a relatively small population. For both economic and defense reasons, Australia needs to extend the capabilities of its skilled manpower with robotic and AI capabilities. For the Navy, this means shaping a much large "fleet" in terms of a significant web of maritime remotes working interactively with the various manned assets operating in an area of interest.
Commander Hornsby highlighted the 2018 Australian Robotics Roadmap as an indicator of the Australian approach to cross-leveraging robotic systems and AI. As the report noted:
"Robotics can be the force multiplier needed to augment Australia's highly valued human workforce and to enable persistent, wide-area operations in air, land, sea, subsurface, space and cyber domains."
A second broad point is that Australia is working closely with core allies to forge a common R and D pool and to cross-learn from one another with regard to the operation of maritime remotes and their ability to deliver capabilities to the operational forces.
An example of the cross-learning and collaborative approach was Autonomous Warrior 2018. The exercise was a "milestone in allied cooperation," according to Lt. Andrew Herring, in an article published on November 24, 2018.
When more than 50 autonomous technologies and over 500 scientists, technicians and support staff came together for AUTONOMOUS WARRIOR 2018 (AW18) in Jervis Bay, ACT, it marked the culmination of four years' collaboration between the militaries, defence scientists and defence industries of five nations.
Today, Navy's Deputy Director Mine Warfare Diving and Special Ops Capability, Commander Paul Hornsby, and Defence Science and Technology's (DST) Trusted Autonomous Systems Program Leader, Professor Jason Scholz, are exploring autonomous technologies with US Air Force Research Lab's Senior Engineering Research Manager, Dr Mark Draper and Dr Philip Smith from the UK's Defence Science and Technology Laboratory.
The four, with their respective organisations, are collaborating under the Five Eyes' Technical Cooperation Program (TTCP), which shares information and ideas among defence scientists from Australia, UK, USA, Canada and New Zealand, pursuing strategic challenges in priority areas.
Among them is TTCP's Autonomy Strategic Challenge, which aims to integrate autonomous technologies to operate together in different environments.
AUTONOMOUS WARRIOR 2018 includes the Strategic Challenge's fifth and final scientific trial – 'Wizard of Aus' – a software co-development program aimed at managing autonomous vehicles from a shared command and control system that integrates with combat systems used by Five Eyes nations.
US Air Force Research Lab's Dr Mark Draper summarises AW18's ambitious objective. "What we are trying to achieve here is force multiplication and interoperability, where multiple unmanned systems from different countries—in the air, on the ground and on the surface of the water or even underwater—would all be controlled and managed by one person sitting at one control station."
Two systems together
To achieve this, two systems have come together: 'AIM' and 'MAPLE'.
'Allied IMPACT', known as AIM, combines best of breed technologies from Australia, United Kingdom, United States and Canada.
"We've brought these technologies together and integrated them into one control station and we are testing its effectiveness in reasonable and realistic military scenarios," Dr Draper said.
Australia has led development of three of AIM's eight modules: the Recommender, which uses artificial intelligence to analyse information and recommend actions to commanders; the Narrative, which automatically generates multimedia briefings about emerging operational situations; and DARRT, which enables real time test and evaluation of autonomous systems.
The Maritime Autonomous Platform Exploitation (MAPLE) system is a UK-led project providing the information architecture required to integrate a diverse mix of live unmanned systems into a common operating picture that is fed into the AIM Command and Control Station.
"The sort of software co-development we are doing here is not usually done," UK Defence Scientist Dr Philip Smith said.
"The evaluation team is using real time data logging to evaluate system performance, apply lessons learned and improve the software.
"This is also giving us detailed diagnostics to determine where to focus effort for future development," he said.
 Revolutionary potential
DST's Professor Jason Scholz is optimistic about the potential for these technologies beyond AW18.
"This activity has demonstrated what can be achieved when a spirit of cooperation, understanding and support exists between military personnel, scientists, engineers and industry.
"Systems became more reliable as the exercise progressed with improvements made daily.
"These highly disruptive technologies can potentially revolutionise how armed forces operate. The sort of cooperation we've seen at AW18 is vital for bringing these technologies into service.
"It would be interesting to run a similar activity with these rapidly evolving technologies in two or three years," Professor Scholz said.
Lasting impact
Commander Hornsby, who has been the ADF lead for AW18 and is developing Navy's autonomous systems strategy, says the activity has raised awareness among Australia's Defence Force and defence industry.
"The nearly 1000 visitors to AW18 gained fresh insights into the technology's current state of development and its potential to enhance capability.
"As a huge continent occupied by a relatively small population with a mid-sized defence force by world standards, the force multiplier effect of autonomous systems is vital, which is why Australia is a leading developer.
The evaluations done at AW18 are also important internationally.
"The world is watching AW18 closely because Australia offers the most challenging operating conditions for unmanned technologies. If they can make it here, they can make it anywhere," Commander Hornsby said.
Autonomous Warrior 2018 was a major demonstration and evaluation of the potential of robotic, autonomous and uninhabited systems, in support of Defence operations in coastal environments. It combined a dynamic exhibition, trials and exercising of in-service systems.
Australian industry contributed semi-autonomous vehicles for use in AW18 and developed data interfaces to enable control by Five Eyes systems. Contributing companies included Bluezone Group, Ocius, Defendtex, Australian Centre for Field Robotics, Silverton and Northrop Grumman. Vehicles were also contributed by Australian, NZ, US and UK government agencies.
In our discussion, Commander Hornsby noted that collaborative R and D and shared experiences was a key element of the Australian approach, but that Australia had unique operating conditions in the waters off of Australia, and systems that might work in other waters would not necessarily be successful in the much more challenging waters to be found in Northern and Western Australia, areas where the deployment of maritime remotes is a priority.
But one must remember that the maritime remote effort is a question of payloads and platforms. Not simply building platforms. Rear Admiral Mark Darrah, US Navy, made a comment about unmanned air systems which is equally applicable to maritime remotes: "Many view UAS as a capability when in fact it should be viewed as a means of employing payloads to achieve particular capabilities."1
His approach to maritime remotes is very much in the character of looking at different platforms, in terms of speed, range, endurance, and other performance parameters, measured up against the kind of payload these various platforms might be able to carry.
Calculations, of the payload/platform pairing and their potential impacts then needed to be measured up against the kind of mission which they are capable of performing. And in this sense, the matching of the payload/platform dyad to the mission or task, suggests prioritization for the Navy and the ADF in terms of putting in to operation the particular capability.
This also means that different allied navies might well have different views of their priority requirements, which could lead to very different timelines with regard to deployment of particular maritime remotes.
And if the sharing approach prevails, this could well provide the allied nations to provide cross-cutting capabilities when deployed together or provide acquisition and export opportunities for those allies with one another.
Commander Hornsby breaks out the missions for AUV and UUV employment in the following manner:
Home & Away operations…
Break Out (Around own critical / sensitive infrastructure – High end UUVs) •Break In (Deployed / Amphib – Low end AUVs / single shot / disposable)
Block Out (Autonomous Maritime Asset Protection / Robot UUVs / CIED)
Block In (High end AUVs – Sub Launch / XLUUVs / Mining / Intervention)
Surveillance (Persistent AUVs for surveillance / attribution – wave gliders
Servicing (Large UUVs for industrial off-shore tasks – in water docking)
Pending combination, provides: Deterrence, Sea Control, Sea Denial, Power Projection or Force Protection
What this means is that different payload/platform combinations can work these different missions more or less effectively. And quite obviously, in working the concepts of operations for each mission or task which will include maritime remotes needs to shape an approach where their capabilities are properly included in that approach.
And in a 2016 briefing by Hornsby."2, he highlighted this point as follows: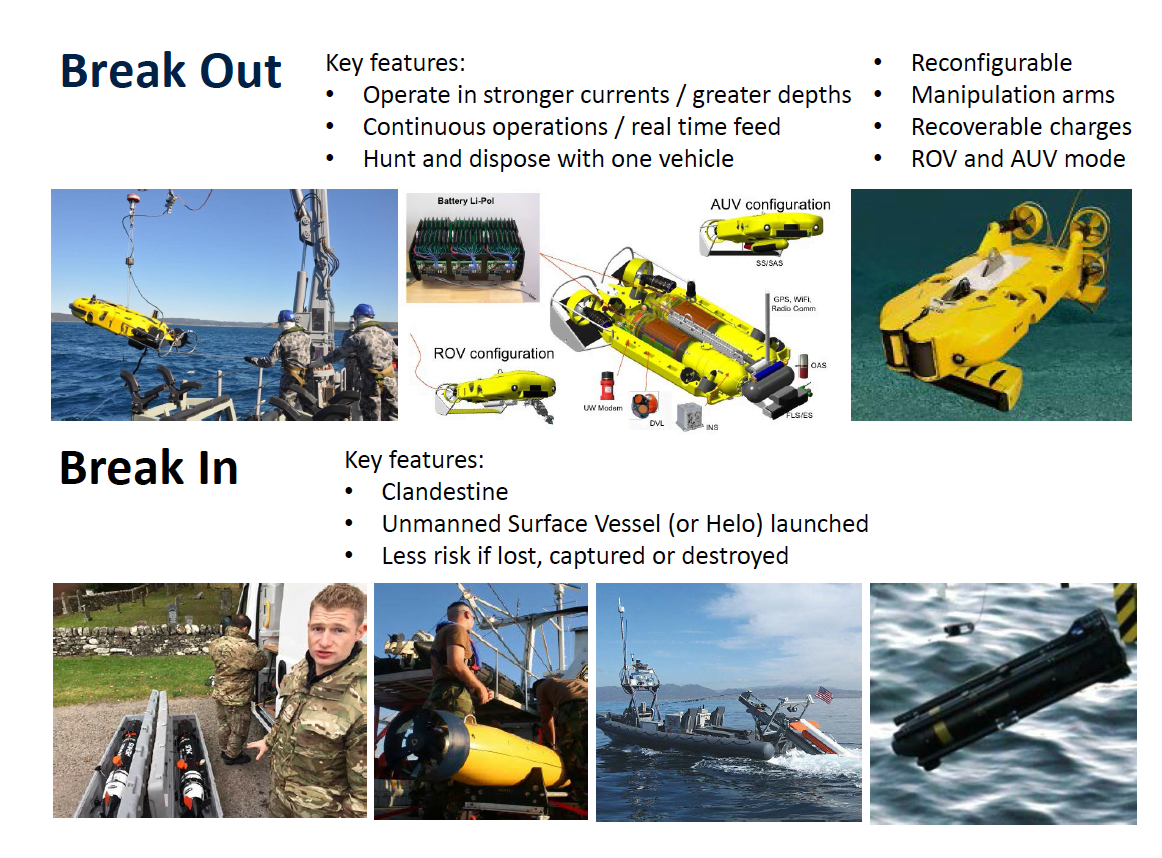 But importantly, maritime remotes should not be looked at in isolation of the operation of the distributed force and how integratable data can be accumulated and communicated to allow for C2 which can shape effective concepts of operations.
This means that how maritime remotes are worked as an interactive grid is a key part of shaping an effective way ahead. And this allows for creative mix and matching of remotes with manned assets and the shaping of decision making at the tactical edge.  Remotes and AI capabilities are not ends in of themselves; but are key parts of the reshaping of the C2/ISR capabilities which are reshaping the concepts of operations of the combat force.
In that 2016 briefing, Commander Hornsby provided an example of the kind of grid which maritime remotes enable:
To use an example in the European context, as the fourth battle of the Atlantic shapes up, if the allies can work cross-cutting maritime remote payload/platform capabilities and can operate those in the waters which the Russians intend to use to conduct their operations against NATO, then a new grid could be created which would have significant ISR data which could be communicated through UUV and USV grids to various parts of the 21st century integrated distributed combat force.
Such an approach is clearly crucial for Australia as it pushes out its defense perimeter but needs to enhance maritime security and defense of its ports and adjacent waters. And that defense will highlight a growing role for maritime remotes.
As Robert Slaven of L3Harris Technologies, a former member of the Royal Australian Navy, has put it:
"The remotes can be distributed throughout the area of interest and be there significantly in advance of when we have to create a kinetic effect. In fact, they could be operating months or years in advance of shaping the decision of what kind of kinetic effect we would need in a crisis situation.
"We need to learn how to work the machines to shape our understanding of the battlespace and to shape the kind of C2 which could direct the kind of kinetic or non-kinetic effect we are trying to achieve."3
The featured photo shows Head of Royal Australian Navy Capability, Rear Admiral Peter Quinn, AM, CSC, RAN (right), Australian Defence Force personnel and industry partners watch the Defendtex Tempest Unmanned Aerial Vehicle display during AUTONOMOUS WARRIOR 2018 at HMAS Creswell.
Paul-Hornsby-AUT-Presentation

Also, see the following:
Robotics-Roadmap_SUMMARY

Footnotes
Rear Admiral Mark Darrah, "The Age of Unmanned Systems, Proceedings, September 2015. Vol. 141/9/1, 351.
Robbin Laird, "The Integrated Distributed Force and Maritime Operations," Second Line of Defense, November 2, 2019, https://sldinfo.com/2019/11/the-integrated-distributed-force-and-maritime-operations/