By Pierre Tran
Paris – Dassault Aviation has agreed to accepting a third of work share on the planned future combat system and its next-generation fighter jet, but there is dissent on working without a prime contractor on key systems such as flight control, executive chairman Eric Trappier said March 5.
There is need to resolve differences over the planned work packages as contracts need to be signed for phase 1B and 2 of the FCAS, a project seen as critical for French ambitions to maintain a military capability spurred by European sovereignty.
There is difficulty in accepting there would be joint work packages — without a prime contractor — on "sensitive, strategic" systems such as flight control, he said in a virtual news conference on the company's 2020 financial results.
"If there is no prime, it is not possible," he said. "It cannot work. A leader is needed."
Airbus agreed that Dassault should have a prime contractor role in those key work packages, and it is up to the three partner nations to agree, he said.
"We are still in talks," he said.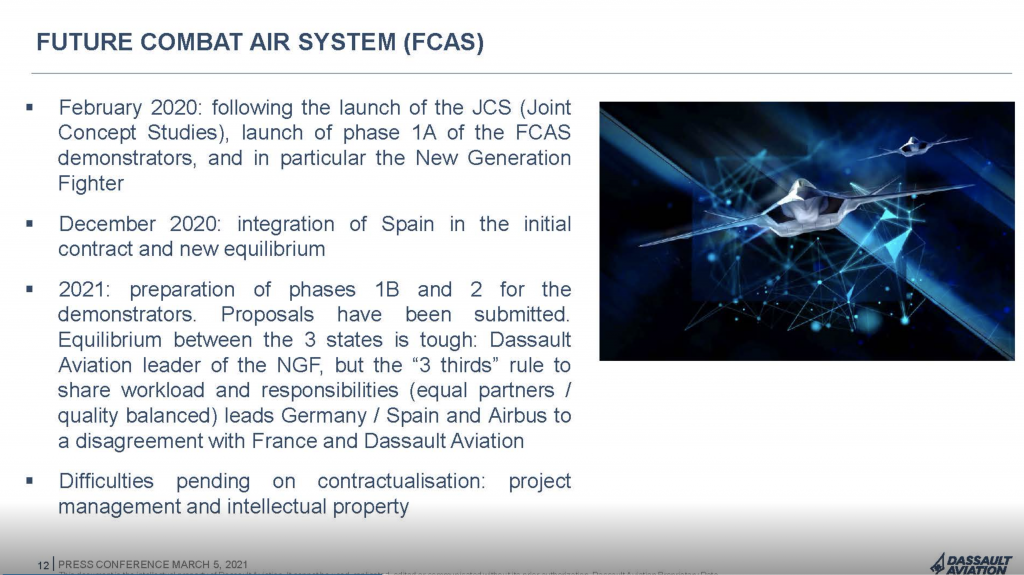 France is the lead nation on the FCAS, with Germany and Spain as partner nations. Dassault will be prime contractor on the new fighter, which is due to replace the Rafale and Eurofighter Typhoon jets in 2040.
Work packages on the FCAS and the fighter will be shared out in thirds, as there are three partner nations, he said. Airbus is the lead company in Germany and Spain, so that company will get two thirds of the work packages, leaving one third for Dassault.
"That is the first difficulty, but it is a difficulty that Dassault has accepted," he said.
Then there is the principle of joint work packages, proposed by Airbus, in which the partner companies work together and there is not a lead company, he said. About half the work packages are on that joint principle, with the other half shared out in a "fair way," he said.
Dassault has also agreed to that, he said. It is the lack of a prime on the strategic systems which has placed a spanner in the contract works.
Agreement on the work packages is needed to allow contracts to be signed for the phase 1B and 2, needed for a fighter jet technology demonstrator to fly in 2026.
Getting the work packages right is seen as key, as they could set out the industrial structure of a European arms program estimated to be worth €100 billion ($120 billion).
An agreement could be reached, he said, but a company chief needed to have a plan B in case plan A failed, while working hard to get plan A.
What price cooperation?
What price for the three nations if the program were pursued just for the sake of cooperation, Trappier said. France has the industrial capability with Dassault, Safran, Thales and MBDA to build and arm its own fighter.
President Emmanuel Macron and the outgoing German president, Angela Merkel, launched in 2017 the project for a European fighter jet. That fighter is part of the FCAS, which includes a communications network dubbed combat cloud, and remote carrier or drones.
On intellectual property rights, Dassault had no problem with sharing its future technology with Airbus on the FCAS, he said. Dassault would not pursue a US-style sealed black box approach on its work, as that was technology in the "foreground."
But the "background" knowledge of Dassault's more than 70 years of aeronautics would not be handed over, he said.
There would not an IPR problem as governments could look inside the black box on the European project, he said. The problem was the governments recognizing Dassault's claim for prime contractor status in some of the work packages.
On exports of the fighter, there may be "a difference in perception" in France and Germany, but there would not be a governmental problem as there is an extension of the Debré-Schmidt agreement on foreign arms sales, he said, with Spain joining the partnership.
France and Germany signed a cooperation treaty on Jan. 22 last year, which included an arms export agreement, allowing either country to veto a prospective deal if its national content exceeded 20 percent of value. That pact extended the Debré-Schmidt agreement reached in the 1970s.
Asked about the outlook for sale of the Rafale to Switzerland, Finland, India and Croatia, Trappier said talks were going on and he had prospects of a deal this year.
Dassault reported a 51 percent fall in 2020 adjusted net profit to €396 million from €814 million in the previous year, on sales down to €5.5 billion from €7.3 billion. That drop in sales was expected, due to lower deliveries of the Rafale and the Falcon business jet, the company said. The outlook was for delivery of 25 Rafale and 25 Falcon this year, with a rise in net sales.
The adjusted net profit margin fell to 7.2 percent of sales from 11.1 percent.
Orders fell to €3.5 billion from €5.7 billion, while cash holdings fell to €3.4 billion from €4.6 billion.
Featured Photo: Éric Trappier, Chairman and CEO of Dassault Aviation. Credit: Dassault Aviation