In a June 29, 2021 article by Flight Lieutenant Robert Cochran, provided an update of the KC-30A operating in Exercise Arnheim Thunder.
Providing air-to-air refuelling services to some of the world's most advanced combat fighter jets is just another day in the office for Air Force pilots Flight Lieutenant Kristen Crick and Flying Officer Danny Kitcher.
They fly a KC-30A multi-role tanker transport, one of seven operated by No. 33 Squadron.
Less than an hour into a daytime mission during Exercise Arnhem Thunder, they refuelled four F/A-18F Super Hornets and two EA-18G Growlers.
"In operations and exercises such as this, our job is pretty simple: meet up with aircraft and offload fuel to allow them to stay on station for longer," co-pilot Flying Officer Kitcher said.
"During Arnhem Thunder, the KC-30A has allowed the fighters to participate in back-to-back vulnerability windows, to maximise their training outcomes for the exercise.
"It's always a good feeling when a rendezvous plan works nicely, and we can drop off our receivers close to their working airspace."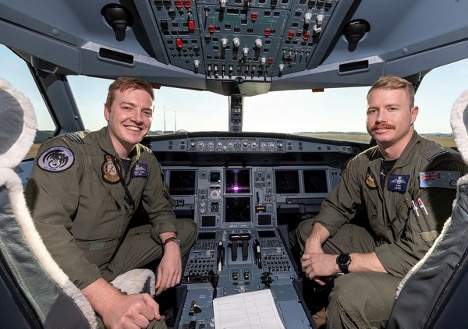 Aircraft captain Flight Lieutenant Crick said it all came down to the KC-30A being in the right place at the right time to give the receiver pilots the fuel they needed to complete their mission.
"You usually know some of the crew in the receiver formation, so they're your mates on the wing, and like all good wingmen, you just need to be there for them when they need you," Flight Lieutenant Crick said.
"Whether it's dragging fighters through the airspace or anticipating where they might need us for a top-off, we remain flexible and work together so they can meet their mission objectives."
For the two pilots, the best things about flying the KC-30A were the variety and the people.
"We're able to do passenger and cargo moves, hose-and-drogue and boom refuelling, and formation flying," Flying Officer Kitcher said.
Flight Lieutenant Crick said: "Flying the KC-30A means you're always working with a crew and No. 33 Squadron is full of good characters".
"While the KC-30A is first and foremost an air-to-air refuelling system, given our multi-role, we're not only working with receiver pilots for air-to-air refuelling, but also looking after passengers, and making sure we provide a comfortable service to get them to their next domestic or international destination," Flight Lieutenant Crick said.
"I enjoy the responsibility of sitting on the flight deck, keeping watch with a coffee, while the back-end fall asleep."
No. 33 Squadron deployed one KC-30A aircraft from RAAF Base Amberley to RAAF Base Darwin to participate in Exercise Arnhem Thunder 21.
Featured Photo: F/A-18A Hornet A21-008 refuels in the air over the Northern Territory during Exercise Arnhem Thunder. Photo: Leading Aircraftman Stewart Gould