By Robbin Laird
September 14, 2023 was a significant day in the demonstration of the 21st century version of the arsenal of democracy and Denmark's role in its realization.
The first involved the arrival of the U.S.-led coalition built, sustained and operated high-end combat aircraft, the F-35 in Denmark.
The second received must less notice but is very significant as well.
The U.S. company, Northrop Grumman, announced an agreement with SH Defence in partnering in the next phase of Danish-led modular shipbuilding. Here the U.S. major prime, whose role is significant in the first event, the arrival of the first four F-35s in Denmark, given its role in the F-35 global enterprise, entered into a partnership with a much smaller firm, but one leading the way globally as part of the Danish generated re-think of ship modularity.
The first event was highlighted in this comment by His Royal Highness Brig. Gen.  Prince Joachim of Denmark: "As newly appointed Defence Industrial Attaché, it is a privilege to oversee the first aircraft ferry of Denmark's new F-35 Lightning II. The F-35 is a huge step forward in technology. The arrival of the F-35 provides Denmark and the Danish Armed Forces a beacon to transform the armed forces to the 5th Generation. It is a pleasure to note that this unique piece of military hardware also holds Danish industrial components and is testimony to the close ties between the United States and Denmark."
The second event occurred on the third day of the DSEI show in London. Last year I talked with SH Defence and the Danish Navy in both Copenhagen and at the Euronaval show in Paris. The Danes are in the throes of building a new warship for themselves and then for a major Asian ally which will in effect be a new class of ship, motherships which can carry a significant number of maritime automated systems.
SH Defence's Cube System is designed to use standard shipping containers to contain various weapon systems and to load and move those systems around on a ship. As the CEO of the company, Renè Bertelsen noted in my interview with him last October at Euronaval: "Our navy needs to get the right equipment to a hotspot at the right time. Rather than thinking of traditional categories of ships, such as an OPV or a destroyer, the task is to get the right payload to the area of interest, not simply a narrowly defined class of ships. We are looking toward multiple-payload vessels rather than defining them as multi-mission organic ships.
"In other words, we are focused in building or reconfiguring different classes of ships to be capable of handling a variety of different payloads. And our system can allow them to do so without returning to port or a naval base, but able to swap out from standard containers – 20 or 40  – at sea."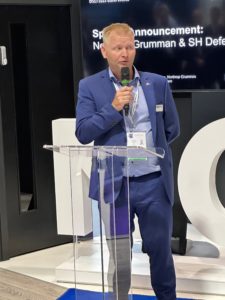 In a way, this creates a Rubik-cube fleet enabled by a diversity of payloads which can swap out rapidly ashore or afloat. This also has the advantage of strategic deception as once in the container, the adversary cannot identify what is in the containers which means that the payloads could be for strike, ASW missions or enabling maritime uncrewed systems to add to the fleet or to support existing capital ships already engaged in the battlespace.
At the DSEI show, NG UK announced that it had reached a partnership with SH Defence.  This was their announcement: "Northrop Grumman UK Ltd and SH Defence signed a Memorandum of Understanding to collaborate on the development of new multi-mission solutions that can be added to an existing vessel to strengthen critical capabilities across naval operations.
"Collaboration builds on Northrop Grumman expertise with advanced control system solutions for naval vessels SH Defence mission modularity solutions include The Cube™ which has the flexibility to provide for multiple missions Modules can include a range of systems including mine hunting advanced intelligence, surveillance and target acquisition, or deployable vessels."
Bertelsen indicated during the roll out of the agreement: "We have developed an innovative system using modules to incorporate a variety of payloads for combat ships. But we need not just to put equipment and systems into boxes; they need to be integrated overall within the ship systems. Our new partner specializes in such integration."
As he added afterwords in our discussion: "This agreement allows us to explore the domain of the possible in term of integrating our Cube system within the ship's backbone so to speak. What resources do we need for our modules onboard the ship? How best to integrate those demand signals within overall ship operations? This agreement provides a way ahead to work on this critical question."
Katharine Sealy, Managing Director, National Security Solutions, Northrop Grumman, UK,  emphasized in her overview that NG's expertise in "integrating essential systems on critical mission platforms" would enable integration of the Cube system within combat ships as the modular approach moved forward.
She added: "Maintaining competitive advantages in the complex environments of tomorrow will require deployed capabilities that are adaptable and versatile. We need to be able rapidly to equip naval operators with the tools that they need in an ever-changing threat environment."
Modularity is key way to do so within an integrated solution set aboard a combat vessel.
In the discussion afterward, she underscored how the arsenal of democracy evident in this agreement was moving forward: "I think we're seeing companies working a lot more collaboratively across the globe.
"And certainly, Northrop Grumman is doing so. We're focused on building on the best of both of our U.S. enterprise, and on what we can deliver here in the UK.  We're building on some of the work and the projects that we're doing here in the UK where we are very experienced with regard to platform management systems.
"And we're leveraging some of the modularized approaches that our U.S. colleagues are able to bring. I am very excited about the opportunity to be able to deliver the best of both to this agreement and partnership."
Featured Photo: That was then:`The Arsenal of Democracy` corridor of the National WWII Museum.
Note: I discuss in some detail the question of building a 21st century version of the arsenal of democracy in my recently published book entitled: Australia and Indo-Pacific Defence: Anchoring a Way Ahead.