Criminalized States and Terrorist-Criminal Pipelines
By Douglas Farah
The FARC, Venezuela and Iran
07/26/2011 – While the transnational trafficking and financial operations of the Sinaloa cartel are important, the FARC alliances and actions offer an important look at the use of non-state criminal/terrorist armed groups by a criminalized state.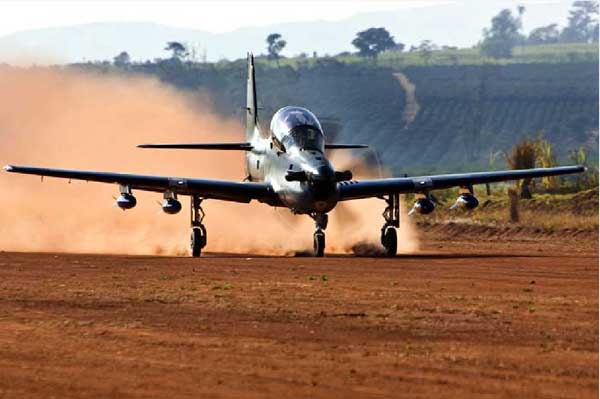 The Super Tucano FARC Killer Landing in Difficult Terrain (Credit: https://www.sldinfo.com/?p=11834)
The well documented links of Venezuela's "Bolivarian Revolution," led by President Hugo Chávez, to both Iran and to the FARC—as well as the criminalization of the Venezuelan state under Chávez—point to the evolution of the model described above where a criminalized state franchises out part of its criminal enterprises to non-state actors.[1]
More worrisome from the U.S. perspective is the growing evidence of Chávez's direct support for Hezbollah, along with his ties to the FARC.
These indicators include the June 18, 2008 designations by the U.S. Treasury Department's Office of Foreign Assets Control (OFAC) of two Venezuelan citizens, including a senior diplomat, as terrorist supporters for working with the FARC  Several businesses also were sanctioned.  Among the things the two are alleged to have been conducting on behalf of Hezbollah were coordinating possible terrorist attacks and building Hezbollah-sponsored community centers in Venezuela.[2]
OFAC has also designated numerous senior Venezuelan officials, including the heads of two national intelligence services, as terrorist supporters for direct support of the FARC in the acquisition of weapons and drug trafficking.[3]
The Chávez model of allying with both state sponsors of terrorism such as Iran while sponsoring violent non-state terrorist organizations involved in criminal activities and terrorism strongly resembles the template pioneered by Hezbollah, a radical Shite Muslim terrorist organization that enjoys the state sponsorship of Iran and Syria. In fact, the military doctrine of the "Bolivarian Revolution," officially adopted in Venezuela and rapidly spreading to Chávez's allies in Bolivia and Nicaragua, explicitly embraces the radical Islamist model of asymmetrical or "fourth generation warfare," and its heavy reliance on suicide bombings and different types of terrorism, including the use of nuclear weapons. This is occurring at a time when Hezbollah's presence in Latin America is growing and becoming more identifiable.[4]
The main book Chávez has adopted as his military doctrine is Peripheral Warfare and Revolutionary Islam: Origins, Rules and Ethics of Asymmetrical Warfare (Guerra Periférica y el Islam Revolucionario: Orígenes, Reglas y Ética de la Guerra Asimétrica ) by the Spanish politician and ideologue Jorge Verstrynge.[5] Although he is not a Muslim and the book was not written directly in relation to the Venezuelan experience, Verstrynge's book lauds radical Islam (as well as past terrorists like Ilich Ramírez Sánchez, better known as Carlos the Jackal)[6] for helping to expand the parameters of what irregular warfare should encompass, including the use of biological and nuclear weapons, along with the correlated civilian casualties among the enemy. Chávez has openly admitted his admiration for Ramírez Sánchez, who is serving a life sentence in France for murder and terrorist acts.[7]
Central to Verstrynge's idealized view of terrorists is his regard for the willingness of the fighters to sacrifice their lives in pursuit of their goals as sacred. Before writing extensively on how to make chemical weapons and listing helpful places to find information on the manufacture of rudimentary nuclear bombs that "someone with a high school education could make," Verstrynge writes:
We already know it is incorrect to limit asymmetrical warfare to guerrilla warfare, although it is important. However, it is not a mistake to also use things that are classified as terrorism and use them in asymmetrical warfare. And we have super terrorism, divided into chemical terrorism, bioterrorism (which uses biological and bacteriological methods), and nuclear terrorism, which means "the type of terrorism uses the threat of nuclear attack to achieve its goals."[8]
In a December 12, 2008 interview with Venezuelan state television, Verstrynge lauded Osama bin Laden and al Qaeda for creating a new type of warfare that is "de-territorialized, de-stateized and de-nationalized," a war where suicide bombers act as "atomic bombs for the poor."[9]
Chávez liked the book so well he had a special pocket-sized edition printed and distributed to the officer corps with express orders that it be read cover to cover.
While there is only anecdotal evidence to date of the merging of the Bolivarian Revolution's criminal-terrorist pipeline and the criminal-terrorist pipeline of radical Islamist groups (Hezbollah in particular) supported by the Iranian regime, the possibility opens a series of new security challenges for the United States and its allies in Latin America.
What is clear is that Iran has greatly increased its diplomatic, economic and intelligence presence in Latin America, an area where it has virtually no trade, no historic or cultural ties and no obvious strategic interests. The sole points of convergence of the radical and reactionary theocratic Iranian government and the self-proclaimed socialist and progressive Bolivarian revolution are: 1) an overt and often stated hatred for the United States and 2) a shared view of an authoritarian state that tolerates little dissent and encroaches on all aspects of a citizen's life.[10]
Such a relationship between non-state and state actors provides numerous benefits to both. In Latin America, for example, the FARC gains access to Venezuelan territory without fear of reprisals, gains access to Venezuelan identification documents, and, perhaps most importantly, gains access to routes for exporting cocaine to Europe and the United States while using the same routes to import quantities of sophisticated weapons and communications equipment. In return, the Chávez government can keep up military pressure on its most vocal opponent in the region, the Colombian government, a staunch U.S. ally that has been the recipient of significant amounts of military and humanitarian aid from the United States.
In addition, Chávez maintains his revolutionary credentials in the radical axis comprised of leftist populists and Islamic fundamentalists, primarily Iran. Perhaps equally important, his government is able to profit from the transit of cocaine and weapons through the national territory at a time when oil revenues are low and the budget is under significant stress.