08/02/2011 – Recently, Second Line of Defense sat down with Admiral Currier, the Deputy Commandant  (Mission Support) of the USCG, to discuss the importance of the new National Security Cutter in executing the national maritime strategy.  The NSC provides a focal point for deployed defense and security capabilities afloat and a key asset in protecting US national sovereignty in a globalizing world.
In effect, the NSC provides a floating command post for a security or defense task force sized to deal with various threats, ranging from narcotics interdiction to terrorist threats.  The NSC forms a focal point for organizing assets appropriate to a variety of missions in the global commons and the maritime zones which reach deep back into the inland waterways of the continental United States.
(On the NSC as a chaos management system see https://www.sldinfo.com/?p=10225).
Earlier, we interviewed Captain Bardo who discussed the role of the NSC as a crisis management system.  Recently, we published a piece by Captain Prince, who has just left his position as skipper of the first NSC.  And soon we will publish a discussion of with Captain Prince as well as the Executive Officer of the Bertholf concerning lessons learned from the operations of the ship on station.
And later next month, we will publish an interview with the USCG Pac Area Commander, Admiral Manson Brown, on the role of the NSC in the execution of the national maritime strategy in the Pacific.
SLD: After some early challenges with the NSC, which are certainly not unusual with first build ships or planes or helos, it seems that the ship is shaking out quite nicely.
And because you have only been operating the ship for a couple of years, the service obviously is just learning to leverage its capabilities.
Could you give us your sense of where we are with the building of the ship?
Admiral Currier: The National Security Cutter, in my estimation, is an extremely capable ship that meets vital national requirements  for maritime security.  After some early challenges in program structure and process, the acquisition has matured into a cost-controlled and risk managed program.
During this fiscal year, we contracted Hull#4 for a fixed price.  Additionally, in FY11 we also contracted for long lead-time material for #5, and we're about to award the production contract for #5.  I am confident that the contract for #5 will come in at, or very close to the cost of Hull #4.
SLD: What was that cost?
Admiral Currier: The unit cost for #4 was 480 million dollars with a total acquisition cost of 692 million dollars.
SLD: What was the difference between the two numbers?
Admiral Currier: The smaller number is the unit cost for the ship, while the larger is a combination of the unit cost, plus long lead time material, post production certifications, personnel costs, training expenses and all other associated costs.
We have achieved a fixed price environment with stable requirements, and a contractor that has a positive learning curve which is productive because we're awarding contracts on a regular cycle.
The problem is the real possibility that our funding might be disrupted.  This would mean that as we  seek to acquire hulls  #6, 7, and 8, if we are exposed to funding delays, we're going to incur significant cost increases, loss of expertise in the yard due to gapped work stoppages, people laid off, all of those negative effects.
SLD: You also face some challenges in managing a steady funding stream due to some specific procurement regulations as well, for which the USCG is seeking regulatory relief?
Admiral Currier: You are referring to OMB Circular A-11. Current interpretation of A-11 requires that when acquiring a system, you must have total contract funding in the year that the contract is signed.  In other words, in the year you buy it, you have to have total funding.
The problem is that in shipbuilding each hull requires multiple years to complete. To be efficient you need to manage over a period significantly longer than a year.  You need long-lead material in a year, and then you need the production contract the next year, and then you need money for post-production activities the third year. It takes about 3 fiscal years to do it efficiently which can cause money allocated the first year to expire before it is expended.
In this sense, we would like parity with the Navy.  As we have restructured our acquisition enterprise, we have drawn on many of the lessons of how NAVSEA does contracting.  To achieve what their procurement models yield, we must have parity in policy application.
When the Navy buys a ship, whether it be a carrier, or a submarine, or even a frigate they obtain relief on A-11 interpretation.  They are allowed to apply multi-year funding through either appropriations, or authorization language.
Early on in our shipbuilding program, we were given relief from A-11. Today, we are not which makes efficient acquisition very difficult.
SLD: Let us discuss the NSC itself.  How does the USCG use this ship and plan to use the entire fleet of NSCs?
The bridge of the USCGC Waesche from which the C4ISR D operations are commanded.  Credit: SLD
Admiral Currier: We have a legitimate requirement for persistent presence off the Atlantic Coast, Pacific Coast, Bering Sea, the Eastern Pacific and the Caribbean for the interdiction of migrants, narco-terrorism and the insurance of safety and security at sea.
In the past, our formula has been 12 major cutters at 185 days a year away from homeport. And that's based on over 40 years of operation with the 378-foot high endurance cutter.
Currently, we are looking to replace those twelve antiquated high endurance cutters with a minimum of 8 National Security Cutters.  Given a unique manning concept called crew rotation, we have modeled the ability to do 230 days a year at sea, rather than 185, which we did with the previous class of high endurance cutters. In effect, the days at sea, or the days engaged in mission execution, will be roughly the same between the National Security Cutter with 8 hulls and the Hamilton class with 12 hulls.
But it's even better because of the enhanced capabilities of the National Security Cutter.  The ship can loiter, sprint, carry aircraft, and deploy small armed interdiction boats. Eventually it will carry unmanned aerial vehicles. Currently, the NSC can process intelligence information operating as a deployed system, not just a hull yielding so many days at sea.
It's a much more capable platform than anything we've had in the past.  Even though our top-line metric is days away from homeport, the effectiveness of the platform in- theater will be an order of magnitude greater.  And that's been proven in deployment of the first two ships.
SLD: Let us hover over the important distinction between the NSC as a hull and the NSC as a deployed security or defense system.  Can you explain how we should understand the NSC in a systems way?
Admiral Currier: The National Security Cutter, in addition to being able to operate at high sea states, can launch and recover aircraft under those conditions.  You have to understand the cutter's utility as a weapon system.
It's a platform for multiple, fast, small interceptor boats, surface craft, and also air assets, whether it be a helicopter, or unmanned aerial vehicle, which really extends the reach of the cutter significantly. We have a larger capacity for the small, fast boats, the interceptor boats.  We can carry three vice one or two on a 378.  The NSC is a sea base for fast response small boats and helicopters or virtually any specialized force for dealing with a wide spectrum of threats.
We've proven this concept repeatedly with interdiction of narcotic go-fasts in the Caribbean and Eastern Pacific.  With a Maritime Patrol Aircraft (MPA), or with the use of non-USCG national assets, the ship is able to detect, monitor, and be in position to launch its helicopters which will stop the suspect vessel, followed by the small boat boarding team.
It is a complete package. It capitalizes on external cues, intelligence, and airborne maritime patrols to develop a picture of the area.  With the available maritime domain awareness, it can prosecute threats using its fast, armed, small boats, and its armed helicopters.
SLD: So it really should be looked at as a floating command post able to deploy small task forces to deal with various maritime threats, including threats landside as well?
Admiral Currier: It is a multi-mission system.  What I've just described to you is the detection, monitoring and interdiction of a surface or subsurface  suspect vessel, a narco-terrorist threat.
But the NSC has additional utility in that this ship is a protected asset as well.  It can operate in a contaminated environment, whether it is chemical, bio, or nuke.  It can go into an incident area as a completely protected, self-contained command and control platform to support at sea or land operations as well.
And due to the USCG's unique capability to operate with DOD in a joint task force environment, or unified commands on the civil side, the NSC can bring them together, house them, provide them communications, and translate between the two from a planning and execution standpoint.
In other words, the National Security Cutter is a unique asset for national security.   It can go to the scene of a major disaster, whether it is an earthquake in San Francisco, or a WMD attack in the New York City area and be able to provide the responders with sustained and protected communication facilities capable of co-joining  unified commands with DoD JTF's.
SLD: The ship has very good endurance qualities.  Can you explain the impact of endurance with regard to the NSCs ability to play the various roles you have discussed?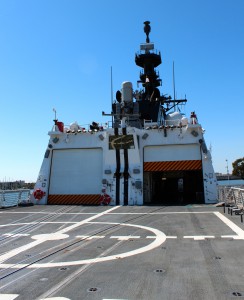 The  flight deck of the USCGC Bertholf as seen at its homeport on USCG Island, Alameda, California Credit: SLD
Admiral Currier: Think about it this way. In the Eastern Pacific narco-terrorist hunting grounds,  in our deep Caribbean illegal migrant missions, in our demanding Bering Sea fishing enforcement, or in our Western Pacific economic zone protection missions, it takes significant time to transit to those operational areas.  The value of endurance is based on the ability to stay on station longer, rather than just racking up transit days.  So the NSC gets more efficient operational use from its days away from homeport.
Measure its role in days engaged in-theater, because from Alameda it's a week-long transit to the Bering Sea.  It's a 10 day transit to the Western Pacific.  It's a  5 day transit to the Eastern Pacific, and then the return.  Those are days off the top of a patrol; success requires maximizing time in the target operational area.
What you want is a ship that offers extended time, is self-contained, self-supported and in theater performing the mission.  The loiter capability allows us to go into theater and wait, maintain a low profile, and either get cued by intelligence, or MPA, or your own eyes and ears, establish where the target is, and then go after it.
Loitering in the Bering Sea protecting the international maritime boundary dealing with foreign incursions, you are effective through presence. And that's what comes from the endurance qualities of this ship.
SLD: A key aspect to understanding the role of the NSC might be to go backwards and discuss the different strategic contexts within which ships have been built to perform USCG missions.
Could you talk about the relationship between earlier cutters and strategic contexts?
Admiral Currier: In the 1930s, we built the Secretary Class 327 foot-long ships. They were built for security and interdiction.  They were used for ocean station duty. They were positioned across the Atlantic and Pacific so the airliners, which were very primitive at the time, could get position fixes and weather from the ships as they transited across.
SLD: They were floating lighthouses and rescue stations?
Admiral Currier: Yes, but then they adapted to new conditions and mission demands. We entered into World War II, the United States scrambled for capability to escort convoys across the U-boat threatened North Atlantic.  And because we had built these ships as multi-mission vessels, they were able to be weaponized with surface and anti-air guns, depth charges and sonar (or ASDIC as it was called) and they became, early in World War II, the most effective assets the United States had for anti-submarine warfare.
And then we industrialized and our Navy built destroyers.  But the USCG cutters were very efficient destroyer escorts early in the war. An important lesson here is having a multi-mission ship allows you to adapt it to changing national priorities. We are, and will remain, a maritime Nation depended on the sea for our survival.
After the war, the cutters were transitioned back to an ocean station role.  Later,  they went to Vietnam, got gunned up again, and participated in Market Time.
In short, the nature of the changing security problems that the United States faces demands a ship that's multi-mission; today the NSC is that ship.  This is a ship that can handle narco trafficking, sea-borne terrorist threats, it can handle mass migration incidents, and it can handle natural or a man-made disasters along our coast line.  And it can meet threats at sea because it has loitering and speed capabilites, and the ability to carry specialized forces.  The NSC can focus on keeping the threat away from our shores rather than simply coping with the impact of a threat already inside U.S. waters.
SLD: What about the Hamilton Class Cutters, and we would note that the Philippines have just taken delivery of the original Alexander Hamilton thus setting in motion the sunset on this capability.
Admiral Currier: The 378s were built 45 years ago, and the same thing happened, the ships served us well in Vietnam, then through the Cold War when submarines were a huge threat, then during the marijuana and cocaine smuggling wars, through the Mariel Boatlift in 1980, the rescue of over 500 souls from the liner Prinsendam off Alaska,  countless tons of narcotics and countless lives saved, often under impossible conditions…this represents concrete return on investment, unmatched anywhere.
We've morphed as the nature of threats to the Nation have changed, and the new NSC will allow us to do this over the next 40 years.
But the Hamilton class was never designed to be a floating command post for combined security and defense operations.  And such an asset is crucial in managing and executing the combined and joint missions necessary to achieve national security.  The NSC represents a significant investment of taxpayer's dollars in a very difficult economic period. But, as we've discussed, this is not a short term program. These ships will be vital to our Nation's maritime security for the next several decades, they represent long-term investment.
SLD: This takes us back to the focus of the NSC as a system not just a hull.  One way to conceptualize this might be to look at the ship as the anchor point in a deployed bubble and within that bubble which has 360 degree sweep are various assets which can be leveraged. The commander of the NSC can then craft or shape an effective force package, using national or coalition assets.  Does that make sense?
Admiral Currier: It does and gets to the system point quite well. It's a mobile security force that can move to meet a threat, or stay to meet the threat, whatever's required.  It can sprint or it can loiter for a long time with the eyes and ears to protect a large swath of ocean or coastline..
But the bubble idea highlights the key role of command and control in various scenarios. In a natural disaster, it's operating a different bubble than a counter narcotics bubble, but it's the same concept.
You've got domain awareness in air and surface, you've got tools to affect the outer edges of the bubble, you've got organic intelligence capability, and you've got the ability to import critical intelligence.  All of these things can go on with the NSC as a centerpiece.  It's not just the ship, it is a defense management system… a threat management system.
By running this concept against different scenarios, one can grasp the flexibility of the NSC.  If you run a mass migration scenario, this ship goes in as a command and control platform for operations in the Florida Straits or the approaches to the United States.
This ship will host the task force command that's able to achieve air and maritime domain awareness, with the communications capability and the support capability to exercise multi-unit command.
Changing to another scenario: an airliner goes in off of Cape Cod, how are we going to exert on scene presence command and control, awareness control over the search activities, recovery activities?  This ship can do it.
If there's an earthquake in San Francisco, this ship sails under the Golden Gate, and sets up with multiple jurisdictions, including the Department of Defense, to give them a protected and self-sustained command and control node while they're commencing rescue and recovery.
In short, the NSC is part of our service ethic of operating multi-mission cutters, which allow flexibility in the execution of critical tasks.  But it is different in that the NSC has the enhanced capabilities to meet the threats of today and tomorrow.
And as such, this asset can do chaos management, command a security or defense task force, provide for efficient use of US national assets, link with coalition or partner nations and enforce law.
Having a ship that can do all of this is about ensuring US sovereignty in the evolving global commons, close to home regions of vital interest to our Country including the Western Pacific, Alaskan maritime boundaries, the deep Caribbean and our Southern approaches. These are clearly times that challenge our national security. To ensure safe and secure sea lanes and all that means to our Nation, we absolutely need this uniquely capable asset.