6/8/12: We have focused earlier on what is in the baseline F-35 in terms of capability.
https://www.sldinfo.com/the-baseline-f-35/
One aspect of the baseline aircraft which we did not focus on in that discussion was the common global language built into every manufactured aircraft which comes off the assembly line.
Because the F-35 was born at a time when DOD was keenly focused on implementing Unique Item Identification (UID) and Radio Frequency Identification (RFID) technologies, the plane was built from the start with modern logistics tool sets in mind.
In effect, this means that the aircraft speaks a universal or global logistics language.
This common language and the digital management which is enabled by this language allows for the F-35 fleet to be managed globally in an historically unprecedented manner.
We have written a full book around our interviews on the F-35 maintenance revolution, but some folks may have missed the core point – this is not about the platform but how the platform is built ENABLES a fleet.
https://www.sldinfo.com/defense-security-publications/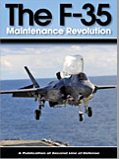 The consequences of such an approach allows not only for significant cost savings over time but a significant change in the overall capabilities and approach to deployments.
To contrast now and in the future, there is no better example than the USAF surging three air wings to the Asia Pacific Region.  Now there would be a significant demand on the lift fleet to get the parts to the theater of operations in order to support the operations of the surged aircraft.  In the future, this surge demand can largely be eliminated.  By having hubs throughout the APR with stockpiles of parts – delivered in a steady manner by ship – and by having global transparency in the system, the USAF would know PRIOR to deployment what its support situation is in terms of supplies.
There is another strategic consequence as well.
By having a diversity of supply HUBS throughout the APR, not only would partner countries have capability but the U.S. would not have to concentrate its supplies in places like Guam.  So potential adversaries wishing to cripple the USAF would now have to consider the entire region of F-35s as a problem.
Never has a logistic system been such an essential part of DETRRENCE than the F-35 fleet concept.
For the hub concept, see
https://www.sldinfo.com/presidential-visit-to-australia-a-strategic-opportunity-for-darwin-and-australia/
https://www.sldinfo.com/the-japanese-f-35-decision-a-building-block-in-a-new-pacific-strategy/
SLD intends to focus significant attention to the fleet concept of the F-35, notably because of the strategic impact from a tactical aircraft program.
And a key element of such an approach is built upon the foundation of a new logistical approach.
https://www.sldinfo.com/getting-on-with-it-building-deploying-and-learning-with-21st-century-aircraft/
To kickoff this discussion on fleet logistics, SLD talked with Denton Clark from Lockheed Martin about the basic UID process and related issues in building the universal language for the maintenance of the F-35.
Denton Clark, an AIT Manager, is the Automated Identification and Data Capture (AIDC) Integrated Process Team (IPT) lead, for Lockheed Martin Corporation. In this position, Mr. Clark has the overall responsibility for supporting the AIDC development and implementation efforts across the Corporation. This includes a broad range of ongoing and prospective activities including ensuring the DoD Passive RFID Policy is compliantly implemented as well as integrating AIDC technologies horizontally across the corporation. In addition, Mr. Clark is responsible for assisting existing and prospective programs in evaluating and implementing AIDC technologies as a supply chain transformation tool. Denton's team has been working closely with the Office of the Secretary of Defense and the Defense Logistics Agency in the development and implementation of Passive RFID technology in compliance with the Department of Defense's Passive RFID initiative.
SLD: Could you discuss the flight line of the future approach which you are developing to capture the dynamics of change associated with the support and operations of an F-35 fleet?
Clark: Flight operations are going to become merged with maintenance in the F-35 flight line. They will work together and one doesn't drive the other.
SLD: By changing the transparency of the supply chain and logistics, you're also allowing the operational commanders to have a sense of the availability and the capability of the fleet at any particular moment.
Clark: That will be the result of the new system.  The maintenance plan merges with flightline launch and recovery.
When you're talking about what UID and RFID is going to do for you, you know it just enhances that capability.
SLD: So let us talk about the approach to UID and RFID in the F-35 program.
Clark: Mr. Alan Estavez of AT and L from DOD used EPCglobal to develop the passive RFID specification for the DOD. Mr. Estevez wanted to make sure that the defense supply chain only used COTS and that we didn't come up with something that was going to be different than what everybody else is using. He also recognized the defense supply chain was also made up of many non-defense firms that provides commodities and would migrate to a COTS product. In essence Mr. Estevez leveraged the commercial adoption of a technology to enable the defense supply chain.
So we're now pushing the envelope a little bit more. We're saying, "Okay, we've got a great foundation there, how can we take this RFID technology and take it to the next level?" In that spirit, there's an RFID technology called Near Field Communication, or NFC for short.
Near Field Communication would allow you to just walk into a store, put your credit card in a machine, it would read that chip and you would be authenticated as the owner of that card. Getting greater security into the RFID system is a key objective of such an approach.
Another key objective is to limit the number of tools one needs to deploy to support the fleet and its maintenance. So for AIT technologies, you try to limit your footprint. You don't want to have a lot of different technologies in play here.
So, so far we've got UID and barcode, which are both optical type reader technologies  and then you have RFID, which is a radio wave.
Because they're different you need different tools to read them. In the case of barcodes and UID I can use a common optical reader.
So if I was to use Near Field Communication and passive RFID, I would have to have two different pieces of equipment to read them because their associated frequencies are so different.
Since both Gen II Class I and NFC have limitations that would require the use of a dual infrastructure, GS1 developed a follow-on to the Gen II spec called the Gen II V2.  This spec has many features that address the shortcomings of both technologies: long and short read range capabilities, large tag populations, faster read ranges, anti-counterfeiting features, e-Pedigree, file management and more.
With Near Field Communication, you can only read it from a couple of inches away versus a passive RFID Gen 2, Class 1, which you can read many feet away, up to 12 feet away.
But the Gen 2 right now does not have any authentication features on it, and it's also easy to defeat. The new Gen II spec has  new security features built into it. The specification is 99% written and GSl is now looking for is a launch customer, and that launch customer could be the  defense community.
SLD: So the point is you've got this COTS Foundation and in effect you're putting a security layer on top of it..
Clark: That's right, actually multiple security layers because one security layer will protect the information on the chip itself and then the second security layer will validate the user.
There are other issues to work out such as authenticating a user from 20 feet from the platform as would be the case with passive RFID but this may be addressed by the new short read range capability. This is a security issue, so we're going to work that problem.
SLD: But the point being is that you're accepting the dynamics of the COTS revolution, but you're providing the kind of security protection you need because of the cyber intrusion possibilities. So essentially, you're kind of harvesting the best and moving on beyond just being caught into a COTS dynamic.
Clark: It is, Up to now; DOD bought a few things, and paid a lot.
Now we're looking at: How do we leverage existing technologies which everybody else essentially uses, but provides us with a secured platform that the military requires.
SLD: Let us go back to the baseline plane for a moment.
What is built into the plane from an UID point of view?
Clark: The initial DOD UID policy was: Any serialized part that had a value of $5,000 or more or was mission critical to that platform had to have a UID marking on it.  Serial  numbers associated with part numbers is  what makes an item  unique. Extending the requirement to the mission critical requirement can mean any or all serialized items on an the platform.
Extending this capability to production tool tracking and other functions such as managing Government Furnished Equipment (GFE) can be further enhanced by combining the uniqueness of a serialized item identifier with the non-line-of-sight visibility capabilities of RFID. Since contractors use thousands of pieces of GFE for special tooling and other items in their manufacturing process, annual accountability becomes more accurate and transparent. Items such as tools and special test equipment are more readily identified and located.
That will allow us to identify tools, large and small, by its part and serial number using an RFID chip that we can track from shipment, receipt, inventory, kitting through point-of-use. which can reduce production and  maintenance time dramatically.
SLD: The serial numbers are located within the UII. The UII is forever associated with the part and serial number  and because the F-35 has a global supply chain, everybody building stuff for this aircraft is using the same item identification system so you're not going to have an international/national disconnect on this.
Clark: Exactly. It's got to be seamless. An example is that if  one country's air force needs a part, say a wing actuator for example for an F-35, it's going to come from a global supply chain pool of parts and so theoretically that part that could have  at one time been on a U.S. F-35 could end up on an allies F-35.
SLD: So from the ground up, you basically have created a common language and foundation.  And as you leverage that common foundation – UIDs and RFID innovations – you are building from that foundation to shape new capabilities.
One has a solid foundation from which one can over time evolve more secure technology solutions.
Clark: That's right. And this approach also helps control aircraft configuration because now you're managing your parts by serial and part number, not just by part number. And I know the history of that part from cradle to grave..
I'm tracking the pedigree of that part from the day it was built to the day it's going to be destroyed through that IUID.
That's extremely important information to have. This has enormous benefits to Reliability, Maintainability and Availability since we will be able to study the relationship between a parts maintenance history and the performance of any platform where that part was used.
Knowing a parts history, and more importantly repair activity provides a lot of insight.
Because you can track the history of that part and you can relate it to any types of maintenance problems you've had with regard to the aircraft fleet you cab identify hard to detect supplier issues with material or quality can be identified.
SLD: So you can basically measure fatigue life and presumably because you have different air and naval forces involved, working in different climatic conditions, you potentially can come up with some very interesting abilities to measure operational impacts on parts as well.
Because you built a baseline, you can measure the performance of suppliers throughout the supply chains.  And because there are many suppliers in the program you have alternatives and measures of performance to provide for the global customers.
Clark: That's right. It goes to failure analysis with the RMA, right, reliability, maintainability, and availability. By being able to track that stuff and being able to correlate it between aircrafts and the types of issues aircrafts have had globally, you're absolutely correct. You can track it right back to the supplier and identify the weakest link, if you will.
SLD: And everybody's concerned about counterfeit parts. The approach can help with the counterfeit part problem as well?
Clark: One of my major initiatives this year is anti-counterfeiting.
I'm working with Office of the Secretary of Defense (OSD), Acquisition, Technology and Logistics (AT&L) office of Supply Chain Integration (SCI). .  SCI wants to work with the supply chain community at large to make sure that we comply with the recent anti-counterfeiting legislation that we have a visibility specification that can be applied universally across our supply chains. His broad spectrum is supply chain, which includes electronics, mechanical andjust about anything the DOD buys.
We're going to go back and rely on the commercial market to help us solve a defense-related issue because it's not just defense-related, it's a universal problem.
SLD:  But the advantage you have with this program is that because of the foundation that you've laid, it gets easier to manage the inherent advantages built in that no legacy aircraft could ever have.
Clark: Exactly. This is not like managing an A-10 or F-16 anymore, right. This is going so far beyond that.
This is almost akin to managing a Ford at this point as far as the availability of parts and the visibility of parts and performance. This is not to compare the complexity of an F-35 to an automobile, but today's cars have up to 40 computers and several networks, each dedicated to a specific purpose such as engine and transmission performance, safety systems, traction control, and others.
If you look at the way the automotive industry manages maintenance and repair it is networked together.
And in some ways the F-35 program will emulate that.
When you take your car for in repair, the first thing the maintenance technician does is enter the car VIN number into a computer. CARFAX is an example of a centralized location to gather detailed information from more than 34,000 sources ranging from motor vehicle departments (VIN and odometer readings), insurance companies (accident repair lists) and auto repair shops. Use of CARFAX is voluntary but the point is that secondary market consumers (used car market) can get a detailed maintenance history of almost any vehicle. And new car dealers maintain their own detailed repair records.   So you see those CARFAX reports can provide detailed reports on the car's history.
That's what you're doing with your aircraft now. You're adopting a similar concept that was developed commercially for defense purposes.
SLD: The F-35 program is a 21st century program in a more fundamental sense than simply the combat technologies.  It is being built into the world of 21st century IT and security technologies. It is not designed as an ad hoc retrofit, which clearly legacy aircraft are.
https://www.sldinfo.com/getting-on-with-it-building-deploying-and-learning-with-21st-century-aircraft/
Clark: That's right.  Then you get into the cloud discussion where you need to provide universal availability of data through secure access.
Today, our world is built on little pockets of data everywhere and that's why we have such a hard time managing our supply chains. Not only just the pockets of data, but the way we process data.
With the F-35, we are building a system founded upon the universality of data itself.  It's all understandable by everybody. It's a common language, if you will.
Then we can focus on the challenges of how we transfer that data back and forth. How do we deliver that data?
Currently there are only disparate and disjointed methods of capturing and delivering maintenance and operational data.
The F-35 fleet is going to to change the interactive possibilities.
There's going to one way to deliver that ta one of several ways to capture that data that all are interactive but many ways to use it. Social media is invading the defense market.  Maintenance networks and Wikipedia sites will be created for specific platforms. F-35 maintenance techs will be able to share, in near real time problems encountered and how to solve them.  Imagine a Face Book site for specific type F-25 A/C and perhaps different systems (propulsion, avionics, weapons, etc) that is dedicated to keeping the
SLD: And one will never be able to fit the legacy aircraft into this mold. It's just too expensive to go backwards.
We've already seen in DOD that already with RFID UID with going backwards is prohibitive. Plus the international aspect of this is crucial. Fighting over common standards globally is a problem, but the F-35 has the common language built in.
If you're buying an F-35 and you're British or you're German or you're Spanish or you're Australian or you're Singaporean or whatever, they are all speaking the same common parts language so to speak.
Clark: The alpha numeric system is universal across the world in commerce.
When the DOD made the policy decision to implement RFID to tag item packaging in its supply chain, it turned to a commercial standards organization because of its business of enabling international commerce.
And while the defense supply chain has unique requirements, there are more similarities than differences. The DOD recognized this and acted on it. The DOD was flexible in the use of RFID identification where it allowed the use of commercial tracking codes such as Global Trade Identification Numbers (GTIN) or Serialized Shipping Container Codes (SSCC) as examples but also created a DOD-96 bit word that the defense community could use for their item-tagging and more recently the Variable Header which will provide UII information on a RFID tag.
GS1  actually enabled the global supply chain as we know it and the reason is this is the common identification number schemes they created.
As an example,  looking at the bottom of a can of Coke you see the barcode a little word accompanying it. That barcode and word is universally recognized around the world as a can of Coke, 12 ounces, and then using that little bit of data you can find all the information you need to know about that product… lot number, where manufactured, date, etc.
A can of soda is one example but high-end products are tracked using barcodes as well. Millions of these numbers are being used and are  universally accepted around the world because they use the common language of commerce. So Unique Item Identifiers are representative of Master Data in that they contain specific product information tracking the products' pedigree from cradle-to-grave.
Where RFID can be of value is in property management. GS1, with the support of the DOD created the Variable Header which can hold the entire concatenated UII for internal tracking of Government Furnished Property. The RFID tag number would match the UII verbatim.  The value of this is the RFID tagged item is easily found and the UID tag contains the Master Data. Image the savings in finding items in mile-long aircraft assembly plants as well as yearly GFE audits.
(For an overview on UID and RFID and the current state of play in DOD on these issues see
https://www.sldinfo.com/starting-an-industry-from-uid-to-rfid/
SLD:  By coming up with a common language associated with the parts that are in the aircraft, the F-35 fleet will have a globality to the product that we've never had in the history of military aviation, period.
Clark: Every aircraft coming off of the assembly line has global language built in.
Now what a global language built in allows us to do is really two key things:
One, it allows us to have a much better control over the meaning of the data as we build up our operational experience, which has all kinds of consequences.
Second, it allows us to do is essentially to build a technological solutions into the future cost effectively.
I was just a at a large commercial company last week and we're talking to their global supply chain folks and they have a project called: "Where's my things?" And so their definition of where's my things is this: What do I have in inventory? What do I have at my suppliers? What's inin transit, and in my supply chain? Where is it needed? And what do I have forward staged?
And this is a vision of a global supply chain.
And now you've just strengthened every link because now you know what every link is doing for you and what's in it.
You are adding the common global logistical language to what you have called the supply honeycomb.
.