by USAF Maj. Karen Roganov, Team Eglin Public Affairs
U.S. Marine Corps Major Tye Bachmann, VMFAT-501 at the 33rd Fighter Wing's Integrated Training Center completed the 100th sortie of the Marine's F-35B variant of the Lightning II here, Friday, Aug. 31.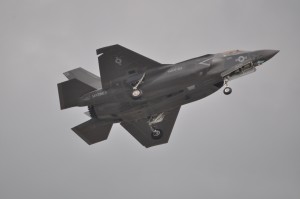 The flight was a lineup of six aircraft taking to the skies in turn on the first day of flying post Hurricane Isaac.
The wing also launched an F-35A Air Force variant of the joint strike fighter the same day.
The team leverages commonality between the F-35s and training synergy within the two branches of service to fly the fifth generation multirole fighter under development to perform ground attack, reconnaissance, and air missions with stealth capability.
The 100th B variant sortie is another marker that the F-35 team is progressing forward in sortie generations and maintenance training as the aircraft systems continues to mature.
For an interview with "OD" Bachmann shortly after he flew the 200th sortie of the F-35 at Eglin see the following: