2013-01-16 During our visit to the Light and Medium transport line in Seville in September 2012, one of the planes seen on the line was a Kazakh C-295.
SLD: There is a Kazakh C-295 being built on the final assembly line.  This is the largest plane built on this line.

Could you describe this effort?

Armas: The plane you saw is the second Kazakh C-295.  The first is currently being tested and we plan to deliver the plane in the coming weeks.  It is going to be used for airlift purposes.

And we have just signed contracts with Oman for 8 of these planes, with three to be configured as Maritime Patrol Aircraft.
The interview focused in part in the evolution of the manufacturing approach which was embodied in the Kazakh plane seen on the line.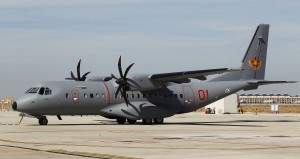 According to an Airbus Military press release:
Kazakhstan has taken delivery of the first two C295 transport aircraft that it ordered last year, marking Airbus Military´s entry into the CIS regional market.

The aircraft, the first two on firm contract and a further six on options to be progressively confirmed in the coming years, were formally handed over in Sevilla before the ferry flights, via Astana, to Almaty, where they will be based.

They were earlier technically accepted in Seville by a combined team of Kazspetsexport, the Kazakhstan Ministry of Defence, and the Kazakhstan Air Forces.

Both aircraft will be used in support of transport missions throughout the nation´s vast territory. The purchase contract additionally covers the related service support package for spare parts and ground support equipment.

The photo shows one of the aircraft before their departure from Seville.
Planes viewed on the Airbus Military final assembly lines in September 2012 can be seen below:
[slidepress gallery='400m']
Credit Photos: Airbus Military
In the first two pictures, A400Ms in the final leg of their journey in Seville are pictured.  Three of the aircraft to be delivered next year where in the facility: 2 for France and 1 for Turkey.  The engines have been removed from the planes and set to the manufacturer who is making repairs associated with the gear box.  The engines will return and be mated with the planes, which will have undergone some modifications with the newly mated engines.
The remaining photos are of the light and medium assembly line.  During the date of the visit (September 28, 2012), there were planes being built for Vietnam, France, Kazakhstan and Egypt.  The Vietnamese planes were being final assembled from major sections provided by Indonesia.  Indonesia is a key partner of Airbus Military and a legacy partner of CASA.
For our Special Report on Central Asia, which discusses Kazakhstan and its strategic environment, see the following:
https://sldinfo.com/the-central-asian-security-dynamic-a-key-crossroads-region-in-global-politics/