2013-08-02  The French Air Force has received the first of its A400Ms, which are the first to be delivered by Airbus Military to a customer.
According to an Airbus Military press release dated 8/1/13:
Airbus Military has today formally delivered the first A400M new generation airlifter, which is known in French service as the A400M Atlas, to the French Air Force, a milestone marking the beginning of the transformation of military air transport in Europe and beyond. This delivery, just authorized by the French procurement agency DGA, enables the aircraft, MSN7, to join tomorrow the French airbase of Orleans-Bricy where it will be based with the French Air Force. 

This delivery represents the culmination of 10 years of development by Airbus Military and more than 5,000 flight-test hours, involving close to 40,000 people working for this major European defense program. 

Domingo Ureña said: "Today is a truly historic day for the European aerospace industry – marking the moment at which it becomes the new global leader in the military transport sector with an entirely new aircraft. I would like to express my sincere thanks to everyone at Airbus Military, Airbus and our suppliers whose unflagging efforts have made this enormous achievement possible, as well as our customers and OCCAR whose inputs over the years have been crucial to the success of the program." 

This first aircraft delivered to France will initially be used for the continuing training of aircrew before becoming part of the French Air Force operational transport fleet.
In a recent exclusive interview with General Mercier, the Chief of Staff of the French Air Force, our partner Soutien, Logistique et Défense discussed with the General the new capabilities, which the A400M brought to the fleet.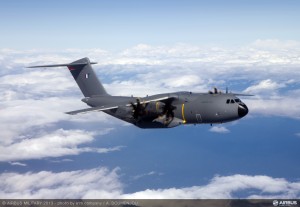 It is a key logistical asset which itself would be more maintainable than current airlifters in the French fleet.
And the ability of the A400M to combine strategic with tactical missions was of core significance to the French forces.
A key impact was highlighted by the French Chief of Staff of the Air Force which the A400M is brining to the French fleet.
In Mali, strategic lift transported equipment and support from France to Bamako. 

This was done by allies and by charter aircraft.  We then offloaded the equipment and transported it by land, which significantly reduced our tempo of operations. 

With the A400M, we could bring those same loads directly into the north of Mali  which would have completely changed our operational life. 
He also emphasized the key role the plane will play in not having to stockpile equipment and troops in key locations, but rather deliver capability much closer to the point of attack.
The complete interview can be found here (in French):
http://www.sldmag.com/fr/current-issue/article/143/les-nouveaux-paradigmes-de-l-armee-de-l-air-l-activite-au-cyur-du-mco-aeronautique-l-entrainement-differencie-au-cyur-de-l-activite
For a look at how the A400M could affect military operations, please see the following:
For a discussion of the impact of the A400M on the lift market see the following: