2013-12-08 by Robbin Laird and Ed Timperlake
In our book on shaping a 21st century Pacific defense strategy, we have focused on the emergence of a template for distributed operations.
Forward presence, indeed persistent presence, with an understanding that the allies are always forward deployed, with scalable forces with significant reachback capability is at the heart of the evolving American approach.
We have shaped this approach based on interviews with many of the leaders and shapers of new approaches and innovations.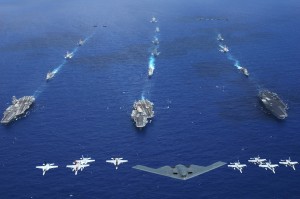 And our interviews with two Pacific defense leaders, MARFORPAC and PACAF have underscored their approaches to an evolving 21st century strategy.
In the interview with General Hawk Carlisle, the PACAF commander introduced two interesting examples of capabilities becoming available now, which could support enhanced cross-domain synergy, which are so central to 21st century operations.
The first example is the ability of 5th generation aircraft to provide forward target identification for strike missiles from a surface or subsurface maritime asset.
He described the ability of advanced aircraft, in this case the F-22, to provide forward targeting through its sensors for submarine based T-LAMS (cruise missiles) as both a more effective use of the current force and a building block for the emergence of the F-35 fleet in the Pacific.
This is a harbinger of things to come with the emergent weapons revolution associated with the laydown of a new generation of combat systems enabled aircraft.
The second example is that of what he called Rapid Raptor.
The idea is to take four Raptors and deploy them with a C-17 and to rotate across the Pacific to go to the point of need for implementing missions.

This provided both a tool for enhanced survival and an enhanced capability to apply the force associated with a fifth-generation aircraft as well.


His focus was upon leveraging Air Force and joint assets in ways that would make that force more expeditionary and more effective in providing for cross-domain synergy. 

He noted that the combination of a large deck carrier with the Air Force with the Amphibious Ready Group and Marine Expeditionary Unit (ARG-MEU) air assets when conjoined within a distributed strike package provides significantly greater capability than when each is considered on its own.

In a November 2, 2013 piece in Defense News, Brian Everstine noted that:
After years of development, the Rapid Raptor package began operational test and evaluation after a successful August demonstration at Joint Base Elmendorf-Richardson, Alaska.


The basics of the idea are that a fighter squadron and aircraft maintenance unit would use a combination of four F-22s and a C-17 with a tailored maintenance package and trained personnel.

Maintainers and ground crews would load the C-17 full of maintenance equipment and weapons and fly with the F-22s to bases that are determined by combatant commanders.

It would cut out much of the planning, logistics and overhead that is traditionally needed to schedule a deployment, giving the Air Force the ability to quickly place its most capable fighter at places in the globe not traditionally available.


"If we can get these short-duration, short-term and quick deployments of smaller packages, we can establish in countries that aren't crazy about us having bases or establishing a permanent presence," Piffarerio said.
In an earlier interview with now Vice Admiral Moran, the Admiral highlighted the change, which will come with the USS Ford as the new large deck carrier.
He argued that this new warfighting asset would be used as the center of spider web rather than as the centerpiece of a classic carrier battle group.
What bringing Rapid Raptor, the ability of the F-22 to provide target identification for TLAMS and the existing carrier battle group together is an opportunity to shape the future template in current conditions.
By deploying Rapid Raptor packages to work along side a large deck carrier, reworking the entire integrated strike package would be facilitated, and would be so along lines which the coming of the F-35 fleet will bring to the Pacific.
And it can facilitate the kind of training and tactics symmetrical with evolving possibilities for new concepts of operations.
In the book, we highlighted the potential synergy of bringing the SSGN with its strike package into operational symmetry with the F-22.  And then integrating the two with a large deck carrier deployment can enhance deterrence now and build out to the future.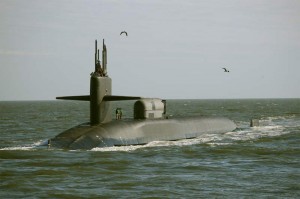 In the book, we cited Chris Cavas's work on the SSGN as part of the evolving possibilities for the weapons revolution.
The Navy's new submarines have unprecedented flexibility to carry and operate a variety of payloads.


The four Ohio-class guided-missile submarines, converted from Trident ballistic missile subs, have 24 payload tubes, each 7 feet in diameter — more carrying room than any previous submarine.

New Virginia-class attack submarines have a nine-man lockout chamber; future versions will feature two payload tubes nearly as large as those in the subs.


Submariners are excited about the prospect of filling those tubes with new generations of manned and unmanned vehicles, weapons, sensors and a variety of gear to handle an ever-expanding range of missions.
Rebuilding American Military Power in the Pacific: A 21st Century Strategy, p. 287.
Rather than seeing the SSGN as a peripheral or specialized asset, the new distributed approach with integration of 5th generation aircraft and legacy capabilities off of the large deck carrier can be seen as a force for change.
This force package can provide an important contribution to scalability and to reachback.  And can reinforce nicely a forward deployed ARG-MEU for example.
There is no need to wait until all the new assets are in place.
Training for the future is now.