2014-03-30 By Robbin Laird
Ferra engineering is an international company based in Australia, which engages in the design, manufacture and delivery of advanced aerospace/defense components and systems for a number of well-known manufacturers. The company is an Australian based supplier for the F-35 as a global program, and as such, brings its expertise to the program, and at the same time benefits from the global nature of the program.
During my visit to Australia in March 2014, I had a chance to interview Mark Scherer, CEO of Ferra Engineering and a winner of EY Entrepreneur of the Year Award as well.
The company provides high value engineering products to the commercial and defense sector for a number of global companies.  It has a balanced portfolio between commercial and defense and with the company's location close to Asia has viewed first hand the competitive pressures for commercial technological development.  These lessons are being applied to the defense sector as well.
Australia has developed firms in the technology sector, which are capable of being globally competitive, and the relative small size of the population of the country, if you cannot be, you probably cannot exist.  Australian companies to the F-35 program bring this spirit and experience of global competitiveness. 
Notably lacking in public discussions of the F-35 program Inside the Beltway is an understanding that the global sourcing brings with it both high quality and high value suppliers which will drive up reliability and drive down cost.
Perhaps next time on 60 minutes they might mention the global nature of the program and the competitive capabilities built into the program by building a global supply chain early in the program.
Question: How would you describe the basic activity of your company?
Mark Scherer: We're basically engaged in civil and military aerospace. We provide mechanical subassemblies ranging anything from airframe structures to pylons, or adaptors. Although we do some machining, but our focus is on producing value-add through components which we assemble, test, and then actually sending it to the customer quite often directly onto the production line. We are not just producing parts we are providing assembled packages to the final manufacturer.
Question: Why Australia in terms of high quality global manufacturing?
Mark Scherer: There is a culture of innovation here.  Our companies tend to be smaller than global competitors and more agile.  We are not afraid to test things, and I think that's, that's an advantage. We have to be a bit keener than some of the larger companies, say in the States or in Europe who traditionally are much closer geographically to the OEMs than we are.
Australia also has some cutting edge technologies in some key areas.
Australia has been quite good in looking for better technologies to manufacture things more cost effectively.
One example is in titanium machining. We are using a laser in front of the machining to bring the temperature up and bring it to a stage where you actually can double your feeds and speeds without any extra additional cost. We developed that technology together with Commonwealth Scientific and Industrial Research Organisation (CSIRO).
This process cuts some of the machining costs in half.
CSIRO is now commercializing that technology, so they're working now with machine tool builders to bring to a broader market. We have been machining with lasers now for three years.
Question: Being close to Asia must also create some first hand knowledge about the need and approaches to drive down costs as well.
Mark Scherer: It does.
I would say Australia being so close to Asia especially on the civil side, we're very exposed to what a cost structure, what's the capability in this region is.
And I would say with regard to civil aerospace or the automotive sector, Australia needs to be really able to work with Asia and come up with the technology where we can compete with the Asian cost structure. If you can't do it process by process, you have to do it with technology. So we are very exposed to lower cost competition and how best to compete with technology.
I basically spend a lot of time in Asia, and I come from the civil side of aeronatucis and the automotive industry. About 15 years ago, I was looking at factories and plants, which were charging out $1 an hour fully, loaded rate.  When you work with system like that, it definitely becomes very ingrained that there is a complete shift on in our approaches to remain competitive.  We are not in Europe and hoping to wish away the challenge.
Question: What programs are you involved in with civil and military aerospace other than F-35?
Mark Scherer: We are involved with several different programs. Half of our production is for civil programs, directly for Boeing on programs like 737, 747 and 777.  We produce for Airbus by providing finished materials to Parker Aerospace and we provide materials for the P-8 program, the Tiger, and NH-90 as well to mention a few.
With regard to the Tiger helicopter we provide the pilot controls – the gear stick, the rotor pedals and the various parts that allow the pilot to control the helicopter – to Tiger assembly sites in France, Germany and Spain.
Question: Now let us turn to the F-35 program and your involvement in and perspective on the program. What are you providing for the F-35 and how does it fit into your basic approach to the future?
Mark Scherer: We produce weapon adapters for the aircraft.  When we started there was a limited supply chain capability in country.  We had had to ship our components to the US for heat treatment, service treatment and our hardware was shipped to us from the US.  This drove up cost.
But because it is a long-term program, we managed to get local people onboard to up skill them and to allow us to produce more content locally and to become more cost effectively.  We now have over 20 local companies, which are now producing for use, and we can do a whole complex structure from start to finish in Australia, which drives up quality and drives down cost.
Question: And the F-35 program provides a catalyst for other investments and capability developments as well?
Mark Scherer: It does.
Traditional programs may go three or four years, so if capability is missing of your supplier, it's quite often that's not enough for the supplier to invest in a complete capability.
But because we take a long-term view and because some of the governments were also keen on up skilling, it allowed us really to promote the same capability as well for other programs.
For example, the same supply chain that we use in F-35, can also do, say, the Blackhawk pylons that we supply half of the global fleet for. We had the flow on effect.
The capability we established then had flow on effect into other programs.
Question: And the consequences for the F-35 program?
Mark Scherer: I think Lockheed is depending very much on the global supply chain approach to bring both continuous innovations and cost reductions to the program.
Indeed, this is really an important element of the program – its global sourcing and the opportunity for a company like mine to get engaged in the program and bring what we believe are unique capabilities to the program and to learn along with the program as well.
Recently, I had the, the opportunity to talk to General Bogdan, and he basically said that the program is in great shape, the F-35 program.
He emphasized that industry really need to keep driving the cost down and he said as long as we can keep going down the cost curve, volume will come through. The volume needs to go up to achieve the target costs but it's a bit of the chicken and egg.
I think that's the way Australia has demonstrated and Mr. Bogdan said that actually he has seen Australian industry with some really good innovative technology, which is now flowing in to the F-35 program.
And I think that's something that Australia is good at. We are quite good at adopting new ways, innovative ways and quickly adopting them.
And it is not just about cost; it is about cost effective technological adaptation over the life of the F-35 program and we think we can really contribute to this effort within our areas of competence.
Editor's Note: The following is taken from the Ferra Engineering website: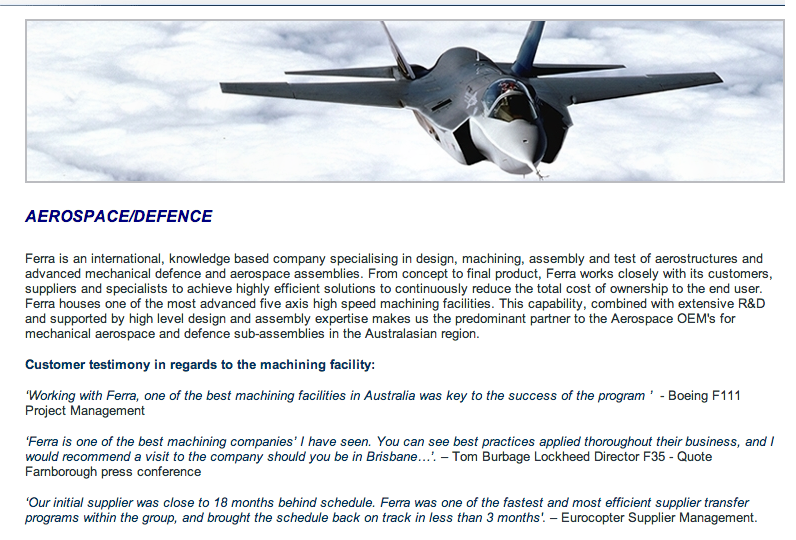 About FERRA
Ferra specialises in the design, manufacture, assembly and test of aerospace structures and sub-systems.
Serving local and overseas defence and aerospace companies, we support our customers on development programs, established platforms and provide a wide range of services including spare parts for regional, business and military services. Our products have proven to be highly competitive in international markets, with exports amounting to over 70% of our business.
One of our key success factors has been the formation of a number of alliances with major international aerospace and defence companies.
Based on ongoing performance and providing best value, Ferra has been able to continuously expand this market and has become one of the largest independently owned Australian manufacturers servicing the aerospace and defence industries.
Ferra is well recognised by industry and government as a leader in its field.
Listed below are some of the latest achievements:
2012 – Contract Award – Multiple long term agreements signed with Boeing for supply of P-8 components
2012 – Contract Award – Ferra Engineering awarded contract to produce Weapon Pylons and Mission Kits for the MH-60R Romeo Helicopter
2012 – Contract Award – Long term agreement signed with Boeing for supply of CH-47 components
2012 – Award – Ferra Engineering awarded Boeing Supplier of the Year for 2011 in the International Category from supply base of over 13,500 suppliers
2011 – Contract Award – Long term agreement signed with Boeing for supply of F-18 Rudder Pedal Kits
2011 – Contract Award – 5 year long term agreement signed with Boeing for 618 line items – Boeing CAS
2011 – Contract Award – 5 year long term agreement signed for 767 & 747-8 production components
2010 – Contract Award – 5 year long term agreement signed with Boeing for 51 line items for 747-400 commercial aircraft
2009 – MOU Signed – Ferra signed MOU with Lockheed for supply of F35 AME Weapon Adaptors for FRP to Marvin Engineering
2009 – Titanium R&D – Ferra presented first F35 titanium part produced by direct manufacture (titanium deposition) in Canberra to Lockheed Martin F35 Vice President Tom Burbage.
2008 – Award – Platinum supplier status award for Northrop Grumman
2008 – Award – Boeing award for outstanding supplier achievement for bulk head machining project
2008 – Partner with Lockheed on advanced R&D to research specialised titanium machining process
2008 – F35 business increased to estimated $1.1 billion over the life of the program
2007 – GE FAI approvals completed – All parts successful passed customer approvals
2007 – Research partnership with University of Queensland for development of titanium manufacturing processes assisted by  Australian Government
2006 – Contract award for F35 AME Weapon adaptor assemblies
2005 – Award – Finalist Ernest & Young award for Entrepreneur of the year for Ferra Co-founder Mark Scherrer
2004 – Eurocopter (EADS) appointment as key Australian partner for Tiger / NH90 to supply pilot controls