2014-08-24 Earlier, we interviewed Lt. General Jouas on the situation in South Korea as seen from the point of view of the 7th USAF.
In that interview, Lt. General Jouas highlighted the challenges facing US and allied forces facing a second nuclear age power in terms of North Korea.
SLD: Let's talk generally about the world of air power in Korea and beyond.  What does air power bring to the party in the defense of Korea, and our ability to provide for deterrence in depth?

LT. GENERAL JOUAS:Air power, not unlike in 1950, will initially stem the flow of aggression against the ROK.

Historically, the reason we were able to establish a defensive perimeter in 1950 was because air power was able to slow the advance of the North Korean Army as it moved south.

Air power is always able to attack in depth; we're able to operate at the strategic level, the operational level, and the tactical level. 

With a nuclear North Korea, it is clearly a "come as you are war." 1954 is not 2014. Credit: Bigstock

An air campaign on the Korean peninsula would follow that blueprint, establishing air superiority and creating effects across the spectrum of a joint battle space.

In doing so we would provide ground and naval forces the freedom to maneuver and engage, so that we jointly defeat the adversary.

SLD: So to summarize this, whatever the realities perceived elsewhere, you are the point of the spear in a traditional air force sense, and that you really need to be able to conduct simultaneous operations. 

You need to be able to manage effects on the battlefield, so you need a real capacity to be multi-mission, and have a lot of similitude and reach, any decent reach. 

So those are the functions that you need to execute.  Does that make sense?

LT. GENERAL JOUAS: Absolutely.  We need to be able to attack in depth. 

We also need to be able to attack at the forward edge of the battle space.

We need to be operating against targets that will create not just tactical effects, but operational and strategic.

We need to be operating cross domain, and by that I mean kinetic and non-kinetic effects, one reinforcing the other.

One of our greatest advantages is our air operation center that will oversee the entire air campaign, and where I will be situated as the air component commander.
We picked up from the earlier discussion to get an update on developments.
Question: Since we last spoke, the South Koreans have decided to buy the F-35 which means that the 7th USAF will be flying with the South Korean Air Force with a core force of F-35s a decade out?
How will that affect your approach as a 7th USAF commander?
Lt. General Jouas:
One of the failures to understand the impact of the F-35 is the propensity to focus on its dogfighting capability or stealth.

What is missed is the impact of the fused combat systems and what a fleet of interconnected F-35s will be able to do within the battlespace.

The F-35 is not simply a replacement aircraft. We are looking to fulfill one of the promises of network-centric warfare, namely flattening the chain of command and control and connecting warfighters within the battlespace.

This is not an evolution, but a whole new way for warfighting.

And we will have to train to be able to take full advantage of an F-35 fleet. We are going to have to adapt our way of warfighting to the emergence of these new capabilities.
Question. Lt General (Retired) Deptula and Colonel (Retired) Rob Evans, both of whom you have worked with in the past have focused on the significant changes in C2 correlated with the coming of the F-35 fleet.
From your perspective in managing one of the most crucial air components in the USAF, in a theater facing an unsteady nuclear power, how do you view this transition?
Lt. General Jouas:
We've always talked about decentralized execution in the Air Force.

This plane will play a forcing function role with regard to C2.

We are going to reshape how we do centralized control and decentralized execution with the situational awareness, interconnectivity, and capabilities that this particular airplane will bring to us, and to our allies and partners.

Notably with regard to functions like electronic attack, in the past we have flown specialized assets to achieve those effects.

These were mission-defined aircraft and operations.

With the F-35 fleet we will have at our disposal an aircraft with both kinetic and non-kinetic options at our disposal to attack the enemy.

We are clearly just on the edge of understanding what such capabilities can deliver and over time our concepts of operations will clearly evolve.
Question: You are sitting in a theater which is characterized by what Paul Bracken has referred to as a second nuclear age power facing you directly.
This is not 1954, and one cannot assume that if conflict unfolds that the "Dear Leader" will follow a ladder of escalation approach. How does this affect your thinking about and approach to the theater?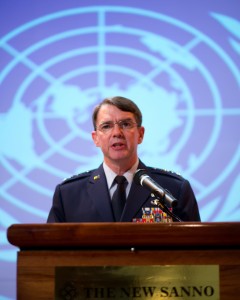 Lt. General Jouas:
We have a tough problem with North Korea, obviously. You have to understand that this is a different type of adversary with capabilities that concern us, and we need the best tools possible in order to contend with it.

We should not mirror image when we consider the North Korean nuclear strategy.

North Korea has seen what happened in Libya, and with Kaddafi, and that's reinforced their strategy.

And while this may be a North Korean problem right now, there's a strong possibility it won't remain so.

And that creates real danger to our allies and our homeland.

We have to think about a world in which we have more than one North Korea, in which those capabilities are held by other nations whose interests and strategy are very different from ours.
Question: Our allies in the Pacific are adding capabilities and working towards a more effective Pacific defense approach. How does that affect the US position in the region?
Lt. General Jouas:
The upgrading of capabilities throughout the Pacific contributes to our overall coalition capabilities.

The addition of airlift, aerial refueling, command and control and other combat capabilities among core partners will enhance our position and our overall capabilities, whether it is for dealing with a humanitarian or crisis situation.

I welcome these improvements in the region.
Question: The South Koreans are buying the F-35.
How does that affect the future position of the 7th USAF?
Lt. General Jouas:
It provides a significant boost in capability. When we look at the threats posed by North Korea, a US and South Korean F-35 fleet is a crucial asymmetric advantage. The decision to buy the F-35 was certainly forward-looking because this is the airplane for the future. And not just because it's going to be interoperable with our forces, but with those of our allies as well in enhancing the kill chain to deal with the North Korean threat.

Learning to shape coalition interoperability with the F-35 and share situational awareness across the force will be a major improvement in the period ahead.

As South Korea modernizes its air arm, the ability to defend itself and contribute to defense in the region will go up. For example, like Australia, South Korea has bought an airborne command and control platform, the E-737 Peace Eye. They now have operational experience with a flying C2 platform, and are starting to learn more and more about exploiting its capabilities. As the F-35 comes onboard, that'll be a great marriage between that platform and the F-35.
Question: Some may still look at South Korea and its defense through the optic of 1954. But the acquisition of nuclear weapons and strike missiles has really altered the challenge faced by allied forces in preparing to execute a South Korean defense. How do you look at the change?
Lt. General Jouas:
We anticipate minimal warning before the start of any conflict, and so it really is a "come as you are" theater of operations.

The need for modern interconnected fifth generation aircraft that are able to rapidly respond to any crisis on the peninsula is vital to us.

So whether they're Marine assets, or Navy assets, or Air Force assets, I can assure you that as the air component commander, I've got them in my plan, and we will integrate and make the best use of them.
Slideshow: Kunsan Air Base, Republic of Korea, is home to the 8th Fighter Wing, known as the "Wolf Pack."
Located seven miles west of Gunsan City, the base is on the west coast of the peninsula near the Kum River estuary.

The 8th Fighter Wing is the base's host unit and is assigned to 7th Air Force at Osan Air Base, Republic of Korea. The numbered Air Force falls under Pacific Air Forces headquartered at Hickam Air Force Base, Hawaii.

Mission
The motto of the Wolf Pack is, "Defend the base, accept follow-on forces, [and] take the fight north."

The 8th Fighter Wing is responsible for conducting air-to-ground and air-to-air missions in the approximately 40 F-16s assigned to the wing. Its mission includes air interdiction, close air support, counter air, air superiority and suppression of enemy air defenses.

The base is also home to the U.S. Army's 2nd Battalion, 1st Air Defense Artillery. Equipped with Patriot Advanced Capability, or PAC-3, missiles, the battalion's one battery helps protect the base against tactical ballistic missiles, cruise missiles and advanced aircraft.
 http://www.kunsan.af.mil/library/factsheets/factsheet.asp?id=17940
 [slidepress gallery='wolf-pack']
Credit:8th Fighter Wing Public Affairs:5/5/14
In the first three photos, 80th Fighter Squadron F-16s take off during the first go of exercise Beverly Bulldog 14-2 at Kunsan Air Base, Republic of Korea, May 5, 2014.

 

The pilots launched to participate in the first of many peninsula-wide sorties in order to train to "Take the Fight North."

In the fourth photo, Staff Sgt. Stephen Toussaint, 8th Force Support Squadron Force Management journeyman, prepares cots for a large-scale bed down at Kunsan Air Base, Republic of Korea, May 5, 2014.

 

During Exercise Beverly Bulldog, the bed down system allowed the Wolf Pack to test and showcase its ability to "Accept Follow on Forces."