2014-11-04 By Ed Timperlake and Robbin Laird
As we concluded our visit to The Naval Strike and Air Warfare Center, we had a chance to discuss the Center and the way ahead with Rear Admiral Scott Conn, Commander of the Center. Rear Admiral Conn has had a distinguished career as a naval aviator.
His prior command tours include Carrier Air Wing 11 embarked in USS Nimitz (CVN 68), the FA-18 series Fleet Replacement Squadron (FRS) Strike Fighter Squadron (VFA) 106 aboard Naval Air Station Oceana, and VFA-136 deploying in USS George Washington (CVN 73).
Conn's sea tours include a division officer tour in Fighter Squadron (VF) 11 deploying twice in USS Forrestal (CV 59), as division officer and department head with VFA-15 deploying in USS Theodore Roosevelt (CVN-71) and USS John F. Kennedy (CV 67), and as a department head with VFA-81 deploying in USS Dwight D. Eisenhower (CVN 69).  He also deployed serving as a battle director at the Combined Air Operations Center in Al Udeid Air Base, Qatar.
Ashore, Conn's flying tours includes serving as an adversary pilot in VF-43 flying the A-4, F-5 and F-16 aircraft, and as a department head and instructor pilot in VFA-106.
His staff tours include serving as the Staff General Secretary and PACOM event planner at the Joint Warfighting Center, Suffolk, Virginia, as the Executive Assistant to Commander, U.S. Fleet Forces Command and as the Strike Branch Director in OPNAV N98. Conn is also a graduate of the Naval War College.
He has flown over 100 combat missions in Operations DELIBERATE FORCE, Southern Watch, Deny Flight, Enduring Freedom, and Iraqi Freedom.
He has accumulated over 4,700 flight hours and 1,000 arrested landings. He was the recipient of the 2004 Vice Admiral James Bond Stockdale Inspirational Leadership award.
Learning Lessons from Combat Challenges
The Admiral noted that the "mission we have here started with TOPGUN, 45 years ago.
TOPGUN was founded out of failures in combat during the Vietnam War.
TOPGUN training led to measurable improvements in Air to Air kill ratios.
Through the years, other communities have mirrored the TOPGUN model including the EA-18G HAVOC course, the E-2 CAEWWS course, and the H-60S/R SEAWOLF course.
These courses target advanced training at the individual level.
Additionally, as a result of failures in combat in Lebanon, STRIKE University, now call simply Strike, was stood up in 1984 to target training at the Integrated warfighting level.
We have learned a lot of lessons at Fallon and we have had a lot of time to shape an effective combat learning environment."
Bottom line, My job here is to prepare our forward deployed air wings to fight and win in a wide variety of missions across the globe.
Training to Fight in the Extended Battlespace: The Enhanced Role of Virtual Training
Question: You have focused on counter-insurgency missions a great deal in the past decade, but clearly the next will return you to high end warfare and the challenges of dealing with denser defenses and fighting in contested air space.  How are you preparing for those contingencies?
Admiral Conn: There are clear challenges in terms of fighting the high-end fight in the period head.
And if you look at the map in front of us which shows our ranges in Fallon in terms of miles, depth and breadth, it is clear that I am running out of real estate (land and airspace) to train to the entire kill chain of integrated fires.
Question: We have seen a similar situation with MAWTS at the Yuma Marine Corps Air Station as well and they expanding their operational area by using other ranges such as at Nellis or the Goldwater Range near the Luke AFB. 
Admiral Conn: We work in close coordination with our counterparts in Nellis.
We maximize every opportunity to work together in developing joint solutions to the high end fight of the future.
Through the process we better understand the capabilities the joint force brings to bear, and develop the tactics, techniques and procedures (TTPs) to fight jointly.
But this issue of training to the high end fight is not only about real estate, it is also about our desire to not reveal to potential adversaries how we intend to fight.
These considerations are driving us to live, virtual, and constructive training solutions as part of our overall operational training environment game plan. 
Let me be clear, as far as I can see there will always be a requirement to conduct training in aircraft.
At Fallon, in addition to developing and practicing those TTPs to fight and win in any scenario, we also provide the opportunity to stress the various systems with end to end live fly validation. 
As an example, when a mission is planned that requires the delivery of ordnance, whether that ordnance be bullets, bombs or missiles, Sailors have to build up the weapons, then the weapons are loaded on an aircraft, Sailors then have to check to see that the aircraft can communicate with the weapon, then aircrew have to preflight the aircraft, take off, fly to the range, conduct airborne system checks, fight their way to the target, arm the aircraft, hit the pickle and in most cases guide the weapon to the target.
This is a brief description of the kill chain that ends up in a kinetic effect, or to state clearly, a bomb going high order on the target, and the right target at the right time.
This live fly validation cannot be done in a simulator.
That said, in a simulated environment,  I can have aircrew jump in a device, and I can train them at the integrated level across the entire kill chain for various missions.
I can conduct this high end training very quickly, a lot of reps and sets if you will, at reduced cost.
Anticipating and Dealing With the Threat Environment
Question: How do you develop your evolving anticipated threat environment?
Admiral Conn: Future threat assessments are developed collaboratively between Office of Naval Intelligence, Fleet and Combatant Commanders, Naval Air Warfare Resource Sponsors, and Naval Air Systems engineers.
This process includes input from NSAWC's subject matter experts.
While NSAWC participates in this process, our main focus is to be able to fight and win today with today's equipment.
Additionally, I need to be clear that NSAWC is one part of the Fleet Response Plan.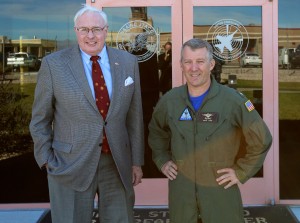 The training we conduct at Fallon is from the fights on to the knock it off, and is not focused on taking off and landing on an aircraft carrier.
The fact that Naval Forces fight forward from the sea is what makes us unique and provides our Nation with the presence to prevent crisis, and if required, to respond to a crisis quickly and decisively.
The cold hard truth is that launching from a Carrier, or one of our Amphibious Ships for our Marine Corps brethren, is inherently dangerous and unforgiving of mistakes or complacency. 
This unique maritime operational aspect is addressed through follow on training by Carrier Strike Group (CSG) 4 and CSG 15 who make recommendations for certification for deployment.
Training Includes Supporting Deployed Carrier Wings
Question: We found it interesting that your strike integration training involves as well regular dialogue with the deployed carriers and apparently you work in support of the deployed fleet as well in shaping TTPs, which they might need in ongoing operations. Could you speak to that process?
Admiral Conn:  NSAWC innovates in peacetime while providing the reach back support to adapt in war.
We are in regular communication with the deployed carriers. 
We provide technical and tactical reach back support to address observed shortfalls in combat to existing TTPs.
An historical example of how NSAWC provided reach back support to the forward deployed warfighter was in the early stages of Afghanistan operations.
Ground commanders needed aircraft to strafe at night.
To do this strafing mission at night, aircrew needed to put an airplane below mountaintops, perhaps in a valley, provide bullets precisely and then pull off target, and not fly into the terrain.
When NSAWC got this request, in a matter of weeks because it wasn't overnight, a couple weeks, we came up with the tactics, techniques, and procedures for the fleet to execute that mission.
We then folded those TTPs into our training for follow on deployers.
And the connectivity we have with the fleet through modern communications allows for an ongoing combat learning process between Fallon and the fleet and this flow of information is central to the process of training in the 21st century.
Training is the Crucial Glue
Question: Clearly, shortfalls in flight hours and training is a crucial concern for you. 
How do you view the challenge?
Admiral Scott Conn: Naval aviation is very interdependent on how we train aircrew and how we resource to those training requirements.
As competing readiness requirements pressurize the flight hour program, a bow wave is created by pushing training qualifications later on in one's aviation career.
Naval aviation is looking at this issue hard, to ensure our future forward deployed leaders will have the requisite knowledge, skills and experience to in fact, lead.
What we will not do, let me repeat, not do, is to lower our training and readiness standards.
In the future, the live, virtual and constructive training is envisioned  to relieve some of this stress, particularly as aging aircraft and 5th generation aircraft are more expensive to operate.
Bottom line here is that training is the essential glue for operational success.
In combat, you're not going to rise to your level of technology or the capabilities of your opponent,; you're going to fall  back to your level of training.
Today and in future, with the proliferation of precision across the globe, the difference between winning and losing is/will be measured in seconds, not minutes.
Why Fallon?
Question: Fallon is a tough place to reach, and our sense is that the warriors who come here are clearly very committed to the mission. 
Admiral Scott Conn:  The city of Fallon is a great partner in the execution of our mission.
The reason aircrew come here is because of the mission.
They come here because of the passion for the mission. 
And they come here because they want to pass their knowledge onto other aviators.
Training for the Joint Environment
Question: The relationship between the deployed CAGs and your command is not one widely realized outside of the Navy. 
And we learned that in your strike integration activities you are building in more joint work as well. 
Could you give us a sense of that activity?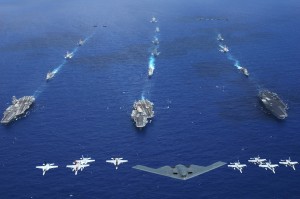 Admiral Scott Conn: We participate in some of the planning for joint exercises.
We participate in those exercises as well.
Our EA-18G Growlers are often requested to support exercises in Nellis.
We need to make sure that folks understand the capabilities of the air wing as well as the Carrier Strike Group.
During our Maritime Employment course, a good portion of the attendees come from various U.S Air Force units.
As another example of Joint integration is that the next air wing will be supported by Air National Guard F-16s from the East Coast.
Question: We also learned that you have surface officers, such as Aegis weapons officers, working strike integration as well. 
Could you comment on that aspect?
Admiral Scott Conn: As we build an Aegis-like capability into the training here in Fallon, my subject matter experts will be more effectively working side by side with the surface community subject matter experts, and in the process will learn from each other more effectively as we develop and refine existing CSG TTPs for various missions.
Operating in an Expanded Battlespace
Question: A number of analysts have focused on the Anti-Access Area Denial threat as a serious limiting factor for future USN operations.
How do you view that and focus upon how to best train to deal with those threats?
Admiral Scott Conn: I think it important to emphasize that adversary A2AD capabilities pose a serious threat not only to Navy, but to our entire Joint ability to fight and win.
Again, I think of A2AD as the proliferation of precision for potential adversaries and how this proliferation of precision effects joint forces ability to maneuver where we need to be and when we need to be there.
For me, it is about expanding the battlespace and training with regard to how to do this. 
We are developing the means to push out the battle space and our ability to find, fix, track, target and engage the threat.
 The F-35 will bring enormous capability in this area.   
At the same time we are developing means to deny, degrade or delay a potential adversary's ability to do the same to us.
This is why the EA-18G with Next Generation Jammer is so important to the Air Wing of the future, with its ability to provide operating sanctuaries for our forces through exploitation of the EM spectrum.
That said, the proliferation of precision across the globe compresses engagement timelines, things will happen very fast. 
And we have to push those boundaries out to buy freedom of maneuver, decision space and time.
We are adding new capabilities to do so in the period ahead.
With the advent of a live, virtual and constructive training environment we will then integrate those new capabilities to train and fight in this expanded battlespace.
With regard to building out our Virtual Constructive Training, it is a work in progress and one which is central to future of training here at Fallon.
Key Objective Moving Forward
Question: You have been at the command for six months, when you leave the command what do you hope to have achieved?
Admiral Scott Conn: First and foremost is to continue to provide trained and ready aircrew to operate forward.
In looking to the future, in five years we are going to have JSF in the fleet.
In five years we may have UCLASS on our carriers. In five years, the Super Hornet of today is going to be different.
In five years the E-2D capabilities and our networks will have matured.
In five years the threat is going to change and competitors will have more capability.
In working with Naval Aviation Leadership, we are on a journey of discovery of how to best create a training environment that replicates potential adversary's capabilities.  
Before I leave, I would like to hand my relief a destination to drive to in this regard.
Editor's Note: We have included both a slideshow of the current carrier air wing, and provided a video of the latest entrant into the evolving air wing, the F-35C. 
Credit Photos in the Slideshow Above: USN Media Services
In the first photo, MEDITERRANEAN SEA (June 14, 2013),  an F/A-18F Super Hornet assigned to the Jolly Rogers of Strike Fighter Squadron (VFA) 103 approaches the flight deck of the aircraft carrier USS Dwight D. Eisenhower (CVN 69) for an arrested recovery.

In the second photo, U.S. Navy aircraft assigned to Carrier Air Wing (CVW) 5 fly over the guided missile destroyer USS Preble (DDG 88), not pictured, in the Pacific Ocean Aug. 20, 2013.

In the third photo, a U.S. Navy F/A-18E Super Hornet aircraft assigned to Strike Fighter Squadron (VFA) 195 prepares to land aboard the aircraft carrier USS George Washington (CVN 73) in the Pacific Ocean Aug. 20, 2013.

In the fourth photo, two U.S. Navy F/A-18E Super Hornet aircraft assigned to Strike Fighter Squadron (VFA) 195 fly above the guided missile destroyer USS Preble (DDG 88), not pictured, in the Pacific Ocean Aug. 20, 2013.

In the fifth and sixth photos, a U.S. Navy F/A-18E Super Hornet aircraft assigned to Strike Fighter Squadron (VFA) 27 flies above the guided missile destroyer USS Preble (DDG 88), not pictured, in the Pacific Ocean Aug. 20, 2013.

In the final photo, NORTH ARABIAN SEA (May 12, 2010): an F/A-18F Super Hornet assigned to the "Jolly Rogers" of Strike Fighter Squadron (VFA) 103 and an F/A-18E Super Hornet assigned the the "Pukin Dogs" of VFA 143 wait to launch from from the flight deck of the aircraft carrier USS Dwight D. Eisenhower (CVN 69).
With the successful "OK-3-wire" landing on the Nimitz on November 3, 2014, the F-35C is moving forward and will be a key player in the evolving Naval air wing, which Admiral Conn needs to plan the training environment for as well; and he clearly is thinking along these lines as well.
The video above highlights the landing of the F-35C aboard the USS Nimitz.