2014-12-01 By Ed Timperlake
Previous Introduction
21st century warfare technologies concepts of operations and tactics and training are in evolution and revolution.
At the heart of reshaping US and allied approaches to airpower and its evolution is the emergence of the F-35, the significant impact which a global fleet of F-35s will have on US and allied capabilities and the approaches to leveraging other capabilities in the warfighting tool kit.
There is always the reactive enemy, so that the roll out of new approaches shaped by the impact of the F-35 will see reactions from various competitors and responding to these reactions will part of the re-set of evolving US and allied airpower and combat approaches.
The F-35 is at the heart of change for a very simple reason – it is a revolutionary platform, and when considered in terms of its fleet impact even more so.
The F-35, Lightning II, has a revolutionary sensor fusion cockpit that makes it effective in AA, AG and EW.
US and Allied Combat pilots will evolve and share new tactics and training, and over time this will drive changes that leaders must make for effective command and control to fight future battles.
An issue has been that the F-35 has been labeled a "fifth generation" aircraft, a sensible demarcation when the F-22 was being introduced.
But the evolution of the combat systems on the aircraft, the role of the fusion engine, and the impact of a fleet of integrated F-35s operating as a foundational element will make this term obsolete.
The global fleet of F-35s will be the foundation for a fundamental change in the way air power operates and with it overall combats concepts of operations for the US and allied insertion forces.
It is not an in and of itself platform; it is about what an integrated fleet of F-35s can deliver to TRANSFORM operations. 
The decade ahead can be very innovative if what the fleet brings to the fight is learned and applied and the combat warriors leverage what they learn and then the application of those lessons to reshaping the force are applied.
As a senior RAF pilot involved with the F-35 program has put it well: "While much of the world still debates the existence of the F-35, we are moving rapidly forward to figure out how to use the aircraft and leverage it."
At the heart of the transformation is the combination of two powerful trends: the emergence of Tron warfare and the forging of a combat cloud integrating combat capabilities.
The F-35 fleet operates at the cutting edge of both.
Part Three Begins:
The Impact of a Z Axis Air System on Combat
With the F-35 Cockpit Z-axis the key words are actually now embedded in the second half of his OODA –the words "decide, act."
The quest for US way of war to always fight and win is to now embrace the entire spectrum of Boyd's OODA by not questing for Situational Awareness, because that is only half way but rather everything should be now focused on developing technology, training tactics and C&C at all levels to empower "Situational Decisions."
This is the true revolutionary step beyond just SA that the "z-axis" F-35 Fusion engine brings to the fight as a catalyst for a 21st Century refocused way of support equipping and training all Service joint con-ops.
I have been trying to formulate a way to expresses the human/machine evolving action/reaction cycle understanding that everything is always relative. "Beef" (an Air Command and Control Officer then at MAWRS) gave me the insight I needed to complete a year's worth of research on ways to look at this dynamic.
Based on our discussions with Dean Ebert, (NGCO employee and former USMC EA-6 driver) I have been focused on the combat learning cycle associated with the new cockpit, the sensors in the aircraft and fusion prospects.
I seized on an MIT concept of the "engagement process of content" to understood how learning evolves. Similar to some of the thinking of Piaget, that one's ability to learn evolves over time with age and learning, we now need to understand that learning in the cockpit powered by the fusion engine is not simply a linear repetitive experience. It is a learning experience and is done so within the fleet, both flying, just returned and about to engage.
http://ed.ted.com/lessons/deb-roy-the-birth-of-a-word
In our very robust discussion with "Beef," he added "in context" to the statement and clarified the approach. We are now not talking about Situational Awareness as the key dynamic but Situational Decisions.
A foundation for "fifth generation" operations realize is built around the notion of learning rapidly in a combat situation and acting on that knowledge.
The engagement process of content in context empowers dynamic situational decisions at all levels and gives the fighting force the best chance of prevailing.
The "engagement process of content in battle context" which empowers dynamic situational decision making at all levels has the best chance of prevailing. It is the foundation of war winning in the 21st century.
And the discussion with "Beef" highlighted an important clarification in another sense. Instead of confusing folks with C5ISR and with situational awareness, we should focus on C2 plus information war.
[slidepress gallery='the-f-35-tanking-and-the-fleet']
Pilots in the F-35 are Information Warriors. A fleet of F-35s puts in the air with a 360 degree swath a decision and information warfare grid. This grid is leveraged throughout the battlespace for ground and surface operations throughout the engagement.
Adding "Beef" to MAWTS a 7202  –and going back to using the term "Information War" (I used that term in Red Dragon Rising published in 1999) actually brings more clarity than just "cyber" which is a critical subset. Combat leaders can now focus on Command and Control plus information war. Pilots in the F-35 are Information Warriors.
A fleet of F-35s puts in the air with a 360 degree swath a decision and information warfare grid.
This grid is leveraged throughout the battlespace for ground and surface operations throughout the engagement.
As Mike Skaff the father of the F-35 cockpit states:
The Z axis and the fusion engine graphic captures the essence of the change, or the foundation from which change will occur.

It points out the advent of the information age.

We're old enough, and we can remember when there weren't cell phones.  There was a time when there wasn't an Internet.  We can remember that distinctly.

When these tools show up in the early '90s, there's a paradigm shift that we call 'the information age', and now it arrives in the airplane.  With the F-35 we enter into the information age in a new way and we can connect these airplanes just like nodes of the Internet.  I'm not saying we're connected to the Internet, but it is like that.  I like to think of this as information dominance. When a 5th generation fighter arrives in battle space the pilot has information dominance.

The F-35 was specifically designed to provide the pilot with information dominance through multi-spectral, multi-sensor, distributed processing and advanced fusion – this is the distinction and the difference from the 4th generation. This is the paradigm shift.

Because this is software-defined plane built around evolution over time, we know the future is going to be different.  The threats will evolve and everything else.

But initially, these initial airplanes have all of the hardware in place to last for a couple of software upgrades.  And so, we can redefine the airplane in its missions and how the sensors work and what they detect.  Hypersonic cruise missiles, seeing that the horizon maybe with DAS, who knows what is the next evolution, but we know it is coming.  And the plane is built to anticipate change.

Recently a Marine Corps general underscored that we are not making this airplane for Harrier pilots. In fact, most F-35 pilots haven't been born yet. 

You're making it for the next generation.  And they're going to jump into the cockpit and they're going to see a Nintendo or a PlayStation or whatever is the deal at that time.

But they're not like us old guys that are looking for air speed, altitude, conventional electro-mechanical gauges.  They literally see a video console in front of them, and we've got to make the airplane for them.  They can deal with information and they can process it differently than you and I can….

It is also about survivability in an information dominance environment.  By reducing the gaggle of aircraft to an interactive air system with other combat assets, we can pursue air dominance against a reactive enemy.  It will be a different paradigm leveraging the Z-axis to pursue information dominance.
Dealing with the Hypersonic Missile Threat
An example of how to leverage the Z-axis for a fleet of F-35s will be seen in the game of tracking hypersonic cruise missiles.
The PLA military threat in numbers and quality is growing, PLA is generic for all Army, Navy, AF and missile forces.
So it is now time to accept that a war-changing weapon is in late stages of R&D and it must be accounted for in any battle plan.
Unlike distant "hyper-sonic" R&D efforts such a Global Strategic Strike -a hypersonic cruise missile is a rapid evolving technology, which sooner than later will be demonstrating the art of the possible up close and personal.  Such a revolutionary CM in the US arsenal is a very good thing. In the hands of PLA forces it is a very real "wolf at the door."
Consequently when, not if, a hypersonic-Cruise Missile is battle ready the Air/Sea Battle staff will have to figure out both offensive and defensive con-ops. In sufficient numbers a hypersonic Cruise Missile can be a war-tipping asset. Employed by US and Allied forces the capability will greatly enable a deadly combat punch. If it is in the hands of an enemy a hypersonic Cruise Missile is a ship killer.
Since defeating a hyper-sonic cruise missile is the hardest problem focusing on that will have the added benefit of addressing less capable weapons-such as the new PLAAF 5th Gen J-20.
US and allied forces will have the perfect aircraft in the F-35 to play both offensive and defense when hypersonic Cruise Missiles become a combat reality. The C4ISR-D "Z-axis" in the cockpit can lead the way in developing a Pacific  "honeycomb" ISR Grid to handle the hyper-sonic Cruise Missile threat and also go on the offensive since Chinese President Hu Jintao has just put the PLAN on combat alert.
Everything will take time to develop and if PRC goes to war at Sea today they will lose. However, time is precious for US and Allies to get the technology for a 21st Century Air/Sea Battle right.
If the F-35 did not exist with it's revolutionary  "Z-axis" 360 umbrella —it would have to be invented to take on directing all current and future weapons, such as ship-board lasers for example against the possibility of PLA hypersonic ship killing cruise missiles and other threats.
Northern Edge validated that the US has developed a flying combat system that is world class and unique—a Fighter/Attack aircraft with EW/"tron" warfare capability with both AA and AG kinetic weapons in the bay.
American visionary commanders and operators given enough F-35s will have the beginning of a real honeycomb defense.   F-35 cockpit enabled sensors linked with other combat systems networked because no platform will fight alone and employing the Wynne Doctrine-"If you are in a fair fight someone failed in planning," – it s formula for combat success.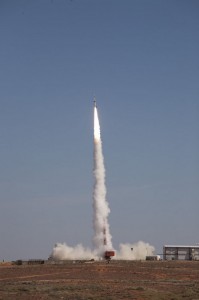 Such new concepts enabled by F-35 A (USAF), B (USMC) and C (USN) as Aegis can be a "wingman" and an SSGN Submarine can be a "fire support ship" is the touchstone for winning an Air/Sea Battle.
The C4ISR-D (for decision) F-35 cockpit should be the R&D focal point for developing the next generation of weapons. Designing electromatic magnetic hardened (EMP) systems, platforms and weapons to take full advantage of the unique emerging F-35 C4ISR combat capability is the way ahead.
If the F-35 did not exist with it's world class "Z-axis" 360 umbrella —it would have to be invented to take on future PLA hypersonic ship killing cruise missiles and other threats.
Northern Edge validated that the US has something world class and unique—a long range 360 search, and sort information system in a Fighter/Attack aircraft that will has both EW/"tron" warfare capability and kinetic AA and AG weapons in the bay.
A successful Pacific Rim fleet wide "honeycomb" ISR grid can be created with enough USAF/USN/USMC and Allied F-35s flying along the Pacific Rim.  F-35's in the Japanese self-defense Force are extremely important along with Australia, Singapore and South Korea.
US and Allied con-ops can begin to offensively link the DAS capability to hypersonic CMs in the hands of the good guys-. –Imagine an F-35 lights up a threat and then out pops a hypersonic CM from an SSGN or a Zumwalt (DDG-1000) class (all two of them) or an Arleigh Burke (DDG-51) surface combatant, or is launched from many different USAF air platforms both piloted and UCAS.
Equally important the F-35 "Z-axis" mitigates the "wasting asset" argument being made against our Fleet. The Fleet Commander will have tremendous situational awareness  (SA) to defend against enemy hypersonic CMs, and also IRBMs end game maneuvering warheads.
In that game instantaneous speed of light information originating from cockpits in a fleet of F-35s is a real game changer. From point of launch to possible impact the Navy Fleet employing a 1600+ diameter DAS capability can begin to figure out how to network all fleet "weapons" to kill, jam, fry or spoof incoming hypersonic CMs and endgame maneuvering IRBM. R&D efforts in directed energy research would add to the mix of weapons to employ.
Essentially, the Commander and all operators will have the best SA knowledge possible to successfully track the flight path from launch to endgame maneuvering. Early detection just like fighting an aggressive cancer is a life savor.
If the F-35 did not exist the Air/Sea Battle Commanders would have to continue to invent or improve a lot of expensive disparate systems to do what one aircraft can accomplish-no platform fights alone is a winning strategy.
The F/A-18 -in fact no system in the world, can do what I just described. The critical point is taking advantage of the "Z-axis" is to build new weapons. The Navy and AF armaments commands now have a combat survivable aircraft that can "tron" track the threat.
Weapons and systems can be developed that enhance EW offensive capabilities against incoming missiles and also target them with kinetic weapons internally carried and from other platforms. Hopefully some day lasers will also come to the fight all to kill the hypersonic threat before it gets close to its end game maneuvering.
The F-35 initially will be network to other systems but realistically the "other systems" should begin to evolve toward taking advantage of F-35 SA potential-not the other way around and over time this will happen.
The S-Cubed Revolution
Inherent in the discussion of dealing with the coming hypersonic missile threat is the ability to being at the cutting edge of the S cubed revolution. Sensors, combined with stealth combined with speed can provide a new paradigm for shaping the Pacific force necessary for the U.S. in working in the Pacific.
At the heart of getting the policy agenda right is to understand that warfare is highly interactive.
Buying, building and deploying yesterday's technologies against evolving threats is a sure fire way of being in the wrong side of the outcome.
As Lt. General Walsh, then Deputy Commanding General, Marine Corps Combat Development Command, put it succinctly in a presentation:
Some say that the development of modern anti-access, area denial threats make an amphibious assault impossible. 

That has been said before and it was not true then and it is not true now. 

The challenge is to leverage the asymmetric advantages we have in functions like ISR, precision first, and seabasing. 

The challenge is to use the sea as a maneuver space in the context of the modern threat. 

We don't need to give up on the capability. 

We need to think our way through the challenge.
What Walsh was hinting it is what we would call the S cubed evolution or revolution of capabilities. Sensors, stealth and speed can come together to create a powerful distributed force in the Pacific, which can so complicate Chinese military planning as to enhance deterrence significantly.
A deployed fleet of F-35s – allied and American – in the Pacific lay down a strong stealth and sensor-enabled honeycomb of deployed kinetic and non-kinetic capabilities.  The reach of the fleet is such that a 21st century equivalent of the World War II big blue blanket can be created.
The F-35 has been built to be a fleet, not a silver bullet.
As Lt. General Schmidle, the former Deputy Commandant of Aviation commented with regard to the flexibility and coverage, which the Bs can bring to a theater of operation like the Pacific:
I think that we're going to find ourselves in a situation where we, the Marine Corps, are going to be able to offer much more to the joint force in terms of capability. 

And as General Hostage put it to me, Marine Corps assets will be considered an integrated part of the joint force, in a way he has not thought of it before.

The Air Force Commander will look at USMC or USN F-35s as part of his F-35 fleet from the perspective of the joint fight. 
And General Hostage, the former ACC Commander, underscored the air combat cloud role of the fifth generation aircraft operating as a fleet.
The advantage of the F-35 is the nature of the global fleet. Allied and American F-35s, whether USAF, USN, or USMC, can talk with one another and set up the distributed operational system.

Such a development can allow for significant innovation in shaping the air combat cloud for distributed operations in support of the Joint Force Commander. 
Other sensor capabilities will be provided by evolving robotic capabilities, under the sea, on the sea and in the air.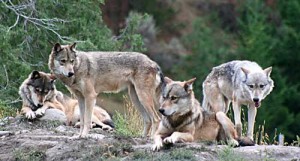 The concept of an operating wolf pack whereby robotic elements outside of the fleet and inside the planes themselves will make a stealth-sensors dynamic as a solid foundation for the weapons revolution.
We are currently putting 3rd and 4th generation weapons on 5th generation aircraft.
This makes little sense.
With a plane that can see significantly further than the weapons it carries can operate, the capabilities of the plane are being limited by the past, rather than enabling a new strike enterprise future.
But the link to the third S – speed – is offboarding of weapons is what I wish to highlight here.
Offloading of weapons will be a fundamental opportunity posed by the 5th generation aircraft.
The former Chief of Staff of the Air Force, General Schwartz spoke prior to his departure of F-22s training to guide Tomahawk missiles off of surface ships to their targets.
Our testing last year of an F22 in-flight, retargeting a tomahawk cruise missile that was launched from a U.S. Navy submarine, is an example of how we are moving closer to this joint pre-integration under our Air-Sea Battle concept. 
The F-35 has a 360-degree situational awareness and data delivery capability.
This poses the possibility of leveraging the 360-degree space to guide weapons to their targets.
Target acquisition onboard does not have to be married to weapons CARRIED on board.
This means as well that classic distinctions between tactical fighters doing close air support, or air superiority missions or air defense missions are clearly blurred.
The fleet flies and identifies targets for the various mission sets and can guide weapons to a diversity of target sets.
The reach of the fleet is the key to the operation of the fleet, not the range of individual aircraft.
Shaping a new distributed operational capability when added to the coming revolution in speed will provide the US with a range of options to deal with global threats, including any presumed advantages of the Chinese area denial strategy.
Conclusions: Laying a Foundation for Crafting a 21st Century Air Combat Approach
The F-35, Lightning II, has a revolutionary sensor fusion cockpit that makes it effective in AA, AG and EW, consequently, US and Allied Combat pilots will evolve and share new tactics and training, and over time this will drive changes that  leaders must make for effective command and control to fight future battles.
The F-35 adds an "electronic" or "tron" warfare component to the fight, an "E" for electronic. It is not necessary to designate the F-35 as the F/A/E-35 but that would be more accurate. Adding the "E" with both active and passive capabilities   is changing the entire strategic and tactical dynamic combat aviation
The F-35 with its "F" "A" and "E" role in same airframe will be a focal point for pulling those elements together for the American way of war that  "no platform fights alone."
Passive capability of F-35 sensors will revolutionize strike operations and force innovative strategic Command and Control thinking.
Imagine squadrons of F-35s in a strike package, F-35As taking off from land, the B model from USS America, F-35C Squadrons from USS Gerald Ford all attacking stealth enabled and relying on passive sensing on an emcon mission. Add allies flying the F-35 and the first time the enemy knows they are under attack is when the bombs and missiles impact.
Stealth enabled "passive" sensing with reach not just range will add a revolutionary step-function in combat effectiveness –both in intelligence gathering and strike–the nexus between reach in collecting identifying and then having a commander prioritize  "aim-points" to execute  passive integrated attack strike vectors is a joint capability that no other combat force other than US and Allied empower by F-35 A/F/E  in the world will have  for at least a decade or more–PLAAF and Russian Stealth do not have fusion cockpits J-31 does not have passive capability.
Just like Wade McClusky seeing a Japanese wake as to the position of the targeted Carriers, often signals-in-space have the ability to give away positions, the F-35 may have a battle winning way to avoid giving away its position, along with its basing location, because of both stealth and the very long reach of its passive sensing.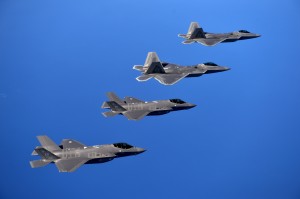 Just like the F-111 El-Dorado Canyon strike an "emcon" strike, stealth enabled, can come as a complete surprise.
The possibility will exist for the US Intelligence Community to capture information "seen" both active or passive by US and Allied F-35s and all other ISR sensors, to create a dynamic almost real time library of future "aim-points" for attack in the event of hostilities–this building of a library can occur without any opponent knowing what US and its allies know.
The F-35 OODA "DA" fusion cockpit will shift all US combat planning and engagement eventually into a horizontal grid vice reliance on only Hub Spoke battle management-this evolving attribute will change C&C in very profound ways and this is could be a good starting point for any "Combat Cloud" discussion.
If the F-35 did not exist it would either have to be invented or many different technologies would have to be aggregated to even try and achieve what the aircraft can do–and that effort would have exploitable seams, and an increased C&C demand with an increased vulnerability to enemy "tron" counter measures.
Going active F-35 can engage in combat as USAF Secretary Mike Wynne says empowering another revolutionary capability—a "sensor/shooter" dynamic engaged with legacy systems. Dynamically using fifth generation aircraft as target location systems may not be seen as satisfying to the traditionally trained pilots, but it can serve a vital role for forward observers in concealed locations.
The F-35 is not in direct competitions with Growler, E-2 and AWACS it will just drive combat innovation especially using its EW capability on the emerging Virtual/Constructive Fallon range–technology, training and tactics will come together in perfect harmony to allow Squadron Pilots and Commanders the environment to innovate dynamically and to  "train, train, train,"—- no opponent in the world has this capability.
The use of Growler Electronic strike as part of an air wing strike package along with AWACS, E-2s and surface ship enhanced C&C can empower F-35C s in its non-stealth mode. The design factor of ever increasing F-35 airframe payload utility/accuracy can be embraced by taking advantage of the tremendous weapon load carried on F-35 hard points and utilizing the F-35 "fusion" cockpit to identify with precision accuracy hitting all types of ground targets.
The "E'" capability of F-35 can augment the Growler "tron" warfare capability.
However, if the tactical situation requires it, the F-35 can attack in stealth/passive mode or after the beginning of air superiority with successful SEAD the F-35 can attack with slung wall-to-wall ordinance relying its "tron" or electronic counter-measure capability. The ability of the Strike Commander to mix and match his con-ops in battle has increased immeasurably.  And clearly flying with the F-22 will enhance this overall capability as well.
Just like the example of the Israeli Air Force flying F-4s and attending "Top Gun" the F-35 will allow tactical innovations to take place in many Allied fighting forces and the training and sharing will make all countries combat forces better.
Tracking Hypersonic Cruise Missiles with instantaneous speed of light information originating from cockpits in a fleet of F-35s is a real game changer. From the point of launch to possible impact the Navy Fleet employing a 1600+ miles diameter DAS capability can begin to figure out how to kill, jam, fry or spoof incoming hypersonic CMs and endgame maneuvering IRBMs. If the F-35 did not exist the US Navy to protect their ships would have to invent it.
The other attribute of an F-35C strike force and especially with the addition of the USS Gerald Ford is not only will the aviation Strike Force be an integrated combat air wing but the air wing and carrier will be uniformly integrated with the entire Navy and Allied assets, air land and sea. This is an additional factor that can be explored on the Fallen Virtual/Constructive Range.
S-cubed airborne considerations with trade-offs between sensors, stealth and speed is a way ahead for new weapons being developed.
By laying a foundation for a strategic transition in the operation of airpower other changes can be facilitated.
As the new head of ACC, and former PACAF chief has highlighted that the F-35 as a fleet in the Pacific can allow his successors as PACAF to think in terms of a CAOC and not simply in terms of flying capabilities to be linked in a CAOC.  This means working the 4th to 5th generation concepts of operations, and working various strike and defensive assets into an integrated whole as seen from a C2 perspective.
For example, in an interview with "Hawk" Carlisle conducted earlier this year, the then head of the US Pacific AF highlighted this opportunity:
Command and control are two words. 

The way ahead is clearly a distributed force integrated through command and control whereby one develops distributed mission tactical orders (with well understood playbooks) reflecting the commander's directions and then to have the ability to control the assets to ensure that the sensors and shooters accomplish their mission.

Shaping an integrated enterprise is not a futuristic mission for the integration of Patriots, Aegis and THAAD is already a work in progress, but General Carlisle sees the approach getting better over time as new systems come to the Pacific, including a fleet of allied and US F-35s.

We need to get better at attack operations to take out the shooter. 

How do we do that better? 

It is clear that an F-35 fleet coupled with the new long range strike systems will play a key role in that function.

We also need to shape game changers in terms of the missiles used to intercept missiles. 

The current generation is expensive and we need to drive down the cost point for interceptors.

SM-6 is coming which is an important asset but DOD is working hard on ways to drive down the cost of future interceptors. 

And we are working the passive defense piece of the puzzle as well including hardening, concealment, dispersal of assets, rapid runway repair and support for a fluid force operating in a distributed manner.
Secretary Wynne likened what will be set in motion by deploying an F-35 fleet and the learning curve with regard to Tron Warfare as something akin to the WW I aviators learning how to shoot bullets through the propellers – which was hardly a quick or easy learning path.
It is clear that learning how to leverage the F-35 global fleet to fight and win in the Tron Warfare domain will help lay the foundation for the next generation of weapons as well. As Secretary Wynne commented on an earlier draft of this paper:
"I looked for the likely path of growth in 'Tron' warfare and the challenge may well be to bring the Cyber Domain into the fight; and integrating an electronic gun; with laser or microwave style emission into the transmit for sharing; or the fire for effect mechanism for blinding or burning incoming strike assets."
The technology described exists it just requires the political will to appropriate enough money to both acquire enough and constantly "train train train." Squadron pilots and Commanders in all communities will learn as they go.
Future combat success has the appropriate building blocks; the US combat philosophy of innovates, train, innovate, repeat, and repeat… is demonstrated in the sky every day. This is how it should be!
But with competitors like the Chinese and Russian clearly committing resources to the 21st century fight – in terms of technology, leadership and political will – the US and its allies can not simply squander away what could prove to be a decisive political advantage – namely building, deploying, training and leveraging a global US and allied F-35 fleet.
Some now are pushing a discussion of a 6th Gen aircraft. It might be prudent to allow the F-35 (F/A/E) to enter all US and Allied combat fleets to see how it evolves the air battle. The Lightning II is not a 5th Gen as defined by stealth it is actually the first generation of the American and Allied scientific, engineering and best military minds producing a new "axis" or design vector in combat aviation. It is the foundation for the next generation of air warfare, rather than simply being a fifth generation aircraft.
And the software upgradeability within the aircraft itself is part of evolving its ability to support the evolution of the "next" generation of warfare.
As the then head of N-98 and now Vice Admiral Moran put it:
SLD: You will also have the opportunity from the standpoint of 2030 to take advantage of understanding what the impact of the F-35 will be on the fleet.

Rear Admiral Moran: Absolutely.  That is a good point.

Joint strike fighter in my view is a revolutionary change to how we're going to operate. 

And we will evolve joint strike fighter once we get it in our hands and we learn to operate with it, and we truly understand its full potential. Once we get it out there and we start operating, we're going to find out that we're going to want to evolve this capability.

And the F-35 may be its own successor.
 Or as General Hostage, then head of the ACC put it:
Hostage: The fifth generation aircraft will enable the air combat cloud and allow me to use my legacy assets differently. 

Many of my 4th Generation fighters can be used to extend the network of linked systems providing reinforcing fires, and I can focus on the fifth generation assets as the core nodes shaping distributed joint capabilities.

And when we come to the evolution of "next" generation systems, the form factor  could stay quite similar as we evolve the capabilities within the planes or in terms of how the flying systems can interact and operate together.

Rather than thinking of 6th generation aircraft in form factor terms, we can operate the new air combat cloud and leverage that moving forward.
The 21st USAF Secretary Mike Wynne and former head of DOD Acquisition at the time when the F-35 moved down a path to build out its fusion engine capabilities should have the last word:
The speed of transition for the US and allied forces is very dependent on the resources to both produce the F-35 and then for the subsequent training.

It is encouraging to see this as a top priority for all of the US and allied forces.

With the demanding world, this is an imperative, and thus gratifying to see this response.  

If the drums of war are beginning, or if they remain quiescent for a period, fulfilling this imperative will have an impact.
With both Russia and China making ominous moves against America especially with military modernization initiatives and force projection it is time for a deterrence response.
The F-35 production line can be doubled and over a period of time doubled again. If the US can be the WW II Arsenal of Democracy, and then produce thousands of F-4s and then F-16s there is no reason except lack of political will power to increase the production rate of F-35s for the US and its Allies.
And this about getting on with it and making a fundamental transition in the overall approach to air enabled combat power for the US and its allies.
The Complete Special Report "Shaping a 21st Century Approach to Tron Warfare" can be downloaded here:
21st Century Approach to Tron Warfare
Credit Photos for F-35 tanking slideshow: 33rd Fighter Wing