2015-02-21 By Robbin Laird and Ed Timperlake
During our visit to the USAF Warfare Center, we had a chance to talk with leaders of Red Flag Exercises about the way ahead for this crucial airpower-training program in dealing with 21st century threats.
Most of us are familiar with the videos and photos generated by Red Flag Exercises.
Many of us have seen the Red Flag film at the Air and Space Museum and find the combat flying and tactics shown in the film to be amazing.
But in today's world, those planes are simply the tip of the iceberg of a combat capability training to operate in an extended battlespace.
Our main interlocutor for the discussion was Col. Jeffrey Weed, the Commander of the 414th Combat Training Squadron.
As one can see from his biography, the diversity of his background permits him to bring a wide range of experience to his demanding job.
According to his biography:
The 414th's mission is to develop, plan, execute, and direct Air Combat Command's premier advanced combat training exercise, RED FLAG.  RED FLAG is conducted over the Nevada Test and Training Range and annually trains over 350 multi-service and allied units. 

RED FLAG creates the largest, most realistic and relevant air combat training in the world. 

RED FLAG integrates live fly, space operations, and cyber effects in scenarios important to combatant commanders across the globe. 

RED FLAG is responsible for training over 27,000 personnel each year.

Colonel Weed was commissioned in 1987 as a distinguished graduate of the ROTC program at Carnegie Mellon University.

He earned his wings at Columbus AFB, Miss., in 1989 and is a 1994 graduate of the Tactical Leadership Program and a 1996 graduate of the USAF Weapons School. Colonel Weed has served as the commander of the 422nd Test and Evaluation Squadron, Deputy Commander, 53rd Test and Evaluation Group, Nellis AFB, NV and Vice Commander, 56th Fighter Wing, Luke AFB, AZ. 

Prior to Nellis, he served as Deputy Director of Operations, Nuclear Deterrence, and Strategic Integration at Headquarters USAFE/AFAFRICA, Ramstein Air Base, Germany.

In June 2013, Col Weed took command of the 414th Combat Training Squadron (RED FLAG), Nellis Air Force Base, Nevada.
We were at Nellis just prior to the beginning of the first Red Flag Exercise this year, which is being held from Jan. 26 – Feb. 13, 2015.
According to a story on the Nellis Air Force website:
Red Flag is a realistic combat training exercise involving the air, space, and cyber forces of the United States and its allies. The exercise is hosted north of Las Vegas on the Nevada Test and Training Range — the U.S. Air Force's premier military training area with more than 15,000 square miles of airspace and 2.9 million acres of land.

With 1,900 possible targets, realistic threat systems and an opposing enemy force that cannot be replicated anywhere else in the world, Nellis AFB and the NTTR are the home of a simulated battlefield, providing combat air forces with the ability to train to fight together in a peacetime environment, and to survive and win together.

The 414th Combat Training Squadron is responsible for executing Red Flag. The exercise is one out of a series of advanced training programs administered at Nellis AFB and on the NTTR by organizations assigned to the U.S. Air Force Warfare Center.

More than 125 aircraft are scheduled to depart Nellis twice a day and aircraft may remain in the air for up to five hours. Flying times are scheduled to accommodate other flying missions at Nellis AFB and provide Red Flag participants with valuable training in planning and executing a wide-variety of combat missions.
Col. Weed clearly laid out the strategic direction for the evolution of Red Flag exercises in the period ahead. 
With the need to train for a more difficult and more contested combat environments, training must adjust.
Adjustments are necessary both to deal with evolving threats over great distances and to train for ways to more effectively integrate evolving blue systems as to operate in a contested environment.
According to Col. Weed explained" "Although the airspace has not changed for the exercises — we still operate live fly on the NV Test and Training Range — we do use a MUCH larger geographic AOR for  virtual and constructive participants."
The challenge of synchronizing the various combat elements is increasingly complex; and the evolution of command and control to provide for synchronization in the expanded battlespace is a key requirement for enhancing the effectiveness of airpower.
The new Air Combat Commander, General Carlisle has placed a significant priority on C2 innovations to enhance airpower coordination in a distributed battlespace. And in our two interviews with General Carlisle, it is clear that the coming of the F-35 is seen as providing both challenges and solutions to reshaping C2 to operate in the expanded battlespace with distributed forces.
The F-35 was coming to the force in this evolving context, and its role will be shaped and defined by the evolution of Air Force, joint and coalition forces expanding their capabilities to operate effectively with the expanded battlespace.
There is clear concern that training be fully funded to ensure that the Air Force and their joint and coalition partners can adapt to the kind of rapid changes which the forces are facing.  The team at Nellis argued effectively for a 4th Red Flag during the year. They moved from the three flags conducted the last couple of years under the pressure of fiscal stringencies.

Question: How do you set the agenda for the Red Flag exercises?
Col. Weed: Each year the ACC holds a Combat Air Force (CAF) weapons and tactics conferences where the training gaps are identified and priorities for the year.  What collective training needs to be pursued in the year ahead in the advanced training venue?
Red Flag is a unique environment within we can create the complex, multi-domain training venues, which allow us to address combat air force training shortfalls.
Question: Obviously, you are focused upon C2 evolution to enable synchronization of the combat air force. 
How are you doing that?
Col. Weed: We are definitely focused on that challenge.
One way is to generate disruptions in the C2 system to find ways to deal with any threats along those lines.
Another is to train to distributed operations, such as putting a Forward Operating Base (FOB) about 100 miles north of the base and where we connect rescue assets with the exercise force.
We were then joined in the conversation by Col. Matthew Smith, a key player in the C2 innovation, which is central to the evolution of Red Flag in the period ahead.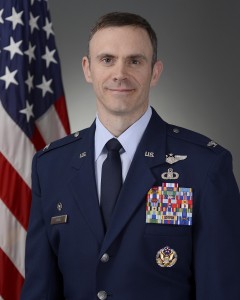 According to his official USAF biography, Col. Smith is:
Commander, 505th Test and Evaluation Group, Nellis Air Force Base, Nev.

As commander, Colonel Smith is responsible for developing operational to tactical level tactics, techniques and procedures supporting air, space and cyber integration, conducting advanced training for air and space operations center personnel, conducting operational test for elements of the Theater Air Control System and selected intelligence, surveillance and reconnaissance weapons systems.

In addition his group provides responsive worldwide radar-centric planning, optimization and constant evaluation to create the most operationally effective integrated radar picture.

The 505th TEG includes more than 600 personnel in four active duty squadrons, two detachments and 12 operating locations.

The group is a subordinate unit of the 505th Command and Control Wing located at Hurlburt Field.

Colonel Smith entered the Air Force in 1992 through the Reserve Officer Training Corps at the University of New Hampshire.

He has served as an Air Battle Manager Weapons Officer in the CRC and AWACS, in NATO's Joint Air Power Competence Centre, commanded two Air Control Squadrons, a DARPA Service Chief Fellow, and on HQ Air Staff. Colonel Smith has participated in Operations Enduring Freedom, Air Defense of the Arabian Gulf, Iraqi Freedom, Southern Watch, Allied Force, Deny Flight, and counter drug operations.

He is a Senior Air Battle Manager with 449 Combat and 246 Combat Support hours in the AWACS with 1,000+ hours employing the CRC in combat.
A key point, which both Weed and Smith emphasized, was the expanded battlespace and the C2 challenges in connecting the systems operating within that battlespace.
According to Col. Smith, "from the operational level the exercise goes from Eugene, Oregon down to Phoenix, out to the Gulf Coast of Texas, up to Denver and across to San Francisco.  It is a 1200 by 1400 mile AOR with blue, red and gray elements in play.
For the people who fly across the Nellis Range it feels like it ever was, but now they are connected to assets operating throughout the AOR."
Obviously, this is a challenging C2 effort, even before one gets to the question of adversaries or conditions disrupting C2 in the expanded battlespace.
As Col. Weed underscored: "I get credit for Red Flag an awful lot, but connecting the space and cyber and other effects to whatever we are doing on the range is the contribution of the 505th."
The two officers contrasted the past with where Red Flag is going.  In the past, one would focus on putting a force package together, say AWACS, Wild Weasels and F-15s and working that package.
As Col. Smith commented: "Without tapping into other assets, such as cyber and space, you would not have a chance using that approach against the threats we face. Where we are going with Red Flag is linking the platforms and systems together to create the effects we need for mission success."
They emphasized as well the sizable rupture between the wars of the past decade and the way ahead. It was clear that in the increasingly contested battlespace, that the USAF needed to shift from what it perfected in the past decade – support to ground forces in an uncontested environment into the ability to fly into more highly contested environments.
This means a managed and tested evolution between the skill levels honed in the past decade and those necessary for the next.
And that is where Red Flag comes in – to ensure that the skills and mindset for combat in contested environments are developed and honed.
Col. Smith argued that for Red Flag, with the F-35 coming to the force, they are not going to wait 20 years to come up with the perfect integration approach.
They are going to leverage the new fighter to provide an overall boost to the capabilities of the combat air force.
"We are going to try to figure out how to integrate now, and not in 2039 or whatever."
And expanding the venue of Red Flag is seen as crucial to insert the realities of the expanded battlespace facing the combat air force.
According to Col. Weed, "if you have an uncomplicated air war, the operational C2 is relatively easy, and you have time.
But operating in a compressed time scale over a large battlespace is a very different matter.
The strike force is simultaneously working complex ISR tasks, missile defense task, protection against electronic and cyber attack and determining the targets to go after – this is the reality against which we need to train.
And that is where we are going with Red Flag."
According to the USAF Fact Sheet About the 414th Combat Training Squadron "Red Flag":
RED FLAG, a realistic combat training exercise involving the air forces of the United States and its allies, is coordinated at Nellis Air Force Base, Nev., and conducted on the vast bombing and gunnery ranges of the Nevada Test and Training Range. It is one of a series of advanced training programs administered by the United States Air Force Warfare Center and Nellis and executed through the 414th Combat Training Squadron.

RED FLAG was established in 1975 as one of the initiatives directed by General Robert J. Dixon, then commander of Tactical Air Command, to better prepare our forces for combat. Tasked to plan and control this training, the 414th Combat Training Squadron's mission is to maximize the combat readiness, capability and survivability of participating units by providing realistic training in a combined air, ground, space and electronic threat environment while providing for a free exchange of ideas between forces.

Aircraft and personnel deploy to Nellis for RED FLAG under the Air Expeditionary Force concept and make up the exercise's "Blue" forces. By working together, these Blue forces are able to utilize the diverse capabilities of their aircraft to execute specific missions, such as air interdiction, combat search and rescue, close air support, dynamic targeting and defensive counter air. These forces use various tactics to attack NTTR targets such as mock airfields, vehicle convoys, tanks, parked aircraft, bunkered defensive positions and missile sites. These targets are defended by a variety of simulated "Red" force ground and air threats to give participant aircrews the most realistic combat training possible.

The Red force threats are aligned under the 57th Adversary Tactics Group, which controls seven squadrons of USAF Aggressors, including fighter, space, information operations and air defense units. The Aggressors are specially trained to replicate the tactics and techniques of potential adversaries and provide a scalable threat presentation to Blue forces which aids in achieving the desired learning outcomes for each mission.

A typical RED FLAG exercise involves a variety of attack, fighter and bomber aircraft (F-15E, F-16, F/A-18, A-10, B-1, B-2, etc.), reconnaissance aircraft (Predator, Global Hawk, RC-135, U-2), electronic warfare aircraft (EC-130s, EA-6Bs and F-16CJs), air superiority aircraft (F-22, F-15C, etc), airlift support (C-130, C-17), search and rescue aircraft (HH-60, HC-130, CH-47), aerial refueling aircraft (KC-130, KC-135, KC-10, etc), Command and Control aircraft (E-3, E-8C, E-2C, etc) as well as ground based Command and Control, Space, and Cyber Forces.

A "White" force in RED FLAG uses the Nellis Air Combat Training System (NACTS) monitor this mock combat between Red and Blue. NACTS is the world's most sophisticated tracking system for combat training exercises and allows commanders, safety observers and exercise directors to monitor the mission and keep score of simulated 'kills' while viewing the simulated air battle as it occurs.

As RED FLAG expanded to include all spectrums of warfare (command, control, intelligence, electronic warfare) and added night missions to each exercise period, the combination of NACTS, improved tactics, and increased aircraft/aircrew capabilities improved flying safety.

All four U.S. military services, their Guard/Reserve components and the air forces of other countries participate in each RED FLAG exercise. Since 1975, 28 countries have joined the U.S. in these exercises. Several other countries have participated as observers. RED FLAG has provided training for more than 440,000 military personnel, including more than 145,000 aircrew members flying more than 385,000 sorties and logging more than 660,000 hours of flying time.

This mock battle in the skies over the Nevada Test and Training Range has yielded results that will increase the combat capability of our armed forces for any future combat situation.
A number of F-22s participated in the first Red Flag Exercise this year as their mates were operating in operations in support of the coalition forces battling ISIL.
Some of these F-22s can be seen in this video shot towards the end of the exercise.
Red Flag 15-1 Update: 10 Feb from SldInfo.com on Vimeo.
Video Credit:99th Air Base Wing Public Affairs: 2/10/15
And a recent story written by Airman 1st Class Joshua Kleinholz published on the Nellis website on January 22, 2015 provides a history of Red Flag with a look at this year's upcoming Red Flags as well:
Some called them the "Iron Majors" though this group in particular went on to be known as the "Fighter Mafia." Never mind the title, that was the last thing on their minds as the group of the Air Force's best and brightest young officers congregated in the little known depths of the Pentagon's basement offices.

Assigned to the Air Force Directorate of Operations tactics branch for showing consummate professionalism and ferocious pursuit of innovation, the officers of the early 1970s Fighter Mafia poured over a number of air combat studies conducted in the aftermath of the Vietnam War.

"In Southeast Asia we were posting kill-loss ratios of around 2:1," said retired Maj. Joel Reed, an F-4 Phantom electronic warfare officer and member of the original Red Flag staff. "It was pathetic compared to Korea where we had an overall average of 10:1 and in some periods 25:1."

The Fighter Mafia was hungry to know why.

One of the most impactful studies was the Red Baron reports, which was presented to the group by Maj. Richard "Moody" Suter. The reports brought to his attention a disturbing trend of general inexperience and resulting fatalities, within our pilots' first ten combat sorties. The problem was apparent.

"The analysis exposed a costly lack of experience," said Reed, who experienced the feeling of general disarray illustrated in the Red Baron reports during his first 10 combat sorties over the skies of Southeast Asia. "Our training was adequate to get us in the airplane, but once you got to combat it was a whole new deal; every day was an entirely new learning experience."

Unfortunately for many U.S. aircrews involved in operations over Vietnam, war doesn't always allow for a learning curve. Losing aircrew at such a rate was deemed unacceptable by an Air Force aspiring to be the best in the world. Suter and company brewed some coffee and got to work.

Their proposal came in early 1975 in the form of Red Flag, an exercise that would pit student "Blue Forces" against dedicated aggressor piloted "Red Forces" in a series of combat scenarios over the vast Nellis Range in Nevada. The Fighter Mafia engaged in fiery debates over various aspects of the project, but the basic objective of exposing warfighters to those crucial first 10 combat sorties had the Mafia in mutual agreement.

Prior to the Red Flag project, students flew identical aircraft against each other, with class "top guns" assuming the aggressor role attempting to outfly their student counterparts.

"It was F-4 Phantom II against F-4, so all of your reactions and all of the training you employed was based on your understanding of that adversary in the same aircraft that you were flying," said Reed, a contracted senior graphics analyst at Red Flag. "Then to be put up against something like a MiG 21 like we saw in Southeast Asia – then we had a whole new ballgame."

Red Flag, as drawn up and articulated by Capt. John Vickery, the youngest of the Fighter Mafia on the Air Staff at the Pentagon, and briefed to leadership by the ever-ambitious Suter, would thrust students into simulated combat against legitimate air and ground threats.

In theory, aircrew would be "skipping" those deadly first ten combat sorties and ensuring that no matter what conflict might arise in the future, our aircrews were already ten sorties into the flow.

After hundreds of enthusiastic briefings and a series of stern rejections from the three-star general in charge of Air Force budgets, the Mafia was finally given orders to go fourth with Red Flag 75-1 on July 15, 1975, from Tactical Air Command boss, Gen. Robert A. Dixon, who was swayed by a persuasive Moody Suter brief.

A squadron of F-4 Phantoms from Holloman Air Force Base, New Mexico, arrived just five months later in December 1975 and Red Flag was born.

Retired Lt. Col. Jack Lefforge, a member of the original Red Flag staff as a white force analyst, now Red Flag Plans and Engineering Division deputy division chief, worked tirelessly with his colleagues in a makeshift office to lay the framework for the first exercise scenarios.

"We realized that just like any other unit, we'd only be as good as our foundation was," said Lefforge, who along with other original Red Flag staffers adopted a 'do what needs to be done' mindset in rapidly establishing a brand new exercise from the ground up. "We knew we'd be the pedestal upon which the statue would be continually constructed."

Red Flag continued to expand dramatically in the following years as word got around to the rest of the Air Force about the training innovations taking place at Nellis AFB. Simulated electronic threats like jammers, simulated surface-to-air missiles and anti-aircraft artillery guns on the range grew more advanced; attack packages grew more complex with inclusion of different units and airframes from around the service; and debriefs became infinitely more fruitful with the addition of GPS tracking, advanced radar and digital video, among others.

"When the exercise first started, putting everything together in a debrief was left up to a person essentially standing in front of a chalk board, although very skilled at doing that, you lose some element of fidelity," said Col. Jeff Weed, 414th Combat Training Squadron commander. "Now because of the systems that the Nevada Test and Training Range is equipped to employ, we're narrowed down to tracking within the feet of where an airplane was, or a person or vehicle on the ground was, then play it all back in a thorough debrief so that everybody can see it at the same time."

This kind of overwhelmingly thorough feedback is just one of the attributes that sets Red Flag apart from every other air, space and now cyber, exercise in the world 40 years later. Word of resounding Red Flag successes spread not only among all four U.S. military branches, but to 28 partner nations around the globe who have also sent units to participate.

"A lot of the lessons we learn during Red Flag are about communication," said Weed, who participated in his first Nellis Red Flag in 1997. "We share, to some degree, certain tactics, we fly some of the same types of airplanes, and every nation has their own niche in what they bring to the fight. It's that kind of partnership that makes us stronger and that all starts with Red Flag."

General Dixon, Moody Suter and the Fighter Mafia brought Red Flag to Nellis AFB at a time when Nevada's tallest hotel peaked at just three stories; the population of Las Vegas was just 149,000; and the single airstrip was an aging reminder of the Second World War

The Nellis Range made it a diamond in the rough that a few great minds refused to ignore.

As the scope, complexity and resulting logistical challenges have increased over the years, Nellis AFB and it's countless other units have expanded greatly to support the cause when needed.

The Combined Air Operations Center hosts hundreds of the world's finest cyber operators. The 99th Force Support Squadron guarantees food for the thousands of service members visiting the base temporarily for the exercise. And the 99th Logistics Readiness Squadron races to unload, offload and fuel the more than 120 aircraft involved in a modern Red Flag.

To Lt. Col. Erin Cluff, 99th Logistics Readiness Squadron commander, a successful flag means putting together the ultimate base-wide effort.

"Red Flag allows our people to get training on a myriad of aircraft at a very fast pace that they would not get at their home station," said Cluff. "So in addition to the amazing things happening on the cyber and aviation fronts, our support Airmen are getting very similar opportunities to practice skills inherent to our mission set."

Red Flag 15-1, the first of four exercises scheduled for the year, is set to kick off Jan. 26 and will welcome an entirely new group of aircrew, maintainers and cyber warriors, among others, ready to get their taste of the "first ten." For the folks of the 414th CTS, there will be little time to reflect on achievements of the past.

"It takes a year of planning to get Red Flag off the ground," said Weed, crediting the men and women throughout the years who've worked tirelessly to maintain the Red Flag standard. "It' s important to remember that it wasn't normal and natural in 1975; that it was during a time of difficult budgets; and it was a high amount of risk they were taking. But thank God they did because it's made all the difference when we've gone to war."
In the video above, the Australians discuss their participation in Red Flag and Col. Weed is seen highlighting their contribution to the first Red Flag exercise of 2015.
In the slideshow above, the beginning of this year's first Red Flag exercise is highlighted.
In the first photo, a Royal Australian Air Force AP-3C Orion from 10 Squadron, Edinburgh, Australia, sits on the tarmac awaiting the start of Red Flag 15-1 at Nellis Air Force Base, Nev., Jan. 22, 2015.
In photo 2, An F-16 Fighting Falcon, assigned to the 555th Fighter Squadron, Aviano Air Base, Italy, launches during Red Flag 15-1 at Nellis Air Force Base, Nev., Jan. 26, 2015.
In the third photo, Royal Australian Air Force C-130J Super Hercules assigned to 37 Squadron, RAAF Richmond, Australia, taxis to the runway during Red Flag 15-1, as an F-15 Eagle assigned to the U.S. Air Force Weapons School takes off at Nellis Air Force Base, Nev., Jan. 27, 2015. Flying units from around the globe deploy to Nellis AFB to participate in Red Flag. The exercise is held three to four times a year and is organized by the 414th Combat Training Squadron
In the fourth photo, two Royal Australian Air Force aircraft maintainers wait for their aircraft to return from a training mission during Red Flag 15-1 at Nellis Air Force Base, Nev., Jan. 27, 2015. Red Flag exercises provide allied air forces the opportunity to train in a joint combat environment.
In the fifth photo, an F-15 Eagle assigned to the 493rd Fighter Squadron, Royal Air Force Lakenheath, England, taxis for flight during Red Flag 15-1 at Nellis Air Force Base, Nev., Jan. 27, 2015.
In the sixth photo, two maintainers assigned to the 748th Aircraft Maintenance Squadron, Royal Air Force Lakenheath, England, work on the wing of an F-15 Eagle during Red Flag 15-1 at Nellis Air Force Base, Nev., Jan. 27, 2015. Maintainers are responsible for overseeing the day-to-day maintenance of aircraft, including diagnosing malfunctions and replacing components, and conducting various inspections to ensure the aircraft is functioning properly.
In the final photo, Royal Air Force weapons technicians assignment to 1 (Fighter) Squadron, RAF Lossiemouth, Scotland, prepare a Typhoon FGR4 fighter to receive a live bomb load prior to a Red Flag 15-1 training sortie at Nellis Air Force Base, Nev., Jan. 27, 2015. Aircraft tasked with carrying live weapons are towed to a live ordnance loading area to ensure their safest application possible.
Credit Photos: Defense Imagery Management Operations Center
For our other articles highlighting our visit to Nellis AFB in January 2015, see the following:
https://sldinfo.com/the-usaf-warfare-center-and-shaping-the-future-of-the-combat-air-force-a-discussion-with-major-general-silveria/
https://sldinfo.com/training-for-the-21st-century-battlespace-a-discussion-with-commander-of-the-nevada-test-and-training-range/
https://sldinfo.com/the-future-of-airpower-as-seen-from-the-422nd-test-and-evaluation-squadron/
https://sldinfo.com/welcoming-the-f-35-to-the-air-warfare-weapons-school-the-next-chapter/
https://sldinfo.com/the-next-chapter-in-renorming-airpower-the-f-35-arrives-at-the-usaf-weapons-school/
https://sldinfo.com/looking-back-and-looking-forward-with-regard-to-fifth-generation-aircraft-visiting-the-weapons-school-at-the-usaf-warfare-center/