2015-06-06 According to a piece published on 6/5/15 by the DVIDS, and released by the USMC, Major Greenberg, who was aboard the Wasp during the OT, provides an update.
ATLANTIC OCEAN – The Marine Corps F-35B operational test (OT-1) successfully concluded aboard a U.S. Navy amphibious ship, USS Wasp (LHD-1), on May 29, 2015. 
Setting off from Norfolk, Virginia on May 18, USS Wasp cut an arc between 50 and 100 miles off the coast of Virginia and North Carolina, as Marine Corps pilots safely conducted 100 short takeoff and vertical landing sorties from the ship.
About 120 Marines from the following squadrons came together with U.S. Navy personnel, civilian contractors and partners from industry to make OT-1 a success: Marine Operational Test and Evaluation Squadron 22, based in New River, North Carolina; Marine Fighter Attack Squadron 121, based in Yuma, Arizona; Marine Fighter Attack Training Squadron 501, based in Beaufort, South Carolina; and Marine Aviation Logistics Squadrons 13 and 31.
Four F-35B aircraft from VMFA-121 and two from VMFAT-501 participated in this test, with 10 operational Marine Corps pilots racking up more than 76 flight hours in the F-35B.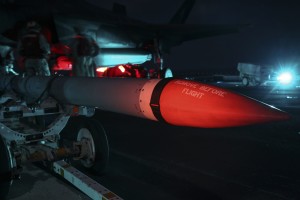 Over the course of two weeks, the Marine Corps and their Navy partners met the following OT-1 objectives: safely conducted 100 F-35B takeoffs and landings during day and night extended range operations; confirmed reliability of Block 2B software configuration; confirmed aircraft-to-ship network communications interoperability; trained and certified a new F-35B landing signal officer; proved the efficacy of the F-35B landing signals officer's launch and recovery software; documented the crew's ability to conduct scheduled and unscheduled day and night maintenance activities; confirmed the suitability of F-35B maintenance support equipment for shipboard operations; proved the feasibility of the logistics footprint of a six-plane F-35B detachment aboard a U.S. Navy amphibious ship; safely conducted day and night weapons loading.
OT-1 was punctuated by another major milestone: the transport of an F135 power module, the largest and heaviest part of the F-35's engine, from shore to ship on an MV-22 Osprey. The module and specifically-designed carrier weighed out at almost 9,000 pounds. Marines and industry partners overcame several engineering and logistical challenges to prove that critical F-35B engine repairs can be accomplished through the use of emerging technology and existing capabilities.
"With the U.S. Navy replacing their Carrier On-Board Delivery aircraft with the V-22, this new capability could enable them to resupply all aircraft carriers and big deck amphibs with both the F-35B and F-35C engine modules," said Jeff Ward, who is in charge of F-35B deployment integration for Headquarters Marine Corps. "This is an important milestone for the program."
The next milestone in the Marine Corps' F-35B program, initial operating capability, or IOC, is scheduled to take place this summer.
The U.S. Marine Corps Deputy Commandant for Aviation, Lieutenant General Jon Davis, has directed that a team of Marine Corps F-35 experts carry out a final operational readiness inspection (ORI) in July before declaring the first squadron of 10 F-35B fighter jets at VMFA-121 ready for initial combat use at IOC.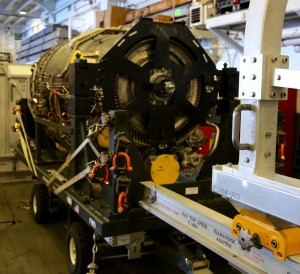 The Marine Corps-led ORI team will report the findings of the inspection to Lt. Gen. Davis. The Commandant of the Marine Corps will then make a decision as to whether the F-35B is ready for IOC based on those findings.
"This will be an outcome-based measurement of readiness, assessing whether VMFA-121 as a whole is ready to perform the mission it is assigned," said Davis. "If the ORI is completed in July, and we are confident that the aircraft are ready for world-wide deployment, then we'll declare IOC in July. If that doesn't happen until August, then it will be August. Bottom line is that we won't rush this; we are doing this the right way."
Following the Marine Corps' F-35B IOC declaration, the aircraft will be ready for future deployments aboard U.S. Navy's fleet of amphibious carriers. The first deployment is scheduled to take place in 2017, when VMFA-121 will deploy to Iwakuni, Japan.
"As the Marine Corps supports the President's strategy to rebalance in the Pacific, we're bringing the most advanced technologies and capabilities of our force to the region with the F-35. This capability enables our Corps to support regional partners during crises by enabling our forces to perform a wide range of missions across multiple domains. As we modernize Marine fixed-wing aviation assets for the future, the continued development and fielding of the short takeoff and vertical landing Lightning II remains the centerpiece of this effort."
According to the current Marine Corps Aviation Plan, the F-35 is slated to completely replace the EA-6B Prowler by 2019, and the AV-8B Harrier by 2026. The legacy F/A-18 Hornet will follow, with a scheduled sundown in 2030.