2015-07-27 By Ed Timperlake and Robbin Laird
"Scientists dream about doing great things. Engineers do them" from the James Michener book Space. The quote originated from one of the legendary American Aeronautical Engineers, Jack Runckel who began with NACA before WWII and finished with NASA. As many history books state: During World War II, NACA was described as "The Force Behind Our Air Supremacy."
Two very experienced US combat aviators. Lt, Gen. Jon Davis, USMC Deputy Commandant for Aviation and Rear Admiral Mike Manazir USN Director Air Warfare were given the opportunity to make comments at a Navy League event on Capitol Hill and they covered many issues, but none more important than getting on with upgrading the Naval Aviation fleet.
"Naval aviation forces from the sea base have never been more relevant," said RADM Mike Manazir, director of Air Warfare for the chief of naval operations.

Manazir said the budget caps imposed in 2013 by the Budget Control Act (BCA) of 2011 and government shut-down and hiring freeze had a five-year impact on aviation readiness, particularly depot-level maintenance, that will take the service to 2018 to recover from as it increases the service life of Hornet strike fighters to 67 percent beyond their design service life.

LtGen Jon Davis, deputy commandant for Aviation at Marine Corps Headquarters, said Marine Corps aviation is "very busy right now," seeing little slowdown following the end of combat operations in Afghanistan in 2014, noting that all of its combat aircraft types are engaged in operations against ISIS in Iraq and Syria. He praised the V-22 tiltrotor aircraft and the recent performance of the F-35B during sea trials of the first operational F-35 squadron.

The V-22 "is giving us unmatched reach," Davis said. "We have a real winner," he said of the F-35B.

Davis said the challenge of sustaining older aircraft while buying new ones requires a finely tuned budget balance.

"I can't stop buying new while taking care of the old," he said.
There is clear concern with the cost and operational capabilities of sending older Hornets to depots because of the challenge of dealing with significant corrosion in those airframes.
There is no fountain of youth for older tactical aircraft air frames and certainly no low cost solution for safety and security as well.
One of the most overlooked features in the current discussion of the F-35 aircraft, which will soon be declared to have achieved Initial Operational Capability, is the fact that it was designed from the start with an additional 2000 hours of service.
This was stressed in the Capitol Hill discussion mentioned above.
This baseline capability will eventually pay significant dividends in fleet readiness and it was not by accident.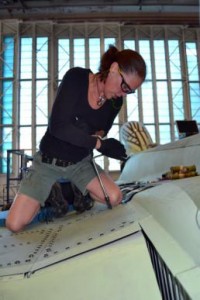 Just like the aviators who will fly the F-35 who are well trained and the top of the famous Tom Wolfe's "pyramid" in his book The Right Stuff there is a team of engineers in the defense industry who are equally dedicated and at the top of their profession in giving the warriors the best possible weapon system. Many who have never made the effort to engage, understand and recognize the industry's remarkable success often target the American defense industry with extremely negative comments. This is one such success story.
Legacy fighters were built with a target goal of 6,000 operating hours.  Most of the legacy products have been pushed beyond this envelope, but at a clear cost – namely upgrades, and modernization but in a degraded airframe.  The wear and tear on a combat aircraft is significant, and there has been clear concern expressed by senior military leaders about the safety of continuing to fly upgraded legacy aircraft when their air frames are forced to fly beyond their designed service life.
We had a chance to talk with the IPT team at Lockheed Martin (which includes both LM and Northrop engineers) with regard to the progress in building a new aircraft with 21st century materials technologies with the target goal of 8,000 not 6,000 operating hours.
In mid-July, we discussed the progress and way ahead with regard to the development and production of the air frame and related materials technology with Bill Grant, LM Tech Fellow and IPT lead for the F-35 Supportable Low Observables group and John Schuler, LM Tech Fellow and IPT lead for the F-35 Signature Materials and Processes group, which makes him the lead corrosion control subject matter expert on the team.
Earlier, in 2010, we interviewed Bill Grant with regard to the IPT laydown on shaping an LO materials development program.
The F-35 is a low observable aircraft and the first production aircraft where this is built into the airframe.
What is often lost is how robust an air frame the aircraft actually has as a result of building the aircraft with 21st century materials technologies. 
The F-35 stands on the back of earlier tactical aircraft; has taken lessons learned, and tapped into new technologies to shape a new combat aircraft, which promises to provide for significant robustness as well as LO performance.
Question: We last talked several years ago with regard to the LO materials approach.
How would you characterize progress since that time?
Answer: The durability of signature performance is being validated through numerous mechanisms. One of them is a series of stability over time flights wherein the jets are measured in a dynamic condition.  There are a growing number of them, and eventually there'll be a couple dozen airplanes that get baseline measured with subsequent measurements after so many hundreds of hours, so many calendar months, and so many maintenance events.
Each of the tested aircraft has demonstrated, empirically, that the airplanes have not changed noticeably, or at all.
Despite hundreds, and in some cases as we're approaching thousands of hours on those airframes, we're not seeing significant degradation in the system.
Question: LO is obviously important but so is the durability of the air frame with regard to legacy aircraft. 
What is your sense of progress on this dimension?
Answer: There are a whole series of validation exercises that are being gone through to show that that design is in fact valid and durable throughout the entire 8,000 hour life of the air frame.
From a corrosion standpoint, we have used a series of lessons learned from all of the legacy programs that the team has: F/A-18, F16, and F22.
We've made decisions on material choices to minimize galvanic interactions and maximize protection of dissimilar materials, paying very close attention to the coatings, which have been an issue on some prior airframes.
Then on top of making good design decisions based on lessons learned, we have done a very aggressive corrosion test program looking at not just what we do for the typical Air Force programs, but also the Navy standard.
We've been validating through these intensive chamber testing, and now we're on our seventh year of Seacoast Testing down at the Battelle Institute in Daytona Beach, FL where we've had airframe, representative airframe and coating coupons out on one of their beach facilities being subjected to daily salt and seacoast environment and looking for interactions that maybe we didn't see, didn't plan for, and being able – because we started so early in the program to do this, we've been able to make a couple of design changes based on that testing that have yielded a more durable, corrosion-resistant system.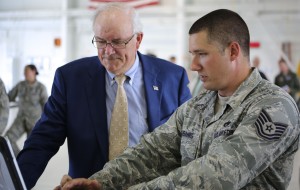 Question: Do you see the lessons learned from legacy aircraft so that when the F35 hits the fleet in large numbers, not only are you getting advantage from the additional 2,000 extra hours, but the air frame having the advantage of being designed and built with 21st century materials technologies?
Answer: We've looked at, in detail, design features that have been successful, marginal and unsuccessful on all of our combined Lockheed-Northrop legacy and contemporary programs and done the best job we could balancing all the factors that go into design decisions.
The result, clearly, is the F-35 LO system is an order of magnitude reduction in maintenance compared to all other LO systems.   That was our objective; that kind of durability and that kind of supportability, which 21st century materials and manufacturing technologies can provide.
We're very encouraged by what we see so far.
And the Low Observables Health Assessment System or LOHAS that provides awareness of what the signature maintenance requirements are has been extremely successful too.
We're seeing ridiculously low LO maintenance burden, almost to the point of questioning credulity by people who see the numbers.
It is amazing how little maintenance the jet requires regarding LO.
Question: Certainly, for the Marines from the outset LO has been important, but having a highly durable aircraft equally so. In fact when General Heinz, was the head of the Joint Program Office, he often highlighted how important durability is the operational environment for Marines. 
What LO means is that the range of environments into which the Marine can inject combat airpower simply goes up.  
What about a refocus on durability as a key element of the contribution of 21st century materials technologies to the F-35 airframe.
Answer: Marines have a reputation for flying damaged and unrepaired airplanes because they're very mission oriented.
We were concerned about their ability to maintain a VLO airplane given that mission focus.
They have really impressed us.
They stepped right up and adapted to the requirements.
They are aggressively changing their maintenance culture to accommodate LO.
And that benefits, across the board, their care and feeding for the whole airplane.
The F-35 doesn't really need kid glove handling, per se, but they are more attentive to it, and they are more responsive to maintenance requirements when they do come up so there's a universal improvement of their maintenance culture.
Question: There is a clear advantage, which accrues from the F-35 as a global enterprise, namely sharing not only of combat knowledge but sustainment experiences as well throughout the global operational environment.
Do you see global knowledge flowing through your organization as the program moves forward?
Question: We do.
Beside our weekly telecommunications with our Field Service Engineers who are embedded with the units, our most pragmatic method of communication with the services is through operator action requests or AR's that sometimes result in changes to tools and procedures, or even design changes.
As the Partner nations and Foreign Military Sales nations stand up their units they too will be able to leverage these resources, as well.
The customer is involved throughout.
We are working hard to be a global, quick reaction force to affect any changes they need.
Question: Your tech rep community is basically a very important asset going forward.
It can be a bridge to shaping global interactive knowledge.
What is your approach to shaping that possibility?
Question: We, SLO, hope to be a persistent presence for the life of the program, but with a very low footprint to help promote a common maintenance approach since everybody has basically the same jet; it's the same material system on it.
As we go global we look at the challenges of having ever more autonomous and multi-trained personnel who understand the materials, the repairs, the tools and verification and maintenance planning.
We're training some amazingly skilled people who understand the full breath of LO sustainment and who are grounded in the training that we as contractors provide, in addition to what is provided internally by the services.
It's a challenge because those are multi-talent requirements, but I'm continually impressed at the talent we're able to get to fill those positions.
Question: You have referred to two parts of your organization, the Materials and Processes or M and P, group and the OML group.
What is the OML group?
Answer:  OML refers to the Outer Mold Line, the outermost skin line of the airplane.
We have two materials and processes organizations on the program. We have the folks that are responsible for the airframe, the structure, and the subsystems. They're the ones that do the qualifications of subsystems.
They're the ones that do all the corrosion testing of the black boxes and working with the Vehicle Systems and Airframe Design Teams to make sure that we have an integrated structure that meets the 8,000-hour durability goal.
Then we have our team, which is Signature Materials and Processes.
We're responsible for all of the coatings and all the ancillary repair materials and things that go with the coatings.
Everything from the structure out that makes the jet meet its goals from a signature standpoint. The outer mold line spray coating that we have all over the jet is something that the signature materials and processes team is responsible for.
We're trying to use our qualification testing, our initial evaluation of material systems, in a way that ensures that they have a long life under the wide varieties of environments that we expect the airplane to see.
Then we also recognize that things always happen and even if the material doesn't intrinsically fail, there's always a possibility of somebody dropping the tool box or running into the edge of a panel or dropping a cover on the deck of the ship.
Damage is going to happen, so we also have to design, right from the very beginning, compatible repair materials – that work in an operational environment and, in fact, have the same durability as the original materials.
This is maybe a unique point, none of our repair materials are actually repair materials only.
Everything that we use in the field for repair is also used as part of initial production of the airplane, so they're not limited life repairs. When you make a repair it's as good as the original and so you don't have to go back 1,000 hours later or two years later and repair it again because you've got some short-term repair material that you've slapped on.
Question: You just told us that you really are pre-investing in to less depot maintenance throughout the jet's service life.  
How does the process change because of the pre-investment dynamic?
Answer: 97% of the LO damage events that occur in an operational environment are unit-level repairable. That's unprecedented and clearly, reduces depot dependence.
It doesn't absolutely require depot personnel or depot facilities to affect wide-scale repair of the LO should that be necessary so there's greater operational flexibility.
The greatest innovations to reduce depot dependence were the manufacture of stealth materials into the structural skins and development of very durable topical materials.
There's no requirement to strip and recoat our airplane; we'll just need paint "refresh" like other airplanes.
Our team culture of synergistic cooperation between engineering disciplines, manufacturing, and sustainment is also unprecedented on this program.
Supportable LO, or SLO, is a hybrid organization combining Sustainment and  Signature Design that provides a streamline of mutually-shared requirements that improves performance, lowers the cost of manufacturing and translates into availability and affordable stealth.
Question: One aspect of the F-35 is its emerging reality as a global enterprise within which there is global sourcing, which is particularly true for the air frame and related materials.
When you look at all of the providers globally for this aircraft there is a very broad global competitive airframe set of suppliers. It's not true of the combat systems but it is of the airframe.
You'll be able to have global competition to deliver the best quality airframe components for the life of this aircraft.
How do you see the impact of this aspect?
Answer: It is crucial to evolving product improvements in the aircraft over time.
From a commonality standpoint when we were setting up the initial test matrices and working with the program of this to decide how we were going to qualify these 40-some-odd outer mold line coatings and materials we made the decision right at the beginning that we were not going to try to do anything that was service unique or country unique.
We looked at all the environments we expected to see over the life of the airplane.
We did appropriate test-planning for all those environments and we included every one of them in the test-plan.
The test-plan matrix is ten times the size of comparable material qualification on legacy programs and on anything that I've worked on in my 30-plus year.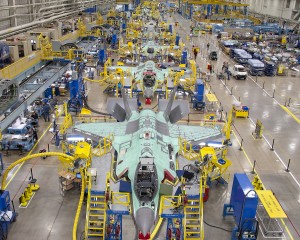 We did that because when a jet rolls down the line in Ft. Worth, or at Alenia, or Japan, or wherever it's going to be built, we wanted the same materials, the same processes, the same knowledge to be applied to that airplane; and then when it goes out to the field, all that applies again.
For those services that operate airplanes in more benign environments than an aircraft carrier, they're getting the benefit of a coating system that's designed for an aircraft carrier.
Everybody gets the same thing.
Question: Doesn't the stealth discussion obscure the robustness of the aircraft with regard to leveraging 21st century materials technologies?
When people hear about stealth, they're talking about a ballerina verses a middle linebacker.
Basically, the aircraft that you're building here is a middle linebacker.  At the end of the day, you're building an extremely robust tactical combat aircraft with the most advanced material technology available today that also happens to be low observable.
Answer: The fact is the airplane's LO doesn't require a lot of care and feeding.
The airplane is available, has incredible operational capabilities, and, oh by the way, it has some of the most aggressive VLO performance out there despite not having to work on it very much.
It's almost background noise and its small LO maintenance burden will be overshadowed by its capabilities after warriors get used to the airplane.
This is not a Silver Bullet airplane; it's not an F-117, it's not something that's going to be handled with kids' gloves.
It's a high sortie-capable F-16, F/A-18 replacement that happens to be stealthy.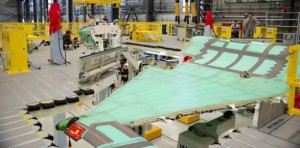 Question: The F-35 clearly is building on many decades of tactical aircraft manufacturing, and combat experience. 
How does that apply to the LO effort, in particular?
Answer: We were given universal access to all of the previous and contemporary stealth aircraft such that there is a plethora of lessons learned.
Because the team is Lockheed Martin and Northrop Grumman, it owns all operational stealth and it was made available to us easily, abundantly and early.
We were not a stovepipe program reinventing stealth and we were not a "not-invented-here" mentality team.
We were students of everything that went before us.
Every system, every material, every component on the airplane has a lesson learned.
We leveraged all of the previous technology and lessons learned.