2015-08-28  By Robbin Laird
When then Air Vice Marshal Davies was in Washington DC earlier this year, I had a chance to discuss with him his thinking about the way ahead for the RAAF and defense transformation.
Air Vice-Marshal Davies highlighted that a key trajectory for force transformation was to be able to combine kinetic with non-kinetic capabilities to deliver the kind of combat effects, which are needed for a wide variety of combat tasks and situations.

He comes from an F-111 background, and the ability to project lethality at a distance was built into the F-111 approach.

But this approach is not the most relevant to the way ahead, for it is about combined capabilities delivering a multiplicity of effects appropriate to the task which is required.

"What we've had trouble appreciating, and this is somewhat tough for an F111 man, is that that concept is no longer valid.

We need to take the fighting force, not just the kinetic effect, to battle, and so our requirement for air lift, our requirement for anywhere refueling, became part of a fighter support package, but really the fighter support package now includes electronic warfare, it includes ISR, and it includes the ability to update the battle second by second, minute by minute, whereas what and we have been reliant upon ISR updates of day by day up until this point.

If we don't have all the elements as we go forward into a particular series of events, I don't believe we will prevail.

We will not be able to have the response that we need and for a force as small as the ADF is, that's simply not going to be effective"

The force integration piece is the goal for Plan Jericho.

He mentioned that the Royal Australian Navy leadership was shaping a convergent approach to innovation and looking at naval and air integration as a key element of moving forward as well for their platforms.

"We already see manifestations of this in Operation Okra, where we have navy controllers on the Wedgetail and we will have Air Force controllers onboard Navy ships as well.
Two days prior to his presentation to the Williams Foundation conference on Plan Jericho, I had a chance to sit down with the Chief in his office and to discuss further his thinking about the operations in the Middle East and their impact as well how Plan Jericho is in many ways empowered by the RAAF's operational experience and the need to shape their concepts of operations as new equipment comes into the force.
Question: What has been the impact of the operations in the Middle East on the RAAF?
Air Marshal Davies; We certainly have deployed fighters and air lifters in exercises and operations.
But this is the first time we have taken an integrated air package to an operation. It is the first operational experience for both the KC-30A and the Wedgetail and the first time the Super Hornets operated (outside of Red Flag) with F-22s.
The Wedgetail operating with the tanker affected the scope of operation of each as well.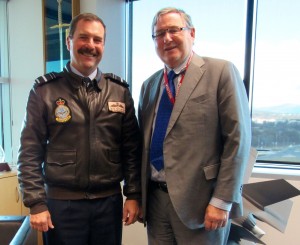 Historically, we operate tankers in assigned tanker tracks. With the communications and other links inside the tanker and with the ability of the Wedgetail to clear the way for the flexible operations, the tanker could move closer to where fighters in operation were most likely to move for refueling.
This means that you move yourself 60 nautical miles further north because the fighters you're about to get next need to travel 100 miles to get to you. You could make it 40 miles and stay on station for another ten minutes.
This meant getting the job done more rapidly; and reduced the fuel burn on the fighters as well.
This operational shift was facilitated by the tanker not simply acting as a flying gas can in a pre-positioned location but able to operate as a mobile combat asset to support the strike force.
Something as simple as air-to-air refueling has been simple because it's a track at a time at an altitude with a frequency and an upload. We're saying we can make it more complicated with the right information and be much more effective in the battle space because of situational awareness.
Question: And this would not have happened if the RAAF leadership had not decided to put the assets in the hands of the warfighter rather than waiting for some procurement official to declare IOC?
Air Marshal Davies: That is exactly right. We put these assets in the hands of the warfighter to use and to determine what systems needed to be further developed in order to achieve the operational readiness, which the warfighters actually sought.
Both platforms took time to evolve to the point where we could effectively use them; but we put them into the hands of the warfighters more rapidly than traditional procurements approaches would allow.
This is certainly part of what we mean by Plan Jericho – let the warfighters have a decisive say on what is needed from an operational standpoint, in terms of what the fleet can deliver rather than simply upgrading individual platforms organically.
And getting into operations is crucial in terms of operator confidence and coalition capabilities.
With the Wedgetail deployed, allies got use to it and considered it a very reliable asset and the radar performance to be extraordinary.
Without that operational confidence, the asset will not be used as often or as effectively.
We see this as part of the Plan Jericho approach – get into the hands of the operators to determine what capabilities are best next and from which platform?
What does a .02DB Delta on a radar range mean for an operator?
I don't know.
Let's give it to the operators and find out.
And that's what we've done.
Question: Your Super Hornets flew for the first time in combat with F-22s.
What was the experience and what did you learn from that?
Air Marshal Davies; We have flown in Red Flag with F-22s and that training was crucial to operations in the Middle East. The pilots came back and said "it was just like in Red Flag."
For us, at the moment the F-22 is a surrogate for the F-35, although with regard to combat systems and roles, the F-35 will be superior to the F-22.
But the point is to get the operational experience.
What we discussed at last year's Williams Seminar with the Marines present is our basic point: What does a Super Hornet bring to 5th generation and what does the 5th generation bring to the 4.5 generation aircraft?
And to be clear, the F-35 brings significant knowledge about the battlespace and how to more effectively operate in the battlespace, manage the battlespace and dominate in the battlespace.
All of this will be an evolving work in progress, and that is inherent in our Plan Jericho approach where discovery is expected and then the implications of discovery for evolving concepts of operations and prioritizing technological needs will follow.
Question: There is a general lack of focus on the impact of software upgradeability on force structure modernization to come,
Your Plan Jericho approach fits very well a software upgradeability approach to modernization. Which platforms should be upgraded? And with what software code rewrites to do which tasks?
Air Marshal Davies: This point is generally missed, I was in London at RUSI a few weeks ago and made a similar point. And I got more up and down head movements than I did side to side. And I think there are folk who are beginning to understand this.
But sometimes folk like me are part of the problem. What the leadership I believe needs to do now is just open up the aperture a little bit. And let folk from industry and from defense and I think there's a really important piece here about what does army, what does navy, and in the United States case, what do the marines, and the coast guard do. What are these folk thinking are options to try and explore, including leveraging the data stream from the F-35.
If we do not open the aperture and change the thought processes, we will be flying the F-35 as if it is a classic four-ship formation fighter and totally miss the point.
It is about culture change.
And the evolution we are discussing will clearly affect coalitions and who we work with.
What I would contend has been unacceptable in the future is coalition partners who don't know what the coalition partners are flying with and what their ability to contribute is.
About Plan Jericho:
As Air Vice-Marshal Warren McDonald, Deputy Chief of the Air Force, and Air Vice-Marshal Gavin Turnbull, Air Commander Australia, put it in their forward to the Plan Jericho work program:
The Royal Australian Air Force has an outstanding record of achievement across the spectrum of conflict from high-end warfighting to counter insurgency operations to humanitarian support in the wake of natural disasters. In the future, responding to global and regional events will be more difficult, as the proliferation of technology and the advancement in potential adversaries' capabilities pose new challenges to the Australian Defence Force.
To rise to this challenge, Air Force needs to extract every last bit of mission effectiveness from our capabilities by investing in our education and training, and the development of integrated tactics and networks. Air Force must embrace innovative thinking and be prepared to rapidly harness the potential of emerging technology.
Developing an integrated, networked force will be the difference between simply owning fifth generation aircraft and being a truly fifth generation Air Force. We will work collaboratively with Navy, Army, other Defence groups and our industry partners to ensure Air Force contributes seamlessly to, and enhances, joint operational outcomes.
Plan JERICHO is the key to delivering the future force, and the enclosed Program of
Work outlines the integration activities that will transform Air Force over the next ten years.
This transformation will allow us to maintain mastery of a changing air and space domain whilst remaining responsive to whatever the future may bring. All of us in Air Force, the broader Defence organization and industry will need to work together if we are to deliver this program. We look forward to the journey.
CHIEF OF AIR FORCE OPENING REMARKS AT JERICHO INNOVATION SEMINAR 6 AUGUST 2015
I am delighted to address this event. This is my first opportunity to speak to an event hosted by the Williams Foundation, since assuming the leadership of the Air Force on the 4th of July. Today I intend to speak briefly. I will explain my intent for the implementation of Plan Jericho during my term as Chief of Air Force. But I also wish to hear more about the innovative programs of the United States Air Force as well as Boeing and Lockheed Martin.
At the outset, I would like to state that both the substance and the format of today's event reflect my priorities. We are going to hear about innovation from two of our key industry partners. It is not just 'marketing spin' to describe our relationship with industry as a partnership.
Rather, that is simply reality in this so-called 'age of austerity', in which government budgets are under pressure. More than ever, vital research and development relevant to air power is being conducted in the private sector.
We cannot afford to be mere passive customers dealing with suppliers. Many of the deficiencies in the way we have responded to technological change were held up to scrutiny in the First Principles Review released earlier this year. Our lack of agility in responding to changes in an increasingly fluid, dynamic environment was identified as a major concern.
Other issues, to which Plan Jericho is our considered response, were also identified in the First Principles Review.
My predecessor, Geoff Brown, explained how Plan Jericho would enhance our exploitation of 5th Generation technology, especially through the entry to operational service of the Joint Strike Fighter (JSF).
However, as the FPR made clear, Defence is simply not innovative enough. The recommendations of too many past reviews were still- born. In an era of rapid technological developments, we cannot continue doing business the way we have been.
The most glaring deficiencies it identified were:
Reliance on arid compliance rather than prudent governance;
Organizational stove pipes;
A platform replacement rather than a 'system of systems' approach to joint force design procurement and sustainment
Plan Jericho is our institutional response to meet these challenges. We need to be more innovative and every element of the Plan is directed at making us so. I am committed to the implementation of Jericho, and will build on the work already done.
However, my own emphasis will be shaped both by who I am, and my own distinct perspectives and priorities as a leader. I believe that my approach is well suited to the next phase of our transformation journey.
At the handover of command parade, on 3 July, I made the comment that my office walls are adorned with more photos of people than of aircraft. I believe that says something important about me, and it will inform my priorities as Chief of Air Force.
Through sound force planning and sustained support from successive Australian Governments, we are in the process of modernizing our fleet. By 2025 the RAAF will be one of the most potent and balanced Air Forces in the world.
Jericho is designed to ensure that we achieve the synergies offered by that sophisticated array of platforms. But if we are to match the rhetoric about being a 'force by design' and a 'system of systems' then we really must be innovative and adaptive in key areas.
Firstly, we need to truly empower our work force. Real innovation depends on people. And I mean airmen and women – not just industry research and development partners and DSTO scientists. We must encourage 'bottom up' innovation.
To enable this we must become an employer of choice in a very tough employment market where it will be difficult to match the salaries and conditions available to the highly skilled people we will need.
That is especially so in the areas of space and cyber; where revolutionary change is occurring in cycles of months not years. And I intend to stand up a distinct squadron that supports the joint approach to cyber.
The model of life long employment with a single employer no longer holds sway. Yet much of our training, education and promotion systems still reflect that assumption. We must change.
We must engage people, especially those with vital skills, like cyber skills, where they are-not where we want them to be. We must understand the expectations and norms of a modern generation. Like me, many of you joined the Air Force young and you stayed.
I hope that many young Australians continue to do so. But we are going to need to be very innovative in devising conditions of employment to make better use of part time members and those working remotely.
Diversity and flexibility are not merely nice slogans designed to win Equity awards for the ADF. We must make them part of who we truly are. I am encouraged by the progress we have already made in implementing Plan Suakin, which offers some exciting options to enhance the integration and contribution of our reserve members. I intend to take up its recommendations. I also wish to push our New Horizons program harder and explain to Air Force how it enhances every element of our force. It is not about being politically correct. It is about being more effective in combat.
I believe that we also have much to learn from our international counterparts by exchanging personnel seamlessly between the Air Force and business and academic organizations. Our airmen and women can learn so much from our business partners who support our capability. I would like to see some of our best and brightest seconded to you and to effectively return to apply the knowledge and experience they acquire within Air Force.
We need each other to make this work. Defence needs unprecedented access to the deep research and development capacity of private industry. I am reminded daily that private industry has driven advancement in communication technology and big data management. It frustrates me that our war-fighters are not able to exploit this technology in their work environments to the same extent they do in their private lives. And it alarms me when I see that our adversaries are not similarly constrained.
Likewise, men and women from our industry partners can apply their skills inside Air Force and mentor and develop our people. We must make this easier and ultimately routine.
The same commitment to diversity, and flexibility must inform our approach to recruitment, retention and whole of working life learning and personal development. We are excellent at training aircrew and those who support them. But we must enhance the broader professional mastery of our people.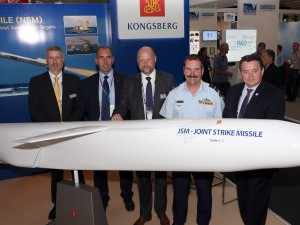 The world is increasingly complex and we must educate to understand the social and political context in which our technical skills are being applied. This is an area I feel passionately about.
The 5th Generation environment will be transformational. Some trade sets may vanish while others will emerge. Our people will need to be innovative to cope with this, but we must foster a learning environment in which they can do their current jobs as well as acquire new skills rapidly – not just via traditional courses.
Significantly, the context in which our airmen and women will be operating in future will be joint and as a coalition. Increasingly, we are integrated into space and cyber networks that no single power can develop and sustain. Even the USAF accepts that coalitions will be essential to its operations in the future. Again, flexible, adaptable people, who are comfortable in a diverse environment, will be critical to making coalitions work effectively.
My third priority is to ensure that everything Air Force does enhances the joint combat power of the ADF. The previous White Paper directed the ADF to be capable of joint operations within the context of a maritime strategy both to deter and defeat attacks against Australia, but also to secure our wider interests. I have no doubt the next White Paper will reaffirm that guidance.
The continuous operations, which all three services have undertaken since 1999, have improved our joint concepts and developed a generation of men and women who routinely expect to operate in a joint and coalition environment. But there is more to be done.
For Jericho to succeed- indeed for Jericho to be relevant- it must become inherently joint. We all know that there are stovepipes inside Air Force that must come down. But the same is true of the wider ADF.
I am encouraged by the collaboration of both the Army and Navy in the inaugural Jericho Dawn demonstrations. But to maximize the effects generated by our modern platforms and systems through their extraordinary array of sensors, we must keep our joint partners in the loop. If this means sometimes dialing it back to 300knots rather than 600 knots, so that we stay aligned with our partners, then so be it.
The Commander of Army's First Brigade aspires to a future where his soldiers are capable of "dialing a bomb"; that is nominate a target to a joint fires system that can take advantage of all capabilities in our arsenal to deliver the most efficient and effective target effect. It is a worthy goal and its achievable using today's technology.
However, this will require a change in mindset within both Army and Air Force. But to match our boast about becoming a 'system of systems', linking sensors and shooters, we will all have to work hard to break down cultural obstacles. The hardware is not the issue. Rather the generation of air, space and Cyber effects across the land and sea domains will depend on skilled people with an innovative mindset and the development of trust.
I will have more to say about these elements of my approach in the coming months. I hope events like this can create an ongoing dialogue with our industry partners as well. Thank you to the Williams Foundation for providing such an excellent vehicle for Air Force to engage our partners.
Editor's Note: This is the second of a series of interviews with senior officers in the RAAF which preceded and followed the Plan Jericho session held by The Williams Foundation and which will then be followed by an overview report on the Conference and the evolving RAAF approach to the transformation of jointness under the impact of evolving air-enabled operations.
It is about design driven concepts of operations which is at the heart of the Plan Jericho approach.
https://sldinfo.com/the-air-commander-australia-discusses-plan-jericho-and-the-way-ahead/
https://sldinfo.com/the-williams-foundation-the-raaf-and-shaping-a-way-ahead/