2016-01-19 By Robbin Laird, Ed Timperlake, and Murielle Delaporte
The U.S. Navy's Military Sealift Command operates the logistical foundation for the U.S. sea services and provides key support to allies as well.
The fleet is being modernized but is facing the challenge of supporting the evolving concepts of operations of the US fleet as it moves toward distributed operations worldwide.
Greater distances mean more distributed logistical support; put in simply terms, more ships operating over greater distances.
And ships will need the speed to keep pace with strike forces operating not only in a distributed manner but also able to move to be more survivable against adversaries seeking to contain the U.S. combat fleet.
Another shift in naval capabilities has enhanced demand as well for the tankers. The continuous operation of missile defense ships in the Mediterranean requires significant and continuous tanker support, two tankers to be exact.
Civil service mariners operate MSC's ships, and the overall decline of the US merchant marine and the imminent retirement of the post-war generation of civil service mariners poses a significant challenge as well.
The tanker is a key element of the fleet; with MSC operating largely single-hull tankers in a fleet of 15 tankers.
Single-hull tankers pose a challenge because, for environmental reasons, ports worldwide only want to host double-hull tankers.
According to the 2014 annual report for Military Sealift Command:
In FY 2014, MSC operated 15 fleet replenishment oilers. Seven Atlantic Ocean-based ships conducted operations in support of Commander, Task Force 20 , U.S. 4th Fleet, and in the Mediterranean Sea and Arabian Gulf. Eight Pacific Ocean-based ships supported surface units throughout the U.S. 3rd, 5th and 7th fleets and participated in several large naval exercises. 
MSC fleet replenishment oilers provided a variety of fuels for ship propulsion, aircraft operations and power generation. Three of the newest fleet oilers are retrofitted with double hulls designed to meet Oil Protection Act of 1990 requirements: USNS Patuxent, USNS Laramie and USNS Rappahannock.
And the following graphic shows the disposition and volume of fuel delivered by the MSC fleet in 2014:
During a recent visit to Norfolk, Virginia to Military Sealift Command, we had a chance to visit the fleet replenishment oiler USNS Kanawha (T-AO 196) and talk with its skipper, a veteran of the sea and of many operations.
Master Mariner Jim Dolan has been in the service for 35 years with MSC by May 2016, the last 15 aboard tankers and notes that after retirement he will probably move to the mountains!
He has been a Master Mariner for around 25 years.
Question: How would you describe the evolving challenge for the tankers?
Dolan: The operational capabilities of the ship are stretched because there are only 15 oilers and we are spread out operating in the different AORs.
It's a challenge to meet all the commitments.
And we are adding new hulls such as the Joint High Speed Vessel, which require different procedures from standard USN hulls. There is a learning curve with regard to this ship and some the other new hulls. These ships require specialized training by the crews to operate and to in turn be replenished.
Question: What is the basic capability for your ship to tank?
Dolan: We can tank around 180,000 barrels of oil; and the double-hull ships around 30,000 less.
Question: It is not often realized outside of the Navy that the capital ships are looking to not go below 50% fuel. Can you talk about that?
Dolan: You are right. When the captains reach around 50% they are looking for the closest tanker. This is a challenge with the dispersed fleet staying on station but spread out.
Master Mariner Jim Dolan
Question: You just came back from the Mediterranean? 
Dolan: We did.
We were the duty ship from August until recently.
From August until the beginning of December, we didn't have more in a couple days in port other than on the weekends to go in and load, resupply and go back out.
Question: What seas have you operated in during your time at MSC?
Dolan: Pretty much all of them. I operated in the Arctic with the salvage ships and a tanker many other places. When we did the counter-piracy work involving Somalia we were running from Djibouti down to Mogadishu.
Question: How important are the NATO standards and facilities to your missions?
Dolan: They are important.
During the past decade, we're always going into a NATO fuel terminal.
We do quite a bit of ­with the NATO.
We'd go to an exercise called Joint Warrior.
There are two of them every year up in Scotland and all the different NATO countries can interface together as a cohesive battle group.
Recently, we supported Canadian ships who no longer have a tanker to support the Canadian fleet.
Question: How do you do the resupply? 
Dolan: If it is several ships, say 8-9, we do them in order over a 100-mile stretch of sea.
We do them one after the other.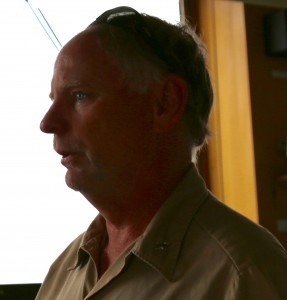 Question: MSC is operated by commercial mariners; are you seeing problems with regard to the supply side in terms of the pool of qualified mariners? 
Dolan: We are.
As the American commercial fleet declines, there's going to be a shortage in the pool of skilled mariners.
No doubt about it.
And we're starting to see that in MSC.
And my peer group, of 35 years of experience, is retiring, so you will see new Captains onboard the fleet.
Good captains but without our experience.
You can not put a price on experience.
Comment: There is a lot more focus of attention on what the sea services can do at the point of attack, than how they get there or how they are sustained. It is a challenge to get funding support to the logistics side of the business.
Dolan: Logistics is not a romantic item for navy planners.
And when it comes time to actually fund replacement logistics ships, the price of building these ships has gone up as well.
As the SLD team finished its day with MSC, it is clear that the shift to greater reliance on distributed operations and lethality provided by a widely distributed fleet will drive up demand on an already stretched MSC fleet.
And there is a clear need to fund fully the new class of Supply-class fast combat support ships.
The new T-AOE class has the speed to keep up with the carrier strike groups. She rapidly replenishes Naval task forces. She receives petroleum products, ammunition and stores from shuttle ships and redistributes these items simultaneously to carrier strike group ships.
This reduces the vulnerability of serviced ships by reducing alongside time.
There really is no alternative but to fund the logistics fleet more substantially, and to aid the civilian marine industry to generate the requisite pool of civilian mariner talent.
Without the logistics base necessary for globally distributed operations, it will be necessary simply to cut back the tasks and operational reach of the sea services.
The expenditure on the land wars has clearly challenged the future of the sea services, notably with regard to its logistical support structure.
Editors note: Unlike civilian "Super Tankers" that go 16 knots, Navy tankers can make 20 kts to more quickly service a wildly distributed fleet.
This enables global reach in an extended ocean battlespace. 
The following story also highlights the various roles of a tanker on station.
U.S. 5th Fleet Public Affairs 
MANAMA, Bahrain – French Ship Dupleix (D 641) and USNS Kanawha (T AO 196) responded to a distress call from a North Korean-flagged merchant vessel at approximately 6:26 pm local time in the Arabian Sea June 25. 
The vessel reported that it was anchored with a weak mooring line, disabled diesel engine, no food or water, and was in danger of sinking. The sea conditions were unstable, with waves eight to 12 feet high.  
Unable to locate nearby assistance, Combined Task Force (CTF) 150 directed a rendezvous with the distressed vessel to take its crew of 13 Indians, two Burmese and one Sri Lankan on board.  
The vessel reported it was unable to evacuate its crew with its own lifeboats, prompting Dupleix and Kanawha to use their rigid hull inflatable boats (RHIB).  
At approximately 9:35 pm, Dupleix and Kanawha launched RHIBs and evacuated all 16 crew members safely. The crew members were transferred to authorities in Salalah, Oman. 
"Considering the weather conditions in the area, Kanawha and Dupleix undertook a tough nighttime rescue operation, which tested the limits of the RHIB," said Rene-Jean Crignola, Dupleix commanding officer. "The prompt assistance of Kanawha successfully allowed us to expedite the rescue and get all crew members transferred safely within 50 minutes." 
CTF 150, commanded by French Rear Adm. Alain Hinden, is responsible for maritime operations in the Gulf of Oman, Gulf of Aden, the Red Sea, the North Arabian Sea and parts of the Indian Ocean.  
And in a recent exercise in the Pacific, a commercial tanker refueled an MSC tanker. 
In an article published October 28, 2015, the event was described.
In a rare occurrence, a Maersk tanker refueled a Military Sealift Command oiler while at sea during an exercise in international waters off the coast of Japan earlier this month, the U.S. Navy said Wednesday. 
The exercise marks just the second time in the last 15 years that a U.S. Navy tanker conducted fueling operations with a commercial vessel at sea. 
The operation, part of a four-day training event, took place off Sasebo, Japan on October 22nd and involved the USNS Tippecanoe (T-AOP-99) and the U.S.-flagged tanker Maersk Peary, which has been contracted to MSC. 
"Typically MSC oilers like Tippecanoe are required to dock pier-side at one of the Navy's Defense Fuel Support Points," said Navy Captain Philippe Grandjean, assistant chief of staff for logistics for the COMLOG WESTPAC. "The capability exercised during this training evolution pushes the Navy's ability to refuel at-sea via commercial tankers and furthers the vision of a distributed, agile logistics concept." 
The Navy explains that under certain circumstances, it wants to ensure that it has the flexibility to provide the best assets as possible – even if that means turning to commercial sector for fuel. After all the U.S. 7th fleet, which operates in the Indo-Asia-Pacific region, covers an area of 48 million square miles – that's almost 13 times the size of the continental United States. 
"Our replenishment oiler crews must be proficient in receiving fuel from commercial tankers in case, for some reason – a natural disaster for example – a vital asset cannot make it into port to refuel," explained Cmdr. Michael Wilson, deputy assistant chief of staff for logistics for COMLOG WESTPAC. "These operations provide MSC with flexibility in providing operational support to the 7th Fleet in any situation." 
Maersk Peary is under a long-term charter to MSC and is one of four MSC charters that have been specially outfitted to conduct consolidated cargo capability operations, including refueling, with fleet replenishment oilers.
Capt. Wilson added the end goal is to see this sort of training taking place throughout the fleet and on as many tankers as possible.
http://gcaptain.com/2015/10/28/maersk-tanker-conducts-rare-refueling-of-u-s-navy-ship-at-sea/#.Voj46JMrKgQ
The process of replacing single hull with double hull tankers was begun in 2010 and the first ships of the new class are described in an article published in November 2010.
Military Sealift Command is reconfiguring the fleet of tankers it operates to meet fuel requirements in support of U.S. forces worldwide. This seagoing force of government-owned and U.S.-flagged chartered ships acquired a new chartered ship, MT Empire State, Oct. 7, after two government-owned ships completed their service to the command Oct. 1. 
The newly built, U.S.-flagged Empire State is under charter to MSC for up to five years and will operate worldwide carrying refined petroleum products for DOD, primarily between commercial refineries and DOD storage and distribution facilities. Empire State is owned and operated by a private shipping company under contract to MSC.
Built at General Dynamics, NASSCO, in San Diego, the double-hulled Empire State is 600 feet long and has a cargo-carrying capacity of approximately 331,000 barrels. The ship's construction was completed in July 2010, at which time Empire State went to work for MSC under a short-term contract. 
A second State-class tanker is under construction at NASSCO and is expected to come under charter to MSC in early 2011. 
Two of MSC's four government-owned tankers transferred out of service Oct. 1. USNS Paul Buck and USNS Samuel L. Cobb began their service to MSC in the mid-1980s, along with three other new-construction T-5 tankers that came under long-term charter to the command in 1985 and 1986. In 2003, MSC purchased four of those ships – Buck, Cobb, USNS Lawrence H. Gianella and USNS Richard G. Matthiesen. Since then, these ships have served as the core of MSC's tanker fleet along with an MSC-chartered shallow-draft tanker. 
"Our T-5 tankers have served us well for the past 25 years, and as they approach the end of their service lives, the State-class ships will allow us to continue to fulfill our requirements to transport fuel for the Defense Logistics Agency – Energy," said John Joerger, MSC's tanker project officer. DLA Energy procures and manages fuel for all of DOD. 
Upon deactivation from MSC service, Cobb and Buck transferred to the Maritime Administration's National Defense Reserve Fleet, which comprises about 30 dry cargo ships and tankers kept in reserve for possible activation and use in support of national defense and national emergencies. 
Gianella transferred to MSC's Maritime Prepositioning Force in 2009, and Matthiesen will remain in service to MSC until early 2011, when the ship will join Cobb and Buck in the NDRF. 
In fiscal year 2010, MSC carried 1.5 billion gallons of petroleum products in support of DOD operations worldwide, including delivering fuel to combat forces operating in Iraq to replenishing McMurdo Station, Antarctica, and Thule Air Force Base in Pituffik, Greenland.
http://www.msc.navy.mil/sealift/2010/November/tankers.htm
The first slideshow consists of photos shot during the day of the visit and are credited to Second Line of Defense.
The second slideshow provides photos of the USNS Kanawha on deployment.
In the first photo, USNS Kanawha extends fuel lines to USS Kearsarge during a replenishment at sea. Kearsarge is the command ship of Kearsarge Amphibious Ready Group, supporting maritime security operations and theater security cooperation efforts in the U.S. 6th Fleet area of responsibility.
In the second photo, USS Kearsarge, left, and USS Ponce, right, are alongside USNS Kanawha during a replenishment at sea. Kearsarge is the command ship of Kearsarge Amphibious Ready Group, supporting maritime security operations and theater security cooperation efforts in the U.S. 6th Fleet area of responsibility.
In the third photo, U.S. sailors aboard the aircraft carrier USS Harry S. Truman (CVN 75) man a fueling station during a replenishment at sea with the fleet replenishment oiler USNS Kanawha (T-AO 196), not pictured, in the Atlantic Ocean on Jan. 26, 2013. The Harry S. Truman was underway in the U.S. 2nd Fleet area of responsibility participating in a composite training unit exercise in preparation for a scheduled deployment.
In the fourth photo, the aircraft carrier USS Dwight D. Eisenhower (CVN 69) approaches Military Sealift Command fleet replenishment oiler USNS Kanawha (T-AO 196) in preparation for a replenishment at sea. Dwight D. Eisenhower is deployed to the U.S. 5th Fleet area of responsibility conducting maritime security operations, theater security cooperation efforts and support missions as part of Operation Enduring Freedom.
In the fifth photo, a U.S. Navy SH-60F Seahawk helicopter assigned to Helicopter Anti-Submarine Squadron (HS) 11 retrieves cargo from the fleet replenishment oiler USNS Kanawha (T-AO 196) during a replenishment at sea with the aircraft carrier USS Theodore Roosevelt (CVN 71), not pictured, in the Atlantic Ocean Jan. 30, 2014.
In the sixth photo, fleet replenishment oiler USNS Kanawha (T-AO 196) steams in the Atlantic Ocean during rough seas as the multipurpose amphibious assault ship USS Bataan (LHD 5) prepares to pull along side to conduct a replenishment-at-sea Feb. 11. The Bataan Amphibious Readiness Group is deployed supporting maritime security operations, providing crisis response capability, increasing theater security cooperation and a forward naval presence in the U.S. Navy's 5th and 6th Fleet Area of Responsibility.
In the seventh photo, as the guided missile destroyer USS Cole (DDG-67) refuels with the underway replenishment ship USNS Kanawha (T-AO-196) on its starboard side, the guided missile destroyer USS Mahan (DDG-72) refuels with the Kanawha on its port side in the Atlantic Ocean, Feb. 17, 2014. The bridge watch standers, refueling team, and the line handlers are ready to commence their refueling.
In the final photo, (July 19, 2012) The fleet replenishment oiler USNS Kanawha (T-AO 196) transfers fuel to the amphibious assault ship USS Kearsarge (LHD 3) during a replenishment-at-sea (RAS).
Credit Photos: US Navy
The third slideshow shows the USS Ross being refueled at sea by the USNS Leroy GrummanSailors aboard USS Ross (DDG 71) conduct a replenishment at sea with the Military Sealift Command fleet replenishment oiler USNS Leroy Grumman (T-AO 195) in the Mediterranean Sea Jan. 5, 2016.
Ross, an Arleigh Burke-class guided-missile destroyer, forward deployed to Rota, Spain, is conducting a routine patrol in the U.S. 6th Fleet area of operations in support of U.S. national security interests in Europe..
This is the second of three pieces on the Military Sealift Command based on our visit to Norfolk on December 14, 2015.
A Very Capable Multi-Mission Support Ship in the MSC Fleet: Demand Drives Operational Diversity for the T-AKE Ship
01/19/2016 – The USNS William McLean is one of the 14 T-AKE supply ships operating in the Military Sealift Command.
Given the shortage of ships for the USCG and the US Navy, the ship has been tasked to do a diversity of missions far beyond simple fleet replenishment.
As both Captain Phillips and the crew of a sinking sailboat off of the East Coast of the United States were to discover. …
https://sldinfo.com/a-very-capable-multi-mission-support-ship-in-the-msc-fleet-demand-drives-operational-diversity-for-the-t-ake-ship/