2016-08-02 By Robbin Laird and Ed Timperlake
General "Hawk" Carlisle has been at the center of operations as well as the airpower transition for some time. As the PACAF commander, he helped shaped the evolution of what is becoming an offensive-defensive enterprise in which combat air and missile defense systems will become more tightly integrated.
As the ACC Commander, he has overseen global combat operations for the US Air Force, and has seen the acceleration of an airpower transition. During his watch, several new combat assets have come to play in Middle East operations, namely the more visible and central role of the F-22, the new variant of the Typhoon (which the RAF calls, the Operation Shader variant of the aircraft and is being optimized for the delivery of  ground support weapons) and the Aussies have brought their Wedgetail and KC-30A tanker as well.
At the RIAT airshow, Carlisle discussed the coming of the F-35 to the force as the aircraft was omnipresent at RIAT and Farnbourgh.
He told reporters that F-35A IOC was on track for this year and he anticipated that the F-35 would see combat within the next 24 months.
Indeed, operational F-35Bs are now participating in Red Flag 16-3.
This is a US-only Red Flag and is testing the kind of multi-domain operational capabilities being deployed now and augmented with the airpower transition.
For the ACC Commander, the future is now but at the same time, he needs to weave new assets into an ongoing transformation process.
Question: A number of new aircraft have entered the fight in the Middle East and the F-22 has taken a prominent multi-tasking role, how would you assess the performance and change?
General Carlisle: Each of the new assets – the F-22, the Typhoon, the Wedgetail and the KC-30A – have performed well. They have proven once again that if you get new assets into the hands of the young men and women in the force that amazing things can happen.
The platforms have been pushed to a level that we could not guess at prior to real world operations.
Their performance and that of the entire force is highlighting the need for more effective combat multi-domain integration.
That is a key work in progress and these new platforms are driving us further down the road to achieve it.
We'll make even more progress when we get to the link architecture and the translators that allow us to truly achieve fifth to fourth and fourth to fifth integration and to take national technical means and bring that into the fight as well.
What we're not doing is bringing these disparate parts up together in a collaborative, honeycombed environment at the level that we really can. We're not off-boarding everything from the F-22 and F-35 that we should. There's a wealth of information on those platforms that never gets taken advantage of. However, we are working to ensure that we position ourselves to do so.
Question: You have Nellis in your command; how is Nellis working with the Marines and the Navy to shape innovation?
General Carlisle: The F-35 as a common platform among the air services is a key element in our transformation. Nellis and MAWTS have taken Air Force and Marine Corps integration to a whole new level of collaboration, integration and understanding as we work together on the F-35.
We're doing the same thing with the Navy and Admiral Manazir and I have had discussions about greater collaboration and integration many times.
When you consider that in the international context, flying the same aircraft is taking us to a new level of collaborative engagement.
And assuming the Canadians buy F-35, we will see even closer integration among the five eye nations. We will shape a level of synergy among those air forces that exceeds anything we have done before.
Question: The airpower transition we are talking about really is about multi-domain evolution. Could you talk to that opportunity and challenge?
General Carlisle: At the Weapons School at Nellis we are now completely focused on multi-domain integration as a warfighting skill. The weapons school is a crucial incubator for practical changes and feedback about ways we can enhance greater collaboration and integration across the warfighting domains.
We are clearly working hard on integration of missile defense with our strike assets as well.
For example, we have made significant steps in the Pacific where we can better integrate area defense for the carrier strike groups and defend our airbases as well.
At the same time, we are still at a negative price point in terms of our ability to launch interceptors against incoming missiles. But of course, we are not just going to sit there and take incoming missiles.
In that sense, we are combing offense with defense to protect our forces and our interests.
We are clearly working on getting low-cost, high-magazine, high-accuracy defensive systems such as those associated with the rail gun or lasers.
Directed energy weapons are clearly part of the transition.
We will be putting one on an F-15 for test purposes before long. The first thing we are going to do with it is defensive, in particular against a SAM.
We know how to do hit-to-kill and our sensor and C2 packages are getting better.
We just need to enhance the technology, which provides us with the low-cost, high-magazine and high-accuracy systems to go along with the sensor grid.
Question: You are describing the kill web.
And as the air combat assets get better at off-boarding information and cross-supporting the strike and defense functions, the air combat force will get better.
We asked you about the F-22 as an air battle manager at the Trilateral Exercise. Could we revisit that dynamic?
General Carlisle: With regard to the F-22, the first strikes were in September 2014. We have done upgrades as well which allows us to fire SDBs at a greater level of accuracy. We are also using the sensor fusion on board the aircraft to pass information to the rest of the force, which is bringing their game up as well.
The F-22 functions in this sense as a battle manager because the pilot has the SA inside his cockpit to direct other aircraft on what they do and how they can do it more effectively.
We are better at this now than we were even a year ago.
You create a problem for an adversary when you have multiple places from which you can strike.
You have the SA and the information shared among all three platforms in the case of the trilateral exercise.
You couldn't defend against all of them.
Question: It is clear that we need a weapons revolution to catch up with the new air platforms and the reconfiguration of the legacy platforms. What is your sense of this challenge?
General Carlisle: There is a clear need for new weapons. We need range; we need magazine depth; we need broad spectrum capabilities.
We need to be able to do a central sweep that can cover the spectrum that's not defined by medium range, or medium wave IR, or X Band, but rather can cover the IR spectrum potentially in the EOIR, and potentially the RF spectrum as well.
Besides the networking and the architecture that we haven't shaped to the level that we want to, the next thing is we have great fifth generation capability with fourth gen weapons, and that doesn't make sense.
I don't need a new point-and-shoot weapon.
I just want a look and shoot, and I want unlimited magazine depth.
I want scalable effects so that based on what the environment is I can change the weapon's effect to protect friendlies.
Obviously, in the air-to-air mode, I need broad spectrum weapons.
I need range; I need numbers.
Editor's Note: The following article by Tech. Sgt. Julius Delos Reyes from the 50th Space Wing Public Affairs published on July 13, 2016, describes Red Flag 16-3:
The Air Force kicked off a three-week long Red Flag 16-3 exercise on July 11, 2016 at Nellis Air Force Base, Nevada.  Red Flag 16-3 is a US-only exercise that will test all participating units' combat capabilities in a joint environment that centers on multi-domain integration.  
Red Flag is the service's premier air-to-air combat training exercise and one of a series of advanced training programs that is administered by the U.S. Air Force Warfare Center and executed through the 414th Combat Training Squadron.
Previous Red Flag exercises have provided experiences to master the air domain, but todays' flags must incorporate all domains.
"We fly, fight and win in air, space and cyberspace.  This is the exercise where we'll put this to the test," said Col. DeAnna Burt, Red Flag 16-3 Air Expeditionary Wing commander.  
Burt is the first space domain leader to ever command an AEW at a Red Flag exercise, a position that has traditionally been staffed by aviators.  She will lead the joint operation into accomplishing its main objective of, "establishing habits of achieving multi-domain combat success today to enable the rapid defeat of America's adversaries tomorrow."
As an AEW commander, Burt will be focused on multi-domain execution and will be engaging participants to determine how they plan to utilize the capabilities of all domains to supplement a tactical mission.
"We want to force people out of their comfort zone.  We'll be pushing them to talk about kinetic and non-kinetic effects and how when they are synchronized achieve tactical success," the colonel explained.
Historically, the exercise's third iteration of the year is a US-only operation.  
This year, 115 aircraft from 25 Department of Defense units will be operating at the Nevada Test and Training Range (NTTR), the Air Force's premier military training area with more than 15,000 square miles of airspace and 2.9 million acres of land. And for the first time, an F-35 is participating in the exercise. The aircraft is from the 3rd Marine Aircraft Wing, Marine Fighter Attack Squadron 121, based at Marine Corps Air Station Yuma, Arizona.
Red Flag 16-3 participants are faced with 1,900 possible targets, realistic threat systems and an opposing enemy force that cannot be replicated anywhere else in the world.  Nellis AFB and the NTTR are the home of a simulated battlefield, providing combat air forces the ability to train to fight together in a peacetime environment, and to survive and win together.
http://www.schriever.af.mil/News/Article-Display/Article/835752/air-force-kicks-off-red-flag-16-3
And the F-35 detail was added by Airman 1st Class Kevin Tanenbaum, 99th Air Base Wing Public Affairs, in an article published on July 19, 2016:
For the first time, the United States Marine Corps will be participating with their F-35B during the three-week Red Flag 16-3 exercise at Nellis Air Force Base, Nevada.
With the Marine Corps bringing this multi-role, next generation fighter, this year's third iteration of Red Flag marks a historic moment in the Air Force's premier air combat training exercise.
Working with multiple branches, the F-35B, assigned to the Marine Fighter Attack Squadron 121, which is part of 3rd Marine Aircraft Wing and based out of Marine Corps Air Station Yuma, Arizona, will be an intricate part of the demanding exercise that provides aircrews with multiple and intense air combat sorties in a controlled training environment.
"Red Flag is a military integration, getting to work hand-in-hand with the Air Force, Navy, and Army that are all out here," said U.S. Marine Corps Sgt. Jason Gilbert, VMFA-121 mechanic. "Just bringing all of the U.S.'s combat air forces together to show we are one team, one fight. We can get this done."
Since the F-35 program is operational and rapidly accelerating the opportunity to work in a joint environment is a valuable aspect of this Red Flag for the Marines, as well as their only opportunity before being based at Marine Corps Air Station in Iwakuni, Japan.
"For us this is our one opportunity to integrate in multi-service before being based in January of 2017," said U.S Marine Corps Maj. Brendan Walsh, VMFA-121 operations officer. "Red Flag also provides us the opportunity to integrate and train in a multi-service, contested environment."
The training provided during Red Flag has been a smooth endeavor with the Marine pilots and maintainers eager to take full advantage of the opportunity.
"I think it's a very fortunate opportunity for the Marine Corps to be a big player in this Red Flag with the F-35s," said Gilbert. "It gives our pilots the opportunity to show the F-35 is the best jet out here. The Air Force works a lot like the Marine Corps, so participating in Red Flag has been pretty smooth."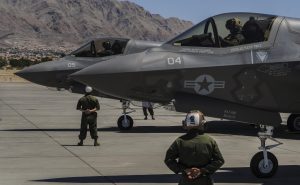 With this participation in Red Flag it is an opportunity for the Marines to showcase the differences of the F-35B from legacy Air Force tactical fighter fleets with its air-to-air and air-to-ground capabilities.
"The difference between the Marine F-35 and the Air Force F-35 is that the Air Force version does conventional takeoffs and landings whereas the Marine Corp F-35 has the ability to do a short take off and a vertical landing," said Gilbert.
This capability of being able to land vertically grants the Marine fighters unique abilities that the other models of the F-35 don't have.
"The vertical landing and takeoff not only give the opportunity to base ourselves on amphibious ships, but also expediting sites that we can construct and conventional aircraft cannot use," said Walsh.
With the F-35 becoming a linchpin for future coalition operations, the chance to bring the air frame to Red Flag and participate in a multiservice exercise has proven to be a valuable one for the Marine fighter unit.
"This Red Flag has been a huge success for our Marines," said Walsh. "We look forward to the upcoming weeks and showcasing the capabilities of our airframe."
http://www.tyndall.af.mil/News/tabid/6600/Article/851098/first-ever-marine-f-35b-takes-part-in-red-flag-16-3.aspx
The slideshow above show photos of F-35s, F-22s, and Typhoons shot by Royal Australian Air Force personnel at the RIAT 2016 show and are credited to the Australian Ministry of Defence.
For the Breaking Defense version of this interview, see the following: