2016-10-29 According to an article published recently by our partner defenceWeb, "The Nigerian Air Force is looking at procuring the C295W light transport aircraft from Airbus Defence and Space, with a delegation from Europe visiting Nigeria.
The delegation comprising two Airbus executives and the Spanish Ambassador to Nigeria, Alfonso Barnuevo Sebastian De Erice, visited the Nigerian Air Force's Headquarters in Abuja on 25 October where it met Chief of the Air Staff, Air Marshal Sadique Abubakar.
Nigerian media report that Airbus made a proposal on the sale of the aircraft to Nigeria in January this year, which indicated interest in the purchase. The Nigerian Air Force has made provision to fund the purchase in the 2017 budget proposal.
Abubakar this week asked Airbus Defence and Space to look at options to train Nigerian pilots and support personnel on the aircraft should the purchase be approved by the Federal Government.
The Nigerian Air Force said it is looking to acquire the C295W in a multi-role configuration, which would likely be for intelligence, surveillance and reconnaissance (ISR) and cargo missions.
It is not yet clear how many aircraft Nigeria is interested in purchasing.
Before the Airbus visit, on 20 October, French Ambassador to Nigeria, Denys Gauer, said the Airbus Group will open an operational office in Nigeria. This will mainly be focussed on commercial aviation.
Elsewhere on the continent, Mali is due to take delivery of a single C295W any day now, after ordering the aircraft in February this year.
The winglet-equipped C295W is now the standard production version. It was unveiled in 2013 with the aim of improving performance and fuel economy, especially in hot and high conditions.
The winglets improve cruise and fuel consumption through a reduction in drag and increase in lift – the C295W features a 200 mile range increase over the baseline model as a result of changes, or a 30-60 minute increase in endurance. Meanwhile, updated Pratt & Whitney PW127 engines add power in climb and cruise, improving all round performance.
Regarding Africa, at the moment Algeria has six C295s in service, Egypt has ordered 24 and Ghana has three.
Airbus sees Africa as a key market for the C295 and helped bring a Portuguese Air Force C295 to the Africa Aerospace and Defence exhibition outside Pretoria in September, in maritime surveillance/patrol configuration."
http://www.defenceweb.co.za/index.php?option=com_content&view=article&id=45724:nigerian-air-force-interested-in-purchasing-c295w&catid=35:Aerospace&Itemid=107
Editor's Note: The upgrades associated with the C-295 W version were highlighted in the Airbus Military Trade Media Briefing 2013.
According to Airbus Military at the Trade Media Brief 2013:
Featuring winglets and uprated engines as standard, the new model will provide operators with enhanced performance in all flight phases but is particularly aimed at those operating at "hot and high" airfields where payload increases in excess of 1,000kg are promised. 
In intelligence, surveillance and reconnaissance (ISR) roles such as airborne early warning (AEW) the enhancements will increase endurance by 30-60min and permit an operating altitude up to 2,000ft higher than now. 
The new features will also provide an overall reduction in fuel consumption of around 4% depending on configuration and conditions.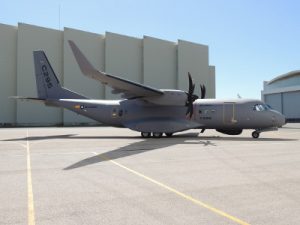 The C295W, assembled in Seville, Spain, is being offered to the market from now on and will be the standard version of the aircraft in all versions from the fourth quarter of 2014. Certification is expected in 2Q14. 
Airbus Military is committing to the C295W following flight-trials with winglets fitted to its company development aircraft which showed positive results for a weight penalty of only around 90kg. 
The engines are the Pratt & Whitney Canada PW127 turboprops which power all versions of the C295. New procedures recently certified by Canada and Spain permit operation in the climb and cruise phases at higher power settings at the discretion of the operator. As well as improved hot and high performance, the procedure improves operation over very high terrain such as the Andes or Himalaya mountains with only a minor influence on maintenance cost.
Gulshan Luthra of India Strategic highlighted the importance of the C-295W for a market such as that of India.
Airbus Military has launched an uprated C295W medium transport aircraft with winglets and more powerful engines with an eye on the Indian military and civil aviation market.
In official briefings at the recent launch ceremony here, company officials mentioned India more that a dozen times in view of the impending replacement of 56 HS-748 transporters of the Indian Air Force (IAF) while Airbus Military Chairman and CEO Domingo Urena-Raso told India Strategic (www.indiastrategic.in) that he expected the number of selected aircraft in this category to be more than 100.
According to India Strategic's own estimates though, the figure could touch or exceed 200, keeping in mind the growing requirements of the armed forces, paramilitary organizations like the Border Security Force (BSF) and Central Reserve Police Force (CRPF), civil operations in India's mountainous Himalayan states and even the secretive Aviation Research Centre (ARC) of India's external intelligence agency, Research and Analysis Wing (RAW).
For the rest of the article please go to:
http://www.indiastrategic.in/topstories2029_Airbus_Military_improved_C295W_India.htm
And at this year's Trade Media Brief, Fernando Ciria, Head of Marketing, Tactical Airlifters and ISR at Airbus Defence and Space (ADS), told journalists in Germany at the Trade Media Brief 2016 that Africa is a very promising region with many orders to come in the next few years.
According to Stephan Miegel, Head of Military Aircraft Services at Airbus Defence and Space, there are 148 C295s and 236 CN235s flying around the world today (168 C295s have been ordered) and these have accumulated 250 000 and 1.35 million flight hours respectively.
In Africa, there are 18 C212s, ten CN235s and 29 C295s in active service, primarily with air forces, although Republic of Congo's Aero Service flies two C212s and South Africa's Fortune Air flies a single CN235.
Most of these are built by Airbus but Burkina Faso and Senegal have aircraft produced by Indonesia's PTDI.
Ciria said Africa has many fleets of transport aircraft made up of old types such as An-26s, Turbo Dakotas, Buffalos etc., meaning that these old fleets will have to be replaced, ideally by the C295, and augmented by intelligence, surveillance and reconnaissance (ISR) platforms.
Airbus also highlighted C295/CN235 use by non-African operators on the continent.
For instance, the Spanish Air Force has used the C295 for humanitarian assistance missions in Africa as it is cheaper to fly than the C-130, while its CN235 MPAs are used to patrol for pirates, gather intelligence on land and sea and monitor sea lanes around Somalia and the Gulf of Aden as part of Spain's contribution to the European Union's anti-piracy Operation Atalanta.
The Spanish Air Force also flies P-3 Orions for Atalanta, based in Djibouti. Airbus said the Spanish CN235s have flown over 1 525 flight hours and 179 missions as part of Atalanta, which also sees the aircraft fly off the Kenyan and Seychelles coasts.
Although piracy is being contained off the Horn of Africa due largely to greater stability on land and multinational sea and air patrols, Ciria noted that there is a shortfall of maritime patrol capability in the Gulf of Guinea, where pirates and militant groups are hijacking tankers for their contents, destroying oil and gas facilities and kidnapping crew for ransom.
Ciria said only Nigeria, with its maritime patrol configured ATR aircraft, is able to patrol its maritime zone from the air and there is need for an aircraft like the C295 MPA in the region, not just to monitor for pirates but also to conduct environmental protection, fisheries protection, search and rescue and medical evacuation missions.
Other applications in Africa include border surveillance and maritime surveillance in the Mediterranean, where illegal migration and drug smuggling are major problems. Ciria said maritime patrol aircraft need to be active in North African countries where most trafficking vessels launch from.
Airbus is also promoting a C295 special mission aircraft for border surveillance, especially to monitor the illegal movement of people, drugs, weapons and terrorists.
For such a role, the C295 can be fitted with a synthetic aperture radar, ground moving target indicator (GMTI), video camera, infrared camera and communications and electronic intelligence systems.
Ciria said that Airbus is involved in a lot of commercial campaigns in Africa and sees a lot of opportunities in the coming years, especially as there are a number of countries that are replacing obsolete fleets.
 https://sldinfo.com/the-c-295-and-africa/