2017-01-08 By Robbin Laird
Norway stands at an interesting global and historical point in the evolution of Western defense.
It faces directly resurgent Russia and faces the challenge with its Nordic partners of Baltic defense as well.
Then with the Arctic opening and the High North actually part of Norwegian territory Arctic security and defense are not an abstract intellectual issue for a Washington seminar, but an integral part of the shaping an effective way ahead.
In effect Norway is enhancing its core defense capabilities for national and coalition purposes.
It is part of what we have referred to as a deterrence in depth strategy whereby national components can operate as tip of the spear or support elements to core coalition partners crucial to Norwegian defense and strategic interests.
Notably, air and naval power modernization is a key part of the Norwegian effort as well as shaping the kind of ground maneuver defense capability appropriate to its territory and Arctic operations.
The Norwegian effort gains greater significance not simply from the resurgence of Russia but political developments in Europe itself, namely Brexit and its follow on consequences. It is clear that a post-Brexit defense policy highlights the importance to Britain of a North Sea and Baltic defense strategy and with that its relationships with the Nordic states.
New platforms have been or are coming into the Norwegian Armed Forces which support the evolution of a deterrence in depth strategy.
The acquisition of Aegis class ships has been an important baseline to shape a way ahead with air and potentially missile defense for the country and a major contributor to the regional capabilities for deterrence in depth.
In an article by Edward H. Lundquist published on March 25, 2015, the key role of the Aegis ships was highlighted within Norwegian defense.
Norway's five Fridtjof Nansen Aegis-guided missile frigates were built for escort operations in the North Atlantic and defending Norway's long, rugged coastline, but have found themselves working in warmer waters.
Norway has participated in coalition operations, including NATO's Operation Active Endeavour in the Mediterranean and the Combined Maritime Forces in the Middle East. Most recently, the lead ship in the class, HNoMS Fridtjof Nansen, participated in the Rim of the Pacific (RIMPAC) multinational exercise in waters off Hawaii and the U.S. West Coast.
Commander (SG) Odd Erling Furu, commanding officer of the Nansen, says coalition operations requires a high degree of interoperability, with similar systems and common communications and data links, such as LINK 11 and 16. "The Nansen-class is highly interoperable with the U.S. Navy. We have the Aegis systems capable of a tight integration with other Aegis ships. We hold the relevant SATCOM-facilities supporting command and control such as CENTRIX, chat, mail, VTC and other systems as required."
Beyond systems, Furu says there are the usual differences in procedures, ways and means to exercise command and control, and human beings with different cultures, but that his ship and crew is able to work effectively with the USN in both low intensity and high intensity warfighting. "To achieve the necessary interoperability, in practical terms, it's necessary to train regularly with the USN. The Nansen-class has conducted several exercises with carrier strike groups, and we recently participated in RIMPAC – which is quite a long trip from Norway – more than 10,000 nm."
"These exercises are important to ensure that we are ready to operate in a coalition, and equipped and trained to cooperate with our most important ally, the United States of America," Furu says. "The Nansen class is, from my point of view, an attractive partner and [able] to really integrate and contribute in a U.S.-led coalition."
 http://www.defensemedianetwork.com/stories/hnoms-fridtjof-nansen-built-to-defend-norways-rugged-coastline/''
We have argued for some time that the Aegis ships are highly complimentary to the F-35 and have argued respectively that the F-35 can contribute to the "long reach of Aegis, or Aegis could function as the wingman of the F-35.
http://www.usni.org/magazines/proceedings/2012-01/long-reach-aegis
https://sldinfo.com/f-35-and-aegis-preparing-for-the-integrated-fight-in-the-extended-battlespace/
https://sldinfo.com/pacific-strategy-vii-"aegis-is-my-wingman"/
Not surprisingly, the F-35 is coming to the Norwegian forces as a key bedrock system for the evolution of the strategic way ahead.
It is not simply about the aircraft but its integration into the national or coalition forces with which Norway operates to provide the deterrence in depth necessary for national and regional defense.
Next month, the Norwegians are holding a conference which will highlight some of the contributions anticipated by the acquisition of the F-35 for Norwegian forces.
On Feburary 7-9 2017, a conference entitled "Evolution to a Fifth Generation Air Force: Norway's Shield and Sword?"
According to the Norwegian MoD website:
Norway is about to purchase fifty-two F-35 Joint Strike Fighters. Both the Norwegian Minister of Defense (MoD) and Chief of Defense (ChoD) argue that the F-35 will be a key capacity for the defense of Norway.
Even so, the purchase of the F-35 has generated a public debate that has raised important questions such as: How should we use the new combat aircraft? Do we have adequate competence to exploit the potential of this platform? What kind of defense structure will Norway have in the future? Are the primary rationales behind the purchase rooted in national defense, international operations or both?
The Royal Norwegian Air Force has coined the phrase "a Fifth Generation aircraft demands a Fifth Generation Air Force". The premise seems to to be that the current air force organization needs to develop something it currently does not possess in order to fully exploit this platform once it is fully operational in 2025.
The emphasis on the idea of "a Fifth Generation Air Force" is increasing. But what kind of competence, organization, and technology must be in place over the next 8-10 years in order for us to become a "Fifth Generation Air Force"?
The Norwegian Minister of Defense claims that Norway has become a medium NATO power – presumably largely due to the fact that this is a substantial investment that most nations in NATO cannot afford. It is likely that this investment will lead to commitments to other nations that we otherwise would not have had: once you have acquired these platforms, the political pressure to use them will increase.
The question remains whether Norway can muster officers with broad and professional competence, who can influence processes on all levels (not only the tactical one) in international operations.
Thus, how we define "a Fifth Generation Air Force" is central for addressing these issues.
The conference aims to reflect on and discuss the very premises for the current debate on defense in Norway and NATO, and how airpower will play a central role in this picture. We also want to examine the key international military conceptual (strategic) trends that are likely to influence Norway in the coming decade.
Furthermore, the conference aims to challenge the Air Force to answer more specifically what "a Fifth Generation Air Force" is, and what is needed in order for us to become one.
Finally, we would like to invite the Army, the Navy and the Norwegian Operational Headquarter to present their expectations and perspectives on "a Fifth Generation Air Force", and the purchase of the joint resource that the F-35 is.
https://forsvaret.no/hogskolene/Sider/English.aspx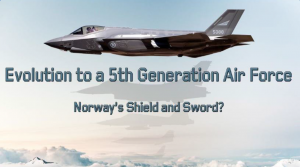 An additional capability being added to the force are five P-8s. and the role of these aircraft will be clearly linked to coalition as well as national defense.
And here the key role seen by the British with regard to Norway and the Nordics is very clear indeed.
According to a news story published on December 6, 2016, the Norwegian decision was discussed.
Norway signaled its intention to become the fourth export customer for the Boeing P-8A Poseidon maritime patrol aircraft. It will buy five for delivery in 2021-22 as a replacement for six Lockheed Martin P-3 Orions and three Dassault Falcon 20s, all of which were delivered in the 1990s.
The cost will reportedly be $1.5 billion, including sensors and weapons.
Meanwhile, Boeing delivered the first of eight P-8As to the Royal Australian Air Force (RAAF) last month.
"The P-8A is exactly what we need to maintain our important contribution to the [NATO] alliance," said Norwegian minister of defense Ine Eriksen Soreide.
"The maritime domain is becoming more important as we speak," she added. The country's maritime area of responsibility is large, about seven times its land mass.
The Norwegian Parliament must approve the acquisition,and is expected to do so this month.
https://www.ainonline.com/aviation-news/defense/2016-12-06/norway-acquire-p-8s-boeing-delivers-australia
In a story we published November 11, 2016, we highlighted the importance of this development for the UK and its relationship with Norway as well.
https://sldinfo.com/enhancing-northern-tier-defense-the-uk-and-norway-prepare-for-the-coming-of-the-p-8/
According to a story on the UK Ministry of Defence website, the UK and Norway have agreed on new cooperation on Maritime Patrol Aircraft.
With the coming of the P-8 to the RAF, the UK MoD is looking to ways to enhance its impact on defense in the North Sea and beyond.
Sir Michael, who visited Norway's top military headquarters, close to the Arctic Circle on Thursday, announced that the UK and Norway would work closer on Maritime Patrol Aircraft cooperation, including in reducing costs and increasing operational effectiveness.
The UK announced that it would procure nine Boeing P8 MPA in last year's Strategic Defence and Security Review.
The new capability, which will be based in Scotland, will allow for enhanced situational awareness in key areas such as the North Atlantic, and will also further increase the protection of the UK's nuclear deterrent and our two new aircraft carriers.
Sir Michael also visited Norway's Bodø Main Air Station, home of two F-16 squadrons and a squadron of Search and Rescue Sea King helicopters, where he signed a new agreement on host nation support for UK exercises in the country, further increasing the UK and Norway's ability to exercise, train and operate together.
Mr Fallon welcomed the fact that British armed forces undertake yearly winter training in Norway, particularly 3 Commando Brigade in Harstad and Evenes and elements of Joint Helicopter Command at Bardufoss.
 https://www.gov.uk/government/news/uk-and-norway-agree-new-cooperation-on-maritime-patrol-aircraft
In short, as Norway works on the integration of its Aegis ships with the F-35s and P-8s. it will be shaping a 21st century defense capability which is important to Norwegian defense and deterrence depth.
future-acquisitions-for-the-norwegian-armed-forces-2015-2023
Editor's Note: For a good overview on the Norwegian perspective on defense and security, see the 2014 report of the Commission on Norwegian Security and Defence Policy.
In December 2014, the Norwegian Minister of Defence tasked an independent group of experts on Norwegian security and defence policy to advice on the Norwegian Armed Forces' ability to solve their most demanding tasks in severe crises and war.
This advice will be an important contribution to the debate on the Armed Forces' preparedness to handle threats against Norway and Norwegian security.
The Expert commission on Norwegian security and defence policy presented its analysis to Minister of Defence Ine Eriksen Søreide on April 28th, 2015.
https://www.regjeringen.no/en/topics/defence/ltp/ny-langtidsplan-for-forsvarssektoren/the-expert-commission-on-norwegian-security-and-defence-policy/id2480914/
For an insightful overview on the F-35 written by a Norwegian F-35 pilot, see the following: