2017-04-01 By Guy Martin
The Advanced Demonstrator Model (ADM), the second prototype of the Advanced High-Performance Reconnaissance Light Aircraft (Ahrlac), has been moved from the Aerosud factory where it was built to Wonderboom airport north of Pretoria, where it will undergo flight testing.
The aircraft was moved by road on 26 March, being towed by a Land Rover along the N1. An Ahrlac spokesperson told defenceWeb that the team started preparations for the move at 3am, with the actual move starting at 6am. The route was along the N1 and N4 to Wonderboom, with the aircraft arriving there at around 10am.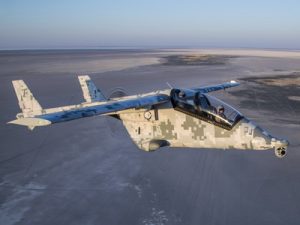 When the first Ahrlac was moved by road to Wonderboom in May 2014, it went through the toll gates and had to pay a toll. However, as the toll gates have been redesigned the aircraft couldn't move through the gates, so a gravel road was prepared next to the toll gates for the aircraft, meaning no toll fare was paid this time.
The spokesperson said ADM is very near completion and has already been doing engine runs. There are a number of smaller systems that need to be fitted such as the onboard oxygen system. ADM features a number of differences compared to XDM, the first prototype, such as retractable landing gear, full mission system, lighter 8 g rated airframe, conformal fuel tanks, weapons, twin ejection seats, more sophisticated avionics, and refined components.
First flight of ADM is expected during the second quarter of this year, nearly three years after ZU-XDM first flew on 26 July 2014. Since then the first aircraft has accumulated more than 250 hours of flying.
A third Ahrlac prototype (PDM) will be the production prototype. This will most likely be built at the new Ahrlac Holdings facility at Wonderboom airport, which will start production in April. The 15 000 square metre facility will be able to produce two aircraft a month. The main factory will employ some 200 people in building the multirole aircraft.
Outfitting of the militarised Mwari version of the Ahrlac will take place at another facility. This will be fitted with mission systems from either Paramount or Boeing, depending on customer requirements, and will include things like infrared and radar sensors, cannon, missiles (such as the Mokopa) and rockets.
Republished by permission of our partner defenceWeb
http://www.defenceweb.co.za/index.php?option=com_content&view=article&id=47316:second-ahrlac-prototype-now-at-wonderboom&catid=35:Aerospace&Itemid=107