2017-10-05 Approximately 50% of the airplanes coming off of the final assembly line at Fort Worth are partner F-35s.
And because of how the supply chain is designed, companies in partner states not only play a key role of that partner's plane but on the global enterprise as well.
This also means that cross partnering among the partners themselves is facilitated.
A recent example is an agreement between a Danish and Australian company both working on the F-35 program.
According to the Australian Defence Connect website in an article published on October 4, 2017:
A memorandum of understanding (MoU) between a high-tech Danish business and an Australian manufacturer has been signed at Pacific 2017 in Sydney.
Victoria's Marand and Denmark's Terma have agreed to explore, identify and discuss specific areas of mutual interest as Terma looks to support the Australian industry capability (AIC) for its Australian defence activities.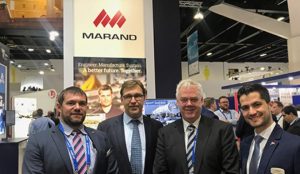 Terma senior vice president Jorn Henrik Levy Rasmussen and Marand chief executive Rohan Stocker were at the ceremonial signing of the agreement, with Rasmussen saying it is a good indication of its plans to increase its Australian activities.
"The agreement we sign today is strong evidence of Terma's present and future presence in the Australian market and interest in co-operating with the local industry," he said.
"In recent years Terma [has] delivered a number of naval and surveillance systems in Australia and now we intensify our activities."
Stocker said Marand's work with Terma on the F-35 Joint Strike Fighter program 
"Terma have been a wonderful customer on the F-35 Joint Strike Fighter program," explained Stocker. "We have proven capabilities and experience supporting global defence primes and we look forward to further co-operating with the Terma business here in Australia."
Marand has previously worked with defence primes BAE Systems, Lockheed Martin and Boeing, and commercial giants BHP and Rio Tinto.
Terma specialises in developing products and systems for defence security applications, including command and control systems, radar systems, aircraft self-protection systems, aerostructures and space technology.
https://www.defenceconnect.com.au/key-enablers/1343-danish-company-eyes-off-australian-industry