2017-11-01 By Robbin Laird
The Marine Corps is being shaped for the transition from a slow motion ground war to higher intensity warfare.
This reshaping is being driven by the new aviation assets, the introduction of broad range digital interoperability within the MAGTF and by evolving concepts of operations associated with distributed warfare.
At the heart of the transition is an ability to leverage all of the key combat assets, ground, sea or in the air and to deliver a force able to operate in the distributed battlespace.
Last August, Lt. General (Retired) Davis, former Deputy Commandant of Aviation, highlighted the nature of the transition as applied to the electronic warfare case.
He described the USMC transition from a core aircraft delivering an EW effect to building out the MAGTF to include ubiquitous access to non-kinetic electronic warfare capabilities.
The core approach going forward is very clear.
"MAGTF EW transitions the Marine Corps from a focus on low density/high-demand EW platforms, to a distributed, platform-agnostic strategy – where every platform contributes/ functions as a sensor, shooter and sharer – to include EW."
"Under MAGTF EW the Marine Corps is leveraging emerging technologies and integrating multiple platforms, payloads, nodes, and capabilities to provide commanders with an organic and persistent air and ground EW capability."
Davis underscored that with the changing nature of warfare and how the Marines operate, shaping a distributed strategy was a necessity, not an option.
"We operate on ships, from ships to shore and ashore."
"We cannot simply have an on call EW asset.
 "We can confront the threat requiring an EW capability anywhere we operate."
 https://sldinfo.com/lt-general-retired-davis-focuses-on-distributed-electronic-warfare-capabilities/
An additional case study of the evolution was evident in the Weapons and Tactics Instructor Course held in April 2017 by MAWTS-1 at Yuma Air Station.
During the exercise, the F-35B was being integrated into the overall MAGTF operations including integrated target identification and fire support to the new HIMARS system.
According to the USMC, the High Mobility Artillery Rocket System is described as follows:
HIMARS is a C-5 transportable, wheeled, indirect fire, rocket/missile system capable of firing all current and future rockets and missiles in the Multiple-Launch Rocket System Family of Munitions (MFOM).
The HIMARS launcher consists of a fire control system, carrier (automotive platform), and launcher-loader module that performs all operations necessary to complete a fire mission. The basic system is defined as one launcher, one resupply vehicle, and two resupply trailers.  
 HIMARS addresses an identified, critical warfighting deficiency in Marine Corps fire support. HIMARS employs the Guided Multiple Launch Rocket System (GMLRS) rocket to provide precision fires in support of the MAGTF.
HIMARS is a transformational, responsive, general-support/general-support reinforcing precision indirect fire weapon system that accurately engages targets at long ranges (in excess of 40 miles) with high volumes of lethal precision fires in all weather conditions and throughout all phases of combat operations ashore.
https://marinecorpsconceptsandprograms.com/programs/fire-support/high-mobility-artillery-rocket-system-himars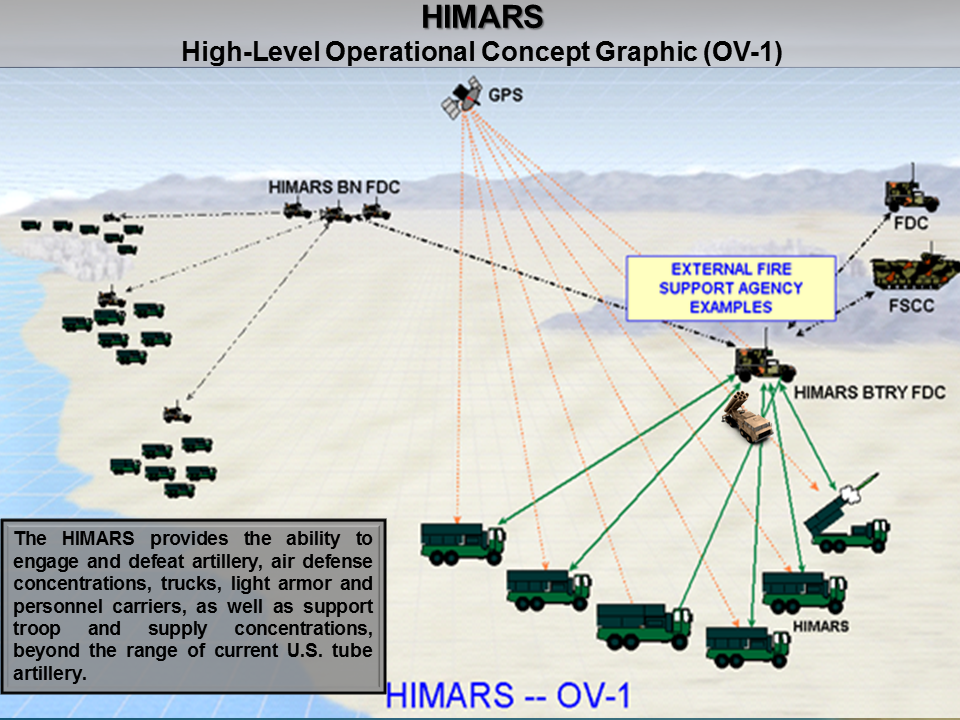 But this is a platform-centric description not one which indicates how it can contribute to the fight in a distributed battlespace.
For the Marines, HIMARS can be used ashore or as they have just demonstrated can be fired from an amphibious ship as well during Dawn Blitz.
In the photo below, U.S. Marines with Battery R, 5th Battalion, 11th Marine Regiment, 1st Marine Division are seen launching a rocket from a High Mobility Artillery Rocket System (HIMARS) off the USS Anchorage (LPD-23) during Exercise Dawn Blitz, Oct. 22, 2017.
Dawn Blitz 17 allowed the amphibious force to integrate the F-35B Lightning II and HIMARS into the exercise to validate a capability with platforms not traditionally used at the Marine Expeditionary Brigade/Expeditionary Strike Group or Marine Expeditionary Unit/Amphibious Ready Group levels.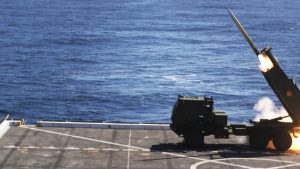 In the most recent WTI exercise, the F-35 continued to develop tactics, techniques, and procedures (TTPs) for HIMARS firing.
This development can be missed or simply look like legacy aircraft support to a ground firing capability.
But it is not.
The F-35s sensors provide significant range and ability to target discriminate which can be shared with the ground force to guide their operational trajectories as well as, in the case of HIMARS, a key target to destroy.
Due to F-35 sensor fusion, F-35 pilots can identify key targets to support ground fires and can themselves add weapons to the fight.
In other words, rather than just doing close air support, the F-35 is capable of integrating air and ground fires into an overall distributed strike force that was not possible with 4th generation platforms.
HIMARS integration with F-35 and the shipboard firing are case studies of the transition of the USMC, not simply case studies of more advanced ways to do what they have been doing.
On October 23, 2017, I spoke with the Commanding Officer of MAWTS-1, Col Wellons, and one of his officers involved in the WTI course.
In an earlier interview, we discussed how the Marines were looking at the impact of the F-35 on the MAGTF:
Question: How does the integration of the F-35 into your operations, change how you think about those operations?
Col Wellons: A lot of that can be quickly become classified but let me give you an example, which does not fall into that category.
Historically, when we could come off of an L class ship with MV-22s, CH-53s, H-1s and AV-8Bs we would be faced with a serious AAA or MANPADS threat that would force us to avoid part of or an entire objective area.
With the F-35, we can leverage its increased survivability over 4th generation platforms in contested environments to accomplish the mission.
In Afghanistan and Iraq we have not had prohibitive interference in our air operations. However, that cannot be assumed in other areas of operation due to the proliferation of double digit SAMS. The F-35 allows us to operate in such areas.
The situational awareness (SA) that the airplane provides is a game changer for us.
In the past, we would receive input from the Senior Watch Officer on the ground with regard to our broader combat SA. That type of information is now resident within the cockpit of the F-35. The F-35 pilot can share information, that situational awareness, with other airborne platforms and the ground force commander in ways that are going to increase our operational tempo and allow us to do things that historically we wouldn't have been able to do.
The ability of the F35 to be able to recognize, identify, and kill the types of prohibitive threats that would prevent us from putting in assault support platforms and ground forces is crucial to the way ahead.
The F-35 can do this now, not some future iteration.
https://sldinfo.com/the-way-ahead-for-usmc-con-ops-the-perspective-of-col-wellons-co-of-mawts-1/
During the recent interview, we discussed further work on F-35 integration and the expanded role of digital interoperability within the MAGTF as exercised in the WTI course.
Question: The Marines are operating the F-35 in Japan and are standing up other squadrons as well.
That is what I would call F-35 1.0; you are focusing on F-35 2.0 at MAWTS, namely how the asset is part of the overall transformation of the MAGTF, both as cause and consequence.
Can you describe what you are doing with regard to F-35 2.0?
Col Wellons: "We have expanded the hot loading capability of the F-35, which is part of our distributed operational approach.
"To date, we have hot loaded GBU-12s and 32s and most recently have done so with AIM-120s.
"That process has gone very well.
"With the next block of software which is coming shortly, we will load weapons externally as well which will expand the envelope.
"All this is part of an overall distributed approach. We are using MV-22s to bring ordnance and fuel to remote sites in order to rearm and refuel F-35s, increasing sortie generation.
"What this means is that we can bring fifth generation capabilities to the fight by deploying from FARPS throughout the battlespace, rather than having to operate from a fixed airfield.
"When you combine the ability to operate from ships moving at sea with distributable FARPS on land, we are providing for a powerful distributed, survivable, and unpredictable force to support the Commander's objectives in the battlespace.
"This capability is going to enable aviation operations, in an anti-access / area denial (A2/AD) scenario.
"We'll be able to take an MV-22, fly it into a FARP somewhere and have the F-35s join.
"The MV-22s provide fuel and ordnance to the F-35s.
"We can do the hot load, hot refuel, and you're in and out of there in a very short period of time."
Question: Can you now describe the HIMARS integration with F-35?
Col Wellons: "This class we continued the learning process.
"We were able to validate and verify, via ground testing, the ability of the F-35 to share digital targeting information with a ground node
"But I will ask my Aviation Development, Tactics and Evaluation Department Head, LtCol Ryan Schiller, to further discuss the process."
LtCol Schiller: "Utilizing the targeting capabilities of the F-35 and its inherent survivability as a 5th-gen fighter combined with the standoff range and capability provided by HIMARS gives us a key capability to fight and strike in the A2/AD environment.
"We are clearly expanding the aperture of our focus on how to leverage the F-35 for the MAGTF.
"With regard to HIMARS we are looking to shipboard use in certain scenarios as well.
Firing HIMRS at Sea from SldInfo.com on Vimeo.
"It is important to expand the adversary's sense of uncertainty as to how and when we might strike, generating capabilities that support a distributed force will help us reach that objective
"We intend to continue developing TTPs for HIMARS integration with F-35.
"During the next WTI class, we plan to fire a HIMARS using digital targeting information passed via an F-35."
Question: How did the last WTI course provide a way forward on the digital transformation approach?
LtCol Schiller: "This was the first WTI class in which we integrated digital interoperability, in the form of the Marine Air Ground Tablet (MAGTAB), into every single event.
"Digital interoperability is about distributed situational awareness to the force and the new platforms and new capabilities we are developing are key to the way ahead.
"We are shaping a fifth generation MAGTF, a MAGTF where important and time sensitive information can be distributed throughout the force in order to compress the OODA loop and be proactive vice reactive on the battlefield.
Col Wellons: "Digital interoperability is one of the most important things we did in this WTI course.
"We have the ability to have a networked MAGTF, where Marines in the air and on the ground are able to see real-time position location information of friendly forces, watch sensor feeds, synchronize execution checklist items, publish 9-lines, and chat, among other key items.
"It is being fielded now although refinement continues."
Col James B. Wellons
Commanding Officer, Marine Aviation Weapons and Tactics Squadron-One
Colonel James B. Wellons grew up in Victoria, Virginia.  He graduated from the United States Naval Academy in May of 1992, earning his commission as a Second Lieutenant in the United States Marine Corps. After completion of The Basic School and Naval Flight Training, he reported to VMAT-203, Cherry Point, NC for AV-8B Harrier training.
Colonel Wellons completed AV-8B Harrier training in 1997 and reported to the VMA-231 "Ace of Spades," where he served in various assignments and deployed twice with the 26th Marine Expeditionary Unit, first in 1998 and again in 1999.
In March of 2000, Colonel Wellons returned to VMAT-203 for duties as an AV-8B instructor pilot and graduated from the MAWTS-1 Weapons and Tactics Instructor (WTI) Course.
In January of 2002, Colonel Wellons returned to VMA-231 as WTI and was promoted to Major.
He then deployed as Future Operations Department Head for HMM-263 with the 24th Marine Expeditionary Unit from August of 2002 through May of 2003, during Operation IRAQI FREEDOM I.
In July of 2003, Colonel Wellons reported to MAWTS-1 in Yuma, Arizona for duties as an AV-8B instructor pilot.
While at MAWTS-1, Colonel Wellons served as AV-8B Division Head and TACAIR Department Head; he also flew as an adversary pilot in the F-5E with VMFT-401.
In June of 2006, Colonel Wellons reported to the School of Advanced Air and Space Studies (SAASS) at Maxwell Air Force Base, AL, graduating in June of 2007 with an M.A. in Airpower Art and Sciences.  Upon graduation, Colonel Wellons reported to Marine Corps Forces Central Command (MARCENT) for duties as an operational planner.  While at MARCENT he was promoted to Lieutenant Colonel.
In August of 2009, Colonel Wellons reported to Eglin Air Force Base, FL, where he stood up and commanded VMFAT-501, the F-35B Fleet Replacement Squadron.  In February of 2012, Colonel Wellons relinquished command and reported to the U.S. Naval War College, in Newport, RI, where he graduated with highest distinction in March of 2013 with an M.A. in National Security and Strategic Studies.
In March of 2013, Colonel Wellons reported to U.S. Southern Command in Doral, FL for assignment as Executive Officer to the Commander.  He was promoted to Colonel during this tour.
In June of 2015, Colonel Wellons reported to Marine Aviation Weapons and Tactics Squadron One, where he assumed command in May of 2016.
Colonel Wellons has held qualifications in the AV-8B, F-5E/F, and F-16C/D. His decorations include the Defense Superior Service Medal, Meritorious Service Medal with gold star in lieu of third award, Air Medal, Navy and Marine Corps Commendation Medal, and various unit and campaign awards.
http://www.29palms.marines.mil/Leaders/Leaders-View/Article/792387/col-james-b-wellons/
Editor's Note: In a story published by the USMC on September 21, 2017, a recent F-35B hot loading exercise during the WTI course was discussed and highlighted.
By Pfc. Ethan Pumphret
MARINE CORPS AIR STATION YUMA, Ariz. – Hot-loading is when an aircraft lands and has ordnance loaded while the engine is still running. Marines from Marine Fighter Attack Squadron 121 conducted a hot-load in F-35B Lightning II's at Marine Corps Air Station Yuma, Az. on Sept. 21, 2017.
This hot-load was conducted using AMRAMM AIM-120 missiles.
VMFA-121 is a part of Marine Aircraft Group 12, 1st Marine Aircraft Wing.
The exercise was a validation/verification conducted during Weapons and Tactics Instructors course 1-18.
WTI is an exercise that takes service members from all over the world in a joint training exercise for mission readiness. WTI is hosted by Marine Aviation Weapons and Tactics Squadron one.
"They will now have a publication to use," said Cpl. Matthew Donovan an aviation ordnance technician with VMFA-121. "we took it out there and we validated it. We know it works so now in the future they will have it in writing."
The hot-load exercise was conducted to ensure both pilots and ground crew have a real example of operations should those units deploy.
The F-35B's were loaded with the AIM-120 missile and took off horizontally immediately after.
The AMRAMM AIM-120 is an air-to-air missile AMRAMM AIM-120 that will be used in conjunction with a Tactical Air Launch Decoy.
The TALD was loaded onto an AV-8B Harrier II to be launched and used as a target for the AIM-120.
The TALD is an expendable glide vehicle that can mimic the heat and radar signatures of a full-sized aircraft.
"You can't shoot an air-to-air missile unless you have something to shoot at," said Donovan. "the TALD is just a glider that comes off of the Harrier and then it glides straight and the Harrier moves out of the way."
This hot-load exercise is to verify theory and validate publication and give the Marines involved a chance to load live ordnance while the aircraft is still hot.
While the F-35B has been loaded hot before, this is the first time it has been conducted with these air-to-air missiles.
"Decreasing aircraft turnaround time and increasing sortie generation due to the aircraft not having to power down, receive maintenance and start up again," said Staff Sgt. Kevin Knight an Aviation Ordnance Technician with VMFA-121.
"It's critical in developing our expeditionary capabilities."
During WTI, VMFA-121 will also use GBU-12 and GBU-32, laser and GPS guided 500lbs bombs in their F-35B's.
This combat themed training will provide the training and practical application to project Marine Corps air power on the battlefield.
http://www.jsf.mil/news/docs/20170926_Marines_heat-up_F-35B_Hot_Loads_training_with_AIM-120's.pdf