Capt. Max McCoy, the commodore of the squadron, told USNI News in a recent interview that having a single point-person overseeing all Navy efforts related to operating and maintaining the new airplanes will prove to be a smart decision.
"The F-35C is unlike any other airplane we've had to date. It brings unique capability; how we sustain and maintain it is different; and it offers new ways of training our pilots to fly it," he said.
"So breaking it out as its own type wing is absolutely critical so that we could give it the 100-percent focus that it needed to mature the program and to integrate it into the carrier air wing and the carrier strike group as fast as we can. So I think standing up a wing and building a staff whose sole purpose in the world is focusing on the uniqueness of this airplane and making sure we succeed as fast as we can was critical and absolutely the right decision."
And in early December 2018, "the Navy's first F-35C operational squadron completed its carrier qualifications and was deemed "safe for flight" – the final step in the squadron's transition from the F/A-18E Super Hornet to the F35C Lightning II Joint Strike Fighter, and an important step in the journey towards reaching initial operational capability."
A USN press release on December 12, 2018 written by Lt. Cmdr. Lydia E. Bock, CJSFW PAO provided an update.
USS VINSON (CVN-70) (December 12, 2018) – The "Argonauts" of Strike Fighter Squadron (VFA) 147 completed their carrier qualifications today aboard USS Carl Vinson (CVN 70), the final required component for Commander Joint Strike Fighter Wing (CJSFW) to issue the squadron its safe-for-flight operations certification. 
This marks a major milestone for the U.S. Navy toward declaring Initial Operating Capability (IOC) next year. 
The safe-for-flight operations certification (SFFOC) is the final step for VFA-147's transition from the F/A-18E Super Hornet to the F-35C Lightning II.  This process ensures a squadron is manned with qualified personnel to implement maintenance and safety programs in support of fleet operations. 
All transitioning squadrons are required to complete this certification prior to independently conducting flight operations.  
When introducing a new aircraft to the Fleet, the appropriate fleet replacement squadron (FRS) is assigned oversight responsibility for the transitioning unit.  The VFA-125 "Rough Raiders" were re-activated in January of 2017 to fulfill the appropriate FRS role for the Lightning II.  Since completing their combat deployment last winter, VFA-147 has been working with the Rough Raiders to accomplish the safe-for-flight operations certification.  The Argonauts will be able to operate independently from the Rough Raiders, having received their safe-for-flight operations certification. 
"Since we returned from deployment last December, our team has been driving toward fully bringing this platform online for the Navy," said VFA-147 Commanding Officer Cmdr. Patrick Corrigan. "As the Argonauts close out 2018 and the final stages of our safe-for-flight certification, we continue to exhibit the relentless drive required to meet transition goals and milestones.  With this certification, we are announcing that we have the right skills, training and people to take this mission and execute it, to its fullest potential."
The safe-for-flight operations certification encompasses areas such as equipment, personnel and programs.  Not least among them is the requirement for the squadron to be in the physical custody of at least 30 percent of the assigned aircraft.  Other requirements include the installation and operation of management information systems such as Autonomic Logistics Information System (ALIS) and its accompanying support networks. 
There is also a requirement for operational F-35C squadrons to maintain robust, on-track, maintenance programs, as well as complete various inspections ranging from weapons to safety.  Aircrew complete a transition flight syllabus and maintain certain proficiencies in accordance with Naval Air Training and Operating Procedures and Standardization (NATOPS).       
"The Argonauts' safe-for-flight operations certification was earned through the herculean effort of squadron Sailors and is an acknowledgement that they have developed the skills to safely maintain and operate the F-35C Lightning II," said Joint Strike Fighter Wing Commander, Capt. Max McCoy.  "We eagerly look forward to declaring IOC and integrating the F-35C into the Carrier Strike Group.  This aircraft is a key component to maintaining the U.S. Navy's dominance anywhere in the world."
"VFA-147 continues to accomplish significant milestones, advancing this program closer to its ultimate goal of integrating the F-35C into the Fleet," said McCoy. 
"The exceptional performance of the squadron throughout the entire transition process is a testament to the hard-working Sailors who make the U.S. Navy F-35C program a reality. We will succeed because the professionals in this program will not let it fail.  It is evident in all that they do. It is who we are as a team."
Commander, Joint Strike Fighter Wing, headquartered at Naval Air Station Lemoore, Calif. ensures that each F-35C squadron is fully combat-ready to conduct carrier-based, all-weather, attack, fighter and support missions for Commander, Naval Air Forces. 
With its stealth technology, advanced sensors, weapons capacity and range, the F-35C will be the first 5th generation aircraft operated from an aircraft carrier.
Currently, the U.S. Navy F-35C program is scheduled to declare initial operating capability by the end of February, 2019. 
In a 2016 interview, we were able to highlight the nature of the transition being undergone by carrier aviation with Rear Admiral Manager then head of Warfare Systems.
2016-10-05 By Robbin Laird and Ed Timperlake
We have interviewed Rear Admiral Manazir before when he was Director, Air Warfare, but this is our first interview with him after he has become Director, Warfare Systems (N9).
Manazir currently serves as the Deputy Chief of Naval Operations for Warfare Systems (OPNAV N9) on the staff of the Chief of Naval Operations.
In this capacity, he is responsible for the integration of manpower, training, sustainment, modernization and procurement of the Navy's warfare systems.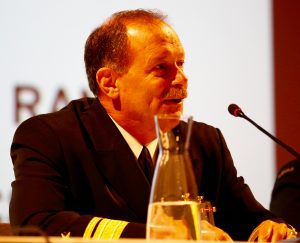 Rear Admiral Manazir recently returned from Australia where he was the lead speaker in the Williams Foundation Seminar on new approaches to air-sea integration.
It is clear that the US Navy's focus on shaping a distributed lethality fleet is shared by core allies.
Rear Admiral Manazir highlighted the kill web approach as a way to shape more effective integration of forces and convergence of efforts.
The kill chain is a linear concept which is about connecting assets to deliver fire power; the kill web is about distributed operations and the ability of force packages or task forces to deliver force dominance in an area of interest.
It is about building integration from the ground up so that forces can work seamlessly together through multiple networks, rather than relying on a single point of failure large network.
https://sldinfo.com/rear-admiral-manazir-in-australia-allied-convergence-on-the-kill-web/
In this interview, the OPNAV N9 discussed how he sees the way ahead, including the inclusion of directed energy weapons within the fleet.
Question: The new Chief of Staff of the USAF, General Goldfein, seems to be focused on issues in ways that the CNO is as well.
For example, General Goldfein focused on the moral imperative of training for the high end fight.
He has highlighted the importance of innovation in C2, including distributed C2.
How do you view the USAF and USN overlap?
Rear Admiral Manazir: The question that drives my response to the challenge is how do we achieve distributed effects across all domains in the battlespace?
We are working closely with General Goldfein through various Service interaction groups; most effectively at the highly classified level.
We talk about issues that are common to our Services on a regular basis.
The core commonality between the two is that both are expeditionary services.
When we get into the battle area, Air Force assets can strike, reset, and strike again.
Naval forces operating in the maritime domain provide persistence.
If you combine Air Force and Naval combat capabilities you have a winning combination.
If you architect the joint force together, you achieve a great effect.
It is clear that C2 (command and control) is changing and along with it the CAOC (Combined Air and Space Operations Center).
The hierarchical CAOC is an artifact of nearly 16 years of ground war where we had complete air superiority; however, as we build the kill web, we need to be able to make decisions much more rapidly.
As such, C2 is ubiquitous across the kill web.
Where is information being processed?
Where is knowledge being gained?
Where is the human in the loop?
Where can core C2 decisions best be made and what will they look like in the fluid battlespace?
The key task is to create decision superiority.
But what is the best way to achieve that in the fluid battlespace we will continue to operate in?
What equipment and what systems allow me to ensure decision superiority?
We are creating a force for distributed fleet operations.
When we say distributed, we mean a fleet that is widely separated geographically capable of extended reach.
Importantly, if we have a network that shares vast amounts of information and creates decision superiority in various places, but then gets severed, we still need to be able to fight independently without those networks.
This requires significant and persistent training with new technologies but also informs us about the types of technologies we need to develop and acquire in the future.
Additionally, we need to have mission orders in place so that our fleet can operate effectively even when networks are disrupted during combat; able to operate in a modular-force approach with decisions being made at the right level of operations for combat success.
Question: When you were in Australia, you highlighted that the Australians and British, who were participating with you in the Williams Foundation Conference, were on the same page with regard to the way ahead.
How important is that for the US Navy and Marine Corps team?
Rear Admiral Manazir: Crucial.
In effect, when we can operate together in this new environment and work from the same page, we can support core allies or allies can support us in the battlespace.
We can function as each other's wingman.
We are moving from a platform-centric mindset to a capability-centric mindset.
It is the outcome and effect we are focused on.
If we're going to fight next to each other, the force (as an evolving distributed capability) has to understand how to employ their weapons systems, including how to best leverage the F-35, rather than just relying on the pilot that is flying the F-35 understanding what it can do.
Question: There clearly is a challenge between the force and technology moving into a distributed direction and historical legacies of slow moving hierarchical decision making.
How would you describe this challenge?
Rear Admiral Manazir: The rules of engagement (ROE) need to keep up with the technology.
An F-35 is going to have electronic means that can affect somebody a long way away.
We didn't have those electronic means before, and so the ROE should be able to allow us to employ weapons based on the technology that we have.
To keep up with technology is a key point, but it goes all the way back to when the bad guys are successful snipping parts of the network, you need to have mission orders that are effective and I am confident we are training with that in mind…..
We are very focused on the evolving man-machine relationship, and the ability of manned and unmanned systems, as well as kinetic and non-kinetic systems, to deliver a broader spectrum of capability to the force.
We are aiming to use the machine for the OO (Observe-Orient) part of the OODA (Observe-Orient-Decide-Act) Loop and optimize our human capabilities to do the DA (decide-act).
Fighter pilots have always been "thinking aviators" but we are adjusting what we expect from them as they become key nodes and crucial enablers in the kill web.
Becoming a Top Gun pilot in this world will be quite different than in the legacy one.
Question: We have written about software upgradeability as a key element for shaping the way ahead for 21st century air systems, such as in the Wedgetail, the P-8, Triton and the F-35.
How do you view the importance of such an approach?
Rear Admiral Manazir: Common software upgradeability is an essential element, especially to be able to alter the web or portions of the web at the speed of technology to be able to outmatch our adversaries in an evolving threat environment.
We are working to shape such a cross-cutting capability throughout the fleet so that we can have interactive modernization, even machine learning and cognitive processes which can be done rapidly and cost effectively.
This can only be done through a software-defined process.
We need to have open systems architecture; truly open systems, where there is middleware that enables the creation of multiple apps to provide innovative responses to evolving threats.
We are learning as we go: Navy Integrated Fire Control-Counter Air (NIFC-CA) is a system of systems approach, which is a huge engineering challenge. Here you have to connect different proprietary systems retroactively.
They were all created under different sets of standards, based on separately developed requirements, with data rights in each commercial company, and so you have to engineer the network that connects these nodes; in this case the NIFC-CA web.
Our goal as we build warfighting systems, is to partner with OPNAV N2N6 (Deputy Chief of Naval Operations for Information Warfare) to build a systems of services approach, which is an app-based approach.
Vice Admiral Jan Tighe and her team are focused on shaping an open architecture standard into our systems; the government defines the standard, and owns the standard, and hands the standard to the firms who then create the systems.
It is crucial to create systems which are built to be "integrateable" from the ground up; and to allow for applications which can be developed for one platform which can then be migrated to another one, as appropriate.
We are moving in that direction.