When considering contributions which the USMC can make to the joint or coalition force in Pacific operations, an ability to put an air arming and refueling point on virtually any spot on the kill web chessboard is clearly a key contribution.
These are referred to as FARPs or Forward Arming and Refueling Points but are really Arming and Refueling Points because where one might put them on the chessboard depends on how one wants to support the task forces within a kill web.
In looking at a theater of operations, and certainly one with the tyranny of distance of the Pacific, one needs to be able to have a layer of fuel support for operations.
When I discussed ways to look at Pacific operations with Rear Admiral Peter A. Garvin, Commander, Patrol and Reconnaissance Group, we focused on the layers of domain knowledge necessary to be successful for Pacific operations.
We started with a discussion of the reach of the maritime patrol enterprise by focusing on a way to conceptualize the way ahead for shaping an integrated distributed force.
If one conceptualizes the battlespace as layers of visuals placed one on the other, it becomes clear what is different in terms of leveraging the combat force within an interactive web. 
The first layer would be the operational geography of the battlespace.
The second layer would be the threat elements most relevant to the blue force.
The third layer in the case of a maritime patrol enterprise would be commercial maritime shipping traffic.  Unlike air traffic, maritime traffic is very diverse, very large, and provides a key masking function for any adversary.
The fourth layer would be the laydown of blue assets, including the geographic distribution of allied forces in the region or area of interest. The fifth layer would then be where the P-8 / Triton dyad operates.
 When discussing basing for the integrated distributed force, clearly there is a need for another layer, namely, the ability to sustain the force, including the fuel to drive the force.
For the Marines operating from the sea, this clearly includes combat ships, MSC tankers and related ships, as well as airborne tanker assets.
By deploying a relatively small logistics footprint FARP or ARP, one can provide a much wider of points to provide fuel for the combat force.
And in Marine terms, the size of that footprint will depend on whether that FARP is enabled by KC-130J support or by CH-53E support, with both air assets requiring significantly different basing to work the FARP.
I had a chance recently to discuss FARP operations and ways to rework those operations going forward with Maj Steve Bancroft, Aviation Ground Support (AGS) Department Head, MAWTS-1, MCAS Yuma. 
There were a number of takeaways from that conversation which provide an understanding of the Marines are working their way ahead currently with regard to the FARP contribution to distributed operations.
The first takeaway is that when one is referring to a FARP, it is about an ability to provide a node which can refuel and rearm aircraft.
But it is more than that. It is about providing capability for crew rest, resupply and repair to some extent.
The second takeway is that the concept remains the same but the tools to do the concept are changing.
Clearly, one example is the nature of the fuel containers being used. In the land wars, the basic fuel supply was being carried by a fuel truck to the FARP location. Obviously, that is not a solution for Pacific operations.
What is being worked now at MAWTS-1 is a much mobile solution set.
Currently, they are working with a system whose provenance goes back to the 1950s and is a helicopter expeditionary refueling system or HERS system.
This legacy kit limits mobility as it is very heavy and requires the use of several hoses and fuel separators.
Obviously, this solution is too limiting so they are working a new solution set.
They are testing a mobile refueling asset called TAGRS or a Tactical Aviation Ground Refueling system.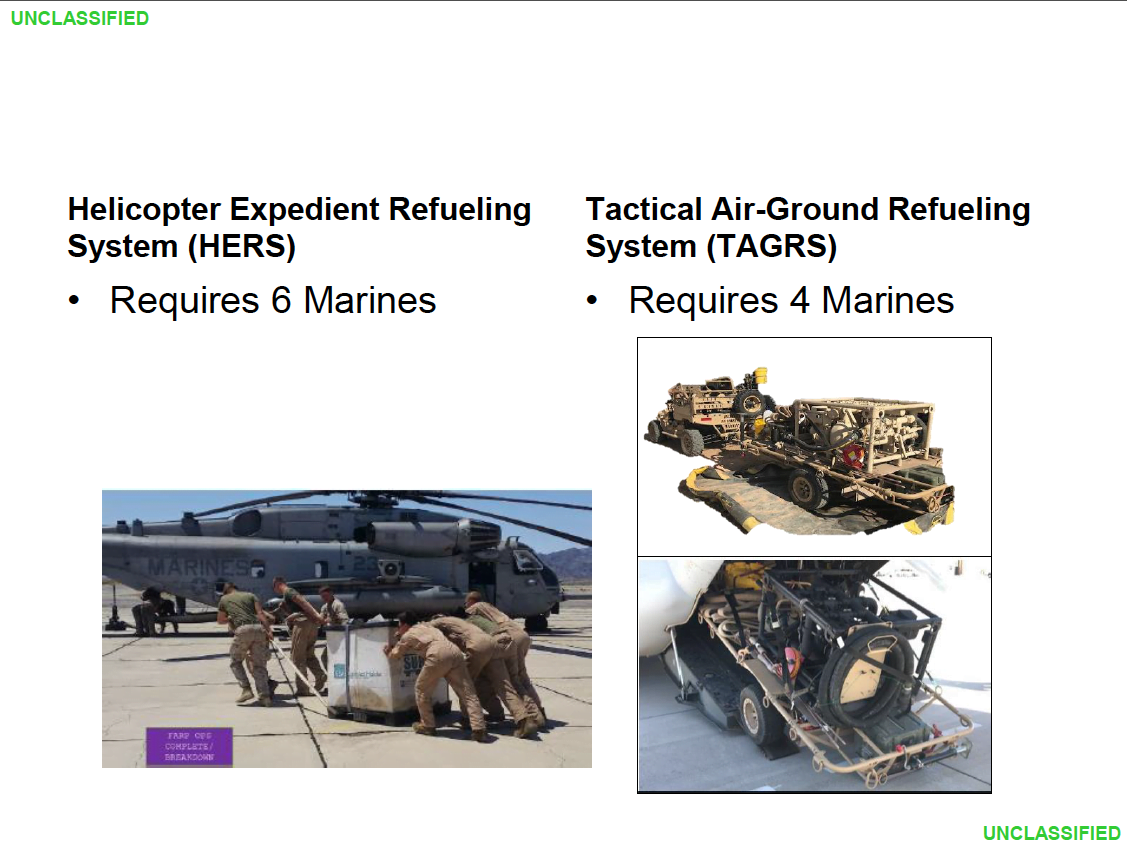 As noted in the discussion of TAGRS at the end of this article: "The TAGRS and its operators are capable of being air-inserted making the asset expeditionary.
"It effectively eliminates the complications of embarkation and transportation of gear to the landing zone."
The third takeaway was that even with a more mobile and agile pumping solution, there remains the basic challenge of the weight of fuel as a commodity.
A gallon of gas is about 6.7 pounds and when aggregating enough fuel at a FARP, the challenge is how to get adequate supplies to a FARP for its mission to be successful.
To speed up the process, the Marines are experimenting with more disposable supply containers to provide for enhanced speed of movement among FARPs within an extended battlespace.
They have used helos and KC-130Js to drop pallets of fuel as one solution to this problem.
The effort to speed up the creation and withdrawal from FARPs is a task being worked by the Marines at MAWTS-1 as well.
In effect, they are working a more disciplined cycle of arrival and departure from FARPs.
And the Marines are exercising ways to bring in a FARP support team in a single aircraft to further the logistical footprint and to provide for more rapid engagement and disengagement as well.
The fourth takeaway is that innovative delivery solutions can be worked going forward.
When I met with Col. Perrin at Pax River, we discussed how the CH-53K as a smart aircraft could manage airborne MULES to support resupply to a mobile base.
As Col. Perrin noted in our conversation: "The USMC has done many studies of distributed operations and throughout the analyses it is clear that heavy lift is an essential piece of the ability to do such operations."
And not just any heavy lift – but heavy lift built around a digital architecture.
Clearly, the CH-53E being more than 30 years old is not built in such a manner; but the CH-53K is.
What this means is that the CH-53K "can operate and fight on the digital battlefield."
And because the flight crew are enabled by the digital systems onboard, they can focus on the mission rather than focusing primarily on the mechanics of flying the aircraft. This will be crucial as the Marines shift to using unmanned systems more broadly than they do now.
For example, it is clearly a conceivable future that CH-53Ks would be flying a heavy lift operation with unmanned "mules" accompanying them. Such manned-unmanned teaming requires a lot of digital capability and bandwidth, a capability built into the CH-53K.
If one envisages the operational environment in distributed terms, this means that various types of sea bases, ranging from large deck carriers to various types of Maritime Sealift Command ships, along with expeditionary bases, or FARPs or FOBS, will need to be connected into a combined combat force.
To establish expeditionary bases, it is crucial to be able to set them up, operate and to leave such a base rapidly or in an expeditionary manner (sorry for the pun).
This will be virtually impossible to do without heavy lift, and vertical heavy lift, specifically.
Put in other terms, the new strategic environment requires new operating concepts; and in those operating concepts, the CH-53K provides significant requisite capabilities.
 So why not the possibility of the CH-53K flying in with a couple of MULES which carried fuel containers; or perhaps building a vehicle which could come off of the cargo area of the CH-53K and move on the operational area and be linked up with TAGRS?
I am not holding Maj. Bancroft responsible for this idea, but the broader point is that if distributed FARPs are an important contribution to the joint and coalition forces, then it will certainly be the case that "autonomous" systems will play a role in the evolution of the concept and provide some of those new tools which Maj. Bancroft highlighted.
Editor's Note: Further information with regard to TAGRS is provided by the following USMC stories.
In an October 18, 2018 story published by the USMC< the nature of the TAGRS was described.
The Marine Corps has the capability to set up Forward Arming and Refueling Points. The Tactical Aviation Ground Refueling System is the improved method of fueling, allowing more mobility and speed by having already assembled basic equipment on the trailer," said Lee Duncan, a fuel analyst with Marine Corps Systems Command.
Marine wing support squadrons have a responsibility to provide FARP teams to the Marine Air-Ground Task Force. The TAGRS is a versatile, mobile, and rapid ground refueling system that is MV-22 and CH-53 transportable. It is intended to improve the operational speed and mobility of ground fuel systems to rapidly establish mobile refueling sites in remote and austere locations.
"Our main effort has been improving the Marine Corps' and Navy's ability to do bulk fuel distribution in predictable and unpredictable environments," said U.S. Marine Corps Maj. Kelvin Chew, the technology and experimentation analyst for the Expeditionary Energy office. "The TAGRS is one of those capabilities that allows us to move fuel around the battlespace, whether it's from the ship to shore or from the shore to distributive points."
Testing of the system began in mid-2017 when the idea was first introduced with Marine Wing Support Squadron 172. The goal was to increase mobility and decrease overall fueling times. WTI 1-19 is one of the first places to experiment with the TAGRS, with the hopes of measuring the improvement in employment and refueling time of the TAGRS versus older methods.
"What we're doing is designing and building prototypes that demonstrate this concept to show the Marine Corps that this works," said Chew. "Based on the results from our testing, we can inform the requirements which would allow us to eventually build these and field these to the units out in the fleet."
And in a story published by 3rd Marine Aircraft Wing published on March 9, 2020, the use of TARGR during a FARP operation was described.
Five minutes. That's the amount of time it took for Marines with Marine Wing Support Squadron (MWSS) 371 to refuel an F-35B Lightning II and get it back in the air. This was all part of a forward arming and refueling point (FARP) operation hosted by Marine Corps Air Station Yuma during which the tactical aviation ground refueling system (TAGRS) was employed.
A FARP is setup by a support squadron and can have one or several distributive fuel points across a landing zone that enable aircraft to land and obtain both fuel and ordnance during a mission.
"Our mission today was to support VMFA-122 with a one-point static-FARP," said Staff Sgt. Steve Anderson, a bulk fuel specialist with MWSS-371. "We issue fuel to aircraft that come in to support their objectives in the area."
The TAGRS was first implemented by MWSS-371 during Weapons and Tactics Instructor (WTI) Course 1-19 in October 2018. The TAGRS team, led by Chief Warrant Officer 2 Chris Moser, the MWSS-371 fuels officer, succeeded in reducing the one-point FARP establishment time by 90 percent and the total refueling time by 50 percent. During this recent FARP operation, the MWSS-371 Marines refueled each F-35B Lightning II in under ten minutes.
The TAGRS includes all of the refueling components in one compact system allowing for rapid setup and breakdown. This makes it essential for expeditionary advanced base operations (EABO) which seek to further distribute lethality in austere environments. The EABO concept advocates employing mobile, relatively low-cost capabilities such as the TAGRS to create a foot hold in order to extend the area of operations.
Cpl. Jesus Jimenez, a bulk fuel specialist with MWSS-371 explained, "It can pump fuel faster than the helicopter expedient refueling system, and it has four filter separators in it to filter out water and sediment, along with two points and two fire extinguishers. So we're able to establish a FARP with just this system. All we need is a fuel source."
The TAGRS and its operators are capable of being air-inserted making the asset expeditionary. It effectively eliminates the complications of embarkation and transportation of gear to the landing zone.
"What makes this system so unique is its mobility," said Anderson. "We can pack the entire system in the back of a trailer and tow it into MV-22 Ospreys, CH-53 Super Stallions, or KC-130J Super Hercules, and drop it into an austere environment to extend the area of operations for aircraft so that they can attack further inland or pierce directly into the heart of the enemy."
Not only is the TAGRS a faster refueling system but it also requires half the manpower to operate than it normally would to conduct a FARP operation.
"We're able to employ the entire system, maintain good radio communication –with not just the pilots but internally within the TAGRS team as well, provide limited security, and sustain the entire FARP operation," Anderson said.
The system is only as effective as the Marines who operate it. The TAGRS team is responsible for guiding the aircraft within the FARP and testing the quality of the fuel. They are also trained is navigation displacement techniques. The team leader plays a crucial role of maintaining the immediate airspace in place of a mobile air traffic control team.
The TAGRS has revolutionized the way the MWSS conducts its FARPs. As America's "Force in Readiness", Marines must remain ready when others are not. Modernization is essential in maintaining lethality on the battlefield and 3rd MAW is leading the charge.
Featured Photo: U.S. Marine Corps bulk fuel specialists, with Marine Wing Support Squadron (MWSS) 371, Marine Aircraft Group 13, 3rd Marine Aircraft Wing, set up a tactical aviation ground refueling system in support of a forward arming and refueling point exercise during Weapons and Tactics Instructor (WTI) course 1-19 at Landing Zone Bull Attack, Chocolate Mountain Aerial Gunnery Range, California, Oct. 3, 2018.
WTI is a seven-week training event hosted by Marine Aviation Weapons and Tactics Squadron One (MAWTS-1) which emphasizes operational integration of the six functions of Marine Corps aviation in support of a Marine air-ground task force.
WTI provides standardized advanced tactical training and certification of unit instructor qualifications to support Marine aviation training and readiness, and assists in developing and employing aviation weapons and tactics.
10.03.2018
Photo by Lance Cpl. Andrew Huff 
Marine Aviation Weapons and Tactics Squadron One