By Robbin Laird and Ed Timperlake
Last Fall, 2nd Fleet hosted the 2020 version of Black Widow, an Atlantic-focused USW  exercise.
But to be completely accurate, although the term ASW is most commonly used, what we are discussing is undersea warfare. USW is an integrated fight against all undersea threats, with submarines being a key, but not the only threat. ASW is part of USW.
As one Naval officer put it: "When we tend to discuss an integrated fight, we try to use the term USW, but when we are specifically hunting for just a submarine, ASW is the correct term."
This is not classic USW, but one in which new capabilities are being woven into shaping a 21st century version of USW to deal with a 21st century threat posed from the sea. USW is becoming reshaped by the interactive kill web approach of multi-domain assets focused on a core warfighting capability and set of relevant skill sets.
U.S. Navy aircraft, surface ships and submarines will participate in Exercise Black Widow 2020 in the North Atlantic Sept. 12-18.
During Exercise Black Widow our Fleet warfighters employ, hone, and evaluate tactics, techniques, and procedures to enhance our readiness for real world operations, with specific focus on advancing our theater undersea warfare advantage in a multi-domain environment. This exercise will allow us to develop new doctrine and innovative tactics that address the capabilities of our near-peer competitors across the range of missions we expect to encounter in major combat operations.
This year's participants include the amphibious assault ship USS Wasp (LHD 1), the Arleigh Burke-class guided-missile destroyers USS Arleigh Burke (DDG 51) and USS McFaul (DDG 74), a Virginia-class fast-attack submarine, a Los-Angeles class fast-attack submarine, Patrol and Reconnaissance Wing 11, and Helicopter Maritime Strike Squadrons 46 and 72.
This marks the first time U.S. 2nd Fleet (C2F) and Commander, Submarine Group (SUBGRU) 2 will lead the force. 
"The reestablishment of Submarine Group 2 enables the Navy and our Allies to finely tune our efforts in this resurgent battlespace, and reinforces the critical trans-Atlantic link," said Vice Adm. Andrew Lewis, Commander, U.S. 2nd Fleet. "Exercises like Black Widow give the undersea force a venue to showcase how we are agile, persistent, flexible, interoperable, and resilient." 
Participating units will refine communication techniques between platforms and simulate real-word application to enhance the lethality of the team as one cohesive fighting force. Black Widow also provides a chance for an increased focus on training in anti-submarine warfare on multiple platforms to enhance strategies and heighten the combat readiness of the fleet. 
Vice Adm. Daryl L. Caudle, Commander, Submarine Forces. "We train like we fight, and strive for innovation, development, and improvement across all spectrums of warfare. To maintain superiority, we must be more agile in concepts, geography and technology."
We had a chance to get further insights into the evolving "team sport," from Rear Admiral Jim Waters, Commander Submarine Group Two (SUBGRU2) during our visit to Norfolk in March 2021. The Admiral has a distinguished career with significant operational experience in both the Pacific and the Atlantic (see biography at the end of the article.)
When SUBGRU2 celebrated its first anniversary of its establishment in September 2020, the Commander was quoted in a story published by the command on September 30, 2020.
Submarine Group 2 (SUBGRU 2) celebrated its first anniversary after reestablishment on Sept. 30, 2019. SUBGRU 2 was reestablished a little more than a year after the reestablishment of U.S. 2nd Fleet in August 2018, and was aimed at enhancing the Navy's capacity to command and control its undersea warfare (USW) forces in the Western Atlantic.
Rear Adm. Jim Waters, SUBGRU 2 commander and Ellington, Connecticut native, highlighted the importance of reestablishing the command.
"We are tasked with advancing the art of undersea warfare through the combined efforts of our air, surface, submarine, and other underwater capabilities and to provide exquisitely trained forces to ensure undersea dominance in the Atlantic…I am honored to be a part of developing and leading this command into the future of integrated undersea warfare."
SUBGRU 2 serves as the Theater Undersea Warfare Commander (TUSWC) for 2nd Fleet and 4th Fleet in response to increasing near-peer competition in the Atlantic. SUBGRU 2 has the authority to command and control air, surface, and undersea forces to execute integrated multi-domain undersea operations in defense of the homeland.
In our discussion, a number of themes emerged  and what clearly was especially hammered home was a significant focus on innovation in working a wide variety of platforms to deliver the desired combat effect.
In fact, the Rear Admiral underscored that for Vice Admiral Lewis, many Navy platforms maybe considered an USW platform  since they all have the ability to see, to communicate, and as necessary provide weapons as contributors to what is now known as the USW Team Sport.
Clearly, the submarine remains the number one sub killer with weapons deployed for this purpose.
But with the expanded capability of surface and air-borne assets to find, track and kill submarines, the role of the underwater U.S. Navy force changes as well.  It can be the cutting-edge stalker or killer or work through the kill web force to get the desired result. In fact, having a wider range of options for prosecution and destruction of adversary submarines than in the past is a key element for 21st century maritime operations and warfare.
Over the past few years in interviews with aviators in the  transformed Maritime Patrol community with  the P-8 and the Triton., along with a more focused integration of the Romeo helicopters  we saw the U.S. Navy  reshape airborne forces working together to deliver a desired kill web combat effect. Along that journey we saw the  establishment of fleet level Maritime ISR (MISR) officers reflect the importance of the Information (note we are calling it "I" for Information vice Intelligence), Surveillance and Reconnaissance capability availability for maritime warfare, including ASW in particular.
Command guidance reflected in what is known as the  "Commanders Intent" side of this effort is the key focus of Vice Admiral Lewis and is clearly seen in the work of Submarine Group 2.  Mission command is crucial and Command guidance intent is clearly distributed to the fleet to shape and task forces that can deliver the desired combat effect.
Obviously, how communications and how ISR is shared between an undersea, surface and airborne force varies in terms of operating theaters and is a challenge; working interactivity across the domains is a key part of exercising an ASW team approach.
Rethinking how to use platforms is an essential part of the process because the U.S. Navy can practice like Black Widow demonstrated, employing amphibious platforms as part of sea control and sea denial. In Black Widow 2020, they did so in the form of the USS WASP.
The WASP was used as an ASW helo platforms, and the Rear Admiral underscored that the seaworthiness of the WASP and its deck space allowed for the team to use the Romeos operating off of the WASP to provide a key capability for the integrated fight.
Another driver for change in USW operations in the Atlantic is clearly new capabilities being operated by our allies, whether they be new diesel submarines or nuclear attack submarines in the case of the French and British, or new USW frigates, or new maritime patrol aircraft capabilities, whether they be the new P-8s as in the case of Britain or Norway, or new capabilities on older aircraft, as in the case of Canada.
As Rear Admiral Garvin, then the MPRA commander, put it last year; "In effect, we are shaping kill web "matesmanship."
"Our policy frameworks simply need to catch up with our technologies."
"Our allies understand the fundamental nature of their region better than we do.
"If you have properly maintained these important working relationships, both interpersonal and technological, then you will have access to the cultural knowledge and human geography that might otherwise would not be available to you.
"We clearly have closer relationships with some allies than with others, which shapes policy and data sharing. However, the technology is now out there which can allow us, within the right policy framework, to provide data at appropriate security levels much more rapidly than in the past.
"Those partnerships need to be nurtured and exercised now to help shape our interactive webs into a truly effective strike force over the extended battlespace."
Rear Admiral Waters certainly reinforced this point, as in the Atlantic, we have a number of key partners who work ASW and anti-surface warfare as a core competence for their national navies, and their domain knowledge is a key part of the equation in shaping enhanced warfighting capabilities and re-enforcing deterrence.
"Because of the complexity of the underwater domain, it is necessarily a team sport. There are people that would love to say, "It's the submarines. And they do ASW and that's what they do."
"And certainly, it's a major mission for the submarine force. But the threat is so complex, and the environment is so challenging, that you can't rely on one particular platform to do this mission.
"We as a navy have evolved a very robust structure of training and assessing and preparing and innovating. We're really good at carrier-centric integration.
"But our ability to integrate a non-carrier-centric force, like a theater undersea warfare task force, needs to be enhanced. And that was what Black Widow represented. We operated as a fleet or a task force to deliver the desired combat effect."
Finally, there is the question of the coming of maritime autonomous systems and how they might fit into the concepts of operations which the Rear Admiral is shaping and executing.
Recently, the Navy released its plan for developing and then integrating maritime autonomous systems into the force.
Clearly, one domain where this may well happen is in the ISR side of providing information for both ASW and anti-surface warfare. The promise is there, but also the question of the readiness of the networks to handle data and where that data will go remains a work in progress.
This is how Rear Admiral Waters put it: "Unmanned systems will play an important role in the future.
"The fact that they can dwell for long periods, and we don't have to worry about feeding the people on board, will provide an important contribution in the undersea warfare area.
"Unmanned systems have  the ability to stare for a long time and if you could put a platform out there that can either stay in the air a really long time or stay in the environment with acoustic sensors for a really long time, that gives you the ability to sense the environment.
"The challenge comes with regard to how what information you have gathered becomes useful.
"We have to have the place where they plug in, and how to use that information in the area of interest?"
It is clear that the undersea domain which is the focus of attention of Rear Admiral Walters is best understood not only in terms of its own dynamic, but how it interacts with the threats and challenges across the multi-domain theater of operations which C2F and Allied JFC Norfolk focus upon.
As Vice Admiral Lewis noted the change in his March 2021 Proceedings article:
"Both JFCNF and C2F are shifting their mind-sets from predominantly operating from the sea to fighting at sea—which requires mastery of the domains below, on, and above the sea. We are executing high-end maritime operations from seabed to space. Our collective security and interconnected global economy depend on open shipping lanes, unhindered air travel, and uninterrupted flow of data., C2F and JFCNF are natural partners—each advocating for the other and working in unison.
" Russia has increased its military posture during the past decade, to signal its ability to threaten allied capabilities, infrastructure, and territory. Russia has invested in capability versus capacity—it knows it will never have more ships, aircraft, or submarines than all of NATO—with an eye toward asymmetric capabilities. So, we carefully monitor Russian investments in force multipliers such as hypersonic weapons, submarine quieting, extended-range missile systems, and information warfare."
"Russia's activity in the gray zone notably includes its underwater reconnaissance program and information operations. In recent years, Russia intensified its submarine activity around the undersea cables, which are essential for global communications—including the internet. The ability of an American user to access a website in Europe or vice versa largely depends on a network of several hundred fiber-optic communication cables that run across the ocean floor—and Russia has deployed submarines to map out the cables, likely in preparation for nefarious activity."
In short, the undersea domain is a key field of action, where dominance is best ensured by having a 360-degree operational capability encompassing the surface, air and space domains.
Clearly, Rear Admiral Waters not only understands this, but is leading the way in shaping the kind of innovation crucial for the defense of the homeland and U.S. interests abroad.
Rear Admiral James Waters III, Commander, Submarine Group TWO
Rear Adm. Waters is a native of Ellington, Connecticut and 1989 graduate of the U.S. Naval Academy with a degree in Systems Engineering.  He completed graduate studies at Oxford University in 1991.
His sea tours include various division officer assignments onboard USS Henry M. Jackson (SSBN 730G), engineer officer onboard USS Philadelphia (SSN 690) and executive officer onboard USS Alabama (SSBN 731B).  He commanded USS Virginia (SSN 774) and Submarine Squadron Four.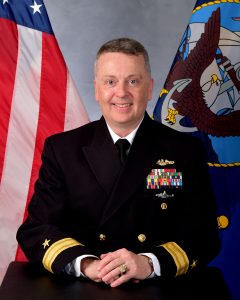 His staff assignments include operations officer at Submarine Squadron Two, engineer at Submarine Squadron Three, submarine executive officer detailer, deputy commander of Submarine Squadron One, battle watch commander and chief of staff for U.S. Strategic Command's Director of Global Operations (J3), CNO Strategic Studies Group 35, and as deputy executive director for the Chief of Naval Personnel.  He most recently served as director, Maritime Headquarters, U.S. Pacific Fleet.
Waters assumed his current duties in August 2019 as commander, Submarine Group Two in Norfolk, Virginia.
His decorations include the Defense Superior Service Medal, Legion of Merit, Meritorious Service Medal, Navy-Marine Corps Commendation Medal, Navy-Marine Corps Achievement Medal, and various other individual, unit, campaign and service awards.  He is most proud of those awards that reflect the hard work and success of the many teams he has been privileged to serve.