During our visit to C2F in March 2021, we had an opportunity to discuss the standup of the command in 2018 and its evolution since then.
One clearly important fact cannot be missed when visiting VADM Lewis, the CO of C2F.
In his frugal office space, one finds his office flanked on one side by a Canadian Rear Admiral and on the other by a British Rear Admiral.
The first is his C2F deputy, and the second is his NATO deputy.
It is hard to miss the point: this is a command focused on integration of maritime capability across the North Atlantic.
The importance of having a Canadian Rear Admiral within the American command cannot be overstated.
This is how C2F described the importance of this appointment as follows in a story published by them on November 12, 2019.
In the cavernous three-story Maritime Operations Center, amidst a sea of television monitors and projection screens, a mass of uniforms gathers huddled around a cluster of desks. Interspersed throughout the crowd of mostly U.S. Navy uniforms are a smattering of Marines and a few livelier uniforms from France, the U.K, and Norway.
"Standby," is anonymously called and all conversation ceases. Everyone stands in quiet anticipation for the arrival of the admiral who is leading the briefing. "Attention on deck," rings out and everyone snaps to rigid attention.
In walks the admiral, not dressed in the uniform of a U.S. Navy Sailor, but in that of a Royal Canadian Navy Rear Admiral. He is U.S. 2nd Fleet's vice commander, and the fact that he is a part of 2nd Fleet's chain of command represents the commitment that the U.S. Navy has not only to its mission, but to its partners who are vital to accomplishing that mission.
When U.S. 2nd Fleet was reestablished on Aug. 24, 2018, it was done with the vision to create a force that was able to confront the very real resurgence of great power competition in the North Atlantic and Arctic. The. U.S. Navy recognized early that relying on allies and partners in the Arctic region would be key to confronting future threats. To that end, 2nd Fleet has taken the unusual step of integrating officers from allied nations directly into the fleet's staff. Chief among the five foreign national officers serving on the staff is Canadian Rear Adm. Steve Waddell, vice commander of U.S. 2nd Fleet.
Waddell, a native of Temagami, Northern Ontario, and a 30-year member of the Royal Canadian Navy, stepped into the number two role at the Navy's newest fleet to not only bring alternative perspectives to the command, but to revive a partnership that existed before U.S. 2nd Fleet was disestablished in 2011.
"We have had, and continue to have Canadians working in and amongst units and organizations here in Norfolk," said Waddell. "But this is the first time someone so senior has been here since the disestablishment of the NATO Allied Command Atlantic (SACLANT) in 2003. Having a permanent Canadian Rear Admiral as the C2F Vice Commander is a return to that way of doing business."
"Rear Adm. Waddell brings a wealth of knowledge and experience to the staff, and we are grateful to have him," said Vice Adm. Andrew Lewis, commander of U.S. 2nd Fleet. "Especially when operating in the cold, rough, northern Atlantic environments that we are today, in a coalition manner, having a senior perspective from Canada provides immeasurable insight and expertise."
While it is not unheard of to have members of partner militaries embedded within large U.S. commands, U.S. 2nd Fleet has taken this further by integrating them into the actual command and decision-making structure of the fleet at a very senior level.
International cooperation and coalition building is key to having a force that is capable of operating together, in peacetime as well as war. Integration does not begin at the senior level. Waddell has worked with and embedded with the U.S. Navy throughout his career.
"Much like the U.S., we in Canada have an entire generation of Sailors and naval officers, myself included, that have routinely deployed around the world, often integrated as part of a NATO task group or a U.S. carrier strike group," said Waddell. "Those opportunities have allowed my colleagues and me to become accustomed to working with partners and the U.S. Navy. Trust is built over time."
As the U.S. Navy begins to shift its attention from decades of operations in the Middle East back to blue water and high-north engagement, ensuring strong partnerships between the U.S. and allied Arctic nations becomes of paramount importance. Waddell and the other allied officers on U.S. 2nd Fleet's staff bridge gaps in understanding, strengthen relationships, and are central to U.S. 2nd Fleet's mission accomplishment.
Not surprisingly, Rear Adm. Steve Waddell has a very impressive background, which includes serving in the Pacific Area of Operations, most recently at Canadian Forces Base Esquimalt from July 2014 through June 2017.
In other words, he brings a perspective on the challenges facing maritime forces in both the Pacific and the Atlantic to his work as the Vice Commander.
In our discussion with him, he underscored how important the standup of this command was from his point of view to defend the interests of the United States and its partners in the Atlantic area of operations.
He underscored that C2F is best understood as a startup command, rather than having stood up an existing command template as seen elsewhere in the U.S. Navy, and as such sees this effort as a driver for change for 21st century naval operations.
According to Waddell: "We will not be as large a command as other numbered fleets. We are designed to max out at about 250 people and currently are around 200 now. We have to be different and innovative in how we get after the missions.
"We need to make sure we're using tools and alternative resources, because we don't have that depth and capacity of people, so you have to find a different way."
As a startup command that is now fully operational capable or FOC, they are not emulating other numbered commands in many ways.
"We are not primarily focused on the business of force generation, but we focus on how to use assigned forces to shape a desired outcome.
"We don't want to get in the space of those responsible for force generation: we just want to be able to advocate for timely, effective outputs that optimize the use of the fleet."
He noted that the assumption that the 2nd Fleet was going to be the 2nd Fleet of old was misplaced.
"The old 2nd Fleet was interested in sea lines of communication.
"But the new 2nd Fleet is focused on strategic lines of communication.
"This is an all domain perspective, and not just the convoy missions of past battles of the Atlantic."
He referred to C2F as the maneuver arm in providing for defense, deterrence and warfighting but as part of a whole of government approach to defending the United States, Canada and NATO allies against threats.
He underscored that "we are flexible and unconcerned with regard to whom we will work for. Operationally, we work for NAVNORTH (Fleet Forces Command) for the Homeland Defense Mission, but we can seamlessly transfer and work for NAVEUR/ EUCOM to defend forward, or to work in the GIUK Gap for an Allied Joint Force Command."
Rear Admiral Waddell drove home the point throughout our discussion that they were building an agile command structure, one that can work through mission command and with expeditionary operations centers.
As he explained it, "For us a Maritime Operations Center is not a room with equipment.
"It is a capability, based on technology, process and people.
"We distribute it all the time, whether it's been afloat or ashore.
"Previously, we were in Iceland.
"Right now, they're down in Tampa for an exercise.
"I'll be joining them in a couple of days."
How did we end up with a Vice Commander who is Canadian?
As Rear Admiral Waddell tells it, VADM Lewis was asked to stand up 2nd Fleet and given much latitude to do so. He went to a senior Canadian official to ask for a Royal Canadian Navy officer to serve as his deputy.
Waddell felt that bringing a Canadian officer into the force made a lot of sense for a number of reasons.
First, because of the partnership nature of operations in the area of interest.
Second, because the Canadians have experience in operating in the high north, which could be brought to the renewed efforts on the part of the United States side to do so.
Third, as Waddell himself works the C2F experience he can weave what he learns into Canadian approach to operations.
"It's not lost on me that we as a Canadian service honed our teeth in the battle of the Atlantic in the Second World War in the North Atlantic and then in the ASW fight through the Cold War.
"Those competencies, although we were collectively distracted a little bit from iterations to CENTCOM and in the Persian Gulf for some time, are crucial going forward.
"I think we've reinforced those capabilities and are investing in new capabilities at home in Canada, such as with the Type 26 surface combatant program, a very robust platform."
He highlighted that the distances involved in the High North are generally not realized.
"People forget that it's a longer distance to go from, not even Norfolk but Halifax up into the Arctic than it is to cross the Atlantic."
The logistics infrastructure in the High North is very limited compared to Europe, which means that for C2F, working through the kind of operational infrastructure needed to operate in the area is part of the equation as well.
"There is renewed focus on getting the East Coast Fleet involved in more northern activities.
"Canada does a series of annual Arctic exercises called NANOOK. C2F is involved in this exercise.
"Typically every other year there is a major warfare exercise off of Halifax called CUTLASS FURY, where we will send ships and aircraft to participate as well.
"We are working to be able to reinforce operations in more northern latitudes."
Rear Admiral Waddell emphasized that the focus was upon the Atlantic challenge, and not narrowly focusing on a specific COCOM's area of interest.
"You need all of that to have an informed and meaningful conversation that really comes down to priority, level of effort, and force apportionment.
"Our reality is that combatant commanders are assigned resources, but the fight needs to be contiguous across COCOM boundaries.
"It's not a NORTHCOM problem. It's not a EUCOM problem.
"It's an Atlantic problem."
He discussed various tools and approaches being used to understand how to scope the challenges and priorities, including hosting a Battle of the Atlantic tabletop exercise. The goal of efforts like these are to scope out the various interactions across an extended battlespace to understand how fights influence one another.
All of this leads to a very significant conclusion about the U.S. Navy and allies integrating across an extended battlespace and operating distributed forces.
"For the web of capabilities, you need to be ready to fight tonight, you need to be able to seamlessly integrate together across the fleet, inclusive of U.S. and allied forces. You fight as a fleet."
That means fundamental change from a cultural assumption that the U.S. Navy has run with for many years.
"You need to understand and accept that a fighting force needs to be reconfigurable such that others can seamlessly bolt on, participate in, or integrate into that force.
"That might mean changes from the assumptions of how the Navy has operated in the past in order to operate successfully with allies."
In short, as we noted in our earlier piece: "The Second Fleet has not just been reestablished; it has been transformed."
Appendix:
This story by C2F published on August 4, 2020 highlighted their participation in the Canadian exercise NANOOK.
The Arleigh Burke-class guided-missile destroyer USS Thomas Hudner (DDG 116) is joining members of the U.S. Coast Guard, Canadian Armed Forces, French Navy, and the Royal Danish Navy, to participate in the maritime component of Operation NANOOK-TUUGAALIK 2020.
Operation NANOOK is the Canadian Armed Forces' signature northern operation, comprising a series of comprehensive, joint, interagency, and multinational activities designed to exercise the defense of Canada and security in the region. NANOOK-TUUGAALIK is the maritime component of the NANOOK series of deployments and training events and designed as a maritime presence operation and domain awareness of the seas in the Eastern Arctic.  
"The U.S. is an Arctic nation, and this region is important to our national security, this is why we participate in events like Operation NANOOK," said Vice Adm. Andrew Lewis, commander of U.S. 2nd Fleet. "A stable, rules-based order in the Arctic benefits all Arctic nations by facilitating economic development, fostering regional cooperation on shared challenges, and ensuring a stable, conflict-free Arctic."
 The United States is one of eight Arctic nations and the National Defense Strategy calls upon the military to increase its presence in the Arctic over the long term and to conduct joint operations with Arctic allies to strengthen situational awareness and information sharing.
 "Operating together in or near Canada's Arctic waters presents a mutually beneficial opportunity for allies to enhance their Arctic capabilities," said Canadian Rear Adm. Steven Waddell, vice commander of U.S. 2nd Fleet. "The opportunity to work with allies and partners in challenging environments only makes us better as we develop and hone unique skillsets to improve the readiness of all participants."
Operation NANOOK has taken place each year since 2007, normally during the months of August and September. Due to the current COVID-19 pandemic, this iteration will be shorter than past years, with no planned port visits or community relations activities.
This year's maritime component for Operation NANOOK includes the Royal Canadian Navy ships HMCS Glace Bay, HMCS Ville de Quebec, and MV Asterix; the U.S. Navy Arleigh Burke-class guided-missile destroyer USS Thomas Hudner (DDG 116), the "Misfits" of Helicopter Maritime Strike (HSM) 46.2; the U.S. Coast Guard cutter USCGC Tahoma, French Navy coastal patrol vessel FS Fulmar, and the Royal Danish Navy frigate HDMS Triton.
This story by C2F published on July 1, 2020 highlighted a "battle of the Atlantic" tabletop exercise.
Joint Force Command Norfolk (JFCNF), the North Atlantic Treaty Organization's (NATO) newest operational level warfighting headquarters, in partnership with U.S. 2nd Fleet, held the Fourth Battle of the Atlantic tabletop exercise (TTX) virtually for leaders from multinational commands to discuss the future warfighting strategy in the Atlantic.
Navy Warfare Development Center (NWDC) facilitated the TTX, which presented commanders with vignettes to address command relationships, resources, mission priorities, and authorities in the Atlantic. The exercise's goal was to create a shared understanding of the maritime security environment in the Atlantic amongst all participants, and ultimately to define JFCNF's role in the battlespace as the new command matures.
"The importance of cultivating strong relationships with organizations across the Atlantic cannot be overstated," said Vice Adm. Andrew Lewis, dual hatted commander Joint Force Command Norfolk and U.S. Second Fleet. "The security environment is continually evolving and no one nation can do it alone. Maintaining security and stability in the Atlantic is a responsibility shared amongst many in order to ensure the international waters where we all operate remain free and open."
During the TTX, senior leaders from NATO and Partner Nations shared perspectives on the security environment in order to challenge strategic and operational warfighting assumptions, ultimately with the goal of developing a shared understanding of the challenges faced in the North Atlantic. Leaders present represented 30 different commands, both within the NATO command structure and outside.
"This table top exercise is an important step in building solidarity and mutual strength amongst our nations as we work to ensure that NATO is ready to meet any challenge in the North Atlantic," said Deputy Commander, Joint Force Command Norfolk, Rear Adm. Andrew Betton, OBE Royal Navy. "And we look forward to continuing the dialogue with Allies and Partners as JFC Norfolk approaches Initial and Full Operational Capability in the near future."
The exercise, originally scheduled for an in-person conference, shifted to a virtual enabled platform in order to maximize participation while minimizing travel and risk of infection during the COVID-19 global pandemic – a sign of transatlantic connectivity and resilience across the Atlantic.
"Those of us gathered represent maritime nations, and the ability to assure freedom of navigation is a cornerstone of our collective defence," said Vice Commander, U.S. 2nd Fleet, Rear Adm. Steven Waddell, Royal Canadian Navy. "We are responding to the new security environment in the Atlantic with innovation and flexibility in both posture and mind set; this is an iterative and ever developing process, and one we will assuredly get right."
The name "Fourth Battle of the Atlantic" acknowledges a return to great power competition by recognizing the first three "battles of the Atlantic," first during World War I, next in World War II, and most recently during the Cold War. The Fourth Battle of the Atlantic TTX is one way NATO is strengthening its joint presence in the North Atlantic, which it reduced at the end of the Cold War as threats subsided.
NATO commands participating in the TTX included Joint Force Command Norfolk, Allied Maritime Command, Allied Joint Force Command Brunsum, Allied Air Command, Naval Striking and Support Forces NATO, Submarines NATO, NATO Allied Command Transformation, Combined Joint Operations from the Sea Center of Excellence, Standing Joint Logistics Support Group.
Several European countries participated, with the French Maritime Forces Atlantic, United Kingdom Strike Force, Norwegian Joint Headquarters, Danish Joint Operations Center, the Danish Joint Arctic Command, as well as representation from Iceland.
Non-NATO participation included representatives from partner nations of Sweden and Finland.
Participation from U.S. commands included Naval Forces Europe-Africa / U.S 6th Fleet, U.S. Fleet Forces, U.S. 2nd Fleet, II Marine Expeditionary Force, U.S. 4th Fleet, U.S. 10th Fleet, Air Forces Northern, Military Sealift Command, Expeditionary Strike Group Two, Submarine Forces Atlantic, Patrol and Reconnaissance Group, Submarine Group Two, and Naval Meteorology and Oceanography Command.
Joint Force Command Norfolk is among the new commands established as part of NATO Command Structure Adaptation, in order to meet the challenges of the evolving security environment. It is headquartered in Norfolk, Virginia and provides a U.S.-led, joint multi-national operational command from NATO's home in North America.
The North Atlantic Council created Joint Force Command Norfolk at the 2018 Brussels Summit to focus on protecting the transatlantic lines of communication. Since then, the command has gradually grown from its modest beginnings, and was activated by the North Atlantic Council in July 2019 as an International Military Headquarters. Joint Force Command Norfolk will increase NATO's readiness across the North Atlantic and High North, strengthen the transatlantic bonds with Allies and Partners, and ultimately deter aggression from any potential adversaries.
The Fourth Battle of the Atlantic TTX is one of the ways NATO is strengthening its presence in the North Atlantic, which was reduced at the end of the Cold War as threats subsided. The exercise helped to develop staff expertise within JFC Norfolk's operating area, improve interoperability and coordination, and increase overall NATO capability as Joint Force Command Norfolk continues to build toward Full Operational Capability.
NWDC develops and integrates innovative solutions to complex naval warfare challenges to enhance current and future warfighting capabilities. Command professionals are focused on operational-level concept generation, warfighting development, and cross-domain integration to strengthen U.S. Navy warfighting.
U.S. 2nd Fleet exercises operational and administrative authorities over assigned ships aircraft and landing forces on the East Coast and the North Atlantic, and will be closely integrated with JFCNF.
Editor's Note: When we visited NORTHCOM with Admiral Gortney as the Commander, he highlighted how he saw the North American homeland defense challenge, namely, being posed at what he referred to as the 10 and 2 O'Clock positions. 
With his service in the Pacific and as Vice Commander of 2nd Fleet, Canadian Rear Adm. Steve Waddell certainly understands what Gortney was talking about.
This was a question we posed during our discussion with Admiral Gortney in 2016:
Question: How important is Canada to this effort?
Answer: "Crucial. But the challenge for us is to shape what we in the US Navy call the NIFC-CA or Naval Integrated Fire Control—Counter Air battle network solution for North American defense.
"Put in simple terms, we need to shape a more integrated air and maritime force that can operate to defend the maritime and air approaches to North America as well as North America itself.
"We can look at the evolving threat as a ten o'clock and a two o'clock fight, because they originate from the ten and two.
"And the ten o'clock fight is primarily right now an aviation fight.
"They're moving capability there, but it's nothing like what they have at the two o'clock fight.
"The two o'clock fight is more of a maritime fight.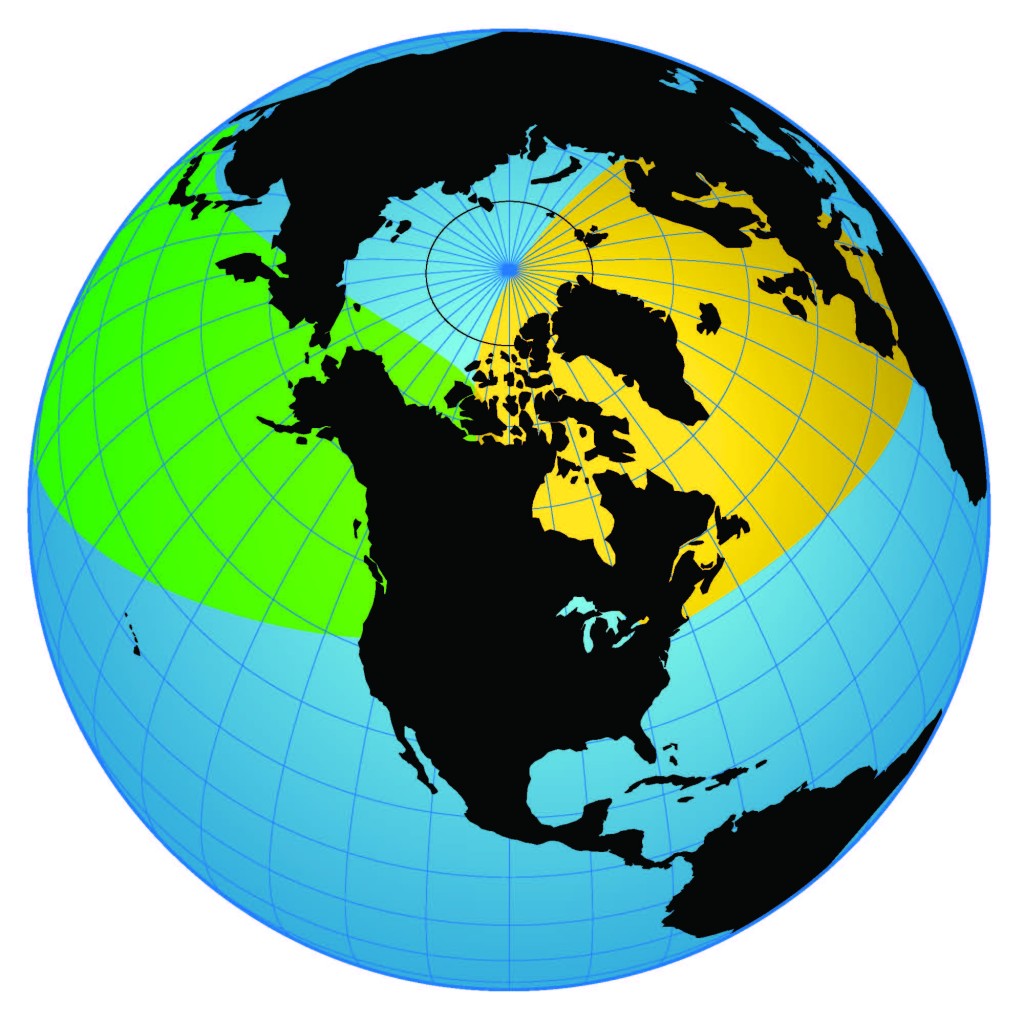 "This means that as the NORTHCOM Commander, I can only defend North America if I can reach deeply into the U.S. European Command area of operation.
"I need EUCOM to handle the two o'clock fight for me.
"Thus, it is critical to net and synchronize our operational plans so that we are not just fighting in isolation and this shift is a pretty significant change for us here at NORAD and NORTHCOM.
"One way to think about it is that I'm a module in EUCOM's bigger picture, because if it's a Russian problem, EUCOM owns Russia.
"And so I'm supporting EUCOM. EUCOM is supporting to me when it comes to the defense of homeland, but when it becomes a Russian problem, then it's probably going to start, originate in Europe and then we are a piece of that defense effort."
With regard to Canadian Rear Adm. Steve Waddell who is now serving in Norfolk, here is where he served before in the Pacific: