By Robbin Laird
The Russian seizure of Crimea set in motion the return of direct defense for both Europe and the United States. With Putin's Russia reshaping it defense capabilities and concepts of operations, there is a significant reset in terms of how the United States and the allies are working force integration in the North Atlantic. With the Nordics leading the way in terms of European responses to the Northern Flank, the reestablishment of Second Fleet and the standup of a NATO command on U.S. soil, Allied Joint Forces Command, have set in motion a Norfolk led effort for reworking how the United States Navy works with allies in shaping the way ahead in what has been called the "Fourth Battle of the Atlantic."
With the shift from the land wars to full spectrum crisis management, and with a new focus by the U.S. Navy on fleet combat operations, a new phase in working Marines with the evolving approach to Naval integration is underway.
This clearly affects the North Carolina-based Marines, and no force more so than the 2nd Marine Expeditionary Brigade within II MEF.
During my visit to II MEF during the last week of April, I had a chance to meet with the acting commander of 2nd MEB, Colonel David Everly (see biography at the end of the article).
2nd Marine Expeditionary Brigade is a very flexible force capability.
As their website highlights:
"The MEB Command Element (CE) provides a Marine Air Ground Task Force /Joint Task Force (MAGTF/JTF)-capable headquarters that can rapidly deploy and when directed composites with naval and / or land-based forward-deployed and/or rapidly deployable forces to form a MAGTF or the core element of a JTF headquarters in order to fulfill Geographic Combatant Commander (GCC) operational requirements."
But that force construct faces significant challenges as the effort to shape new approaches to naval integration unfolds. As Colonel Everly put it in our discussion: "We're changing our culture. We're shifting our culture back to align with the naval character of our force."
He added that "understanding the Navy's composite warfare concept is not something culturally ingrained in how the USMC has been trained and operates."
But there is a cultural challenge on the Navy side as well. "Our expertise as a MEB is in composite warfare. How well does the US Navy fighting as a fleet, understand that expertise and how best to leverage that and shape new approaches to integration."
In other words, a core challenge is co-evolution to create new combat capabilities. On the one hand, as the Navy reworks fleet operations, how best to leverage what the USMC can contribute? How should the USMC reshape to better support fleet operations, and reshape its approach to composite operations?
A key challenge is working two key elements: how to contribute as a task force element and how to be able to deploy as a self-sufficient force in a crisis?
On the one hand, what is being worked are new ways to shape modular task forces within which the Marines bring core competencies and capabilities. On the other hand, how to ensure that the Marines are a survivable force when they deploy as a unit?
For Colonel Everly, a key way ahead is to train and exercise together and to reshape interactively the kind of co-evolution which will lead to mission success. The MEB is clearly pursuing such an approach as seen in the recently completed Dynamic Cape 21 exercise. In this exercise, working how to shape expeditionary logistics as a key part of support to force projection in the North Atlantic was a key part of the effort.
Logistics is crucial as well as shaping the kind of distributed C2 which can be leveraged to craft flexible force integration as well.
That kind of effort was seen earlier this year when 2 MEB completed an Initial Response Team Exercise.
As a story released by the command indicated about this exercise:
U.S. Marines with 2nd Marine Expeditionary Brigade completed an Initial Response Team exercise, taking place on Camp Lejeune and Marine Corps Auxiliary Landing Field Bogue, N.C., Jan. 14, 2021. The Initial Response Team exercise simulated a forward theater deployment to establish a command and control communication node for 2nd MEB with support from Marine Medium Tiltrotor Squadron 263.
"We conducted an Initial Response Team fly away drill that consisted of Marines from core functional areas within the MEB," said Maj. Jay Montgomery, G-3 future operations planner, 2nd MEB. "The team was given 24 to 96 hours to prepare for a simulated forward deployment and establish a command and control center."
As 2nd MEB executed the exercise, they were air lifted to Marine Corps Auxiliary Landing Field Bogue and immediately began set up of their control center. This quick execution not only demonstrates the mobility and flexibility of the MEB, but also ensures proficiency of the Marines involved.
"From the moment we had boots on the ground we were able to set up communications for our staff within 20 minutes," said Gunnery Sgt. Scott Brown, a network chief with 2nd MEB. "Being that fast to establish communications is essential to being able to enable and control units, anywhere at any given time."
Being able to establish a command and control station on a short notice is one of the requirements for 2nd MEB's goal of staying a force in readiness and projecting forward to prepare for an eventual II MEF deployment.
"One of the missions for MEB is to be rapidly deployable; deployments and drills like this help us rehearse the establishment of command and control," said Col. Garrett Benson, assistant chief of staff, G-3 operations, 2nd MEB. "The Initial Response Team was a way of maintaining 2nd MEB's proficiency in rapid deployment and getting out the door completely ready to go both administratively and medically."
Benson said the drill showcased MEB's ability to be anywhere, anytime. "The purpose of the exercise was to ensure we are ready at a moment's notice in Europe, Africa or anywhere else in the world," said Benson. "This training event was a success and it validated our ability to deploy on a short notice, furthered our capacity to incorporate aviation assets into our movement and reinforce our relationship with II Marine Expeditionary Force staff as we look to execute these exercises like these in the future." 
 The C2 piece and the expeditionary logistics pieces are two key parts of adapting 2 MEB's composite warfare capabilities to the new focus on integrated operations with the U.S. Navy, but they are a work in progress. A couple of examples of what the MEB can bring in the future to the maritime fight are ashore fires, such as HIMARS or the Naval Strike Missile. Another example is working signature management so that Marines operating in expeditionary base locations can provide ISR and other capabilities to the fleet.
Both face challenges. Col. Everly was part of the team that brought HIMARS to the land wars. When the HIMARS was introduced into the land wars, the focus was not on shaping them for a dynamic employment concept. I have seen at MAWTS-1, the Marines working integration of HIMARS with F-35s which is the kind of dynamic employment concept which makes sense for the way ahead for Marine Corps integration for the maritime fight.
The signature management piece is part of the larger challenge of working information warfare as part of force insertion and engagement which would enhance integratability as well. As Col. Everly put it: "The information domain is still something that both the MEB and the MEF are working to put their arms around."
Another piece to the Marines working to enhance their ability to contribute to the 4th Battle of the Atlantic is enhanced integratability with the relevant nations in the areas of interest and operations. Col. Everly underscored that exercising and training in the region is a key part of enhanced integrability which enables the Marines working with allies can bring to the fight. "Our interoperability with the Nordics, the French and the British is a key part of our effort as well. And this is part of the co-evolution which we are experiencing as they are evolving as we are ourselves."
An example of the kind of co-evolution underway between the Navy and 2nd MEB was highlighted in a recent composite training unit exercise (COMPTUEX) lead by the Dwight D. Eisenhower Carrier Strike Group. The IKE CSG Commander is Rear Adm. Scott Robertson who I interviewed last year when he was head of the Naval Surface and Mine Warfighting Development Center (SMWDC), located in San Diego, California.
The kind of innovative thinking he was focused on in that command has been carried over in the rethinking of fleet warfare operations.
As Robertson put it in an interview on the COMPTUEX event: "We were able to actually test some of our draft C2 (command and control) elements on how would we actually fold in Marines in an EABO capacity into the [composite warfare commander] construct, which was a big step for us, figuring out how do we sit there and do mutual fire support irrelevant of whether it's coming from an aircraft, a surface ship or an EAB established ashore somewhere."
This is the kind of exercise effort which Col. Everly highlighted in our discussion as crucial to shaping the way ahead to deliver a more effective force going forward. But clearly, working co-evolutions of the Marines with the Navy and with the allies is a major strategic challenge, but one ripe with strategic opportunities as well.
Colonel David Everly
Colonel Everly is a native of Inglewood, California. He graduated from the University of Southern California with a BS in Business Administration.
As a company grade officer, his operational assignments were Forward Observer, Guns Platoon Commander, Headquarters Platoon Commander, Assistant Executive Officer, Fire Direction Officer, Artillery Liaison Officer and Battery Executive Officer, 3rd Battalion, 10th Marines; Target Information Officer, 26th MEU (OPERATIONS NOBLE ANVIL and SHINING HOPE -Albania, OPERATION JOINT GUARDIAN –Kosovo, and OPERATION AVID RESPONSE –Turkey); Assistant Operations Officer, Operations Officer and Battery Commander, 1st Battalion, 12th Marines (OPERATION ENDURING FREEDOM -Philippines/Thailand, and the Unit Deployment Program (UDP) -Okinawa, Japan.
As a field grade officer, his operational assignments were Executive Officer, 1st Battalion, 11th Marines (OPERATION ENDURING FREEDOM); Operations Officer, 11th Marine Regiment; Commanding Officer, 5th Battalion, 11th Marines; Commanding Officer, The Basic School; AC/S G-5 Plans Officer, II MEF; Chief of Staff and Commanding Officer, 2d Marine Expeditionary Brigade.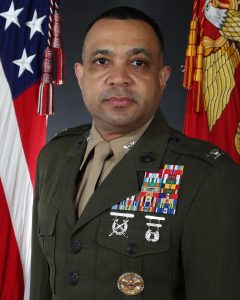 His supporting establishment assignments include instructor and Staff Platoon Commander (SPC), The Basic School; Faculty Advisor and Expeditionary Operations Instructor, Expeditionary Warfare School; Ground LtCol Assignment Monitor and Ground Colonel Assignment Monitor, Manpower Management Division, HQMC.
His joint duties include Deputy J3 Operations Officer, Joint Inter-Agency Task Force for Former Regime Elements (OPERATION IRAQI FREEDOM); Operations Directorate (J3), Current Operations (J33), Joint Staff. Junior Military Assistant to the 24th and 25th Secretaries of Defense.
Colonel Everly's civilian and military education include: US Army Field Artillery Officer Basic Course (with honors), US Army Field Artillery Career Course (with honors), Marine Corps Command and Staff Seminar Program, MS in Management and Leadership from Webster University, MS in Financial Planning from Oklahoma State University and MA in Strategic Security Studies for the National Defense University.
Col Everly's personal awards and decorations include: Defense Superior Service Medal, Legion of Merit, Bronze Star Medal, Defense Meritorious Service Medal, Meritorious Service Medal with Gold Star, Joint Service Commendation Medal, Navy and Marine Corps Commendation with Gold Star, Navy and Marine Corps Achievement Medal, Military Outstanding Volunteer Service Medal with Bronze Star and the Combat Action Ribbon.