By Robbin Laird
BALTOPS 50 was begun on the anniversary of D-Day, June 6, 2021.
It was first held in 1972 and is an annual military exercise, held and sponsored by the Commander, US Naval Forces Europe and operates in the Baltic Sea and the regions surrounding it.
One can take an intellectual photograph of the current exercise, but that would miss the core point of what is going on with regard to reworking northern flank defense.
With the Russian seizure of Crimea in 2014 and ongoing threats to the Nordics, and the Baltic nations, there has been a clear upsurge in concern about that threat.
And the geography of that threat has changed compared to the Cold War.
The Soviet Union and the Warsaw Pact surrounded the Nordics, with two states, Finland and Sweden, standing aside from the East-West confrontation.
Now that geo-political reality has changed and the Nordics have focused on enhancing both their national defense capabilities, but also their ability to work with one another.
And for the United States standing up two new commands in Norfolk, Second Fleet, and the first operational NATO command on U.S. territory, namely Allied Joint Force Command, Norfolk, has focused on the expanded geography from the High North through the defense arc to Poland.
It is in such a context that this year's BALTOPS exercise is being worked.
But given the altered threat environment and geopolitical realities, it is part of a wider range of exercises which have taken part in the past few weeks, not even months.
What these exercises together underscore is that the United States and its allies are focused on ways to shape a much more integrated force which can operate as a distributed force.
This is the essence of what kill web enabled force is about, that through mission command and a capability to make tactical decisions at the edge the force can operate across a spectrum of crises.
This is clearly a work in progress, but though the exercises being worked capabilities to better integrate are being forged.
Or put another way, this is not about the acquisition of the future force, this is about forging the future force for today's operational challenges.
Prior to turning to BALTOPS 50, a review of recent exercises provides a sense of the broader context of reworking how the U.S. Navy is working with the joint and coalition force to more effectively deliver an integrated defense capability for warfighting and deterrence cross the spectrum of crises.
First was the convergence of two major North Sea maritime exercises, namely the Royal Navy's Strike Warrior Exercise and the U.S. Exercise Ragnar Viking.
This is how a press release published on May 17, 2021 from the U.S. Navy described the convergence:
The exercises brought together 15 ships from four NATO countries, including the United Kingdom Carrier Strike Group and the U.S. IWO Amphibious Ready Group (ARG) with the embarked 24th Marine Expeditionary Unit (MEU).
The concurrence of Strike Warrior and Ragnar Viking demonstrates the Alliance's ability to coordinate Carrier Strike Group and ARG/MEU operations simultaneously. These maritime operations illustrate what makes NATO the most successful alliance in history.
"HMS Queen Elizabeth and the USS Iwo Jima represent a substantial concentration of maritime-based air power. With the involvement of warships from four NATO members, including HMS Albion, our rendezvous in the North Atlantic demonstrates the collective strength of the Alliance," said Royal Navy Capt. Angus Essenhigh, commanding officer, HMS Queen Elizabeth (R 08). "The fact that the Royal Navy is able to deploy a Littoral Response Group and a Carrier Strike Group simultaneously is also significant. Very few other navies can do this, and it underscores the United Kingdom's substantial and enduring commitment to the security of Europe and the North Atlantic."
Exercise Strike Warrior involves more than 20 warships, three submarines and 84 aircraft from 11 nations and is a final test for the Carrier Strike Group ahead of its first operational deployment to the Mediterranean, Indian Ocean and Asia Pacific.
"As a final act of expert planning and coordination about 9,000 military members from several NATO nations converged on one spot in the North Atlantic today," said U.S. Navy Capt. Darren Nelson, commodore, Amphibious Squadron Four. "There is simply no substitute for U.S. presence in Europe and the ARG/MEU remains committed to support our allies and partners with our flexible maneuverable force ready to meet emerging missions or contingencies, humanitarian crisis, reassure our partners, enhance security, and ensure the free flow of commerce in the region."
Ragnar Viking is a multilateral operational exercise exhibiting High-end NATO cohesion, solidarity, and credibility in the Norwegian, North, and Baltic Seas. Ragnar Viking demonstrated long-range strike capabilities from the North Atlantic into Lithuania, amphibious landings in Norway and anti- submarine warfare, and surface action group operations to control the sea, air, and undersea domains, while projecting power.
Ragnar Viking Participating Units include: Iwo Jima Amphibious Ready Group, 24th MEU, USS New Mexico, USS Ross, USS Arleigh Burke, Royal Navy HMS Lancaster and HMS Albion, French Navy FS Normandie and Norwegian Navy HNoMS Sjkold, HNoMS Otto Sverdrup, along with U.S. Navy, U.S. Marine Corps, and U.S. Air Force aircraft. Poland and Lithuania are also supporting the exercise, demonstrating the collective power of NATO to operate in the dynamic maritime environment.
The IWOARG consists of the Wasp-class amphibious assault ship USS Iwo Jima (LHD 7), Harpers Ferry-class dock landing ship USS Carter Hall (LSD 50), and the amphibious transport dock ship USS San Antonio (LPD 17). Embarked detachments for the IWOARG include Amphibious Squadron (PHIBRON) Four, Fleet Surgical Team (FST) Six, Helicopter Sea Combat Squadron (HSC) 26, Tactical Air Control Squadron (TACRON) 21, Naval Beach Group (NBG) Two, Beach Master Unit (BMU) Two, Assault Craft Unit (ACU) Two and Four, and Sailors from Amphibious Construction Battalion (ACB) Two.
The 24th MEU mission is to provide the United States with a forward-deployed, amphibious force-in-readiness capable of executing missions across the full spectrum of combat and military operations other than war and consists of four basic elements – a command element, a ground combat element, Battalion Landing Team (BLT) 1/8, a logistics combat element, Combat Logistics Battalion (CLB) 24, and an aviation combat element, Marine Medium Tiltrotor Squadron (VMM) 162 Reinforced.
As Thomas Newdick noted in an article about the convergence of the two exercises:
By introducing Ragnar Viking to Exercise Strike Warrior, the aim was to prove that NATO forces can run both Carrier Strike Group and Amphibious Ready Group/Marine Expeditionary Unit activities simultaneously.
"HMS Queen Elizabeth and the USS Iwo Jima represent a substantial concentration of maritime-based airpower," said Royal Navy Captain Angus Essenhigh, commanding officer of HMS Queen Elizabeth. "With the involvement of warships from four NATO members, including HMS Albion, our rendezvous in the North Atlantic demonstrates the collective strength of the alliance."
Almost centrally a keyway ahead for the U.S. Navy and USMC is working integrated operations for the carrier and amphibious fleet to work new approaches to distributed maritime operations.
And in so doing, a key role will be played by how the air wings on the carrier are reshaped in interaction with how the amphibious fleet will be configured as well.
A second major exercise which followed this one was a major sea line of communications exercise, which involves sea control and the ability to provide logistical and force structure integration on both sides of the Atlantic.
This is how a May 30, 2021 story published by Allied Joint Forces Command Norfolk described that exercise.
Part one of a three-part Steadfast Defender exercise, ended near the coast of Portugal, May 30. Part one was a dynamic maritime multi-domain collective defense exercise led by the North Atlantic Treaty Organization, involving 19 ships from 11 allied nations and including more than 5,000 participants.  
Commander, Joint Force Command Norfolk, Vice Adm. Andrew Lewis, in support of NATO, led this year's Steadfast Defender 21.  "Steadfast Defender provides an excellent opportunity for the Allies to strengthen an already strong relationship by engaging in multi-domain, interoperability training. It also plays a critical role on the path to interchangeability as the way we will ensure our collective defense in the future," said Vice Adm. Andrew Lewis.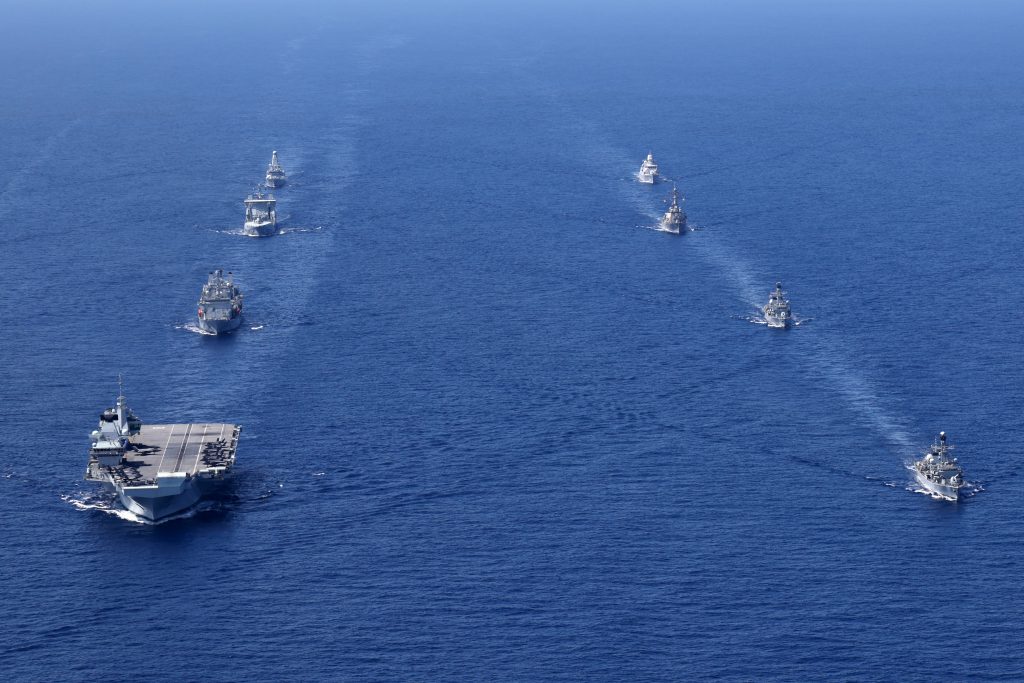 Steadfast Defender 2021 is a three-part series of multilateral military exercises taking place in the Atlantic and Europe. Part one is the maritime component focused on trans-Atlantic reinforcements. Part two focuses on the enablement of Supreme Allied Commander Europe Area of Responsibility (SACEUR), military mobility and the deployment of the NATO Response Force. Part three consists of additional multinational training which includes the U.S.-led exercise Saber Guardian in Romania in which NATO allies and partner nations perform redeployment operations back to their home stations.
During part one, the Allies focused on the ability to reinforce Europe with troops and resources from North America while Europe faced a simulated maritime attack. The HMS Queen Elizabeth Carrier Strike Group conducted a scripted attack while NATO Navy assets simulated a defense. With a set defense, the Allies secured the sea lines of communication to deliver troops and resources on station on time. This simulation tested NATO's adapted command structure and the unity and cooperation between North American and European NATO Allies.
U.S. 2nd Fleet served as the Maritime Component Command in tactical control of assigned units during the exercise. Employing maritime forces, ready to fight, across multiple domains in the Atlantic to ensure access, deter aggression, and defend U.S., allied and partner interests.
This is the first time 2nd Fleet has acted as the MCC in a NATO-led joint multi-lateral exercise. Canadian Rear Adm. Steven Waddell, vice commander of 2nd Fleet, led the team embarked on MCC effort aboard the command and control ship USS Mount Whitney (LCC 20).
"NATO is the bedrock of our enduring trans-Atlantic security and serves to underpin our shared values of democracy and the rule of law," said Waddell. "2nd Fleet's role as the MCC for the exercise demonstrates our commitment to NATO. And our capability to coordinate Allied forces collectively assures security in the Atlantic."
The third major exercise was Formidable Shield 2021.
This exercise concluded on June 4, 2021, just prior to the BALTOPS 50 exercise.
Lt. Cmdr. Bethany Burdick, U.S. Naval Forces Europe and Africa, highlighted the exercise in a June 4, 2021 article.
"It has been a privilege to lead the team here in Portugal responsible for the planning and conduct of At-Sea Demonstration / Formidable Shield 21, one of the most complex and intensive integrated Air and Missile Defense events ever undertaken in the European theatre," said STRIKFORNATO's Deputy Commander, Royal Navy Rear Adm. James Morley. "This exercise has taken place across the maritime, air, and space domains, involving 150 warfare training serials and live events, demonstrating the resolve and capability of the NATO Alliance to provide collective defence."
Among the many national accomplishments during the exercise, the U.S. Navy Arleigh-Burke class guided-missile destroyer USS Paul Ignatius (DDG 117) and the Royal Netherlands Navy's air defense command frigate HNLMS De Zeven Provinciën (F802) conducted a cooperative engagement of a live medium-range ballistic target using a Standard Missile-3 (SM-3) interceptor launched from Paul Ignatius.  This event marked a major milestone in the scientific effort to integrate allied space sensors into NATO IAMD, comprising rigorous engineering efforts between several countries and major contributions from the U.S. Missile Defense Agency (MDA).
"The MDA is dedicated to furthering the warfighter's understanding of the ballistic missile threat, and how to negate it," said Dave Morton, ASD/FS MDA mission director. "We are also dedicated to ensuring these events are conducted safely and efficiently, and will continue to support the organizations conducting these exercises. No training can replace actually detecting, tracking, and negating a ballistic missile. The more exercises of this type MDA can support, the more confident and proficient the warfighter will become in using our defensive weapon systems."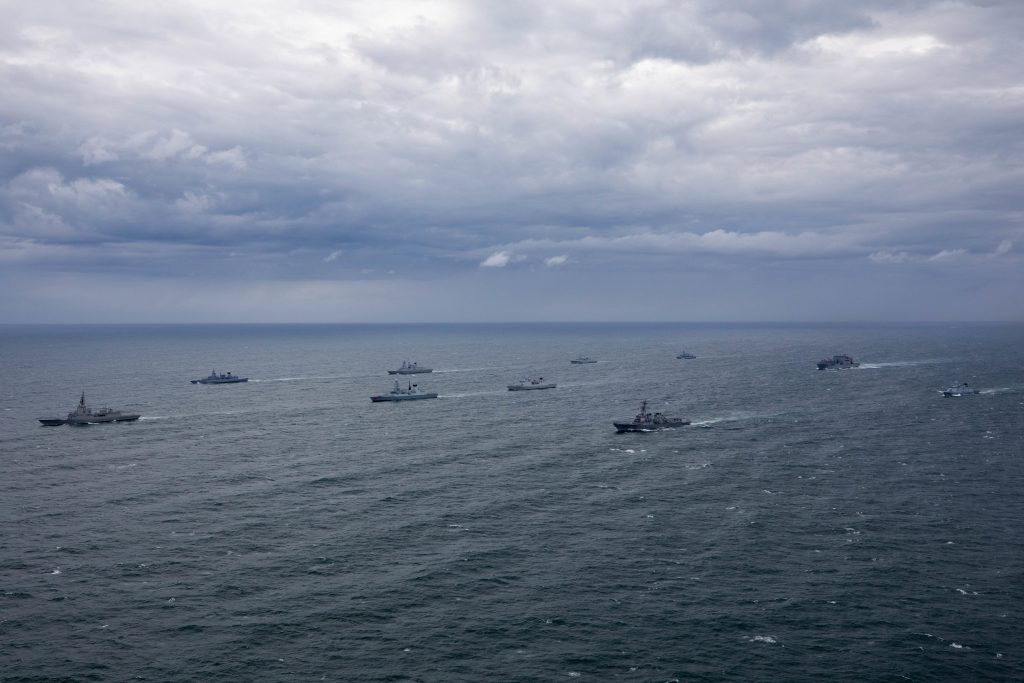 U.S. Navy guided-missile destroyer USS Roosevelt (DDG 80) conducted a dual-layer IAMD scenario utilizing two SM-3s and two SM-2s against a simulated medium-range ballistic target and a live raid of subsonic targets. The Spanish Navy Alvaro de Bazan class guided-missile frigate ESPS Cristóbal Colón (F105), the Royal Norwegian Navy guided-missile frigate HNoMS Fridtjof Nansen (F310), and De Zeven Provinciën launched Evolved Sea Sparrow Missiles. U.S. Navy guided-missile destroyer USS Ross (DDG 71) conducted an air defense engagement using an SM-2 against a subsonic target as part of her Live Fire With A Purpose tactical certification.
Italian Navy Carlo Bergamini-class frigate ITS Antonio Marceglia (F597), Royal Navy Daring-class air-defense destroyer HMS Dragon (D35), and French Horizon-class air defense frigate FS Forbin (D620) launched Aster-30 missiles against supersonic and subsonic targets. Royal Danish Navy guided-missile frigate HDMS Iver Huitfeldt (F361) and De Zeven Provinciën engaged in Harpoon surface-to-surface firing events.
This year, the U.S. Marine Corps 24 Marine Expeditionary Unit (24 MEU) conducted its first High Mobility Artillery Rocket System (HIMARS) launch in Europe, further integrating the Marines in a joint environment and capitalizing on its strategic lift capabilities. The vehicle-mounted precision rocket system was incorporated in ASD/FS as the Corps looks for ways to incorporate the detachment in the maritime and littoral environment.
NATO's Ballistic Missile Defense Operations Centre at the Allied Air Command in Ramstein, Germany, provided command and control during ballistic missile defense engagements, while P-8A Poseidon patrol aircraft assigned to U.S. Sixth Fleet conducted coordinated missile launches with Patrol Squadron FOUR and Patrol Squadron FORTY using two Air to Surface Missile (AGM-84D) Harpoons against a target barge off the coast of Norway.
NATO and The Royal Air Force Airborne Warning and Control System (AWACS) surveillance aircraft provided aerial over-watch and ensured that the airspace was clear.
The Maritime Theater Missile Defense Forum (MTMD-F) successfully completed its operations phase for exercise ASD/FS.
"We are very pleased with the operational conduct of this event," said Capt. Santiago Vila-Barrón, MTMD Forum Spokesman, National Points of Contact Chair, and commander of the Spanish Navy Flotilla.  "The At-Sea Demo/Formidable Shield partnership has once again shown the powerful results when Forum experimentation integrates with a Fleet operational exercise.  ASD/FS-21 demonstrated increased operational integration through tactically relevant scenarios."
Air defense exercises conducted during ASD/FS were in coordination with the U.S. Air Force F-15E/C Strike Eagle from the 48th Fighter Wing based at Lakenheath, Royal Air Force Base in the United Kingdom. Fighter and AWACS operations were supported by U.S. Air National Guard KC-135 refueling aircraft from Ohio's 121st, Maine's 101st, and Iowa's 185th Air Refueling Wings.
In his role as Commander Task Group – Integrated Air and Missile Defense (CTG IAMD), U.S. Navy Capt. Jonathan Lipps directed the force using NATO command-and-control reporting structures, aided by a multinational staff, from the Spanish flagship Cristóbal Colón.
"It has been an honor to serve the men and women of the task group as their commodore," Lipps said. "Embarked in multiple surface action groups and dispersed over one thousand nautical miles, Alliance Sailors generated effects and conditions that transcended the domains of land, sea, air and space. At-Sea Demo / Formidable Shield unquestionably demonstrates the Alliance and STRIKFORNATO's ability to defend Alliance integrity and resolve against credible threats from the ocean depths to low earth orbit."
The highly technical and complex capabilities demonstrated and lessons learned over the course of the three-week exercise ensure stability and security against an ever-advancing missile threat. In its fourth iteration, the ASD/FS exercise has continued to evolve.
In total, 16 ships, 31 aircraft, and approximately 3,300 personnel from ten NATO nations participated in the live training event that began on May 15, 2021.  Ships from Belgium, Denmark, France, Germany, Italy, the Netherlands, Norway, Spain, the U.K. and the U.S. participated in the exercise.
STRIKFORNATO is a rapidly deployable headquarters that provides scalable command and control across the full spectrum of the alliance's fundamental security tasks. As part of that mission, STRIKFORNATO is responsible for integrating U.S. naval and amphibious forces into NATO operations.
It is into this exercise mosaic that BALTOPS 50 is playing out.
Here the maritime, air and ground insertion forces are working to shape how littoral operations then fit into the integrated fighting force.
Clearly, at the heart of such an effort is being able to work the Baltic-Nordic chessboard to understand how to get best tactical effects from managing the operational force.
And more generally, the strategic challenge is how to bring to bear integrated distributed capabilities that can combine what all of these exercises have introduced into the Northern Flank defense, namely, the strike fleet, the amphibious fleet, airpower, undersea warfare capabilities, and effective use of Marines and allied insertion forces.
During a media event on June 10, 2021, organized by Sixth Fleet, there was a chance to learn from four U.S. military officers how the exercise was organized, its purpose and challenges being met.
The four officers were: Brigadier General Marcus Annibale, Chief of Staff, Naval Striking and Support Forces NATO, Rear Adm. Rob Katz, Commander, Expeditionary Strike Group TWO, Col. Anthony Henderson, Commanding General, 2d Marine Expeditionary Brigade, and Capt. David Pollard, commanding officer, USS Mount Whitney (LCC20).
According to BG Annibale: "BALTOPS is the largest maritime exercise we conduct in the Baltic region.  This year, we have 16 NATO and two partner nations contributing, and together they will bring more than 40 ships, over 60 aircraft, and over 4,000 people to the exercise.
"We also bring to bear Mount Whitney's impressive communications capabilities, to coordinate multinational multi-domain warfare capabilities, while at sea. This kind of commitment, not only from the US, but from across the Alliance, shows us how we train alongside each other, just as we would fight together across the entire spectrum of Naval warfare. Against conventional threats from aircraft, ships, submarines, including a highly capable Swedish submarine role-playing as an adversary. Also in mine warfare, in amphibious operations, and in maritime interdiction ops.
"Participants began the exercise entering the Danish Straits. This year's exercise scenario demonstrates our ability to maintain freedom of navigation and maritime choke points, which is paramount to maritime trade and economic prosperity. We'll also be experimenting with unmanned and autonomous systems, particularly in mine warfare, to ensure access to international waters.
"For the first time we'll be exercising defensive cyber warfare tactics, techniques, and procedures into the scenario. It is something we contend with and do every day, but it will give the commanders and operators a realistic training scenario."
But as argued above, this exercise is in a broader context.
And Capt. David Pollard, commanding officer, USS Mount Whitney, underscored that point quite clearly. "We just finished Steadfast Defender 21, where we embarked Second Fleet and Joint Force Command Norfolk to ensure transatlantic security, specifically looking at the sea lines of communications and how we reinforce Europe. In that exercise, we had the Queen Elizabeth who had F-35 Bravo Marine Corps embarked for the first time, which is a huge effort, not only between the United States Navy and Marine Corps, but also with our allies, the British.
"At the same time, we're always trying to get after different warfare areas and Standing NATO Mine Countermeasures Group One, which has been established since 1972, will have its operational handover coming up in a week or so onboard USS Mount Whitney. And for the first time, the United States of America will take that role for about a six-month period. We're taking it over from the Netherlands.
"Ragnar Viking just completed up in the high north. We're looking at different, but similar problem sets with our NATO allies and partners, as well as Formidable Shield, which is the biggest air and missile defense exercise executed in the history of NATO. And we did everything from firing Norwegian HIMARS to Dutch and United States ships shooting down ballistic missiles
"While we're excited about BALTOPS, we're just one piece of a greater puzzle between the United States Navy, the United States Marine Corps and our NATO allies and partners that we're working together. The focus is upon ensuring we can respond to any crisis and deter across all aspects of warfare, if required."
The Nordics are enhancing their defense capabilities, and one example is the Norwegians operating F-35s with the Danes now having received their first F-35.
Brigadier General Annibale is an experienced Harrier and F-35B operator, and he noted that the F-35 participated for the first time in a BALTOPS exercise, and the F-35s in the exercise were Norwegian.
He noted not only did they participate and provide the unique capabilities of fifth generation aircraft, but are providing data into the operating force networks.  "They were completely included in our link network.  The fact that they were in our link architecture was almost as big a win as just having the airplane play."
Col. Anthony Henderson, Commanding General, 2d Marine Expeditionary Brigade, noted that a key focus of the exercise is "how do you maneuver effectively across the littorals in a maritime campaign?  The US Navy, US Marine Corps are looking at under the current CNO guidance at new ways to do so, such as expeditionary advanced based operations and littoral operations in a contested environment.
"The exercise also allows us to work on ways to optimize the engagement of different coalition members capabilities to achieve the overall coalition objectives."
He noted that this is why it is so important for the MEB to train "in a naval environment."
And he further noted that even "the F-35 involved in the exercise belongs to another partner, it is a partner asset that do the same thing if it was a US F-35. I think, one of the advantages BALTOPS 50 has provided us in our training here, going forward. "
Rear Admiral Katz provided insights into how they were working C2 across the seabases and forward to the land components. He underscored the importance of operating in a contested environment with secure communications and to do so from across the fleet.
What this means in blunt terms, although this was not the focus of the discussion, is that having a Mt. Whitney is great for exercises, but working distributed C2 that can empower a scalable force is crucial for shaping a way ahead.
And when you take all of these exercises together, one sees the challenge.
How to you bring these various deployed capabilities into a coherent warfighting capability?
That is where shaping a strategic kill-enabled force comes in.
See the recent reports on the Norfolk commands and on II MEB.
2nd Fleet and Joint Force Command Norfolk: A May 2021 Update
An Update on II Marine Expeditionary Force: A Special Report
And our recent book on European defense: